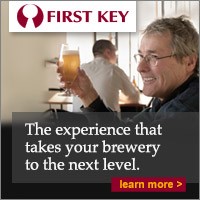 Note: All graphs issued with e-malt.com newsletters are published in "Graph" section of e-malt.com site.
All e-malt.com tables are published in e-malt.com Statistics section. The Statistics section includes Barley statistics, Malt statistics and Beer statistics. The tables related to barley are published in Barley Statistics section, the tables related to malt in Malt Statistics section and the tables related to beer in Beer Statistics section.
---
Last five prices evolution
---
---
---
---
Do you know
E-malt.com?
---
Dear E-malt Reader!

E-malt.com Newsletters Archive could be found directly on e-malt.com site. Browsing through our Newsletters Archive you may see all the issues you have missed. To this purpose you just have to login e-malt.com and click on Newsletters link in the menu. Reading our Newsletters you will be kept informed with the latest news and events regarding malting and beer world. You may also submit your own news, events or other information to the address info@e-malt.com!

You may find updated malt, barley and beer statistics on e-malt.com Statistics section. Just enter e-malt.com! Here you will find all tables issued with e-malt.com newsletters.

E-malt.com Agenda gives the possibility to keep you informed about the Events planned to be held in the whole world related to the brewing and malting industries. To this purpose you just have to login e-malt.com and click on Agenda link in the menu. Reading our Event Agenda you will find out about the future symposia, conferences and festivals related to malting and beer world. You may also submit your own events to the address info@e-malt.com

E-malt.com has Trading Online system. The system is to be used for malt/barley trading. One can register a malt/barley offer or a malt/barley request. The registering person could be as a seller/buyer or as an agent for seller/buyer. The User can see information about all active malt/barley offers & requests. If needed the system allows user to buy/sell malt/barley due to reasonable offers/requests. The way to do this is to confirm reasonable transaction. Trading Online rules are available through the Internet in the Trading Online as well as Tutorial (useful for persons who starts the system usage). To visit the E-malt Trading Online first go to the E-malt.com site, then click Trading Online link in the left menu of the e-malt.com home page. For more details please contact info@e-malt.com

Thank You!


Industry news

Market prices

EU Regulations

NAFTA

Specifications

Special malts

Professional Help

Trading online

Costing online

Statistics

Graphs

NewsLetters

Agenda

Accounts

Log In

Contact us
E-Malt.com Flash 05b
January 30 - February 02, 2020
Quote of the Week
You are one of the 54,000 professionals of the brewing and malting industries from 195 countries receiving our free bi-weekly E-malt Newsletters published since 2001. You seem to be pleased by getting them as we have registered something like 3 mln readings.
To keep the high level of this informative reservoir in both brewing and malting industries and in order to continue to improve it we have to request a small contribution for full access to E-malt.com information.
The majority of our readers have responded positively thus giving us the possibility to keep developing this global informative reference.
A one-year membership costs only 181,- Euros and gives you full access to both our Full Bi-weekly Newsletter and website www.e-malt.com.
You can pay by credit/debit card or bank transfer (against invoice). Ordering is simple, use our online secure ordering system: click hereunder to begin - you can have access in just 5 minutes!
CLICK HEREUNDER TO SUBSCRIBE
One-year individual subscription: 181, - Euros
Two-year individual subscription: 320, - Euros
Save money when your colleagues join:

One-year group subscription for 2-5 members: 373, - Euros
One-year group subscription for 6-10 members: 555, - Euros
One-year group subscription for 11-20 members: 737, - Euros
One-year group subscription for 21-50 members: 983, - Euros
One-year group subscription for 51-100 members: 1229, - Euros

For a personal service contact our Membership staff :
Email : info@e-malt.com
Direct line : +32 (0)87 681381; Fax : +32 (0)87 352234
If calling, please note our office hours are 9am - 5pm (Belgium time)

Currency Rates

Base Currency: Euro
on January 31, 2020
Base Currency: US Dollar
on January 31, 2020
1 EUR = 1.1022 USD
1 EUR = 0.8444 GBP
1 EUR = 1.4561 CAD
1 EUR = 1.6390 AUD
1 EUR = 119.9900 JPY
1 EUR = 4.6726 BRL
1 EUR = 69.4546 RUB
1 EUR = 7.6445 CNY
1 USD = 0.9072 EUR
1 USD = 0.7661 GBP
1 USD = 1.3211 CAD
1 USD = 1.4869 AUD
1 USD = 108.8600 JPY
1 USD = 4.2394 BRL
1 USD = 63.0152 RUB
1 USD = 6.9357 CNY


Currency Rates Chart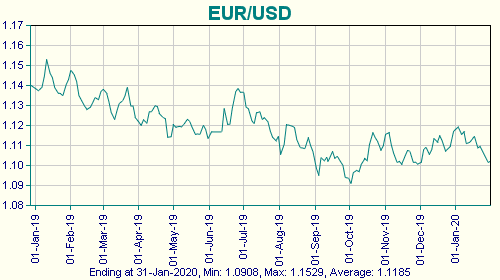 Equities of the Largest Breweries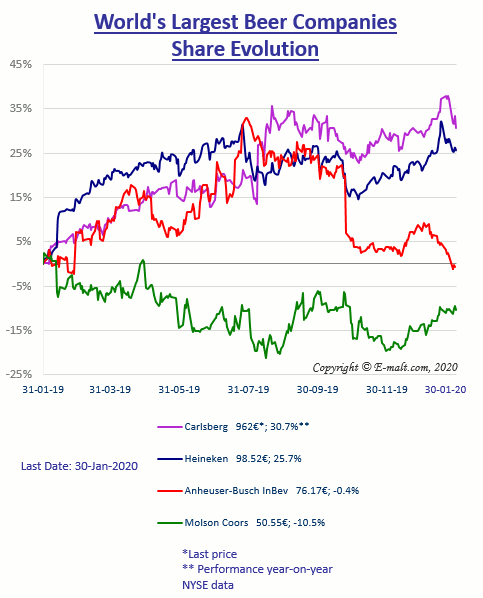 Average Market Prices Change Trend
January 31, 2020
French Barley/Malt
Crop 2019
Bulk
EUR/T
%
2RS Malting Barley (FOB Creil)
160.50-162.50
0.62%
6RW Malting Barley (FOB Creil)
160.00-162.00
Feed Barley (FOB Creil)
159.00-161.00
0.62%
2RS Malt (FOB Antwerp)
353.50-355.50
0.35%
6RW Malt (FOB Antwerp)
353.00-355.00
French Barley/Malt
Crop 2020
Bulk
EUR/T
%
2RS Malting Barley (FOB Creil)
173.50-175.50
0.58%
6RW Malting Barley (FOB Creil)
169.00-171.00
0.58%
2RS Malt (FOB Antwerp)
367.50-369.50
0.34%
6RW Malt (FOB Antwerp)
362.00-364.00
0.34%
German Malting Barley
Crop 2019
Bulk
Ex Farm
EUR/T
%
Average Malting Barley Price
172.50-174.50
1.19%
Danish Malting Barley
Crop 2019
Free on truck
Ex Farm
DKK/T
%
Malting Barley (East)
1,184.00-1,186.00
Malting Barley (West)
1,214.00-1,216.00
No change; Price increase; Price decrease versus last publication.
Click here to see our Market Prices History.

Canada:

AB InBev's Labatt Breweries buys Calgary's Banded Peak Brewing ...Click here

Vietnam:

ThaiBev might take worse hit if Vietnam further widens alcohol regulation policies ...Click here

World:

Diageo reports rise in first-half operating profit, expects annual sales growth to be at lower end of previous forecast ...Click here

USA:

Meteoric rise of Mexican beer keeps surprising analysts ...Click here

USA:

Dropping beer sales force top brewers to create new alternatives ...Click here

UK & US:

Diageo warns of Scottish whisky jobs threat from US-EU trade dispute ...Click here

China:

AB InBev temporarily suspends production at Wuhan brewery ...Click here
Graph of the week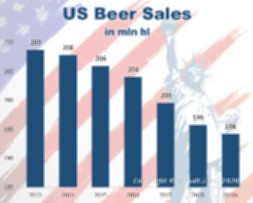 Table of the week
Barley Prices
Theoretical Malt Prices
These Days in Business History


30 January
1922 - World Law Day, 1st celebrated
1951 - Ferdinand Porsche, German car inventor (Porsche), dies at 75
1995 - Belgium's TV channel 2 in Flanders goes on the air

31 January
1956 - The twist off bottle cap is invented
1973 - Ragnar Frisch Norwegian economist (Nobel 1969), dies at 77
1990 - McDonald's opens its first restaurant in Russia
2010 - Avatar becomes the first film to gross over $2 billion worldwide

01 February
1788 - 1st US steamboat patent issued, by Georgia to Briggs & Longstreet
1884 - 1st volume of the Oxford English Dictionary, A-Ant, published
1898 - 1st auto insurance policy in US issued, by Travelers Insurance Co
1968 - World trade conference Unctad 2 opens in New Delhi

02 February
1914 - The Hong Kong Stock Exchange (formerly the Association of Stock Brokers in Hong Kong) is established
1947 - Edwin H. Land, founder of Polaroid Corp., demonstrates the instant camera to 650 scientists assembled at the annual meeting of the Optical Society of America
1995 - Barings Bank, one of the oldest and most distinguished investment banks in the world, declares bankruptcy after rogue trader Nick Leeson loses more than $1.4 billion on unauthorized (and apparently unsupervised) trades in Japanese stock futures


Agenda
Russia:
Malt output increases by 9% in 2019
Russian maltsters increased their production volume in 2019, Profibeer reported citing data by state statistics office Rosstat.

Last year's malt output amounted to 1.382 mln ...More info on site
---

Canada:
AB InBev's Labatt Breweries buys Calgary's Banded Peak Brewing
Labatt Breweries of Canada – a division of multinational brewing company AB InBev – has announced that it has purchased Calgary's Banded Peak Brewing, the Canadian Beer News reported on January 30.

Launched in 2016 by partners Alex Horner, Matthew Berard, and Colin McLean, the Banded Peak brewery and taproom is located in the city's "Barley Belt", an area that features ten breweries in close proximity.

"I never dreamed this (the Labatt deal) would have been possible," said Horner in an interview with the Calgary Herald. "We obviously had lots of ambition for the brewery, we wanted to grow it and build our business, but this level of growth we never anticipated and we never saw a partnership like this as something that was possible."

"The growth of craft beer in Alberta is actually outpacing the growth we've seen in the rest of Canada," said Rob Legate of Labatt in the same report. "They (Banded Peak) have done a great job of building a very strong brand, and we can leverage our scale to provide them with investment and resources and capability and capacity to continue to nurture that growth."

Financial terms of the transaction have not been disclosed.
---

Vietnam:
ThaiBev might take worse hit if Vietnam further widens alcohol regulation policies
The new drink-driving law already caused beer sales in Vietnam to drop 25%.

Thai Beverage (ThaiBev) might take a worse hit if Vietnam further widens and tightens its policies on alcohol regulation, according to a report by UOB Kay Hian.

Already, a newly-enacted drink-driving law, which penalises driving under the influence of alcohol, has been attributed for a 25% drop in beer sales since its introduction on 1 January. About 24% of ThaiBev's group revenue comes from Vietnam.

Some countries with even tighter measures showed worse decline in consumption. In Russia, policies including a ban on online alcohol advertising have reduced the country's total alcohol consumption by 43% from the 2003 peak to 2016.

"The stricter regulations in Vietnam appear to be initially centered on the hazards of drink driving rather than a general clampdown on alcohol usage," analyst Lucas Teng said.

Still, the sector may deal with regulatory risks, in addition to higher competition, as prices are lowered to capture support from consumers.

Outside the new regulation, ThaiBev's beer business Sabeco already reported a 7% YoY decline in net sales on Q4 2019, as it saw lower sales volume and higher tax from changing one of its breweries from an associate to subsidiary.

Despite that, Vietnam's ...More info on site
---

USA:
Meteoric rise of Mexican beer keeps surprising analysts
It's been two years since Budweiser fell out of the top three largest beers by off-premise sales in the U.S. Now, it's suffered another ignominy: After yet another year of falling sales, the one-time King of Beers has seen one of the giants of the Mexican beer craze pass it up, Nasdaq reported on January 25.

The industry analysts at IRI say that Anheuser-Busch InBev's Budweiser saw off-premise sales fall 4% in 2019, which even at $1.8 billion, doesn't qualify for a top-five ranking. It's enough to leave the brewer crying in its beer.

The past few years have been difficult for the beer industry with U.S. sales drying up because of changing consumer preferences. Instead of a blend of barley, malt, and hops, drinkers are turning in greater numbers to light, fruity beverages like hard seltzer and tea.

But don't bemoan the decline of the mega brewer's flagship beer segment, as Anheuser-Busch still owns the two biggest beers in the country, Bud Light and Michelob Ultra. Even though sales of the former suffered a 5% decline, it remains far and away the leader with over $5 billion in sales to U.S. off-premise retailers in 2019. Off-premise sales are those made at package ...More info on site
---

USA:
Dropping beer sales force top brewers to create new alternatives
Beer consumption has dropped by over 4% in the U.S. in the last year. The drink's falling popularity has forced some of America's top brewers into a race to accommodate changing tastes – just in time for one of beer's biggest days of the year, Super Bowl Sunday, WCBI reported on January 30.

The decline should not come as a surprise to manufacturers; sales of traditional lagers have been going down for more than five years.

"Some of the reasons we're seeing some of the declines within those traditional lagers are consumer trends," Danelle Kosmal told CBS News' Janet Shamlian at the Dupont Circle Hotel's Doyle bar in Washington, D.C. Kosmal is vice president at the Nielsen Beverage Alcohol Practice.

"Consumer trends around health and wellness, consumer trends around wanting a different and new experience," are all reasons for the shift, she said.

Products like craft beers from small brewers have become growing trends, as well as hard seltzers that promise health-conscious consumers fewer carbs and lower calories. In 2019, hard seltzer sales hit $1.5 billion.

Big beer brands are paying attention – the U.S.'s top five brewers are all experimenting with beer alternatives like hard seltzer and even non-alcoholic kombucha in an effort to ...More info on site
---

China:
AB InBev temporarily suspends production at Wuhan brewery
Beer giant AB InBev has said that it has temporarily suspended production at its Wuhan brewery, in China, according to Reuters.

The Budweiser maker said that it currently has no scheduled date for resuming production in Wuhan, which is at the epicentre of the coronavirus epidemic.

Elsewhere, major firms are seeking to limit their exposure to the virus outbreak, which has thus far killed 132 and affected close to 6,000.

Facebook, which suspended non-essential travel to mainland China, told employees who had travelled to China to work from home.

Alibaba asked employees to work from home for a week after an extended Lunar New Year break ends on February 2, while Tencent has extended holidays until February 9.

McDonald's shut outlets in five cities in Hubei province, while Yum China temporarily closed some KFC and Pizza Hut stores in Wuhan, and Luckin Coffee closed its cafes in the city.

Even the Magic Kingdom isn't immune to the disruption, with Walt Disney shutting its resorts and theme parks in Shanghai and Hong Kong during what is likely the busiest time of the year.
---

South Korea:
Carlsberg sales up 86% last year
Sales of Danish beer Carlsberg have soared in South Korea, a recent report showed.

According to Golden Blue, sales of Carlsberg beer rose 86 percent last year from 2018.

Golden Blue, a homegrown whiskey maker that imports and sells Carlsberg beer, previously entered the local market by signing a contract with Danish brewer Carlsberg A/S in May 2018.

Since then, the company has been focusing on hands-on marketing, which includes participating in various festivals and significantly increasing drinking opportunities for consumers by operating pop-up stores.

As a result, sales in the summer of last year increased 192 percent compared to 2018, and the second half also achieved an 80 percent increase.

Meanwhile, Golden Blue plans to launch a variety of sales and marketing activities this year to boost sales of Carlsberg beer.

By sharing Carlsberg content on YouTube and other online channels, the company will raise awareness among millennials, while further strengthening its hands-on marketing initiative.
---

World:
Diageo reports rise in first-half operating profit, expects annual sales growth to be at lower end of previous forecast
Diageo Plc, the world's largest spirits company, on January 30 said it expects annual organic net sales growth to be at the lower end ...More info on site
---

UK & US:
Diageo warns of Scottish whisky jobs threat from US-EU trade dispute
Spirits giant Diageo has warned that thousands of Scotch whisky jobs could be affected by the ongoing US-EU trade dispute, BBC News reported on January 30.

Diageo's global supply chain boss Ewan Andrew said tariffs had left smaller distilleries vulnerable, as well as supply chain operators such as farms.

The US imposed a 25% tariff on imports of single malt Scotch in October.

It was among measures introduced by the US in retaliation against EU subsidies given to aircraft maker Airbus.

According to industry figures, more than 10,000 people are directly employed in the Scotch whisky sector in Scotland. A further 40,000 jobs across the UK are supported by the industry - 7,000 of which are in rural areas of Scotland.

Mr Andrew told BBC Radio's Good Morning Scotland programme: "The important thing as we look forward is that we de-escalate on both sides and that products such as consumer goods are not tied in to something that is about the aerospace industry.

"My concern would be for the broader industry and for those smaller players in the industry.

"Right now I am sure it has had an impact on some of their businesses but if it were to escalate, that really would be difficult for Scotland.

"So ...More info on site
---