---
Newsletter Summary

---
Currency rates
Brewery news
Malt news
Barley news
More news
Theoretical malt prices
Malting barley prices
Table of the week
Graph of the week
Agenda
Do you know e-malt.com?
---
Average market prices Change trend
---

Note: Just click on the price link and you will be led to our Market Price History.
Average barley market prices are French and are estimated on FOB Creil basis.
Average malt market prices are estimated on FOB Antwerp basis.
The changes are compared to last Newsletter's prices.
Arrows indicate the direction of the change.


---
Easy E-malt.com
---
---
E-malt.com access
---
---
Do you know
E-malt.com ?
---
Dear E-malt Reader!

E-malt.com Newsletters Archive could be found directly on e-malt.com site. Browsing through our Newsletters' Archive you may see all the issues you have missed. To this purpose you just have to login e-malt.com and click on Newsletters link in the menu. Reading our Newsletters you will be kept informed with the latest news and events regarding malting and beer world. You may also submit your own news, events or other information to the address info@e-malt.com!

Updated figures related to USA barley and malt trade with Mexico and Canada could be seen in NAFTA section of e-malt.com menu. To this purpose please enter e-malt.com!

You may find updated malt, barley and beer statistics on e-malt.com Statistics section. Just enter e-malt.com! Here you will find all tables issued with e-malt.com newsletters.

E-malt.com Agenda gives the possibility to keep you informed about the Events planned to be held in the whole world related to the brewing and malting industries. To this purpose you just have to login e-malt.com and click on Agenda link in the menu. Reading our Event Agenda you will find out about the future symposia, conferences and festivals related to malting and beer world. You may also submit your own events to the address info@e-malt.com

E-malt.com has Trading Online system. The system is to be used for malt/barley trading. One can register a malt/barley offer or a malt/barley request. The registering person could be as a seller/buyer or as an agent for seller/buyer. The User can see information about all active malt/barley offers & requests. If needed the system allows user to buy/sell malt/barley due to reasonable offers/requests. The way to do this is to confirm reasonable transaction. Trading Online rules are available through the Internet in the Trading Online as well as Tutorial (useful for persons who starts the system usage). To visit the E-malt Trading Online first go to the E-malt.com site, then click Trading Online link in the left menu of the e-malt.com home page. For more details please contact info@e-malt.com

Thank You!

---
E-malt.com Links!
---
Industry news
Market prices
EU Regulations
NAFTA
Specifications
Special malts
Professional Help
Trading online
Costing online
Statistics
Graphs
NewsLetters
Agenda
Accounts
Log In
Contact us
---
Other e-malt.com newsletters
---
Last five newsletters
---


Newsletter 42b, 2004


Newsletter 42a, 2004


Newsletter 41b, 2004


Newsletter 41a, 2004


Newsletter 40b, 2004
---
Market price evolutions
---
The evolution of market prices for barley and malt, which are periodicaly issued with e-malt.com newsletters are published on e-malt.com site in Market Prices section. Just click here!
---
Available market price evolutions
---


Malt Market Price Evolution. Crop 2004


French Malting Barley Price Evolution. Crop 2004


Malt Market Price Evolution. Crop 2003


French Malting Barley Price Evolution. Crop 2003
---
E-malt.com graphs
---
All graphs issued with e-malt.com newsletters are published in "Graph" section of e-malt.com site.
---
Last five graphs
---


Philippines beer production


Denmark malt production and export


World's Major Beer Producers 2003


China barley production and imports


Colombia beer production
---
The graphs are updated from time to time. Just see the updates online on e-malt.com site!
---
Last updated graphs
---


EU malt production capacity


U.S.A. Barley Production


United States Beer Exports


Canada Domestic and Imported Beer Sales


Canada's per capita consumption of beer
---
E-malt.com Tables
---
We have the pleasure to let you know that all e-malt.com tables are published in e-malt.com Statistics section. The Statistics section includes Barley statistics, Malt statistics and Beer statistics. The tables related to barley are published in Barley Statistics section, the tables related to malt in Malt Statistics section and the tables related to beer in Beer Statisctis section.
---
Last five tables
search in statistics
---


United States Breweries 2004


EU Malting Barley Supply and Demand Estimate 2004/2005


Australia barley crop estimates 2004-2005


Canada: Barley Supply and Disposition 2002-2005


Estimate of EU Barley Crops 2003, 2004
---
Note
---
If you have any comments, questions, suggestions or remarks, you can send a mail to: info@e-malt.com. To submit your own news to our editorial team, email to: info@e-malt.com
---
If you have received this newsletter from a colleague, you can obtain your own free subscription here, or a full FREE registration here.
---
You may recommend our site to your friend by clicking here
---
If you do not wish to receive our newsletter, please unsubscribe your e-mail address () from our mailing list using unsubscribe form from our site!
E-malt.com Newsletter 43a
October 18 - October 20, 2004 Currency Rates

Base Currency: Euro, EUR
on 20-October-2004

1 EUR = 1.2524 USD
1 EUR = 0.6942 GBP
1 EUR = 1.5745 CAD
1 EUR = 1.7211 AUD
1 EUR = 135.81 JPY
1 EUR = 3.6057 BRL
1 EUR = 36.4699 RUB

Base Currency: US Dollar
on 20-October-2004

1 USD = 0.7988 EUR
1 USD = 0.5543 GBP
1 USD = 1.2572 CAD
1 USD = 1.3742 AUD
1 USD = 108.47 JPY
1 USD = 2.879 BRL
1 USD = 29.12 RUB

EUR/USD Chart
Top Industry News
More News
Brewery News


Sweden: Carlsberg A/S announced on 19 October 2004 that Carlsberg Sweden AB has entered into an agreement to sell its brewery property in Bromma to the Stockholm Municipality for SEK 375 million

. The transfer of the prop-erty will take place on 31 December 2004. Furthermore, Carlsberg Sweden has arranged to rent offices and warehouses at Bromma from the Municipality for functions such as sales, marketing, and logistics. Through this sale, Carlsberg A/S will realize an accounting profit which will be in-cluded in 'special items' in the Q4 financial statement. The profit is as expected and included in the previously stated expectations for 2004. In November 2003, the Board of Directors of Carlsberg Sweden decided to transfer the production of beer and soft drinks from the Bromma brewery near Stockholm to Falkenberg and to a lesser degree to Copenhagen. The transfer of the production has gradually been taking place and the process is expected to be completed during October 2004.

China: Anheuser-Busch Inc may pay up to US$ 1 billion for a stake in central China's Henan Jinxing Beer Group Corp

, an official at the Chinese brewery told AFX - Asia on October 19. While the big US beer producer denied that any discussions are under way, an official at the Chinese firm said that talks have been held, though no final accord is on the table. 'Anheuser-Busch has initially agreed to pay up to one bln usd for some of our assets,' the Jinxing official told XFN-Asia. 'Bringing Anheuser-Busch in as a foreign strategic investor comes in line with our overall plan to diversify our state-owned shareholding structure,' he said. The official, who asked not to be named, also declined to say how big a stake Anheuser-Busch might take in the Chinese firm for that price. The US brewer, which has a 99.4 % stake in Harbin Brewery, and 9.91 pct of China's top beermaker, Tsingtao Brewery Co Ltd, issued a statement on October 19 denying contacts with Jinxing Beer. 'Anheuser-Busch is not in discussions with representatives from Jinxing,' Steve Burrows, company CEO and president, said in a statement. Anheuser-Busch earlier this year aggressively outbid SABMiller in a takeover battle for China's fourth largest beermaker, Harbin Brewery Group. Jinxing Beer is the top brewer in Henan province with around 10 affiliates in other parts of the country. According to its website the company owns 25 beer production lines, with an annual capacity of 1 million tonnes. Should it go ahead, a deal between Anheuser-Busch and Henan Jinxing would mark another successful bid by a foreign brewer to buy into one of the world's fastest growing beer markets, where annual per capita consumption currently stands at only 19 litres, compared with 75 litres in Europe and 84 in the US. At the same time, income levels in China are rising rapidly and consumers are acquiring a growing taste for beer. Driven by huge growth potential and sluggish beer demand in their home countries, many foreign brewers have entered China by acquiring local brands. Global beer maker Interbrew has spent more than US$ 600 million so far in China, and now owns 9 % of the mainland beer market. Other foreign brewers holding stakes in Chinese breweries include SABMiller Plc, Carlsberg International AS and Scottish & Newcastle Plc.

Belgium: The beer industry is growing at between 1% and 2% a year, but Brock, chief executive of InBev, the world's biggest brewer by volume, has told his executives he wants to grow InBev at 4% to 5%

. To achieve this he is putting in place a bonus plan for the top 300 executives that will reward outstanding performance. A large part of that success will involve tapping into the beer markets of Russia and China. InBev has a presence in both countries but it wants to become the dominant player. The highly fragmented German beer market, where the group is already the number two brewer with an 11% market share, is also on Brock's radar screen. He said InBev has between €3 billion and €4 billion available to fund acquisitions without damaging its investment-grade debt rating. In addition to the costs coming out of the old Interbrew, a further €240m of annual savings will come out of InBev. These will be a combination of cuts and cross-licensing deals. Some of the savings will come from brewery closures. Inbev has already announced the closure of the Strangeways brewery in Manchester — where Boddingtons is brewed — next February. It intends to brew non-cask Boddingtons at Preston, south Wales and Glasgow, and cask Boddies at the Hyde's brewery in Moss Side. Another UK site is also being closed as well as one in Canada. These are tough decisions, but Brock said they had to be made and more will follow. "There are obviously difficult, painful decisions to make, but that is the kind of thing we need to do. In total we have 75 breweries, which frankly is more than we need," Brock said. In volume terms — but not in terms of profitability — the enlarged company InBev has taken the top spot from America's Anheuser Busch. To the millions of consumers who drink Inbev's brands, its beers are much better known than the company. Its 200-strong brand portfolio includes its flagship Beck's and Stella Artois, which according to Brock is taking off like wildfire in America. Other brands include Bass, Leffe and Hoegaarden as well as Ambev's Brahma beer, which InBev wants to turn into an international brand, a feat most analysts describe as challenging...

more info Russia, Moscow: Russia's leading brewery, Baltika, jointly owned by Denmark's Carlsberg and Scottish&Newcastle, on Saturday, October 16 shipped its first batch of 17,200 litres of beer to New Zealand

. The second shipment with Baltika Number 3 Classic and Baltika Number 7 Export brands will be shipped by Christmas. The official distributor of Baltika, Federal Geo Ltd, intends to sell Russia's most popular beer not only in New Zealand but also in Vanuatu, Fiji, Tonga, Samoa and Cook Islands. Now Baltika's brands are sold in 35 countries. Last year it exported 992,300 hectolitres of beer, or 6 percent of overall sales. That was a 9% increase versus the same period 2002.

UK: Scottish & Newcastle, which makes Fosters and Kronenbourg lagers, will next month become the first major brewer in the world to put general health warnings on beer bottles

. The initiative in Britain will go beyond current government policy aimed at combating binge drinking, and will be similar to health warnings on cigarette packets, The Telegraph revealed on October 17. Scottish & Newcastle's lead is expected to be followed by other brewers and become standard practice in the UK within months. The company's warnings will be headed "UK Alcohol Units" and contain a message saying: "Responsible drinkers don't exceed three to four units a day for men, two to three for women." The warnings will be prominent, and also say how many units of alcohol the can or bottle contains, typically about two units for a can of lager. Scottish & Newcastle will initially place the warnings on bottles and cans of Newcastle Brown Ale, then extend them to its other brands, which also include John Smith's bitter. Scottish & Newcastle denied that it was introducing the warnings as a way of avoiding potential lawsuits that could blame drinks companies for health problems. "We are doing it because we are a responsible company," said a spokesman. A spokesman denied they were warnings, however. "It's not a health warning, it's a responsibility message," he said. "If you drink moderately it's compatible with a healthy lifestyle, whereas if you drink too much we all know it can do you a lot of harm." Coors, which brews Carling and Grolsch lagers in the UK, will introduce a similar policy in 2005, and other brewers are expected to follow suit. Coors said it would first introduce a message saying "Enjoy Carling, Take it Easy", but it is also understood to be planning more comprehensive health messages. In the US, specific warnings about the risks of alcohol for drivers and pregnant women are a legal requirement, although beer packaging does not carry general health warnings of the sort to be introduced in the UK. Although these initiatives by brewers follow calls from the Government for them to help combat binge drinking, they may not avert the imposition of more specific health warnings. Tony Blair said last month that proposals to impose labels to deter pregnant women from drinking would be incorporated in a government white paper ahead of future legislation.

Malt News

EU malt export licence bookings were 629,000 tonnes from July 1 to September 28, 2004, of which 545,000 tonnes in the old and 84,000 tonnes in the new member states, industry experts has recently revealed. At the same pace bookings in the old EU would reach 2.2 million tonnes for the year, and 2.5 million tonnes in the total EU. In the first half of the year EU malt exports were better than expected to Africa, Russia, Thailand and particularly Venezuela. For October Brazil may become a better customer again, as the country forecasts a 5% better beer output, and Mercosur maltsters appear extremely well sold.

Vietnam has agreed with the EU to apply an average import tariff of 24% for agricultural produce if it joins the WTO. For malt, the 10% bound rate (and 5% effective rate) remains in the agreement. The European Commission has concluded a bilateral trade talks with Vietnam on October 9 as a prelude to the country's membership of the WTO. The deal concluded covers the commitments that Vietnam will undertake in goods and services once it accedes to the WTO. Vietnam must now finalise bilateral deals with all of its major trading partners before the terms of its accession can be confirmed. The signing of this agreement is a major step in the process of Vietnams' WTO membership as the EU is Vietnam's largest trading partner (imported €6.4 bn of goods in 2003, of which farm products made up 10%).Vietnam is currently conducting negotiations with the US, Japan, China, Canada, and Australia among others. As part of the WTO accession process, Vietnam is negotiating bilateral market access deals with all interested WTO members. Once these bilateral negotiations have been concluded and the Working Party has completed its work on Vietnam's trade regime, the Working Party will determine the terms of accession. These will appear in a report with a protocol of accession containing the specific market access commitments (in tariff and services schedules) of Vietnam.

Ukraine: In August 2004 Ukrainian enterprises imported about 8 thousand tonnes of malt at a value of US$ 1.08 million. August's volumes of imported malt increased with 1.4 thousand tonnes versus July volumes, Proagro revealed in a statement. According to the same source, in July 2004 Ukraine imported about 6.6 thousand tonnes of brewing malt at a value of US$1.21 million. As usual the volumes of brewing production are growing during summer that leads to a rise of malt consumption. Because of an insufficient malt offer on the internal market of Ukraine, national brewers are to import more raw material. Besides the quality of Ukrainian malt doesn't always suit the brewers' requirements, market analysts said.

Barley News

Canada: For 2004-2005 barley production in Canada is estimated by AAFC (Agriculture and Agri-Food Canada) to increase by 6% due to higher yields, despite lower seeded area. Supplies are expected to rise by 10% due to higher carry-in stocks, AAFC revealed on October 8. Feed use is projected to increase significantly, due to higher supplies in western Canada and increased shipments to eastern Canada. Exports of malting barley are expected to drop significantly as lower crop quality reduces the selection rates, although import demand from China is projected to rise sharply. Exports of feed barley, for the crop year, are expected to increase significantly from 2003-04 due to increased supplies and low prices. Carry-out stocks are forecast to increase sharply. Off-Board feed barley prices are expected to decrease by about $25/t from 2003-04 to $110/t, due to increased domestic supplies and lower US corn prices. The CWB September PRO for No.1 CW Feed Barley for the first pool period (August-January) is $113/t I/S VC/SL, versus $167/t for 2003-04. The PRO for Special Select Two Row designated barley is expected to decrease to $186/t from $200/t for 2003-04, mainly due to higher supplies expected in Europe and Australia.

Finland: The new estimate of Finnish 2004 crop is 220,000 tonnes of screened malting barley, about 50,000 tonnes more than in 2003, Viking Malt has recently written in a press release. Viking Malt's early forecast for the Finnish 2004 crop showed an increase in the area used for malting barley cultivation to around 145,000 ha (about 6,000 ha increase) and also an increased crop compared to last year. The first indications after harvest show the same pattern. In Finland the harvest began later than normal and was not completed until beginning of September. Major varieties are Scarlett, Saana and Barke. The demand of Finland in malting barley is about 240,000 tonnes in 2004, no changes compared to 2003.

Australia: ABB Grain Ltd announced that South Australia's 2004/05 harvest began today, October 19 2004, with the first load of barley delivered to ABB Grain Ltd's Port Pirie receival centre in the State's Mid North. The company said: "The honour of delivering the first load in South Australia went to Mr Ian Mudge of Telowie, who delivered just over 27 tonnes of feed barley to the silo this morning. Mr Mudge is no stranger to being the 'first cab off the rank' at harvest time – the previous two years also saw him delivering the first of the state's tonnes for the season, in 2002 of feed barley and 2003 of lupins." With crops of wheat and lupins also to be harvested for the 2004/05 season, Mr Mudge said he usually started with barley but should be into the other commodities within the next fortnight, with wheat not that far away from being ready. Mr Mudge said his crops were looking as though yields would be average to above average. He said despite last Tuesday's scorching weather, he had not experienced much crop damage, the hot day "just quickening it up a bit." ABB Grain Corporate Relations manager Mr Ian Desborough said the company was expecting South Australian grain receivals to be in line with the five year average of 6.5 million tonnes or just below that level. "We had thought earlier that we might go just above, but last week's hot weather has taken a little of the gloss off the estimate, as crops in early maturing areas such as the upper North and Eyre Peninsula suffered in the heat." "However it is still very early days yet and if the cool weather continues or we get another inch to half an inch of rain the yields could still go up in the later maturing areas south of Adelaide," he said.



Theoretical malt prices.
EURO = USD 1.2524 October 20, 2004
Crop year
2004
Parity
FOB Antwerp
Position
Oct 2004-Sept 2005
Conditioning
Bulk
In bags
Bulk containers
Bags, containers
Malting barley variety
EURO
USD
EURO
USD
EURO
USD
EURO
USD
2RS
Scarlett
241.00
302.00
256.50
321.00
252.50
316.50
262.00
328.50
2RS
Prestige
240.00
300.50
255.00
319.50
251.50
314.50
261.00
326.50
2RS
Cellar
240.50
301.00
255.50
320.00
252.00
315.50
261.50
327.50
2RS
Aspen
239.50
299.50
254.50
318.50
250.50
314.00
260.50
326.00
2RS
Optic
239.50
299.50
254.50
318.50
250.50
314.00
260.50
326.00
2RS
Astoria
238.50
298.50
253.50
317.50
250.00
313.50
259.50
325.00
2RS
Cork
238.50
298.50
253.50
317.50
250.00
313.50
259.50
325.00
2RS
Average price
239.50
300.50
255.00
319.00
251.50
314.50
261.00
326.50
2RS
FAQ
237.50
297.50
252.50
316.50
249.00
311.50
258.50
323.50
6RW
Esterel
226.50
283.50
241.50
302.50
238.00
298.00
247.50
309.50
*
Asia Malt 70/30
235.50
295.00
251.00
314.00
247.50
309.50
256.50
321.50
**
Asia Malt 50/50
233.00
291.50
248.00
310.50
244.50
306.50
254.00
318.00
* - 70/30 = 70% Average two Rows Spring and 30% Six Rows Winter
** - 50/50 = 50% Average two Rows Spring and 50% Six Rows Winter
Theoretical malt prices for crop 2005 are available on site
www.e-malt.com/MarketPrices
Malting barley prices. French barley prices.
Nominal prices.
EURO = USD 1.2524 October 20, 2004
Crop year
2004
2005
Parity
FOB Creil
FOB Creil
Position
July 2004
July 2005
Type
Variety
EURO
USD
EURO
USD
2RS
Scarlett
112.00
140.50
123.00
154.50
2RS
Prestige
111.00
139.50
122.00
153.00
2RS
Cellar
111.50
140.00
122.50
153.50
2RS
Aspen
110.50
138.50
121.50
152.50
2RS
Optic
110.50
138.50
121.50
152.50
2RS
Astoria
110.00
138.00
121.00
151.50
2RS
Cork
110.00
138.00
121.00
151.50
6RW
Esterel
100.00
125.50
106.00
133.00
Table of the week
EU malt export licence fixations:
(in tonnes) 
2000-2001
2001-2002
2002-2003
2003-2004
July 01, 2004 - September 28, 2004
 France 
523,190
701,134
661,772
774,761
165,340
 Germany 
305,980
468,314
408,063
422,047
85,415
 Belgium 
277,584
296,368
287,850
317,292
56,804
 U.K.  
254,793
350,621
294,995
443,501
117,948
 Finland 
65,550
91,890
100,758
114,165
18,520
 Denmark  
52,326
96,812
94,791
90,452
22,120
 Sweden 
50,847
101,000
76,916
78,369
27,190
 Netherlands 
54,835
51,310
66,219
80,703
12,079
 Ireland 
26,003
35,145
31,140
38,900
37,404
 Austria 
4,850
8,840
8,620
60,211
2,541
 Spain 
3,000
2,400
5,640
10,000
-
 Greece 
1,800
1,744
1,306
979
130
 Portugal 
340
221
85
695
170
 Italy 
-
-
2
-
-
 Total old EU 
1,621,098
2,205,799
2,038,157
2,432,075
545,661
 New EU members
May-June, 04
 Czech Republic 
34,340
24,124
 Poland 
7,604
6,913
 Hungary 
2,830
20,523
 Slovakia 
1,000
31,770
 Total EU  
1,621,098
2,205,799
2,038,157
2,477,849
628,991
| | |
| --- | --- |
| | Total Wheat malt, tonnes  |
| Total 2000-2001   | 4,686 |
| Total 2001-2002   | 12,805 |
| Total 2002-2003   | 30,908 |
| Total 2003-2004   | 15,768 |
| July 01/2004 – September 28/2004   | 1,399 |
| | |
| | Total Roasted malt, tonnes  |
| Total 2000-2001   | 23,967 |
| Total 2001-2002   | 23,480 |
| Total 2002-2003   | 23,603 |
| Total 2003-2004   | 24,438 |
| July 01/2004 – September 28/2004   | 8,501 |
Graph of the week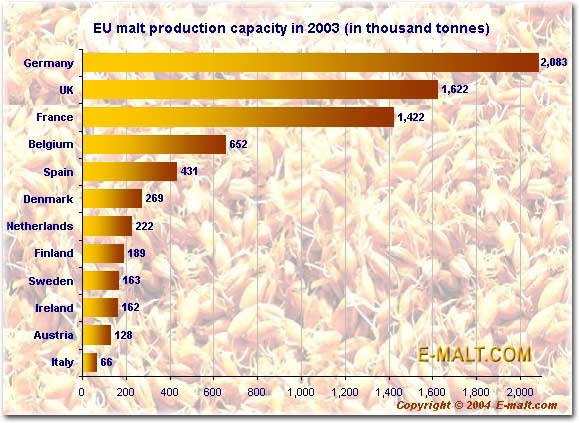 Agenda
October 2004:
OCTOBERFEST Famous German Beer Festival;
Great American Beer Festival;
bevex Beverage Trade Fair. Germany;
Great Welsh Beer & Cider Festival;
ST. PETERSBURG FOOD SALON 2004;
Beer Fair. Spain;
Expo Bebidas Beverage Exhibition. Mexico;
EXPOALIMENTOS Y BEBIDAS 2004. Panama;
Fall Eastern PA Breweriana;
Knoxville Brewer's Jam - A Memorial to Tom Rutledge;
INTERPRODTECH Food and Beverages Processing Exhibition. Russia;
Alko and Drinks Show Alcoholic Beverages and Non-alcoholic Drinks Exhibition. Russia;
WORLD FOOD KAZAKHSTAN 2004;
PAN ASIAN FOOD & BEVERAGE TRADE SHOW 2004. Canada;

November 2004:
INTERNATIONAL EXH FOR FOOD & DRINK INDUSTRY / WORLD FOOD UKRAINE 2004;
INT'L EXH OF WINES, ALCOHOLIC & NON ALCOHOLIC DRINKS & PROTECTION EQUIPMENT / EXPO DRINK 2004. Romania;
TALLINN FOODFEST 2004;
Belgian Beer Fest, Boston MA;
Teach a Friend to Brew Day;
FOOD PROCESSING MACHINERY EXPO 2004;
FISPAL RECIFE 2004 / INTERNATIONAL FOOD FAIR. Brazil.;
BRAU Beviale 2004. Nürnberg, Germany.;
Brewers' Association of America Conference;
Accrington Beer Festival. UK;
FOODAPEST 2004. 7th International Food, Drink and Food Processing Trade Fair;
INTERNATIONAL EXH FOR FOOD INGREDIENTS, ADDITIVES & FLAVOURINGS / INGREDIENTS RUSSIA 2004;

More events are available on site e-malt.com