Belgium, Brussels: InBev, the world's largest brewery by volume, announced on November 3 solid organic volume and profit growth in the first nine-month period of the year. Company's sales volumes increased 4.4% year-on-year
to 97.7 million hl. Net turnover rose 6.3% to 5,819 million Euro. EBITDA increased 7.2 % to 1,702 million Euro. The two global premium brands, Beck's® and Stella Artois®, grew 5.7%. Despite the change in country mix, Net Turnover grew 190 basis points faster than volume, due to better product mix and pricing. Total EBITDA margin grew from 21.4 % in 2003 to 22.6 %. Excluding AmBev, it was up 50bp to 21.9 %, despite the change in country mix. In North America Ambev's organic volume grew +4.8%. In Canada, domestic volumes grew organically by +0.8%, slightly below industry growth. While InBev's strong premium brand portfolio ensured continued growth in its segment, the mainstream segment remains under pressure from the value segment. At InBev USA, the positive trends continued, with depletions up 6.0% for the first nine months. Beck's® depletions were +6.5%, and Bass® started to recover. Industry weakness resulted in -2.2% organic volume decline in Western Europe. In Germany, InBev volumes declined in line with industry decline estimated at -2.4%. Lower volumes were realized for Hasseröder® (-9.8%), partly the result of pre-price increase loading in 2003. In this context, the Beck's® family showed superior growth at +10.6%. In the UK, excluding the termination of a no-margin wholesaling contract, volumes declined due to InBev's strategy that focuses on value rather than volume. This resulted in a Stella Artois® volume decline of -3.3%. However, Castlemaine XXXX® produced an organic volume increase of +7.0%. The Benefralux region experienced market share growth in Belgium and the Netherlands, and flat market share in France. In Central & Eastern Europe organic volume growth was +14.9%. Eastern Europe posted the strongest volume growth performance of +22.5%. In Russia, volumes were up +26.8%, with strong performances from Sibirskaya Korona® and Klinskoye®. In the Ukraine, the industry grew an estimated +12.3%, while Sun Interbrew's volumes increased by +15.6%. In Central Europe, InBev achieved organic volume growth of +2.3%, lower than the first half due to the continued development of cheap German beer cans in Hungary and an estimated 5.3% industry decline in Croatia. In Asia Pacific InBev's organic volume growth was +1.8%. In South Korea, due to a positive third quarter, InBev volumes recovered slightly to -1.5%, on a year-to-date basis. This improvement was mainly driven by the growth of the Cass® brand, which was launched in Q Pack® in May. In China, the K.K. and Nanjing breweries combined, produced an organic volume growth of +11.3%. ...
more info
Japan: Asahi Breweries, Ltd. announced on October 27 consolidated financial results for the 3Q Period ended September 30, 2004. Company's group net profit increased by 46.4% year-on-year
to 31,178 million yen (US$293m) from JPY21.29 bln a year earlier. Group sales rose by 2% to 1,046,941 million yen from 1,026,581 million yen in the same period last year. The brewer credited benefits from cost cuts for the increases. Asahi Breweries sold 108.71 billion cases of beer (0.7% decrease) and 41.08 billion cases of happoshu (low-malt beer) (1.7% increase) in the first nine months of the year (excluding exports). Company's forecast for the full year 2004 made on August 6th is to sell 148 billion cases of beer and 57 billion cases of happoshu (low-malt beer). For the full fiscal year to 31 December, Asahi stuck to the outlook it made in August, expecting a group net profit of JPYY28 bln, an operating profit of JPYY88 bln and sales of JPYY1.435 trillion.
Slovak Republic: Between August 2003 and August 2004, Slovak breweries sold 4.2 million hectolitres of beer. The previous year, they sold 4.9 million hectolitres
. The 700,000 hectolitre difference in sales represents a 15-percent drop year-on-year. The beer industry recorded a total loss of Sk355 million (€8.8 million) for the first half of 2004. The Slovak Association of Beer and Malt Producers (SZVPS) expects that figure to reach Sk500 million by the end of the year. Breweries in Slovakia are saying that high excise taxes are creating an industry crisis. Since August 2003, small breweries have been paying an excise tax of Sk37 per hectolitre and per plato of beer produced, while large breweries have been paying Sk50 per hectolitre and per plato. Both big and small breweries complain that the higher excise taxes have pushed up the price of beer, which has lowered consumption and hurt sales. Three breweries and two malt producers have closed since the excise taxes were raised, costing 500 jobs in Martin, Nitra, and Trnava. According to the Slovak Association of Beer and Malt Producers (SZVPS), three more breweries are about to collapse. "We believe the reason behind lower beer consumption in Slovakia is because of the discord between a radical hike in excise taxes on one side, and purchasing power of consumers on the other," said Roman Šusták, the executive manager of SZVPS, in an interview with The Slovak Spectator. Šusták says the Slovak beer market cannot absorb high excise taxes without negatively impacting consumption. The Finance Ministry disagrees. Peter Papanek, advisor to the Finance Minister, told The Slovak Spectator that excise taxes do not reduce the competitiveness of domestic beer producers. "Direct taxes, such as income tax, have far more influence on industry performance," he said. Papanek said that the government's tax reform, which included income tax cuts and the abolishment of taxes on dividends, more than compensated for the hike in excise taxes on beer. While Šusták admits that low direct taxes have improved the general business environment in Slovakia, he says that "in the case of beer production, high excise taxes work against us, just like high direct taxes do." The Finance Ministry suggests that the drop in consumption of Slovak beer might be a consequence of increased foreign beer imports as well as a gradual shift in consumer habits, with Slovaks consuming less alcohol in general. Papanek continued: "The problem of low beer consumption is not local. It is decreasing in other countries, too. In the Czech Republic, they say cool weather is the reason." ...
more info
Russia: Russia's top brewer, Baltika, controlled by Denmark's Carlsberg and Scottish & Newcastle, plans to raise its 2005 output by 10-16 %
, its head was quoted as saying on Tuesday, November 2, under the Reuters report. Baltika said it produced 6.35 million hectolitres of beer in the first 9 months of 2004. Last year its sales were 16.2 million hectolitres. "We hope to increase production by 10-16 percent," Baltika head Teimuraz Bolloyev was quoted by Vedomosti business daily as saying. Bolloyev said Russia's beer market growth would slow from last year's levels, however. "According to my estimates, this year's growth will be lower than last year: 8 to 10 % and no more than 5 to 6 % in 2005," Bolloyev said. He said Russia's beer consumption was 55 litres per head. "I was sure before that we will be close to the 70 litre level during 2005, but it will not happen," Bolloyev said. Baltika, which doubled its advertising and marketing budget this year over 2003 levels, will cut investment to $100 million from this year's $150 million, according to Reuters. "Next year it will be used to promote our goods," Bolloyev said. "Previously we did not so much spend money on advertising but on increasing capacity and the construction of new facilities." . Provincially, per capita sales were highest in Newfoundland and Labrador and lowest in Manitoba.
Ireland: Irish pub goers have drunk 23 million fewer pints since the smoking ban was introduced at the end of March, according to new figures. There were 339 million pints of beer sold in pubs
from the beginning of April to the end of September, compared with 362 million during the same period last year. The fall of 23 million represents a 6% decrease, according to the survey by the Irish Brewers' Association (IBA). "The harsh fact of the matter is the figures are down," said Paddy Jordan, the director of IBA, which represents beer producers such as Heineken and Diageo, the makers of Guinness. "The trend is likely to be 9%-10% down for the year," The Times Online revealed on November 1. Publicans say the breweries are only now understanding what the pub trade had been saying months ago. "We said this from day one although the breweries did contradict us at that stage," said Seamus O'Donoghue, the president of the Vintners' Federation of Ireland. "The smoking ban is a significant player in this because it accelerated a downturn which began last Christmas. At our last meeting trade was down 30% in 'landlocked' pubs, that is those that had no room to put facilities outside for smokers." Last week it was reported that of the 42 Dublin pubs publicly to go to the market this year, 19 have failed to sell. Lillies Bordello, off Grafton Street, with a starting price of €4m, failed to attract one bid and Conways in Blackrock, was withdrawn at €2m, despite fetching €3.5m two years earlier. Several publicans have resorted to the once-unheard-of tactic of dropping prices in a bid to lure punters back. One such venue is the Submarine bar in Crumlin. Peter Kavanagh, the assistant manager, said: "I thought with the smoking ban the food sales would have picked up dramatically. There has been a small increase but nothing to make up for the loss in drink." However, Jordan said the smoking ban was not all to blame. "Beer consumption in Ireland had got to be so high — at about 150 litres (265 pints) per capita a year — that there was only one way it could go." Draught beer sales have been falling consistently since 1999. While volumes sold at the pump have decreased, sales of beer at off-licences have been climbing — up about 7% this year — as consumers switch to entertaining at home.
Brazil: Heineken N.V. announced on November 3 that, following its press release dated September 8, 2004, it has decided to take an impairment charge of € 190 million on its 20%-minority stake in the Brazilian Brewery Company Cervejarias Kaiser
, reducing the carrying value of its investment to zero. As minority shareholder, Heineken has no effective influence over the management and over the policies of Kaiser in Brazil. Further, given the development of the real versus the euro, and the current financial performance of Kaiser, Heineken believes that the value of its minority stake is severely impaired. It has been decided to provide for an impairment charge equal to 100% of the amount of the investment. Although the business as a whole has a value, Heineken is unable to determine the realizable value of its 20%-stake with any accuracy or reliability. The impairment will be reported in the profit and loss account as a non-cash, exceptional item in the fourth quarter of 2004, and has no impact on Heineken's organic rate of profit growth. In order to preserve its current position in the important Brazilian beer market, Heineken is considering participating in the capital increase of C$ 45 million announced by Molson on 28 October 2004.
Barley News
Australia: ABB Grain Ltd's managing director Michael Iwaniw announced on November 1 the gross pool indicators for the company's Vic No.2 barley pool at $180-190/t for malting 1 barley and 150-160/t for feed 1 barley. These indicators equate to an estimated delivered Geelong price of $155-165/t for malting 1 barley and $125-135/t for feed 1 barley. Mr Iwaniw also announced significant increases in the value of ABB's No.1 pool, which closed on 25 October. Mr Iwaniw said that the indicators for both pools were a result of the current direction of the Victorian domestic market. "Growing conditions have been poor so far this season in Victoria. Forecast low production coupled with strong domestic demand, particularly for feed barley, has meant feed domestic prices have eclipsed export prices," Mr Iwaniw said. "To obtain the best returns for growers this season ABB will be directing grain into the State's domestic market; because of this our pool indicators have lifted to reflect domestic prices." Mr Iwaniw said that Sloop malting barley would attract a $5/t premium as had occurred in previous years. The revised gross pool indicators for the No.1 pool are $182-192/t for malting 1 barley (an increase of $12/t) and $155-165/t for feed 1 barley (an increase of $20/t). This equates to an estimated delivered Geelong price of $157-167/t for malting 1 barley and $130-140/t for feed 1 barley. Meanwhile, the gross harvest advance figures for ABB's 2004/05 barley pools are now available.

Hungary: USDA's October estimate for the Hungarian barley is 1.4 million tonnes, up 70 % from last year and 28 % above the five-year average. Barley is primarily an autumn-sown crop in Hungary.


Theoretical malt prices.
EURO = USD 1.2731 November 03, 2004
Crop year
2004
Parity
FOB Antwerp
Position
Nov 2004-Sept 2005
Conditioning
Bulk
In bags
Bulk containers
Bags, containers
Malting barley variety
EURO
USD
EURO
USD
EURO
USD
EURO
USD
2RS
Scarlett
239.00
304.50
254.50
323.50
250.50
319.00
260.50
331.50
2RS
Prestige
238.00
303.00
253.00
322.00
249.50
317.50
259.00
329.50
2RS
Cellar
238.50
303.50
253.50
323.00
250.00
318.50
259.50
330.50
2RS
Aspen
237.50
302.00
252.50
321.50
249.00
316.50
258.50
329.00
2RS
Optic
237.50
302.00
252.50
321.50
249.00
316.50
258.50
329.00
2RS
Astoria
236.50
301.50
252.00
320.50
248.50
316.00
257.50
328.00
2RS
Cork
236.50
301.50
252.00
320.50
248.50
316.00
257.50
328.00
2RS
Average price
238.00
302.50
253.00
322.00
249.50
317.50
259.00
329.50
2RS
FAQ
235.50
299.50
250.50
319.00
247.00
314.50
256.50
326.50
6RW
Esterel
225.50
287.50
241.00
306.50
237.00
302.00
246.50
314.00
*
Asia Malt 70/30
234.00
298.00
249.50
317.50
245.50
312.50
255.50
325.00
**
Asia Malt 50/50
231.50
295.00
247.00
314.50
243.50
309.50
253.00
322.00
* - 70/30 = 70% Average two Rows Spring and 30% Six Rows Winter
** - 50/50 = 50% Average two Rows Spring and 50% Six Rows Winter
Theoretical malt prices for crop 2005 are available on site
www.e-malt.com/MarketPrices
Malting barley prices. French barley prices.
Nominal prices.
EURO = USD 1.2731 November 03, 2004
Crop year
2004
2005
Parity
FOB Creil
FOB Creil
Position
July 2004
July 2005
Type
Variety
EURO
USD
EURO
USD
2RS
Scarlett
110.00
140.50
121.00
154.50
2RS
Prestige
109.00
139.00
120.00
153.00
2RS
Cellar
109.50
139.50
120.50
153.50
2RS
Aspen
108.50
138.50
119.50
152.50
2RS
Optic
108.50
138.50
119.50
152.50
2RS
Astoria
108.00
137.50
119.00
151.50
2RS
Cork
108.00
137.50
119.00
151.50
6RW
Esterel
99.00
126.50
105.00
134.00
French Malting Barley Price Evolution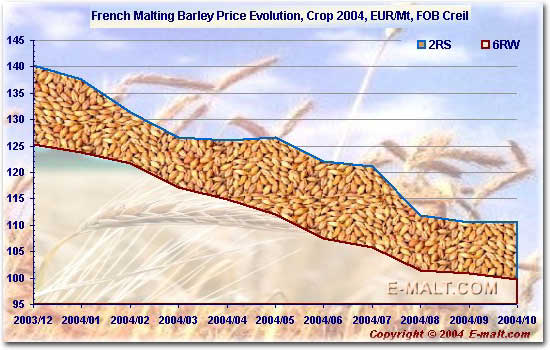 | | |
| --- | --- |
| | Maximum average price for 2RS Malting Barley, Crop 2004: 140.30 EUR/tonne - in December 2003 |
| | Minimum average price for 2RS Malting Barley, Crop 2004: 110.00 EUR/tonne - in October 2004 |
| | Maximum average price for 6RW Malting Barley, Crop 2004: 125.50 EUR/tonne - in December 2003 |
| | Minimum average price for 6RW Malting Barley, Crop 2004: 99.00 EUR/tonne - in October 2004 |
Table of the week
Australian Barley Supply and Disposal 2001-2005

| | | | | |
| --- | --- | --- | --- | --- |
| in thousand tonnes | 2001-2002 | 2002-2003 | 2003-2004 | 2004-2005f |
| Production | 8 280 | 3 865 | 8 625 | 7 290 |
| Domestic use | 2 499 | 1 986 | 2 429 | 2 524 |
| as malt and other human use | 161 | 165 | 168 | 172 |
| feed | 2 200 | 1 650 | 2 100 | 2 200 |
| seed | 138 | 171 | 161 | 152 |
| Exports | 5 274 | 2 607 | 6 376 | 4 793 |
| as malting barley | 1 705 | 1 099 | 2 093 | 1 779 |
| malt (grain equivalent) | 600 | 624 | 637 | 643 |
| feed barley | 2 971 | 885 | 3 647 | 2 371 |
Source: ABARE
Graph of the week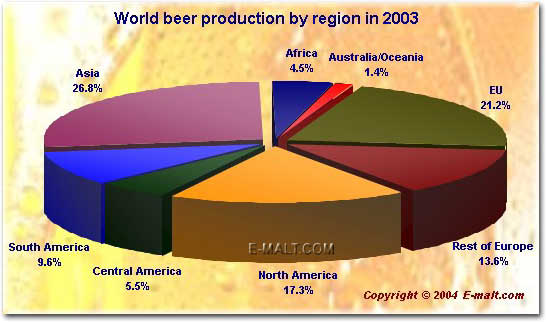 Agenda
October 2004:
OCTOBERFEST Famous German Beer Festival;
Great American Beer Festival;
bevex Beverage Trade Fair. Germany;
Great Welsh Beer & Cider Festival;
ST. PETERSBURG FOOD SALON 2004;
Beer Fair. Spain;
Expo Bebidas Beverage Exhibition. Mexico;
EXPOALIMENTOS Y BEBIDAS 2004. Panama;
Fall Eastern PA Breweriana;
Knoxville Brewer's Jam - A Memorial to Tom Rutledge;
INTERPRODTECH Food and Beverages Processing Exhibition. Russia;
Alko and Drinks Show Alcoholic Beverages and Non-alcoholic Drinks Exhibition. Russia;
WORLD FOOD KAZAKHSTAN 2004;
PAN ASIAN FOOD & BEVERAGE TRADE SHOW 2004. Canada;

November 2004:
INTERNATIONAL EXH FOR FOOD & DRINK INDUSTRY / WORLD FOOD UKRAINE 2004;
INT'L EXH OF WINES, ALCOHOLIC & NON ALCOHOLIC DRINKS & PROTECTION EQUIPMENT / EXPO DRINK 2004. Romania;
TALLINN FOODFEST 2004;
Belgian Beer Fest, Boston MA;
Teach a Friend to Brew Day;
FOOD PROCESSING MACHINERY EXPO 2004;
FISPAL RECIFE 2004 / INTERNATIONAL FOOD FAIR. Brazil.;
BRAU Beviale 2004. Nürnberg, Germany.;
Brewers' Association of America Conference;
Accrington Beer Festival. UK;
FOODAPEST 2004. 7th International Food, Drink and Food Processing Trade Fair;
INTERNATIONAL EXH FOR FOOD INGREDIENTS, ADDITIVES & FLAVOURINGS / INGREDIENTS RUSSIA 2004;

More events are available on site e-malt.com