Canada: Molson Inc. and Adolph Coors Company announced on November 5 that in connection with the previously announced merger of the two companies, they have agreed to include a special dividend to Molson shareholders as part of the transaction
. Pentland Securities (1981) Inc., a company owned by Eric H. Molson and Stephen T. Molson and controlled by Eric H. Molson, has agreed to forego any participation in the special dividend. Both Molson Class A non-voting and Class B common shareholders, excluding Pentland, will receive C$ 3.26 per share, or a total of approximately C$ 381 million (US$ 316 million), payable as part of the plan of arrangement to Molson shareholders of record as of the last trading day immediately prior to the date of closing of the merger transaction. Had Pentland not agreed to forego participation in the special dividend, the special dividend payable to all Class A and Class B shareholders would have been C$ 3.00 per share. This payment has been approved by both companies' Boards of Directors. The other terms of the proposed merger transaction will remain as previously announced. "Pentland's agreement to forego participation in the special dividend demonstrates a firm conviction that the Molson Coors merger is in the best interests of Molson and will bring significant value to its shareholders", said Eric H. Molson, Chairman of the Board of Molson. "Pentland is fully committed to the Molson Coors merger and no other transaction will be supported by Pentland" added Mr. Molson. Both Coors and Molson agree that the merger is the best alternative for both companies, and are confident that the merged company can create greater levels of sustained shareholder value. Today's action provides immediate value to Molson shareholders while still enabling them to participate in the significant long-term upside of the combination. Shareholder approval, which is required to complete the transaction, will be solicited by the companies by means of the definitive proxy statement upon completion of the SEC review process. Once the definitive proxy statement has been cleared by the SEC, it will be submitted to the Quebec Superior Court and then mailed to shareholders. Each company will then hold special shareholder meetings to approve the transaction. Assuming these approvals, and approval by the Quebec Superior Court, the companies expect to close the transaction later this year or early next year. Molson is Canada's largest brewer and one of the world's leading brewers of quality beer with operations in Canada, Brazil and the United States. A global brewer with CAN$3.5 billion in gross annual sales, Molson traces its roots back to 1786, making it North America's oldest beer company. Committed to brewing excellence, Molson produces an award-winning portfolio of beers including Molson Canadian, Molson Export, Molson Dry, Rickard's, A Marca Bavaria, Kaiser and Bavaria. Founded in 1873, Adolph Coors Company is the world's eighth-largest brewer, with $5.4 billion in annual gross sales. Its principal subsidiary is Coors Brewing Company, the third-largest brewer in the U.S., with a beverage portfolio that includes Coors Light, Coors, Aspen Edge, Killian's, Zima XXX and the Keystone family of brands. The company's operating unit in the United Kingdom, Coors Brewers Limited, is the U.K.'s second-largest brewer, with brands that include Carling -- the best-selling beer in the U.K. - - Grolsch, Worthington's, Reef and the recently launched Coors Fine Light Beer.
China: For the third year running, China has come out tops as the world's biggest beer producer, brewing more than 27 billion litres of the amber nectar for consumers
. This year's output exceeds last year's figures by about 2 billion litres - or 7,4 %, says Xiao Derun, director of the beer division of the China Distillers' Association. Drinkers in China consumed 25 billion litres of beer last year, pushing consumption past recognised beer-drinking nations Germany, Belgium and the United States and claiming pride of place in the global top spot for the first time. Continuing demand pushed pre-tax profit from beer up 22 % to 8,72-billion yuan (about R39-billion) between January and July. Derun credited the increase in production to the purchase and consolidation of small, inefficient breweries by major brands, along with the construction of new breweries and new investment in existing ones. China's beer market is still dominated by domestic brands such as Tsingtao and Yanjing, but international names such as Budweiser, Japan's Suntory, Carlsberg and Fosters also have a major presence in the country.
USA, Boston: The Boston Beer Company, Inc. reported on November 3 its third quarter 2004 volume, revenue and earnings, as compared to the third quarter 2003
. For the 13-week period ended September 25, 2004, The Boston Beer Company recorded net revenue of $54.7 million, a 1.5% decrease from the third quarter 2003, which was primarily due to a 3.6% decline in shipment volume of the Company's core brands. Net revenue per barrel increased by 2.2% over the third quarter last year mainly due to price increases, as well as a shift in the package mix from kegs to bottles. As reflected on the following chart, reported sales volume for the period decreased to 320,615 barrels. The Company recorded net income of $3.0 million or $0.21 per diluted share for the quarter versus net income of $4.0 million and $0.28 per diluted share for the same period last year. Gross margin as a percentage of net sales was 58.5% as compared to 58.9% in the prior year third quarter. This decrease is due to an increase in packaging material and utility costs, partially offset by price increases. Advertising, promotional and selling expenses for the quarter were up 5.2% compared to the same period last year, driven primarily by higher media spending in the third quarter 2004. General and administrative expenses were down by 9.7% during the third quarter 2004 versus the prior year due to expenses incurred in 2003 in connection with the arbitration proceedings with Miller Brewing Company. Based on the information available to the Company, distributor sales of Boston Beer brands to retail (depletions) during the third quarter 2004 totaled 326,000 barrels, less than a 1% decline from the same period in 2003. For the 39-week period ended September 25, 2004, Boston Beer Company recorded net revenue of $161.4 million, a 2.7% increase from the same period in 2003. This increase was primarily due to a 1.2% higher shipment volume of the Company's core brands coupled with an increase in net revenue per barrel. Net revenue per barrel increased by 1.3% during the nine months 2004 as compared to 2003 due to an increase in pricing, partially offset by a package mix shift from bottles to kegs and an increase in 3rd party contract brewing volume. As reflected on the following chart, reported sales volume for the period increased to 946,498 barrels. Based on information currently available to the Company, year to date distributor sales of Boston Beer brands to retail (depletions) exceeded shipments by approximately 32,000 barrels. Shipment volume was higher than depletion volume for the first nine months of 2004 primarily due to a normal distributor inventory build for the peak summer selling season, which began to unwind in the third quarter 2004. Distributor inventory levels as of September 25, 2004 appear reasonable and represent levels similar to those at the end of the same period last year. ...
more info
Denmark: Carlsberg A/S announced on 4 November 2004 Q3 2004 financial results. Company's beer volume rose by 11% during the first three quarters of the year driven by strong organic growth in BBH and by the acquisition of Holsten-Brauerei
. Net revenue totalled DKK 27.1bn corresponding to an increase of 3%. Measured in local currencies, revenue rose by 5%. Operating profit increased by 5% to DKK 3,054m. Carlsberg A/S' share of profit (before goodwill amortisation and write-down, etc.) was DKK 1,129m against DKK 1,007m in the same period last year (+12%). New business plan and management for the Swedish activities following unsatisfactory financial results. • Expectations to full-year operating profit are reduced from DKK 3.5-3.7bn to approximately DKK 3.4bn (last year DKK 3,564m). Carlsberg A/S' full-year share of profit (before goodwill, etc.) is now expected to be approximately DKK 1.4bn (about 19% up on last year) against previous expectations of DKK 1.5-1.6bn (last year DKK 1,179m). Carlsberg's brewing activities showed stable and satisfactory developments in both August and September. The disappointing development which characterised the business during the early summer as a result of the poor weather particularly in Northern Europe was thus turned around. However, as expected, it was not possible to make up the entire loss registered in July and, consequently, the quarter ended with an operating profit 9% down on the corresponding quarter last year. The individual geographic segments generally showed satisfactory developments. On the positive side, BBH's strong sales development, Feldschlösschen's positive results and the advanced restructuring process for Holsten-Brauerei should be emphasized. On the negative side are the lack of improvement in the Swedish activities, only modest results in Turkey in Q3, and weak results in Italy due to a declining market and comprehensive restructuring of the business model. During the first three quarters of the year, Carlsberg's pro rata calculated beer volume showed significant progress totalling 48.2m hl (41.7m hl in the same period last year), which corresponds to a 16% rise. The beer business also saw favourable developments in gross volume with an 11% increase - of which 7% was organic growth - to a total of 70.0m hl. The soft drink and water business fell to 15.0m hl (9% down on last year) due to the weather conditions during the summer months and the divestment of the water business in Switzerland in 2003. During the period, the Carlsberg brand saw an 8% increase in volume; the most significant increase was registered during the EURO 2004 marketing campaign. Several markets continue to experience intensified competition and Carlsberg's countermove is to invest in the build-up of a strong brand portfolio and to improve the cost structure. The initiatives launched under the Operational Excellence programme are proceeding according to plan and are expected to provide the previously announced financial results...
more info
Brazil: Companhia de Bebidas das Américas – AmBev, the world's fifth largest brewer and the largest brewer in Latin America, owned by InBev, announced on November 3 its results for the third quarter 2004
(3Q04). AmBev said third-quarter net income plunged as it boosted spending to promote its Brazilian brands and began consolidating its new Canadian business. AmBev's consolidated EBITDA reached R$1,135.7 million in the quarter, already including Labatt's results. EBITDA for AmBev's operations pre-combination with InBev S.A. ("InBev") reached R$976.7 million, up 25.6%. AmBev's Brazilian beer business reached 67.0% market share in September, according to ACNielsen. Beer Brazil volumes increased by 17.1%, and net revenues per hectoliter reached R$120.3. Consolidated net income for AmBev, as the Sao Paulo-based brewer with business from Canada to Argentina is known, fell 61 percent to 131.7 million reais ($46.4 million), or 2.39 reais per 1,000 shares, from 340.4 million reais, or 8.97 reais, a year earlier. Earnings came in lower than the 414.5 million reais median in a Bloomberg survey of the estimates of four analysts. AmBev's drive to boost volumes and revenue in its core Brazilian beer market also cost it money as it spent more on promoting its brands, the company said in an earnings statement published on its Web site. At the same time, some investors worry about the ability of AmBev, which dominates Brazilian brewing, to generate profits in Canada, a new market it's entering as a result of its transaction with InBev, said Clecius Peixoto, who helps manage $10 billion in emerging market assets at Emerging Markets Management LLC in Arlington, Virginia. "It's not hard to create a good argument for AmBev's business in Brazil on the operating side,'' said Peixoto, who holds AmBev stock. ``As far as Canada goes, there's still a good deal of skepticism.'' AmBev said consolidated net revenue rose 46 % to 2.95 billion reais. Earnings before interest, taxes, depreciation and amortization, a measure of a company's ability to generate cash, rose 46 percent to 1.14 billion reais from 777.85 million reais a year ago. Sales of beer by volume in Brazil, a market that contributes 71 percent of AmBev's net revenue, rose 17 percent, contributing to 17 percent increase in revenue from beer sales there, the company said. AmBev's Brazil beer market share rose to 67 percent by the end of September from 66 percent a year earlier. Investment in promoting its brands caused a 59 percent surge in consolidated selling general and administrative expenses, which increased 59 percent to 863.1 million reais from 542.6 million reais a year earlier. The acquisition of AmBev by Belgium's Interbrew, announced in March and completed in August, leaves the brewer in control of the Canadian brewer Labatt. AmBev consolidated one month of Labatt earnings into its third quarter earnings.
Australia, Sydney: Lion Nathan's Australasian based alcoholic beverages business announced on 4 November 2004 it had again underwrote a solid operating result
. Net Profit after Tax (NPAT), before significant items, grew 12.5 % to $202.7 million. Operating cash flow was up 2.5 % on the same period to $274.0 million. During the year Lion Nathan took a number of significant strategic initiatives and reviewed the carrying value of its assets which had one off impacts on the reported result for the 2004 fiscal year. The major items were the sale of its Chinese beer business (realising a profit of $104.1 million), the sale of its Victorian hotel portfolio, HMC (a loss of $34.2 million) and a $71.5 million write down in the carrying value of its Australian wine business. The net financial impact of all of these significant items was a loss of $42.6 million, reducing reported NPAT to $160.1 million. The Australian beer business, which includes brands Tooheys New, Hahn Premium Light and XXXX Gold, performed well with growth in core brands and mix shift to higher margin premium brands driving Earnings Before Interest, Tax and Amortisation (EBITA) (before significant items) up 6.8 per cent to $352.9 million. Following a number of years of growth, New Zealand earnings declined by 5 per cent, reflecting an increase in competitive pressure. Lion Nathan China delivered very strong volume and revenue growth; however, earnings were put under pressure by the rapid pace of consolidation in the Chinese beer market. EBITAS (before significant items, SGARA and non recurring items) for the Wines & Spirits Group was up 16.7 per cent as margin and mix improved in key markets. Solid operating cash flows ensured that Lion Nathan's financial position was strengthened. Before significant items, gearing (net debt / book value of equity) improved from 58 per cent to 51 per cent while interest cover (also before significant items) strengthened slightly – to 4.5 times. Net debt levels were reduced to $1,282 million and fell further, following receipt of sale proceeds from China of US$73.1 million, which were received after 30 September 2004. In line with the Company's dividend policy, of paying out 70 per cent of core earnings, total dividends for the year have been set at 29 cents per share. An interim dividend of 14 cents per share was paid on 23 June and a final dividend of 15 cents per share will be paid on 13 January 2005. This represents a 7.4 per cent increase on the prior year. Both dividends are fully franked.
Malt News
International malt business in October was substantial, market analysts revealed. In Asia, Thailand had already covered more than 200,000 tonnes in September. Saigon Beer Brewery has reopened its tender for the purchase of 40,000 tonnes. Oriental Brewery (Inbev) of Korea is reported to have purchased 50-60,000 tons from Australia, Canada, China, EU.
Latin America and the Caribbean were very active in malt business: Trinidad bought 10,000 tonnes of malt, Barbados 1,500 tonnes, Guatemala 12,000 tonnes, Costa Rica 6,000 tonnes, Nicaragua 6,000 tonnes, Panama 12-14,000 tonnes. Prices CFR in bulk and in bulk in container were reported from US$ 300-330, depending on packing, size, and most important, on the exchange rate on days of contract conclusions.
Barley News
EU 2004/2005 barley crop is estimated by analysts at 61-62 million tonnes, domestic demand of feed barley at 37 million tonnes, human consumption (malt) at 11 million tonnes, minimum needed carryover on June 30 was 5.5 million tonnes, free surplus 8-9 million tonnes. Intervention starts on November 1, large applications are expected in Central France, East Germany and landlocked new members countries South Poland / Czech / Slovakia / Hungary. Export restitutions are so far 58,000 tonnes granted at maximum EUR 18.80. As exchange rate US $ / EUR is 1,2756, about EUR 25,- per tonne would be needed to bring EU offers down to par with Black Sea offers. "Restitution of EUR 18.80 granted, leaves the question of EU strategy fully open: Is it an indication that we do not want to compete in world markets at any price? Is it a slow approach to the right level? It was about EUR 2,- more each week. Or is it meant to discourage sales to intervention, which start this week? Barley holders may wonder now, whether they deliver to intervention right now or wait for better markets, in case big exports get rolling. So much is clear: if EU restitutions remain uncompetitive, world markets must go up. But high barley premiums above feed wheat and maize would also bring out all reserves in competitor countries and induce buyers to use other grains or starch products." EU malting barley will be needed to fill the gap of the world's Supply and Demand. But exchange rates and freight make prices so high that one cannot imagine overseas buyers will pay them, e.g. C+F China US$ 220-225. Surplus on paper was 2.5 million tonnes in EU. Low market prices and quality problems in U.K./Scandinavia will cut real availabilities to 1.5 – max. 2 million tonnes. Domestic markets in France – FOB Creil, basis July 6rw Esterel EUR 100-101, 2rs Scarlett 111-112 - and Germany – 2rs pure varieties, October FCA maltings South Germany EUR 115-118 - are at all-time lows. Danish sellers stick to high levels, Barke, October, FOB seaport EUR 132-. Activity is negligible.

Russia: 2004/2005 barley crop estimate of USDA is 18.5 million tonnes. However there is no official Russian estimate. Russian barley exports estimated by USDA are of 3 million tonnes. In July/September Russia exported 232,000 tonnes, very disappointing, according to analysts. They attributed the decline to larger livestock and domestic feed demand and also to a market uncompetitive with Ukrainian barley. Another reason could be the existence of only one Panamax size port: Novorossiysk. USDA reported a price level: average price FCA US$ 92.


Theoretical malt prices.
EURO = USD 1.2873 November 05, 2004
Crop year
2004
Parity
FOB Antwerp
Position
Nov 2004-Sept 2005
Conditioning
Bulk
In bags
Bulk containers
Bags, containers
Malting barley variety
EURO
USD
EURO
USD
EURO
USD
EURO
USD
2RS
Scarlett
240.50
309.50
255.50
329.00
252.00
324.50
261.50
336.50
2RS
Prestige
238.00
306.50
253.00
325.50
249.50
321.00
259.00
333.50
2RS
Cellar
238.50
307.00
253.50
326.50
250.00
322.00
259.50
334.00
2RS
Aspen
237.50
305.50
252.50
325.00
249.00
320.50
258.50
332.50
2RS
Optic
237.50
305.50
252.50
325.00
249.00
320.50
258.50
332.50
2RS
Astoria
236.50
304.50
252.00
324.00
248.50
319.50
257.50
332.00
2RS
Cork
236.50
304.50
252.00
324.00
248.50
319.50
257.50
332.00
2RS
Average price
238.00
306.50
253.50
326.00
249.50
321.50
259.00
333.50
2RS
FAQ
235.50
303.00
250.50
322.50
247.00
318.00
256.50
330.50
6RW
Esterel
227.00
292.00
242.00
311.50
238.50
307.00
248.00
319.00
*
Asia Malt 70/30
234.50
302.00
250.00
321.50
246.50
317.00
255.50
329.50
**
Asia Malt 50/50
232.50
299.50
247.50
318.50
244.00
314.00
253.50
326.50
* - 70/30 = 70% Average two Rows Spring and 30% Six Rows Winter
** - 50/50 = 50% Average two Rows Spring and 50% Six Rows Winter
Theoretical malt prices for crop 2005 are available on site
www.e-malt.com/MarketPrices
Malting barley prices. French barley prices.
Nominal prices.
EURO = USD 1.2873 November 05, 2004
Crop year
2004
2005
Parity
FOB Creil
FOB Creil
Position
July 2004
July 2005
Type
Variety
EURO
USD
EURO
USD
2RS
Scarlett
111.00
143.00
121.00
156.00
2RS
Prestige
109.00
140.50
120.00
154.50
2RS
Cellar
109.50
141.00
120.50
155.50
2RS
Aspen
108.50
140.00
119.50
154.00
2RS
Optic
108.50
140.00
119.50
154.00
2RS
Astoria
108.00
139.50
119.00
153.50
2RS
Cork
108.00
139.50
119.00
153.50
6RW
Esterel
100.00
129.00
105.00
135.50
French Malting Barley Price Evolution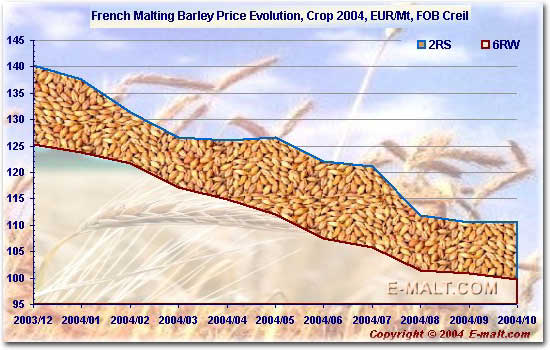 | | |
| --- | --- |
| | Maximum average price for 2RS Malting Barley, Crop 2004: 140.30 EUR/tonne - in December 2003 |
| | Minimum average price for 2RS Malting Barley, Crop 2004: 110.00 EUR/tonne - in October 2004 |
| | Maximum average price for 6RW Malting Barley, Crop 2004: 125.50 EUR/tonne - in December 2003 |
| | Minimum average price for 6RW Malting Barley, Crop 2004: 99.00 EUR/tonne - in October 2004 |
Table of the week
Australian Barley Supply and Disposal 2001-2005

| | | | | |
| --- | --- | --- | --- | --- |
| in thousand tonnes | 2001-2002 | 2002-2003 | 2003-2004 | 2004-2005f |
| Production | 8 280 | 3 865 | 8 625 | 7 290 |
| Domestic use | 2 499 | 1 986 | 2 429 | 2 524 |
| as malt and other human use | 161 | 165 | 168 | 172 |
| feed | 2 200 | 1 650 | 2 100 | 2 200 |
| seed | 138 | 171 | 161 | 152 |
| Exports | 5 274 | 2 607 | 6 376 | 4 793 |
| as malting barley | 1 705 | 1 099 | 2 093 | 1 779 |
| malt (grain equivalent) | 600 | 624 | 637 | 643 |
| feed barley | 2 971 | 885 | 3 647 | 2 371 |
Source: ABARE
Graph of the week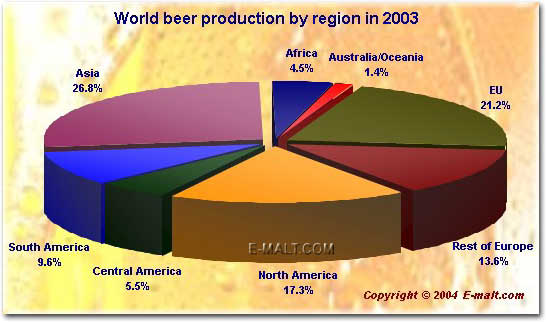 Agenda
October 2004:
OCTOBERFEST Famous German Beer Festival;
Great American Beer Festival;
bevex Beverage Trade Fair. Germany;
Great Welsh Beer & Cider Festival;
ST. PETERSBURG FOOD SALON 2004;
Beer Fair. Spain;
Expo Bebidas Beverage Exhibition. Mexico;
EXPOALIMENTOS Y BEBIDAS 2004. Panama;
Fall Eastern PA Breweriana;
Knoxville Brewer's Jam - A Memorial to Tom Rutledge;
INTERPRODTECH Food and Beverages Processing Exhibition. Russia;
Alko and Drinks Show Alcoholic Beverages and Non-alcoholic Drinks Exhibition. Russia;
WORLD FOOD KAZAKHSTAN 2004;
PAN ASIAN FOOD & BEVERAGE TRADE SHOW 2004. Canada;

November 2004:
INTERNATIONAL EXH FOR FOOD & DRINK INDUSTRY / WORLD FOOD UKRAINE 2004;
INT'L EXH OF WINES, ALCOHOLIC & NON ALCOHOLIC DRINKS & PROTECTION EQUIPMENT / EXPO DRINK 2004. Romania;
TALLINN FOODFEST 2004;
Belgian Beer Fest, Boston MA;
Teach a Friend to Brew Day;
FOOD PROCESSING MACHINERY EXPO 2004;
FISPAL RECIFE 2004 / INTERNATIONAL FOOD FAIR. Brazil.;
BRAU Beviale 2004. Nürnberg, Germany.;
Brewers' Association of America Conference;
Accrington Beer Festival. UK;
FOODAPEST 2004. 7th International Food, Drink and Food Processing Trade Fair;
INTERNATIONAL EXH FOR FOOD INGREDIENTS, ADDITIVES & FLAVOURINGS / INGREDIENTS RUSSIA 2004;

More events are available on site e-malt.com