Venezuela: Venezuelan brewing force, Empresas Polar, has posted that its first nine-month sales increased 10% up to US$2.3 billion
during January 1-September 30 this year compared to the same period 2003. The brewery attributed the growth to its operations in Venezuela, Colombia and in the Caribbean. Company's sales might grow 5% in 2005 as the economic situation in Venezuela continues to improve after the economic crisis of 2003, Rafael Sucre, The Empresas financial director said.
Russia, Moscow: The Russian State Duma unanimously passed on November 26 the conciliatory commission's version of a bill that restricts beer sales and consumption in public places
. The bill will now be directed to the Federation Council for approval, the Russian information Agency Novosti reported. A conciliatory commission had earlier been put in charge of revising the bill. The bill restricts the sale and consumption of beer and beer-based products in children's, educational and medical institutions and the areas surrounding them. The document bans selling beer in cultural institutions, sports centers and public transport, as well as to under-age children. Under the bill, beer cannot be consumed in the streets, parks, at stadiums and in other public places, except for restaurants and cafes. The first law bill passed in late October and backed by over 400 lawmakers was voted down by the upper house. The senators agreed with the concept of the law, but said it envisaged no punishment for violators, which brings the effort to nil. First deputy speaker of the State Duma Lyubov Sliska said the concept of the law remained unchanged after the work of the conciliatory commission. "The main provisions regarding retail sale and drinking of beer in public places remained intact", she said. Sliska hopes both the lower and upper chambers will pass the law now. A bill banning beer commercials between 7 a.m. and 10 p.m. came into effect earlier in September, and the number of ads has already fallen by three-quarters. A ban on the use of people and animals in beer ads will come into effect next year, according to Moscow News. Public beer drinking in Russia is widespread. The country's vodka habit means many don't consider beer an alcoholic drink and Muscovites can often be seen with a bottle on their way to work in the morning. The distinct lack of affordable restaurants and bars means the trend could be hard to shift. Now about 300 breweries, which hire 50 thousand employees, are brewing beer in Russia. In 2003 brewing industry contributed some RUB 50 billion (USD 1.75 billion) to the State budget.
Italy: SABMiller announced on November 24 the appointment of The Bank as the lead creative agency for its Italian premium beer, Nastro Azzurro
. The appointment was made following a review of the communications strategy in the UK and abroad. Chris Taylor, international brands director for SABMiller said: "Since the acquisition of Birra Peroni by SABMiller in 2003 we have been focussing on establishing the positioning of both Peroni and Nasto Azzurro domestically in Italy and developing new communications campaigns. This has been achieved with good initial success. "Nastro Azzurro from Peroni has great potential around the world as a genuine Italian provenance beer. In the UK the brand has shown very good growth but we felt it was time to re-assess the overall communication strategy and also to establish an international basis for the brand. To this end we have decided to appoint The Bank as lead creative agency worldwide." Charlie Hiscocks, brand communications director SABMiller said: "One of the consequences of this international appointment is the end of the tenure of Burkitts DDB as the UK Nastro Azzuro agency. We are very grateful to the team at Burkitts for their work in getting the brand established and we wish them well in the future." Ian Cassie, founder and managing director for The Bank said, "Our many years of experience helping Orange roll the brand out world wide and the arrival of Will Harris at The Bank as CEO, makes us confident we can assist SABMiller in developing Nastro Azurro across the globe. What is most important though, is that we will be working with one of the world's truly great beers. I love it!" SABMiller plc is one of the world's largest brewers, with 2003/04 lager sales volumes in excess of 137 million hectolitres. It has a brewing presence in over 40 countries across four continents and a portfolio of strong brands and leading market shares in many of the countries in which it has brewing operations. Outside the USA, SABMiller plc is one of the largest bottlers of Coca-Cola products in the world. In the year ended 31 March 2004, the group generated US$1,391million pre-tax profit from a turnover of US$12,645 million. SABMiller plc is listed on the London and Johannesburg stock exchanges...
more info
For the second year in a row, Carlsberg was the fastest growing international beer brand in the world
, according to the latest reports from market research company Canadean. Carlsberg outperformed its competitors in 2003 by a wide margin, posting an impressive 11.5% growth in 2003, compared to 8.4% in 2002, Carlsberg said in a statement on November 23, 2004. Stella Artois came in second, lagging behind Carlsberg by nearly five percentage points with 7.8% growth. Carlsberg's running mate Tuborg came in third place with a growth rate of 3.7%. Canadean defines international brand growth as simply the brand's total volume minus volume in its home market. As a sector, international brands are growing at an average of around 3.5% per year, making Carlsberg's 11.5% growth stand out even more. Carlsberg has also moved up in the ranks in terms of total volume and is now the third largest among international brands. Heineken is still the largest international beer brand in terms of volume. Carlsberg's sales increased by one million hectolitres in 2003.
Latvia: Latvian breweries sold 115.53 million litres of beer in the first ten months of the year. The largest brewing company was Aldaris
– it sold 45.3 million litres of beer during January – October 2004 and held 39.3 % of the national beer market. The second largest brewery was C?su alus, which sold 17.2 million litres of beer for the period, with 14.9% of the beer market. The third was Livu us having sold 14.2 million litres of beer and covered 12.3% of the market. The list of brewers is continued by: Lacplesa alus selling 8.3 million litres of beer (7.2% of the market), Mamas D — 5.9 million litres (5.1%), Piebalgas alus — 3.3 million litres (2.8%), Agrofirma Tervete – 3.2 million litres (2.8%), Alus names — 2.9 million litres (2.5%).
Japan: Kirin Brewery Co., Japan's biggest beverage maker by sales, added 7 cents to $9.36 per share on November 24
. The company said it will spend 3.9 billion yen for a 25 percent stake in China's Dalian Daxue Brewery Co. in a push to expand market share in one of the world's largest beer markets. Kirin said it plans to double the Chinese brewer's yearly beer production capacity to 400,000 kiloliters by December 2008.
Malt News
Ukraine: In October 2004 Ukrainian malt production increased twice versus September 2004. Maltsters in Ukraine produced 19.2 thousand tonnes of malt against 9.6 thousand tonnes in September 2004. According to Statistics Department, malt production rose 1% compared to October 2003. For the four months of 2004/2005 crop-year Ukraine produced 62.3 thousand tonnes of malt against 56.33 thousand tonnes in the same period last crop-year. The biggest Ukrainian malt manufacturer, Slavutsky Malting plant, recovered its position and produced in October 2004 about 7.1 thousand tonnes of malt. In September the plant produced 1.6 thousand tonnes of malt that is a 75% drop versus August. The second maltster was Obolon brewery with an output of 4.2 thousand tonnes of malt in October. The third place took Berdichevskaya Malting plant with 3.8 thousand tonnes.
Barley News
World barley production: Another upward revision for the EU raises the world barley production figure by 0.4 million tonnes, to 151.8 million tonnes up from 140.0 million tonnes in 2003, the International Grains Council revealed in its Grain Market Report on November 25. Barley consumption is also placed slightly higher, at 143.9 million tonnes, due to a revision for the United States. Global trade is expected to recover from last years' much-reduced level, with increases both for feed and malting. EU barley exports are forecast 0.5 million tonnes higher than last month, following several substantial export refund awards. With production exceeding consumption world barley stocks are expected to be the highest since 1998/99, at 29.6 million tonnes. World barley prices were being supported by tighter export availabilities in Russia and Ukraine, while domestic EU values were buoyed by a significant volume of export refund awards, IGC said on November 25.

World barley exports: Australia barley export for 2003/2004 is up 500,000 tonnes to 5.5 million tonnes based on a strong shipment pace, USDA revealed in its November's Grain Report. Russia barley shrinks by 600,000 tonnes to 2.0 million tonnes as exports dropped to a dribble in recent months. Ukraine barley is up 400,000 tonnes to 2.0 million tonnes due to a robust pace. China, Japan, and South Korea barley are adjusted per final trade data, USDA said.


Theoretical malt prices.
EURO = USD 1.3250 November 26, 2004
Crop year
2004
Parity
FOB Antwerp
Position
Dec 2004-Sept 2005
Conditioning
Bulk
In bags
Bulk containers
Bags, containers
Malting barley variety
EURO
USD
EURO
USD
EURO
USD
EURO
USD
2RS
Scarlett
242.50
321.00
257.50
341.00
253.50
336.00
263.50
348.50
2RS
Prestige
238.50
316.00
253.50
336.00
250.00
331.50
259.50
344.00
2RS
Cellar
239.00
317.00
254.50
337.00
250.50
332.00
260.50
344.50
2RS
Aspen
238.00
315.00
253.00
335.50
249.50
330.50
259.00
343.00
2RS
Optic
238.00
315.00
253.00
335.50
249.50
330.50
259.00
343.00
2RS
Astoria
237.50
314.50
252.50
334.50
249.00
329.50
258.50
342.50
2RS
Cork
237.50
314.50
252.50
334.50
249.00
329.50
258.50
342.50
2RS
Average price
239.00
316.50
254.00
336.50
250.50
331.50
260.00
344.50
2RS
FAQ
236.00
312.50
251.50
333.00
247.50
328.00
257.00
340.50
6RW
Esterel
228.50
303.00
244.00
323.00
240.50
318.50
249.50
331.00
*
Asia Malt 70/30
235.50
312.50
251.00
332.50
247.50
327.50
257.00
340.50
**
Asia Malt 50/50
233.50
309.50
249.00
329.50
245.50
325.00
255.00
337.50
* - 70/30 = 70% Average two Rows Spring and 30% Six Rows Winter
** - 50/50 = 50% Average two Rows Spring and 50% Six Rows Winter
Theoretical malt prices for crop 2005 are available on site
www.e-malt.com/MarketPrices
Malting barley prices. French barley prices.
Nominal prices.
EURO = USD 1.3250 November 26, 2004
Crop year
2004
2005
Parity
FOB Creil
FOB Creil
Position
July 2004
July 2005
Type
Variety
EURO
USD
EURO
USD
2RS
Scarlett
112.00
148.50
121.00
160.50
2RS
Prestige
109.00
144.50
120.00
159.00
2RS
Cellar
109.50
145.50
120.50
160.00
2RS
Aspen
108.50
144.00
119.50
158.50
2RS
Optic
108.50
144.00
119.50
158.50
2RS
Astoria
108.00
143.50
119.00
158.00
2RS
Cork
108.00
143.50
119.00
158.00
6RW
Esterel
101.00
134.00
105.00
139.50
Table of the week
Malt production 2003/04 in major EU countries (in thousand tonnes)
in '000 tonnes

2002/03
2003/04
Germany
Barley malt
2,012.7
2,028.4
Wheat malt
77.9
78.5
France
Barley malt, domestic sales
178
151
Barley malt, export sales
1,102
1,146
U.K.
Barley malt
1,554
1,548
Graph of the week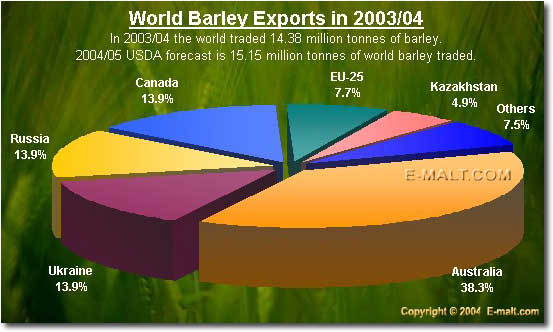 Agenda
November 2004:
World Brewing Academy Applied Brewing Techniques. Munich, Germany;
World Brewing Academy Concise Course in Brewing Technology. Chicago, Illinois, United States;
INTERNATIONAL EXH FOR FOOD & DRINK INDUSTRY / WORLD FOOD UKRAINE 2004;
INT'L EXH OF WINES, ALCOHOLIC & NON ALCOHOLIC DRINKS & PROTECTION EQUIPMENT / EXPO DRINK 2004. Romania;
TALLINN FOODFEST 2004;
Belgian Beer Fest, Boston MA;
Teach a Friend to Brew Day;
FOOD PROCESSING MACHINERY EXPO 2004;
FISPAL RECIFE 2004 / INTERNATIONAL FOOD FAIR. Brazil.;
BRAU Beviale 2004. Nürnberg, Germany.;
Brewers' Association of America Conference;
Fall Fest-Of-Ale. Janesville, Wisconsin, United States;
Accrington Beer Festival. UK;
FOODAPEST 2004. 7th International Food, Drink and Food Processing Trade Fair;
INTERNATIONAL EXH FOR FOOD INGREDIENTS, ADDITIVES & FLAVOURINGS / INGREDIENTS RUSSIA 2004;
BELPRODUKT International Exhibition for Food and Beverages. Minsk, Belarus ;

December 2004:
FOODEX Food, Beverages and Food Technologies Fair. Ankara, Turkey;
Eten & Genieten Food, Beverages and Kitchen Supplies Exhibition. Amsterdam, Netherlands;
Americas Food & beverage Show and Conference;
Holiday Ale Festival;
Sint Niklaas Visits Brewery Ommegang;
IWEX 2004;
WORLD OF FOOD INDIA 2004;
KerstBierFestival 10th edition! Belgium;
VIETFOOD & DRINK 2004 / 3RD INTERNATIONAL EXH ON FOOD AND DRINK;

January 2005:
Big Beers, Belgians & Barleywines Festival. Vail CO;
35th Barley Improvement Conference. The American Malting Barley Association;
VIETFOOD (HANOI) 2005;
Atlanta Cask Ale Tasting;

More events are available on site e-malt.com