Russia: Australian Foster's Brewing International and its licence partner Scottish & Newcastle (S&N) announced on Monday, November 29, that Foster's Lager would be brewed, marketed and distributed in Russia
through Baltika Breweries (Baltika), Russia's leading brewer. Russia is the 5th largest beer market in the world with annual consumption of 80 million hectolitres. The Russian beer market is also one of the fastest growing in the world, having almost doubled in size over the past five years. Significantly, the international premium licenced beer segment is forecast to double over the next 3 years. Foster's Brewing International Managing Director Rick Scully said, "I am delighted that Foster's - Australia's most famous beer - will be launched into one of the world's fastest growing beer markets. "Foster's is the world's 7th largest international beer brand, but to date has been under-represented in Eastern Europe and the former CIS countries. "This is an excellent opportunity to build a stronger, significantly expanded presence for Foster's in Russia as an international brand with a distinctive, premium positioning." John Nicolson, Chairman Greater Europe / USA, of S&N said, "The Russian beer market has experienced rapid growth over the last five years and international brands are the fastest growing segment of the Russian market. Our agreement with Baltika creates an ideal platform from which to launch the Foster's brand into this exciting market." Taimuraz Bolloyev, President of Baltika said, "We are delighted to be able to lead the expansion of Foster's into Russia. I believe that Foster's will be an attractive choice for Russian beer consumers due to the unique Australian-ness of the Foster's brand, together with Foster's Brewing International's stringent focus on freshness and dedication to product quality." Sold in over 150 countries, Foster's is the number one selling beer in London (a position it has held for more than ten years); the 7th highest selling brand in Western Europe and the only non-European beer brand in the top 15; and the 8th largest imported beer brand in the very competitive United States market. Foster's is ranked as the most recognisable beer across Asia and 5th most recognisable brand across all product categories. Foster's has won gold medals three times at the prestigious bi-annual International Brewing Industry Awards, with a 4th medal awarded in 2002. Maintaining and accelerating the growth of Foster's in all markets by continuously improving the brand to meet the demands of consumers is a key strategic priority for Foster's Group. In line with this strategy, in 2004, Foster's Brewing International established a total quality improvement program focused on the four key areas of product, presentation, the environment in which Foster's Lager is sold and consumed, and endorsement. A major focus of this program is on product quality and freshness and providing the freshest beer in the world to consumers – in every market, every time. The program aims to elevate Foster's from its current position as the number seven international premium beer brand to take its place amongst the top five within three years, and the number three brand within five years...
more info
Nigeria: Heineken N.V. announced on November 29 that it has reached an agreement in principle with a co-shareholder to increase its stake in Nigerian based Consolidated Breweries from 24% to a controlling stake of 50.05%
. The acquisition will be financed from available cash resources. As agreed by both parties the acquisition price will not be disclosed. The investment will be immediately earnings accretive and value accretive in 2008. The deal is subject to a satisfactory outcome of due diligence and obtaining regulatory approval. Consolidated Breweries was incorporated in 1980. It has a 9.5% market share in Nigeria and is the number three brewer in the domestic beer market, employing 1050 people, with a turnover of Euro 40.5 million, EBITDA of Euro 15.4 million and EBIT of Euro 13.5 million in 2003. Together with the main brand "33" Export, which is brewed under license, and the Hi-Malt brand, Consolidated Breweries covers the low price segment of the beer market and operates two breweries, in Ijebu-Ode, south-west Nigeria and in Awo-Omamma, south-east Nigeria. The sales volume in 2003 was 965,000 hectolitres. Jean Francois van Boxmeer, Member of the Executive Board of Heineken N.V. commented: "We have been very pleased with the performance of Consolidated Breweries. This controlling stake further strengthens our number 1 position in Africa's second largest beer market and shows our commitment to expand in those markets that will enhance both volume and value." Currently Heineken also owns a 54.2% controlling stake in the premium-orientated Nigerian Breweries Plc, which has a 56% market share in Nigeria with volumes in 2003 of 5.7 million hectoliters and a broad portfolio of international and local brands, including Heineken and Amstel. Consolidated Breweries and Nigerian Breweries will continue to operate as separate entities, focusing on different segments of the beer market. The Nigerian beer market amounted to 10.2 million hectolitres in 2003. In the coming years, Heineken expects the Nigerian beer market to grow on average by 3% per annum.
Canada: Golden - Federal regulators have submitted another inquiry to Adolph Coors Co. about its proposed merger with Canadian brewer Molson Inc.
Coors spokeswoman Laura Sankey declined on November 30 to detail specifics of the communication from the Securities and Exchange Commission, which arrived last week, The Denver Post revealed. "The SEC did provide some comments on that and we're in the process of working through those," Sankey said. "We certainly would like to have the merger close as quickly as possible." The brewer still plans to schedule a shareholder vote on the proposal in December or January. Sankey said the next step will be for Coors to submit another proxy statement responding to the SEC. A spokeswoman for Molson Inc. did not return a telephone message seeking comment. The combined Molson Coors Brewing Co. would have sales of about $6 billion and brands that include Coors Original, Coors Light, Keystone, Molson Canadian and Carling. The two companies have agreed to pay a special dividend of $316 million to Molson's shareholders. Coors submitted its preliminary proxy to the SEC this fall and filed an amended statement earlier this month after responding to comments from the SEC. If the SEC approves the proposal, Montreal-based Molson will submit it to the Quebec Superior Court for approval. It must be approved by shareholders of both companies but no voting dates have been set. The two companies planned to complete the merger by Jan. 31. Coors is the nation's third-biggest brewer, while Molson is neck-and-neck with Labatt Brewing as Canada's top beer maker.
Philippines San Miguel Corp., Southeast Asia's largest food and beverage firm, said it was considering business acquisitions outside Asia after a newspaper said it planned to widen its expansion programme to the United States
. The Philippine Daily Inquirer, citing an unnamed company official, reported on Tuesday, November 30 that San Miguel was studying the possible acquisition of an American company with an annual turnover of $5 billion. "The company confirms that in line with its expansion programme, it is studying opportunities not only in Asia-Pacific but even in other countries," the company said in a disclosure to the stock exchange. "We will make the appropriate disclosure when definitive agreements are entered into." San Miguel group, 15 percent owned by number-two Japanese brewer Kirin Brewery Co., dominates its home market in beer, liquor, soft drinks, food and poultry products. On Nov. 23, it announced that it formed a joint venture with a Thai Life Group unit to build and operate a distillery business in Thailand. Thai Life, a leader in the Thai insurance market, will own 50 percent of the joint venture while San Miguel will have a 40 percent stake. The remaining 10 percent will be held by minority shareholders. The deal was the latest leg of a multi-million dollar expansion by San Miguel to boost its presence in seven Asia-Pacific countries. This year, San Miguel signed a lease for a drinks factory in Vietnam, paid $102 million to buy a Thai brewery, bought a 50 percent stake in Australia's top juice maker Berri Ltd, and formed a joint venture with a Singapore coffee business. It also started building a multi-product manufacturing facility in Indonesia and acquired for $35 million the packaging business of a unit of Malaysia's Hong Leong Industries. San Miguel earns only 15 % of its revenues from overseas operations: four breweries in China and one each in Australia, Vietnam and Indonesia. The regional expansion is expected to increase this contribution to 60-70 percent. San Miguel believes the global market presents opportunities for it as the Philippine economy gives it little room for growth. In the Philippine beer market, San Miguel already controls 95 %. It is also the most dominant group in the food and soft drinks businesses.
Czech Republic: Britain's Campaign for Real Ale (CAMRA), the world's largest beer consumer group, claims the increasing dominance of international brewers and their skimping on ingredients and techniques is ruining Czech beer's unique
and traditional taste. "The quality of Czech beer produced by some of these breweries has deteriorated. They are perhaps skimping on the quality with cheaper malt and hops and reduced lagering times. There is also less choice of brands for consumers," CAMRA's research and information manager Iain Loe told AFP. Another of CAMRA's concerns, said Loe, was that some Czech beer brands were increasingly being brewed abroad under licence. "Consumers are being fooled into believing these are genuine Czech beers when they are a shadow of their former selves," he said. Loe particularly singled out Plzensky Prazdroj, owned by the SABMiller group, which controls 47 percent of the Czech beer market. Prazdroj, brewer of the world-famous Pilsner Urquell, brews its beer under licence in neighbouring Poland and Slovakia and, more recently, Russia. "Pilsner Urquell now is nothing like the full-bodied beer it was three or four years ago. The brewing time has been cut while the company is increasingly brewing under licence," said Loe. But brewers strongly refute the claims with Jan Vesely, chairman of the Czech Brewing and Malthouse Association, describing them as "unfair, incompetent and insulting". "What can the Brits tell us Czechs about the quality of beer? It's as if we Czechs went to France and told them how to make champagne," hit back Vesely. Plzensky Prazdroj insists its brewing methods and ingredients have not changed, with the exception of a new type of tanks which, it says, has not affected its beer's quality. Prazdroj is particularly angry that it has been singled out for attack. "This criticism is unfair towards our very experienced brewmasters. There is no change in the quality of our beer -- if anything it is constantly improving," Prazdroj spokesman Alexej Bechtin told AFP. Bechtin insisted laboratory tests showed the beer was the same today as it was a century ago and defended the quality of its beer brewed under licence. "The whole brewing process takes more than 40 days, which our experts are convinced is the optimal period. That has not changed since we installed cylindrical-conical tanks in 1992," he said. Vesely said he feared the comments could affect Czech beer sales, particularly abroad...
more info
Malt News
Australia: Listed agricultural company, ABB Grain Ltd, announced on November 30, 2004 will spend $40 million doubling the size of its Western Australian malting plant to 200,000 tonnes capacity, creating one of the largest malting facilities in the world at its Forrestfield site. ABB managing director, Michael Iwaniw, said the company's nine malting plants around Australia were operating at capacity to supply long-term domestic and export malting contracts and had little room to service the growing malt markets in Asia. "We can see tremendous opportunities in Asia, where beer consumption is continuing to grow. This development will increase our capacity by 25 pc to 500,000 tonnes, allowing us to service that expanding market," Mr Iwaniw said. "As Australian malt manufacturers we have a significant market advantage in that this region as Australia not only produces top quality malting barley but we have a considerable geographic advantages in that region over suppliers based in Europe or Canada." "In addition the Asian markets have shown a preference for Australian malt, for a variety of quality related reasons and we want to position ourselves to use that to grow our Joe White brand in the region." Mr Iwaniw said ABB had examined expansion opportunities at each of its existing sites as well as greenfield sites, before concluding that the Forrestfield plant was the best suited for expansion. "The key factors were barley availability and shipping facilities. The fact that the Forrestfield plant was originally planned with the potential for such duplication was ultimately the deciding factor," he said. "The site which is adjacent to CBH's Metro Grain Centre at Forrestfield, is strategically located, with good freight access to the major barley growing regions." The expansion will involve the duplication of the existing steeping, germination and kilning facilities at the Forrestfield site. There will be focus on water-use efficiency in line with the group's strategy on water use and treatment in malt processing. It was planned to work with local authorities to develop environmentally friendly water re-use strategies that would allow plant water to be recycled. Mr Iwaniw said, pending some final paper work, site works for the plant would commence in December with actual construction beginning early in 2005 with a view to commencing production in early 2006.
Barley News
World: The International Grains Council revealed on November 25 the main market events occurred in November. According to IGC on November 4 Jordan purchased 0.1 million tonnes Black Sea feed barley. On November 8 in Turkey TMO authorized to import up to 0.25 million tonnes of barley. On November 11 EU awarded export refunds for 412,620 tonnes barley. On November 18, EU (Germany): total 1.2 million tonnes barley offered into intervention.

Australia: Barley exports will slump 43 % because of a much reduced crop, the Australian Bureau of Agricultural and Resource Economics predicts.In its latest winter crop forecasts, ABARE says total barley production will fall 28 %nt to 6.2 million tonnes. The worst hit area has been Western Australia, where the barley crop is expected to be down 37 per cent to 1.9 million tonnes. "The 2004/05 barley crop had a poor finish to the season," it said. "As a result, the quality of the crop could have been adversely affected. "High screenings have resulted in a larger proportion of the barley crop being classed as feed barley in the northern grain belt." South Australia's barley crop is expected to fall 29 % to 1.8 million tonnes and in Victoria is should be down 31 % to 1.2 million tonnes. The drop in production will result in total barley exports falling below 4 million tonnes, well down on the 7 million tonnes sent overseas last season. Feed barley exports are expected to drop more than 50 per cent to 1.9 million tonnes, while malting barley exports should slip about 25 per cent to 1.5 million tonnes.


Theoretical malt prices.
EURO = USD 1.3296 December 01, 2004
Crop year
2004
Parity
FOB Antwerp
Position
Dec 2004-Sept 2005
Conditioning
Bulk
In bags
Bulk containers
Bags, containers
Malting barley variety
EURO
USD
EURO
USD
EURO
USD
EURO
USD
2RS
Scarlett
241.50
321.00
256.50
341.50
253.00
336.50
262.50
349.00
2RS
Prestige
238.00
316.50
253.00
336.50
249.50
331.50
259.00
344.50
2RS
Cellar
238.50
317.00
253.50
337.50
250.00
332.50
259.50
345.00
2RS
Aspen
237.50
315.50
252.50
335.50
249.00
330.50
258.50
343.50
2RS
Optic
237.50
315.50
252.50
335.50
249.00
330.50
258.50
343.50
2RS
Astoria
236.50
314.50
252.00
334.50
248.50
330.00
257.50
342.50
2RS
Cork
236.50
314.50
252.00
334.50
248.50
330.00
257.50
342.50
2RS
Average price
238.50
316.50
253.50
337.00
249.50
332.00
259.50
344.50
2RS
FAQ
235.50
313.00
250.50
333.00
247.00
328.50
256.50
341.00
6RW
Esterel
228.50
304.00
244.00
324.00
240.50
319.50
249.50
332.00
*
Asia Malt 70/30
235.50
313.00
250.50
333.00
247.00
328.50
256.50
341.00
**
Asia Malt 50/50
233.50
310.50
248.50
330.50
245.00
325.50
254.50
338.50
* - 70/30 = 70% Average two Rows Spring and 30% Six Rows Winter
** - 50/50 = 50% Average two Rows Spring and 50% Six Rows Winter
Theoretical malt prices for crop 2005 are available on site
www.e-malt.com/MarketPrices
Malting barley prices. French barley prices.
Nominal prices.
EURO = USD 1.3296 December 01, 2004
Crop year
2004
2005
Parity
FOB Creil
FOB Creil
Position
July 2004
July 2005
Type
Variety
EURO
USD
EURO
USD
2RS
Scarlett
111.50
148.50
120.50
160.50
2RS
Prestige
108.50
144.50
119.50
159.00
2RS
Cellar
109.00
145.00
120.00
159.50
2RS
Aspen
108.00
143.50
119.00
158.50
2RS
Optic
108.00
143.50
119.00
158.50
2RS
Astoria
107.50
143.00
118.50
157.50
2RS
Cork
107.50
143.00
118.50
157.50
6RW
Esterel
101.00
134.50
105.00
140.00
French Malting Barley Price Evolution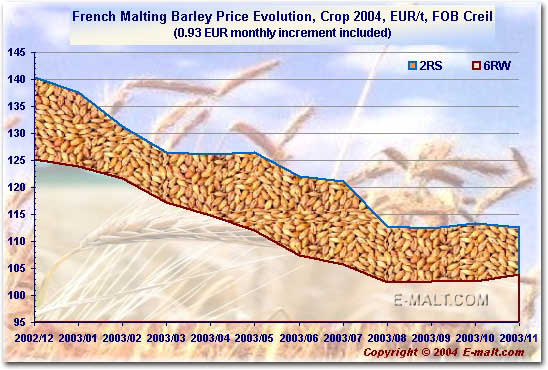 | | |
| --- | --- |
| | Maximum average price for 2RS Malting Barley, Crop 2004: 140.30 EUR/tonne* - in December 2003 |
| | Minimum average price for 2RS Malting Barley, Crop 2004: 108.50 EUR/tonne* - in November 2004 |
| | Maximum average price for 6RW Malting Barley, Crop 2004: 125.50 EUR/tonne* - in December 2003 |
| | Minimum average price for 6RW Malting Barley, Crop 2004: 99.00 EUR/tonne* - in October 2004 |
| * | without increment |
Table of the week
Australian barley prices
Barley

2003
Jan-Mar
Apr-Jun
Jul-Sep
Oct-Dec
A$/t
US$/t
EUR/t
A$/t
US$/t
EUR/t
A$/t
US$/t
EUR/t
A$/t
US$/t
EUR/t

Domestic

2 row feed – Sydney

337
200
186
292
187
164
259
171
146
187
134
112

Export**

Feed (bulk)

250
148
138
223
143
126
202
133
114
208
149
125

Malting (bulk)

311
184
172
286
183
161
374
246
211
217
155
130

International

Feed-US no2 fob Portland*

221
131
122
199
127
112
202
133
114
188
134
113

Barley

2004
Jan-Mar
Apr-Jun
Jul-Sep
Oct-Dec s
A$/t
US$/t
EUR/t
A$/t
US$/t
EUR/t
A$/t
US$/t
EUR/t
A$/t
US$/t
EUR/t

Domestic

2 row feed – Sydney

177
135
108
191
137
113
180
128
104
158
119
93

Export**

Feed (bulk)

197
151
121
210
150
125
169
120
98
165
124
97

Malting (bulk)

208
159
127
250
179
148
224
159
130
223
168
132

International

Feed- US no 2 fob Portland*

172
131
105
185
132
110
160
114
93
147
111
87
Prices refer to bulk sales of grain delivered to Sydney region. Export prices for coarse grains are the average unit fob value of Australian exports recorded by the Australian Bureau of Statistics. Prices quoted only for months in which sizable export volumes were recorded. International prices are obtained from the Unicom Newswire service in US$ and converted to A$ using monthly average of daily exchange rates.
** Export unit values do not reflect current market prices but the average price received for grain exported over the quarter. Generally, there can be a long lag time between when prices were negotiated by exporters and the physical export of product. * Average of daily offer prices made in US$, converted to A$ using monthly average of daily exchange rates. s ABARE estimate. Note: Prices used in these calculations exclude the GST.
Graph of the week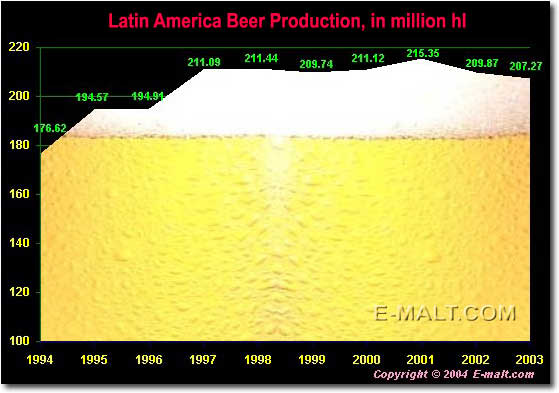 Agenda
November 2004:
World Brewing Academy Applied Brewing Techniques. Munich, Germany;
World Brewing Academy Concise Course in Brewing Technology. Chicago, Illinois, United States;
INTERNATIONAL EXH FOR FOOD & DRINK INDUSTRY / WORLD FOOD UKRAINE 2004;
INT'L EXH OF WINES, ALCOHOLIC & NON ALCOHOLIC DRINKS & PROTECTION EQUIPMENT / EXPO DRINK 2004. Romania;
TALLINN FOODFEST 2004;
Belgian Beer Fest, Boston MA;
Teach a Friend to Brew Day;
FOOD PROCESSING MACHINERY EXPO 2004;
FISPAL RECIFE 2004 / INTERNATIONAL FOOD FAIR. Brazil.;
BRAU Beviale 2004. Nürnberg, Germany.;
Brewers' Association of America Conference;
Fall Fest-Of-Ale. Janesville, Wisconsin, United States;
Accrington Beer Festival. UK;
FOODAPEST 2004. 7th International Food, Drink and Food Processing Trade Fair;
INTERNATIONAL EXH FOR FOOD INGREDIENTS, ADDITIVES & FLAVOURINGS / INGREDIENTS RUSSIA 2004;
BELPRODUKT International Exhibition for Food and Beverages. Minsk, Belarus ;

December 2004:
FOODEX Food, Beverages and Food Technologies Fair. Ankara, Turkey;
Eten & Genieten Food, Beverages and Kitchen Supplies Exhibition. Amsterdam, Netherlands;
Americas Food & beverage Show and Conference;
Holiday Ale Festival;
Sint Niklaas Visits Brewery Ommegang;
IWEX 2004;
WORLD OF FOOD INDIA 2004;
KerstBierFestival 10th edition! Belgium;
VIETFOOD & DRINK 2004 / 3RD INTERNATIONAL EXH ON FOOD AND DRINK;

January 2005:
Big Beers, Belgians & Barleywines Festival. Vail CO;
35th Barley Improvement Conference. The American Malting Barley Association;
VIETFOOD (HANOI) 2005;
Atlanta Cask Ale Tasting;

More events are available on site e-malt.com