---
Newsletter Summary

---
Currency rates
Brewery news
Malt news
Barley news
More news
Theoretical malt prices
Malt Price Evolution
Malting barley prices
Table of the week
Graph of the week
Agenda
Do you know e-malt.com?
---
Average market prices Change trend
---

Note: Just click on the price link and you will be led to our Market Price History.
Average barley market prices are French and are estimated on FOB Creil basis.
Average malt market prices are estimated on FOB Antwerp basis.
The changes are compared to last Newsletter's prices.
Arrows indicate the direction of the change.


---
Easy E-malt.com
---
---
E-malt.com access
---
---
Do you know
E-malt.com ?
---
Dear E-malt Reader!

E-malt.com Newsletters Archive could be found directly on e-malt.com site. Browsing through our Newsletters' Archive you may see all the issues you have missed. To this purpose you just have to login e-malt.com and click on Newsletters link in the menu. Reading our Newsletters you will be kept informed with the latest news and events regarding malting and beer world. You may also submit your own news, events or other information to the address info@e-malt.com!

Updated figures related to USA barley and malt trade with Mexico and Canada could be seen in NAFTA section of e-malt.com menu. To this purpose please enter e-malt.com!

You may find updated malt, barley and beer statistics on e-malt.com Statistics section. Just enter e-malt.com! Here you will find all tables issued with e-malt.com newsletters.

E-malt.com Agenda gives the possibility to keep you informed about the Events planned to be held in the whole world related to the brewing and malting industries. To this purpose you just have to login e-malt.com and click on Agenda link in the menu. Reading our Event Agenda you will find out about the future symposia, conferences and festivals related to malting and beer world. You may also submit your own events to the address info@e-malt.com

E-malt.com has Trading Online system. The system is to be used for malt/barley trading. One can register a malt/barley offer or a malt/barley request. The registering person could be as a seller/buyer or as an agent for seller/buyer. The User can see information about all active malt/barley offers & requests. If needed the system allows user to buy/sell malt/barley due to reasonable offers/requests. The way to do this is to confirm reasonable transaction. Trading Online rules are available through the Internet in the Trading Online as well as Tutorial (useful for persons who starts the system usage). To visit the E-malt Trading Online first go to the E-malt.com site, then click Trading Online link in the left menu of the e-malt.com home page. For more details please contact info@e-malt.com

Thank You!

---
E-malt.com Links!
---
Industry news
Market prices
EU Regulations
NAFTA
Specifications
Special malts
Professional Help
Trading online
Costing online
Statistics
Graphs
NewsLetters
Agenda
Accounts
Log In
Contact us
---
Other e-malt.com newsletters
---
Last five newsletters
---


Newsletter 49b, 2004


Newsletter 49a, 2004


Newsletter 48b, 2004


Newsletter 48a, 2004


Newsletter 47b, 2004
---
Market price evolutions
---
The evolution of market prices for barley and malt, which are periodicaly issued with e-malt.com newsletters are published on e-malt.com site in Market Prices section. Just click here!
---
Available market price evolutions
---


Malt Market Price Evolution. Crop 2004


French Malting Barley Price Evolution. Crop 2004


Malt Market Price Evolution. Crop 2003


French Malting Barley Price Evolution. Crop 2003
---
E-malt.com graphs
---
All graphs issued with e-malt.com newsletters are published in "Graph" section of e-malt.com site.
---
Last five graphs
---


Latin America beer production


World Barley Exports in 2003/2004


South Korea beer production


Russia malt production and demand


World beer production by region in 2003
---
The graphs are updated from time to time. Just see the updates online on e-malt.com site!
---
Last updated graphs
---


EU malt production capacity


U.S.A. Barley Production


United States Beer Exports


Canada Domestic and Imported Beer Sales


Canada's per capita consumption of beer
---
E-malt.com Tables
---
We have the pleasure to let you know that all e-malt.com tables are published in e-malt.com Statistics section. The Statistics section includes Barley statistics, Malt statistics and Beer statistics. The tables related to barley are published in Barley Statistics section, the tables related to malt in Malt Statistics section and the tables related to beer in Beer Statisctis section.
---
Last five tables
search in statistics
---


Australian barley prices 2003-2004


Malt production 2003/2004 in major EU countries


World Barley Malt Trade


EU malt export licence fixations


Australian Barley Supply and Disposal 2001-2005
---
Note
---
If you have any comments, questions, suggestions or remarks, you can send a mail to: info@e-malt.com. To submit your own news to our editorial team, email to: info@e-malt.com
---
If you have received this newsletter from a colleague, you can obtain your own free subscription here, or a full FREE registration here.
---
You may recommend our site to your friend by clicking here
---
If you do not wish to receive our newsletter, please unsubscribe your e-mail address (@EMAILADDRESS@) from our mailing list using unsubscribe form from our site!
E-malt.com Flash 50a
December 06 - December 08, 2004

You are part of the 17.000 professional readers from 162 countries who receives our free bi-weekly E-malt Newsletters published since 3 years. You looked pleased in getting them as we have registered something like 1.000.000 readings.
To keep this high level of informative reservoir in both brewing and malting industries and in order to continue to improve it we have to request for a small contribution to get a Full Bi-weekly Newsletter.
Many of other readers have responded positively and doing so giving us the possibility to keep developing this world informative reference.
A one-year access costs only 149,- Euros and you will receive full membership to both our Full Bi-weekly Newsletter and website username protected access to all e-malt.com pages and client services.
You can pay by credit card, cheque or bank transfer (against invoice). Ordering is simple, use our online secure ordering system: click hereunder to begin - you could have access in just 5 minutes!

CLICK HEREUNDER TO SUBSCRIBE
One-year individual subscription: 149, - Euros
Two-years individual subscription: 259, - Euros

Save money when your colleagues join:
One-year group subscription for 2-5 members: 299, - Euros
One-year group subscription for 6-10 members: 449, - Euros
One-year group subscription for 11-20 members: 599, - Euros
One-year group subscription for 21-50 members: 799, - Euros
One-year group subscription for 51-100 members: 999, - Euros
One-year group subscription for 101 or more members: 1200, - Euros

For a personal service contact our Membership staff : Email : info@e-malt.com Direct line : +32 (0)87 681381 Fax : +32 (0)87 352234 If calling, please note our office hours are 9am - 5pm (Belgium time)


Currency Rates

Base Currency: Euro, EUR
on 08-December-2004

1 EUR = 1.3431 USD
1 EUR = 0.6902 GBP
1 EUR = 1.6227 CAD
1 EUR = 1.7347 AUD
1 EUR = 138.13 JPY
1 EUR = 3.6935 BRL
1 EUR = 37.4725 RUB
1 EUR = 11.1296 CNY

Base Currency: US Dollar
on 08-December-2004

1 USD = 0.7447 EUR
1 USD = 0.5140 GBP
1 USD = 1.2082 CAD
1 USD = 1.2916 AUD
1 USD = 102.89 JPY
1 USD = 2.75 BRL
1 USD = 27.9 RUB
1 USD = 8.2865 CNY


EUR/USD Chart
Top Industry News
More News
Brewery News


Vietnam: Saigon Beer, Alcohol and Beverages Corporation (SABECO) and Anheuser-Busch International, Inc., signed on December 5 a Memorandum of Understanding (MOU) for cooperation and experience sharing in the beer business...

more info

Russia: Russia's upper house of parliament on Wednesday, December 08, 2004 passed a tougher version of a bill controlling public beer sales and consumption after rejecting the original last month...

more info Germany: Danish brewing force, Carlsberg, plans to expand its Holsten brand in Eastern Europe and Asia

, Nils Andersen, the company's CEO told the Club of Hamburg Economy Journalists last week. Mr. Andersen thinks that Hoslten's export and licensed sales abroad can be far higher than the actual figure of 1 million hectolitres. The Holsten group is one of the front-runners in the German beverage manufacturing market with a global production volume of 12.9 million hectolitres (hl) of beer and soft drinks and value sales of €752 million in 2003. In March 2004 it became part of Carlsberg, the world's fifth largest, internationally active brewery group. The group's beer business was started by the Holsten-Brauerei AG, a brewery founded in 1879 in what is now the Altona district of Hamburg. Over the next 125 years, this company grew into one of Germany's leading brewery groups pursuing a broad, multi-brand strategy in its domestic market and doing a flourishing business elsewhere through exports and licensees. In addition to the Holsten brewery in Hamburg, the group also includes the Mecklenburg brewery in Lübz, the Feldschlösschen breweries in Dresden and Brunswick and the Landskron brewery in Görlitz. The König brewery in Duisburg and the Licher brewery in the state of Hesse were also Holsten subsidiaries until their disposal in mid-2004. The group's 2003 beer sales totalled around 9.1 million hl (5.6 million barrels), of which 7.6 million hl (4.6 million barrels) were sold in the domestic market and some 1.0 million hl (611,000 barrels) exported to 90 different countries. In addition to the group's own production, 0.6 million hl (366,000 barrels) of Holsten beer were brewed under licence in Russia, Hungary, England and the Dominican Republic.

Netherlands, Amsterdam: Shares in Heineken NV moved lower in morning trade (December 6) after the company told analysts it expects the weak dollar to eat into 2005 profits

by more than previously forecast. Heineken sees the weak dollar denting net profit by EUR 51 million next year, versus a previous estimate of EUR 35 million, analyst Jan-Kees Mons at Cheuvreux said. The negative effect on operating profit has been raised to EUR 79 million from EUR 54 million, according to AFX News. The company has 57 pct of the expected US$ 800 million in cash inflow next year already hedged, with an implied rate of 1.33 usd to the euro, the analyst said. Estimates for 2004 were also adjusted slightly, with the brewer now expecting the negative currency impact to be EUR 83 million at the net level and EUR 127 million on operating profit. Heineken's current guidance is for lower net profit this year, as negative currency effects outweigh organic growth and contributions from acquisitions. A spokeswoman for Heineken was not able to immediately confirm the new currency effect estimates. The analyst said the new estimates reduce 2005 earnings per share by 0.03 eur. Given that part of its dollar exposure is not yet hedged, the new estimates from Heineken should come as "no surprise", the broker said. Cheuvreux repeated a 'underperform' rating on the shares. While the stock is below an estimated fair value of EUR 29, they see few triggers in the short-term for price gains and believe the discount to rival InBev is justified given the lower growth prospects of the Dutch brewer. At 11.46 am, December 6, the shares were down 1.6 pct to EUR 23.74 while AEX slipped 0.46 pct to EUR 341.90.

India: Cobra Beer Ltd., based in United Kingdom is to start commercial production of its Cobra brand of beer this week in Rajasthan...

more info

Malt News

Vietnam: The Man Sugar Company launched on Monday, December 6 the first malt plant in Vietnam with a production capacity of 45,000 tonne malt per annum...more info

France: Champagne Céréales, Nourricia and EMC2 are creating a joint holding company, which will control the shares that every part will hold in its subsidiaries after the transformation. That will give the possibility to the Company to be a majority where each part was not able to be as individuals. It is the case in particular for Nutrixo and Malteurop. Champagne Céréales is the leading cereal group in Europe in term of collect. With a staff of 1500, the group has a turnover of near one billion Euros. The group pursues the diversification of its activities throughout its transformation network so as to ensure its farmers the best possible outlets for their crops, in spite of the uncertainties of the markets, agricultural policies, and business negotiations world-wide.

France: Malteurop has invested EUR 26 million into a new production unit in Vitry-le-François (Marne) aiming to develop the malting barley culture in North-Eastern France...more info

Barley News

World markets of feed barley are very firm due to a disappointing crop in Australia, high domestic prices in Canada and Russia, low EU export restitutions and most recently the political crisis in the Ukraine. Quotes FOB EU and Black Sea ports are around US$ 130,-. The Euro/U.S. Dollar exchange of 1.33 and the firm freight markets impede world trade. Statistics: U.S. barley exports June 1 – November 20 144.000 tons, Canadian August 1 - November 21 275,000 tonnes, Russian July-October 302,000 tonnes, Ukrainian July-October 2.2 million tonnes, EU export licences granted July-November 970,000 tonnes. USDA/IGC estimate the world import demand at 15.2-15.7 million tonnes. Compared to above figures (Australian exports n.a.), it leaves about 10 million tonnes still to be executed in the crop year 2004/05.

The EU Commission has to cope with a record crop, with the accession of 10 new member states, and the resulting problems of a large surplus...more info



Theoretical malt prices.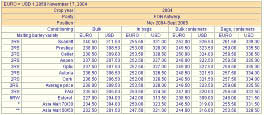 * - 70/30 = 70% Average two Rows Spring and 30% Six Rows Winter
** - 50/50 = 50% Average two Rows Spring and 50% Six Rows Winter
Theoretical malt prices for crop 2005 are available on site
www.e-malt.com/MarketPrices
Malt Price Evolution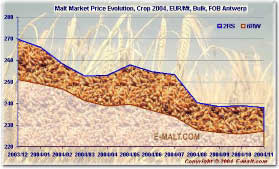 | | |
| --- | --- |
| | Maximum average price for 2RS Malt, crop 2004: 270.50 EUR/tonne - in December 2003 |
| | Minimum average price for 2RS Malt, crop 2004: 237.50 EUR/tonne - in September 2004 |
| | Maximum average price for 6RW Malt, crop 2004: 252.50 EUR/tonne - in December 2003 |
| | Minimum average price for 6RW Malt, crop 2004: 225.00 EUR/tonne - in October 2004 |
Source: E-malt.com

Malting barley prices. French barley prices.


Nominal prices.



EURO = USD 1.3431 December 08, 2004
Crop year
2004
2005
Parity
FOB Creil
FOB Creil
Position
July 2004
July 2005
Type
Variety
EURO
USD
EURO
USD
2RS
Scarlett
112.00
150.50
120.50
162.00
2RS
Prestige
108.50
146.00
119.50
160.50
2RS
Cellar
109.00
146.50
120.00
161.50
2RS
Aspen
108.00
145.50
119.00
160.00
2RS
Optic
108.00
145.50
119.00
160.00
2RS
Astoria
107.50
144.50
118.50
159.50
2RS
Cork
107.50
144.50
118.50
159.50
6RW
Esterel
101.00
136.00
105.00
141.50
Table of the week

EU malt export licence fixations: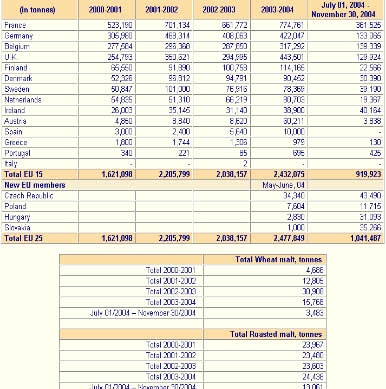 Graph of the week
Canada Malt Exports in 2003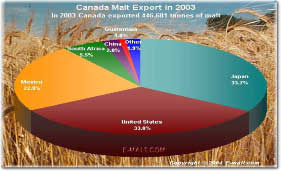 Agenda


November 2004:
World Brewing Academy Applied Brewing Techniques. Munich, Germany;
World Brewing Academy Concise Course in Brewing Technology. Chicago, Illinois, United States;
INTERNATIONAL EXH FOR FOOD & DRINK INDUSTRY / WORLD FOOD UKRAINE 2004;
INT'L EXH OF WINES, ALCOHOLIC & NON ALCOHOLIC DRINKS & PROTECTION EQUIPMENT / EXPO DRINK 2004. Romania;
TALLINN FOODFEST 2004;
Belgian Beer Fest, Boston MA;
Teach a Friend to Brew Day;
FOOD PROCESSING MACHINERY EXPO 2004;
FISPAL RECIFE 2004 / INTERNATIONAL FOOD FAIR. Brazil.;
BRAU Beviale 2004. Nürnberg, Germany.;
Brewers' Association of America Conference;
Fall Fest-Of-Ale. Janesville, Wisconsin, United States;
Accrington Beer Festival. UK;
FOODAPEST 2004. 7th International Food, Drink and Food Processing Trade Fair;
INTERNATIONAL EXH FOR FOOD INGREDIENTS, ADDITIVES & FLAVOURINGS / INGREDIENTS RUSSIA 2004;
BELPRODUKT International Exhibition for Food and Beverages. Minsk, Belarus ;

December 2004:
FOODEX Food, Beverages and Food Technologies Fair. Ankara, Turkey;
Eten & Genieten Food, Beverages and Kitchen Supplies Exhibition. Amsterdam, Netherlands;
Americas Food & beverage Show and Conference;
Holiday Ale Festival;
Sint Niklaas Visits Brewery Ommegang;
IWEX 2004;
WORLD OF FOOD INDIA 2004;
KerstBierFestival 10th edition! Belgium;
VIETFOOD & DRINK 2004 / 3RD INTERNATIONAL EXH ON FOOD AND DRINK;

January 2005:
Big Beers, Belgians & Barleywines Festival. Vail CO;
35th Barley Improvement Conference. The American Malting Barley Association;
VIETFOOD (HANOI) 2005;
Atlanta Cask Ale Tasting;

More events are available on site e-malt.com