Brazil: Brazilian antitrust regulators signalled on May 6 that the union of local brewer AmBev and Belgium's Interbrew might be on its way to approval
, although they are still studying its future impact on the market, according to Reuters. Joao Grandino Rodas, the president of Brazil's Administrative Council of Economic Defense, or Cade, told a Congressional hearing on the protection of consumer rights that the $11.5 billion tie-up did not appear to pose a threat to the current competitiveness of the market. "As Interbrew does not take part in the Brazilian market, there would be no competition problem. It's a new entrant," he said. But he added that the Cade, which must approve the deal before it can be closed, was still studying whether the deal would limit future competition. Interbrew and Companhia de Bebidas das Americas (AmBev) said on March 3 that they would merge operations to create InterbrewAmbev, the world's No.1 brewer by volume, surpassing Anheuser-Busch Cos. Inc. The union would bring heavyweight brands like Stella Artois, Beck's, and Skol under the same roof. But Schincariol, Brazil's No.2 brewer, filed a request with Brazilian antitrust authorities asking them to suspend the deal because it would hurt competition in Brazil. AmBev controls about two-thirds of the Brazilian beer market. Its main rivals are privately owned Schincariol and Kaiser, which is owned by Canadian brewer Molson Inc. Barbara Rosemberg, director of the Justice Ministry's Economic Rights Secretariat (SDE), also told the Congressional hearing that there appeared to be no competition problems with relation to the deal. She said the entrance of a new brewer to Brazil through AmBev would simply widen the company's brand portfolio...
more info
Hong Kong: Harbin Brewery, the target of a potential takeover battle between the world's two biggest brewers, said its partnership with SABMiller had failed
, and that it favoured having Anheuser-Busch as its major shareholder. "We had hoped the (SABMiller) tie-up would boost our brand, and improve technology and sales. But in the past ten months, nothing has happened," Harbin Chief Executive Peter Lo told Reuters in a telephone interview on May 6. He said Anheuser-Busch, which over the weekend said it was buying 29 percent of Harbin for HK$1.08 billion (US$138.46 million), or HK$3.70 per share, was a better long-term partner. SABMiller, the world's second-largest beer maker, this week launched a hostile US$553 million bid for Harbin after Anheuser-Busch revealed its investment. SABMiller, offering HK$4.30 a share, challenged Harbin's recommendation that shareholders take no action on its bid. "The Harbin management team need to explain why they think our offer undervalues their business," SABMiller spokesman Nigel Fairbrass told Reuters in Hong Kong on May 6. Harbin shares, which leapt nearly 46 percent on May 6, closed a further 3.7 percent higher on Thursday at HK$4.875, about 30 times its forecast 2004 profits. SABMiller owns a 29.4 percent stake in Harbin, China's number-four brewery, which it bought last year. "We believe if you run a company in China, local management is important," Lo said...
more info
USA, Seattle: Redhook Ale Brewery, Incorporated announced on May 4 sales of $9,390,000 and shipments of 50,200 barrels in the first quarter of 2004
. As compared to sales of $8,671,000 and shipments of 47,700 barrels in the 2003 first quarter, sales and shipments in the 2004 first quarter increased 8.3% and 5.2%, respectively. Average revenue per barrel also improved modestly, due to strength in pricing as well as sales increases at both of the Company's retail operations. Gross profit increased $374,000 to $2,046,000 in the 2004 first quarter from $1,671,000 in the 2003 first quarter. The 2004 first quarter gross profit margin also increased to 23.7% of net sales from 21.1% for the comparable 2003 quarter. The Company reported a net loss for the 2004 first quarter of $921,000, or $0.15 loss per share, compared to a 2003 first quarter net loss of $1,194,000, or $0.19 loss per share. The 2004 and 2003 first quarters' basic loss per share were computed using weighted average shares outstanding of 6.2 million and 6.3 million, respectively. Comparing the 2004 first quarter to the 2003 first quarter, cost of sales increased 4.9%, or $307,000, but decreased slightly as a percentage of net sales, and remained unchanged on a per barrel basis. The cost of the Company's most significant ingredient, malted barley, declined somewhat in 2004 following a significant cost increase in 2003 (driven by a poor 2002 worldwide barley harvest). Improvement in the Company's direct costs were offset slightly by an increase in some indirect costs, primarily depreciation and production wages, following the 2003 expansion of brewing capacity in the Company's New Hampshire brewery. As a percentage of net sales, cost of sales decreased to 76.3% in the 2004 first quarter from 78.9% in the comparable 2003 quarter...
more info
Canada, Toronto: Molson Inc., Canada's oldest brewer, posted a lower fourth-quarter profit on May 5, hurt by increased costs for its new Brazilian sales team
. The Montreal-based brewer said it earned C$42.2 million ($30.8 million), or 33 Canadian cents a share, for the quarter ended March 31, down from C$59.6 million, or 46 Canadian cents a share, a year earlier. Sales in last year's fourth quarter jumped 66 % thanks to its acquisition of the Kaiser brewery in Brazil. Analysts had expected, on average, earnings of 36 Canadian cents a share, according to Reuters Research, a unit of Reuters Group Plc. Revenues rose to C$729.6 million from C$704.3 million. Molson's initial decision not to react to competitive beer prices last year along with weak advertising for its flagship Molson Canadian brand caused the company's domestic market share to dip 1.4 points to 43.8 % from 45.2 %. "Overall the results are pretty disappointing. It faces continued challenges with market share in Canada," said Krista Mackay, analyst with Salman Partners Inc. "Core brands were pretty much flat. They're holding ground, but certainly not building up the brand equity at this point." Molson reorganized its Canadian business unit in April to shore up its market share, and chief executive Daniel O'Neill said that will address the company's "previous shortfalls."...
more info
Chile, Santiago: Chile's leading brewer CCU announced on May 5 that first-quarter net profit fell by half from last year due to an extraordinary gain in 2003
and as financial items offset robust sales growth. Net profit fell to 16.302 billion pesos (US$26.97 million) from 32.645 billion pesos year-on-year. Sales grew 10.3 % to 110.293 billion pesos, mainly on greater volumes and better prices for its products. The company posted a one-time gain in March 2003 from the sale of Croatian brewer KP Adria to Heineken. It also noted setbacks compared with last year from the calculation of exchange rate differences and adjustments for inflation. CCU sells beer, wine, soft drinks, mineral water and nectar in Chile and Argentina. The company, formally known as Compania Cervecerias Unidas, also forecast 2004 sales growth in line with overall economic growth in Chile and growth outstripping the pace of the economy in Argentina. CCU sells Heineken and Budweiser beers in Argentina and Chile and also produces soft drinks, wine, juice, mineral water, pisco and candy. "In the last 12 months we have seen strong growth in soft drinks and beer, and we believe that growth will hold steady or increase this year, in line with Chile's economic growth," said Guillermo Luksic, president of CCU.
Malt News
The market situation makes it difficult to understand new crop malt prices, analysts revealed. On basis of minimum EUR 140-145 per tonne average price for barley in 2004/2005 a malt price of EUR 260 delivered leaves a malting margin of EUR 70 resp. EUR 64. Any weather dilemma would drive malting barley prices up fast and reduce malting margins further.
Barley News
The WTB (Commodity Exchange) at Hannover introduced the trade in malting barley futures on April 16. Closing values end of April were EUR 135 September, EUR 137 November, EUR 140.80 January 2005, EUR 142.50 May 2005. Parities are FOB Denmark, Antwerp, Moselle, Main, Mittellandkanal (North Germany), CIF Upper Rhine. For comparison EBOT is operated for the parity FOB Creil by the group Soufflet and three brokers. As physical malting barley markets in the EU do not always offer cover or hedges when needed, futures trading is a welcome addition to malting barley markets. It is, of course, without any precedent in the world, and will need good volumes in order to succeed.
World supply and demand of barley looks tight again for 2004/05, but there will be a major difference to the present campaign: better supplies of feed wheat and maize will dampen domestic demand in Russia, Ukraine and in the EU. Russia's crop forecast of IGC is 16 million tonnes versus 17.9 million tonnes in 2003, when lost winter acres were replanted with spring barley. A private forecaster puts the Ukrainian barley crop at 8.4 million tonnes, 1 million tonnes up from last year. Black Sea exports, also from Bulgaria/Romania, may play a great part once more in world barley markets.
Theoretical malt prices.
EURO = USD 1.2078 May 07, 2004
Crop year
2003
Parity
FOB Antwerp
Position
May 2004-Sept 2004
Conditioning
Bulk
In bags
Bulk containers
Bags, containers
Malting barley variety
EURO
USD
EURO
USD
EURO
USD
EURO
USD
2RS
Scarlett
257.00
310.50
272.00
328.50
268.50
324.00
278.00
335.50
2RS
Prestige
255.50
308.50
271.00
327.00
267.50
322.50
276.50
334.50
2RS
Aspen
254.50
307.50
269.50
325.50
266.00
321.50
275.50
332.50
2RS
Optic
254.50
307.50
269.50
325.50
266.00
321.50
275.50
332.50
2RS
Astoria
253.50
305.50
268.50
324.00
264.50
319.50
274.50
331.50
2RS
Cork
253.50
305.50
268.50
324.00
264.50
319.50
274.50
331.50
2RS
Average price
255.00
308.00
270.00
326.00
266.50
322.00
276.00
333.50
2RS
FAQ
252.00
304.50
267.00
322.50
263.50
318.50
273.00
329.50
6RW
Esterel
246.00
297.00
261.00
315.00
257.50
311.00
267.00
322.50
*
Asia Malt 70/30
252.50
304.50
267.50
323.00
263.50
318.50
273.50
330.00
**
Asia Malt 50/50
250.50
302.50
265.50
320.50
262.00
316.50
271.50
328.00
* - 70/30 = 70% Average two Rows Spring and 30% Six Rows Winter
** - 50/50 = 50% Average two Rows Spring and 50% Six Rows Winter
Theoretical malt prices for crop 2004 are available online
www.e-malt.com/MarketPrices
Malting barley prices. French barley prices.
Nominal prices.
EURO = USD 1.2078 May 07, 2004
Crop year
2003
2004
Parity
FOB Creil
FOB Creil
Position
July 2003
July 2004
Type
Variety
EURO
USD
EURO
USD
2RS
Scarlett
120.00
145.00
130.00
157.50
2RS
Prestige
119.00
144.00
129.00
156.00
2RS
Cellar
119.00
144.00
129.00
156.00
2RS
Aspen
118.00
142.50
128.00
154.50
2RS
Optic
118.00
142.50
128.00
154.50
2RS
Astoria
117.00
141.50
127.00
153.50
2RS
Cork
117.00
141.50
127.00
153.50
6RW
Esterel
111.00
134.50
114.00
138.00
French Malting Barley Price Evolution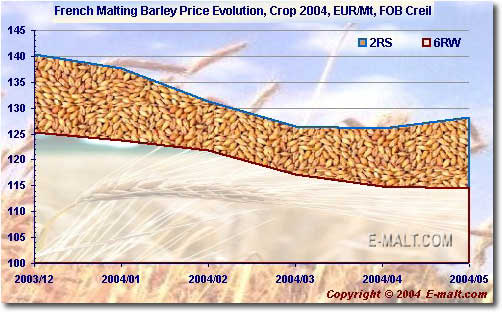 | | |
| --- | --- |
| | Maximum average price for 2RS Malting Barley, Crop 2004: 140.30 EUR/tonne - in December 2003 |
| | Minimum average price for 2RS Malting Barley, Crop 2004: 125.30 EUR/tonne - in April 2004 |
| | Maximum average price for 6RW Malting Barley, Crop 2004: 125.50 EUR/tonne - in December 2003 |
| | Minimum average price for 6RW Malting Barley, Crop 2004: 114.50 EUR/tonne - in April 2004 |
Graph of the week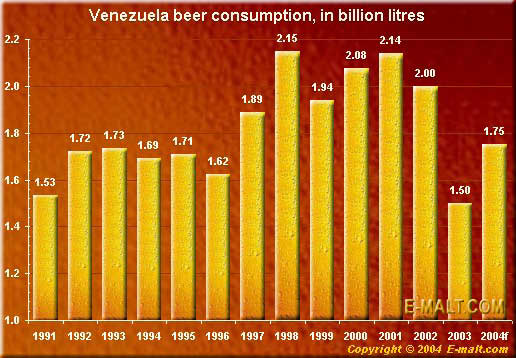 Agenda
May 2004:
EBC SYMPOSIUM 'FOOD SAFETY & TRACEABILITY'
CANADEAN'S 4th INTERNATIONAL BEER CONFERENCE
CITBUSMED 2004
PIVO, GASTRO, BAKERY / Bulgaria
ALCO + SOFT 2004 / Ukraine
FOOD & DRINKS/FOOD TECHNOLOGY 2004 / Moldova
Beer International Brewing Technology Exhibition / Russia

June 2004:
ALIMENTARIA MEXICO International Food and Beverages Exhibition
Hotelympia
10th international symposium on pre-harvest sprouting in cereals;
BevTek / BrewTek
IGC GRAINS CONFERENCE 2004
26th Annual National Homebrewers Conference
Coceral Congress 2004
The 9th International Barley Genetics Symposium
Little Oktoberfest

July 2004:
VI Moscow Beer Festival;
Lucky Baldwin's IPA Festival
BevTek / BrewTek China
Vermont Brewers Festival
World Brewing Congress 2004
Hop, malt and beer of Russia Exhibition

More events are available on site e-malt.com