---
Newsletter Summary

---
Currency rates
Brewery news
Malt news
Barley news
More news
Theoretical malt prices
Malting barley prices
Graph of the week
Agenda
Do you know e-malt.com?
---
Average market prices Change trend
---

Note: Just click on the price link and you will be led to our Market Price History.
Average barley market prices are French and are estimated on FOB Creil basis.
Average malt market prices are estimated on FOB Antwerp basis.
The changes are compared to last week's prices.
Arrows indicate the direction of the change.


---
Easy E-malt.com
---
---
E-malt.com access
---
---
Do you know
E-malt.com ?
---
Dear E-malt Reader!

E-malt.com Newsletters Archive could be found directly on e-malt.com site. Browsing through our Newsletters' Archive you may see all the issues you have missed. To this purpose you just have to login e-malt.com and click on Newsletters link in the menu. Reading our Newsletters you will be kept informed with the latest news and events regarding malting and beer world. You may also submit your own news, events or other information to the address info@e-malt.com!

Updated figures related to USA barley and malt trade with Mexico and Canada could be seen in NAFTA section of e-malt.com menu. To this purpose please enter e-malt.com!

You may find updated malt, barley and beer statistics on e-malt.com Statistics section. Just enter e-malt.com! Here you will find all tables issued with e-malt.com newsletters.

E-malt.com Agenda gives the possibility to keep you informed about the Events planned to be held in the whole world related to the brewing and malting industries. To this purpose you just have to login e-malt.com and click on Agenda link in the menu. Reading our Event Agenda you will find out about the future symposia, conferences and festivals related to malting and beer world. You may also submit your own events to the address info@e-malt.com

E-malt.com has Trading Online system. The system is to be used for malt/barley trading. One can register a malt/barley offer or a malt/barley request. The registering person could be as a seller/buyer or as an agent for seller/buyer. The User can see information about all active malt/barley offers & requests. If needed the system allows user to buy/sell malt/barley due to reasonable offers/requests. The way to do this is to confirm reasonable transaction. Trading Online rules are available through the Internet in the Trading Online as well as Tutorial (useful for persons who starts the system usage). To visit the E-malt Trading Online first go to the E-malt.com site, then click Trading Online link in the left menu of the e-malt.com home page. For more details please contact info@e-malt.com

Thank You!

---
E-malt.com Links!
---
Industry news
Market prices
EU Regulations
NAFTA
Specifications
Special malts
Professional Help
Trading online
Costing online
Statistics
Graphs
NewsLetters
Agenda
Accounts
Log In
Contact us
---
Other e-malt.com newsletters
---
Last five newsletters
---


Newsletter 19b, 2004


Newsletter 19a, 2004


Newsletter 18b, 2004


Newsletter 18a, 2004


Newsletter 17b, 2004
---
Market price evolutions
---
The evolution of market prices for barley and malt, which are periodicaly issued with e-malt.com newsletters are published on e-malt.com site in Market Prices section. Just click here!
---
Available market price evolutions
---


Malt Market Price Evolution. Crop 2003


French Malting Barley Price Evolution. Crop 2003


French Malting Barley Price Evolution. Crop 2004
---
E-malt.com graphs
---
All graphs issued with e-malt.com newsletters are published in Graph section of e-malt.com site.
---
Last five graphs
---


Venezuela beer consumption


Czech Exports of Malt


Thailand Beer Production


Brazilian Beer Consumption


Mexico Imports of Malt
---
E-malt.com Tables
---
We have the pleasure to let you know that all e-malt.com tables are published in e-malt.com Statistics section. The Statistics section includes Barley statistics, Malt statistics and Beer statistics. The tables related to barley are published in Barley Statistics section, the tables related to malt in Malt Statistics section and the tables related to beer in Beer Statisctis section.
---
Last five tables
search in statistics
---


USA craft beer industry


Estimate of EU Barley Crops


Estimate of EU Barley Plantings


EU malt export licence fixations


Mexican Imports of Malt
---
Note
---
If you have any comments, questions, suggestions or remarks, you can send a mail to: info@e-malt.com. To submit your own news to our editorial team, email to: info@e-malt.com
---
If you have received this newsletter by a colleague, you can obtain your own free subscription here, or a full FREE registration here.
---
You may recommend our site to your friend by clicking here
---
If you do not wish to receive our newsletter, please unsubscribe your e-mail address (@EMAILADDRESS@) from our mailing list using unsubscribe form from our site!
May 10 - May 12, 2004 Currency Rates

Base Currency: Euro, EUR
on 12-May-2004

1 EUR = 1.1867 USD
1 EUR = 0.6764 GBP
1 EUR = 1.6470 CAD
1 EUR = 1.7043 AUD
1 EUR = 134.36 JPY
1 EUR = 3.6503 BRL
1 EUR = 34.3431 RUB

Base Currency: US Dollar
on 12-May-2004

1 USD = 0.8429 EUR
1 USD = 0.5699 GBP
1 USD = 1.3879 CAD
1 USD = 1.4362 AUD
1 USD = 113.24 JPY
1 USD = 3.076 BRL
1 USD = 28.94 RUB

EUR/USD Chart
Top Industry News
More News
Brewery News


Romania: SABMiller Plc, one of the world's largest brewers, has purchased an 81.1 % stake in Romanian brewer Aurora S.A.

at a cost of $16.2 million (R114 million). The expected purchase of additional shares prior to closing will increase SABMiller's share holding to at least 90%, SABMiller announced on May 10. The acquisition is conditional upon Romanian Competition Council approval and the fulfillment of certain technical requirements. The move is part of the group's aim to stay ahead of other international brewers, including Brau, Interbrew and Carlsberg, who all have a significant presence in the market, the press said. Aurora has one brewery, located in the city of Brasov in central Romania, and a national market share of 5.2%, which put it in the top five players in the country. The brewery has an annual capacity of 680,000 hectolitres and annual sales of 659,000 hectolitres. The value of the net assets to be acquired is approximately US$16.2 million and the purchase consideration implies a 2003 EBITDA multiple of less than 5.0 times. Aurora brewery will become SABMiller's fourth in Romania, joining its other operations in Cluj-Napoca, Buzau, and Timisoara. Aurora's main brands are Ciucas and a recently launched PET brand Cerbul, both of which have a strong regional presence. The acquisition offers the opportunity to grow these brands via SABMiller's existing distribution platform. Following the transaction SABMiller will have a market share in Romania of approximately 20%, a strong number two position in the market...

more info Hong Kong: U.S. brewing giant Anheuser-Busch, challenging SABMiller for China's Harbin Brewery, is "the right strategic partner" for the beer maker

, a mainland paper quoted a top government official as saying. A report in Chinese language Harbin Daily dated May 8 said Anheuser-Busch International President Stephen Burrows met Harbin city government officials last week. "A-B is a big corporate with influence in the global beer market. It is the right strategic partner that we have long been seeking," the daily quoted Harbin city Mayor Shi Zhongxing as saying. Anheuser has agreed with Harbin's management to buy a 29 % stake in the firm for HK$1.08 billion (US$138.5 million) or HK$3.70 per share and looks set to win support from local government for the country's fourth-largest beer maker. SABMiller, which already owns a 29.4 5 stake in Harbin, has launched a hostile US$553 million takeover offer following the news of Anheuser-Busch's investment, Reuters said on May 10. Anheuser, maker of Budweiser beer, is still waiting for government approval for its plan to buy a stake in Harbin, which dominates China's northeastern market. "The possible cooperation with A-B would benefit the development of Harbin...it would help the (beer) market consolidation in the northeast and boost profit," Mayor Shi Zhongxing was also quoted as saying...

more info Canada, Vancouver: Microbreweries in British Columbia are straining to meet demand during a strike that has halted distribution of major brands across most of the province

, The Associated Press revealed on May 10. About 300 workers hit the bricks May 1 in a wage dispute at Brewers Distributor Ltd. in New Westminster, halting deliveries of Canada's two leading brands of beer, Molson and Labatt, and of many imports, including Miller, Coors and Budweiser from the United States. At the Labatt brewery in New Westminster, about 100 employees have been temporarily laid off and operations have been shut down since May 4. Some stores and bars have run out of Labatt and Molson products and stocks are rapidly disappearing from others. The Picadilly Pub in Vancouver ran out of Labatt and Molson late May 5 and sales declined by 15 % to 20 %, general manager David Kim said. "It's definitely affected business because we don't have any more cheap beers here," Kim said. Meanwhile, at some provincial liquor stores, orders for more expensive microbrewery product such as Granville Island and Sleemans have nearly doubled. Granville Island Brewing has doubled production and tripled distribution, and about 100 employees at Vernon's Okanagan Spring brewery have had to work overtime on weekends to keep up with demand...

more info Japan: Kirin Brewery Company, Limited announced on May 11, 2004 the summary of consolidated financial results for the first quarter of 2004

(January 1, 2004 - March 31, 2004). During the first quarter of 2004 (January 1, 2004 - March 31, 2004), sales in the alcohol beverages category were fairly steady, the company said. As a result, consolidated net sales were ¥326.4 billion, an increase of 3.6% compared with the same period in the previous fiscal year. Consolidated operating income increased 46.2% to ¥14.5 billion, and consolidated ordinary income increased 54.4% to ¥13.1 billion. Consolidated net income was ¥3.5 billion (US$31.3m), an increase of 341.3%. Amid the changing environment within the alcohol business, Kirin continued to improve its earning capacity, focused on strengthening core brands to increase the value of the Kirin brand, and the value offered to consumers, primarily through its beer, happo-shu and chu-hi drink brands. In the happo-shu (low-malt beer) category, Kirin concentrated mainly on strengthening its key Kirin Tanrei brand, including Tanrei Green Label and Tanrei Alpha for health-conscious consumers, and Gokunama and Namakuro brands, featuring quaffable and cost saving concepts. New market-creating products were also launched, such as Kirin Honey Brown, a happo-shu that offers a unique taste by using honey as an ingredient. Kirin Honey Brown was released nationwide in February. "In the beer category, which makes the largest contribution to increasing its corporate brand value, the Company maximized product brands by substantializing the value that consumers expect from beer."...

more info Peru, Lima: Peru's only brewer, Union de Cervecerias Backus & Johnston, has proposed a swap of its investment shares and B-class shares

for a new class of non-voting preference shares in a deal worth up to $244 million, Reuters said on May 10. The company said in a statement on May 10 that the share swap was designed to establish "a share with a stable yield that can be very attractive for investors." It will have a fixed dividend, and investors will be offered a 30 percent premium for the voluntary swap, it added. The board of Backus, which is controlled by Colombian brewer Bavaria, the fourth biggest brewer in Latin America, approved the proposal last Friday and it will be put to a shareholders meeting on June 7. Backus makes the Cusquena, Cristal and Pilsen brands. Backus said the terms of the offer implied a value of 1.2 soles (34 cents) per investment share and 13.2 soles ($3.8) per B-class share. Neither share had traded by late morning in Lima. The investment shares closed on Friday at 0.91 soles and the B-shares at 10.01 soles. "This implies a premium of more than 30 percent compared with the investment share and B-class share prices on the stock exchange (on Friday)," the company said in a statement...

more info

Malt News

EU malt export licence bookings from July 1, 2003, until April 27, 2004 were 2.013 million tonnes. The figure is close to the total bookings of 2.038 million tonnes last year. If licence fixations continued at an unchanged pace, then totals for this year could be 2.4 million tonnes, a plus of 350-400 thousand tonnes as compared to 2002/2003, market analysts revealed in a statement. Although the final figure may not be as high, two facts are fairly obvious already now: - 1) Last year's low figure must have been caused by technical factors, viz slow deliveries during one or two months. As physical exports were 2.373 million tonnes in 2002 (figures for 2003 are not available yet), one can assume a rather steady export pace between 2.2 and 2.4 million tonnes from the year 2000 till today. – 2) It is also obvious that losses of sales to South America, Japan and Russia have not yet led to an overall loss of exports, but have been compensated by gains to other destinations.

EU malt export licence fixations:


| | | | | |
| --- | --- | --- | --- | --- |
| (in tonnes) | 2000 - 2001 | 2001 - 2002 | 2002 - 2003 | July 1, 2003 - April 27, 2004 |
| France | 523,190 | 701,134 | 661,772 | 626,530 |
| Germany | 305,980 | 468,314 | 408,063 | 355,800 |
| Belgium | 277,584 | 296,368 | 287,850 | 287,070 |
| U.K. | 254,793 | 350,621 | 294,995 | 389,852 |
| Finland | 65,550 | 91,890 | 100,758 | 86,110 |
| Denmark | 52,326 | 96,812 | 94,791 | 67,677 |
| Sweden | 50,847 | 101,000 | 76,916 | 65,869 |
| Netherlands | 54,835 | 51,310 | 66,219 | 77,421 |
| Ireland | 26,003 | 35,145 | 31,140 | 32,900 |
| Austria | 4,850 | 8,840 | 8,620 | 12,286 |
| Spain | 3,000 | 2,400 | 5,640 | 10,000 |
| Greece | 1,800 | 1,744 | 1,306 | 840 |
| Portugal | 340 | 221 | 85 | 525 |
| Italy | - | - | 2 | - |
| Total: | 1,621,098 | 2,205,799 | 2,038,157 | 2,012,880 |
| | |
| --- | --- |
| | Total Wheat malt, tonnes |
| Total 2000/2001 | 4,686 |
| Total 2001/2002 | 12,805 |
| Total 2002/2003 | 30,908 |
| July 1/2003 – April 27/2004 | 11,382 |
| | |
| | Total Roasted malt, tonnes |
| Total 2000/2001 | 23,967 |
| Total 2001/2002 | 23,480 |
| Total 2002/2003 | 23,603 |
| July 1/2003 – April 27/2004 | 20,221 |
Barley News
Australia's second-biggest listed grain company will be created with market capitalization of about $A850 million ($US594.87 million) after an announcement made on May 10 that ABB Grain Ltd will merge with fellow South Australian-based company AusBulk Ltd. Under the terms of the deal, shareholders of Ausbulk and its majority owner United Grower Holdings (UGH) will be issued with ABB shares, according to Asia Pulse. The company will trade under the name ABB Grain, with AusBulk and UGH, becoming wholly-owned subsidiaries. The announcement from May 10 ended a month of renewed merger discussions after previous talks broke down in March when ABB and AusBulk cited differences in corporate culture and disagreements over valuations as the reason for an impasse. Shares in ABB, the world's biggest exporter of malting barley, ended the day steady at $6.13. The number of shares in ABB will double from 48 million to between 90-94 million and a system of grower-owned A-class and B-class shares will be retained. Growers will have access to untraded A-class shares and be responsible for electing the board, which will be shrunk from 13 directors to nine after the 2006. Ninety per cent of B-class shares will also be owned by growers...more info
USA barley acres will drop by almost 250,000 ha from last year's 2.145 million ha to 1.897 million ha in 2004. U.S. grain acreage forecasts for 2004 show impressive gains for soybeans, but losses for wheat and coarse grains. Canada expects the barley acreage down by 10-15 % from 5.046 million ha in 2003 to 4.732 million ha in 2004. Grain areas all over Australia have turned too dry in recent months. Barley planting should commence soon, but farmers need rain.
Theoretical malt prices.
EURO = USD 1.1867 May 12, 2004
Crop year
2003
Parity
FOB Antwerp
Position
May 2004-Sept 2004
Conditioning
Bulk
In bags
Bulk containers
Bags, containers
Malting barley variety
EURO
USD
EURO
USD
EURO
USD
EURO
USD
2RS
Scarlett
257.00
305.00
272.00
323.00
268.50
318.50
278.00
330.00
2RS
Prestige
255.50
303.50
271.00
321.50
267.50
317.00
276.50
328.50
2RS
Aspen
254.50
302.00
269.50
320.00
266.00
315.50
275.50
327.00
2RS
Optic
254.50
302.00
269.50
320.00
266.00
315.50
275.50
327.00
2RS
Astoria
253.50
300.50
268.50
318.50
264.50
314.00
274.50
325.50
2RS
Cork
253.50
300.50
268.50
318.50
264.50
314.00
274.50
325.50
2RS
Average price
255.00
302.50
270.00
320.50
266.50
316.00
276.00
327.50
2RS
FAQ
252.00
299.00
267.00
317.00
263.50
312.50
273.00
324.00
6RW
Esterel
246.00
291.50
261.00
309.50
257.50
305.50
267.00
316.50
*
Asia Malt 70/30
252.50
299.50
267.50
317.50
263.50
313.00
273.50
324.50
**
Asia Malt 50/50
250.50
297.00
265.50
315.00
262.00
310.50
271.50
322.00
* - 70/30 = 70% Average two Rows Spring and 30% Six Rows Winter
** - 50/50 = 50% Average two Rows Spring and 50% Six Rows Winter
Theoretical malt prices for crop 2004 are available online
www.e-malt.com/MarketPrices
Malting barley prices. French barley prices.
Nominal prices.
EURO = USD 1.1867 May 12, 2004
Crop year
2003
2004
Parity
FOB Creil
FOB Creil
Position
July 2003
July 2004
Type
Variety
EURO
USD
EURO
USD
2RS
Scarlett
120.00
142.50
130.00
154.50
2RS
Prestige
119.00
141.50
129.00
153.50
2RS
Cellar
119.00
141.50
129.00
153.50
2RS
Aspen
118.00
140.50
128.00
152.00
2RS
Optic
118.00
140.50
128.00
152.00
2RS
Astoria
117.00
139.00
127.00
151.00
2RS
Cork
117.00
139.00
127.00
151.00
6RW
Esterel
111.00
132.00
114.00
135.50
Graph of the week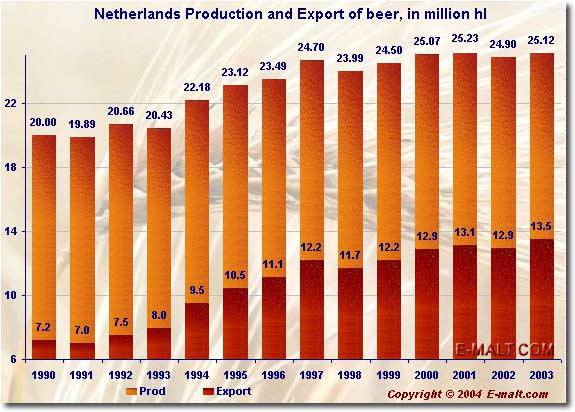 Agenda
May 2004:
EBC SYMPOSIUM 'FOOD SAFETY & TRACEABILITY'
CANADEAN'S 4th INTERNATIONAL BEER CONFERENCE
CITBUSMED 2004
PIVO, GASTRO, BAKERY / Bulgaria
ALCO + SOFT 2004 / Ukraine
FOOD & DRINKS/FOOD TECHNOLOGY 2004 / Moldova
Beer International Brewing Technology Exhibition / Russia

June 2004:
ALIMENTARIA MEXICO International Food and Beverages Exhibition
Hotelympia
10th international symposium on pre-harvest sprouting in cereals;
BevTek / BrewTek
IGC GRAINS CONFERENCE 2004
26th Annual National Homebrewers Conference
Coceral Congress 2004
The 9th International Barley Genetics Symposium
Little Oktoberfest

July 2004:
VI Moscow Beer Festival;
Lucky Baldwin's IPA Festival
BevTek / BrewTek China
Vermont Brewers Festival
World Brewing Congress 2004
Hop, malt and beer of Russia Exhibition

More events are available on site e-malt.com