Hong Kong: USA bank, J.P. Morgan Chase, has cut its stake in China's Harbin Brewery Group Ltd, the target of a potential takeover battle between two of the world's top beer makers
, records from Hong Kong's stock exchange showed. The U.S. bank sold 13.912 million shares in the Chinese brewer at HK$4.66-HK$4.84 apiece on May 7, trimming its stake to 8.02 % from 9.41 %, according to data posted on the stock exchange's Web site, Reuters revealed on May 12. Shares in Harbin Brewery, China's fourth-largest beer maker, rose 1.6 % to HK$4.75 on May 12, having gained 47 % since SABMiller Plc launched a hostile US$553 million bid for the firm. London-based SABMiller, which holds 29.4 % of Harbin Brewery, made its offer last week after larger rival Anheuser-Busch said it was buying a 29 percent stake in the Chinese brewer. Anheuser-Busch has yet to secure its investment given that the seller, an undisclosed group of investors, is still awaiting regulatory approval to buy the 29 percent stake in Harbin Brewery from Harbin's city's government. It is unclear whether Anheuser-Busch will make a counter-bid, although the Chinese firm has said it favoured the U.S. giant as a long-term partner.
Turkish brewing force, Anadolu Efes, announced on May 10 its financial results for the first quarter 2004
. As of end of 1Q2004 company's total beer sales volume reached 268 million liters growing by 38% versus 1Q2003. Excluding the sales volumes of the breweries in Ufa-Russia and Panchevo-Serbia, which were acquired in 2H2003, the organic growth rate was very strong at 17%, said the company. The domestic beer sales volume of Turkish beer operations further accelerated in 1Q2004 to 8% and reached 131 million liters. Together with the export volumes, which grew by 59%, total sales volume of Turkish beer operations reached 138 million liters in 1Q2004, posting an increase of 10% over 125 million liters in 1Q2003. Anadolu Efes Biracýlýk ve Malt Sanayii A. (Anadolu Efes), listed in the Istanbul Stock Exchange, is the holding company of Efes Beverage Group's beverage interests as well as an operating company, under which Turkey beer operations are managed. The Efes Beverage Group is composed of Anadolu Efes and its subsidiaries and affiliates that produce and market beer, malt, soft drinks across a geography including Turkey, Russia, the CIS countries and Southeast Europe. The Group operates with 14 breweries, 4 malteries and 9 Coca-Cola bottling facilities in 10 countries and has an annual brewing capacity of around 1.8 billion liters, malting capacity of 150,000 tons and Coca-Cola bottling capacity of 420 million unit cases per year...
more info
Latin America: Quilmes Industrial (Quinsa) S.A. ("Quinsa" or the "Company") announced on May 12 its results for the three months ended March 31, 2004
. Results for the first quarter of 2003 consolidate the operations of Companhia de Bebidas das Americas ("AmBev")'s Southern Cone assets ("ASCA") for the months of February and March, following the closing of the strategic alliance between AmBev and Quinsa on January 31, 2003. Thus, AmBev's beverage operations in Argentina, Paraguay and Uruguay have been consolidated as of that date. EBITDA increased 98% to US$ 91.5 million compared to the first quarter 2003, while EBITDA margin improved more than 12 percentage points to 43.9%. Beer sales volumes increased 15% to 4.4 million hectoliters. Net debt decreased US$ 75.6 million to US$ 127.7 million, from March 2003. Net profit after tax improved to US$ 27.6 million, or US$ 0.222 per share, compared to US$ 1.0 million, or US$ 0.008 per share for the first quarter 2003. Beer volume sales increased to 4,446,000 hectoliters from 3,863,000 hectoliters a year earlier, due to both continued volume growth in Argentina and Bolivia, and strong recoveries in Paraguay and Uruguay. Volumes for soft drinks increased approximately 6% compared to a year earlier, fuelled by good performances in both Argentina and Uruguay. Net sales increased to US$ 208.3 million from US$ 148.0 a year earlier, principally due to higher prices in Argentina and volume increases in Argentina, Bolivia, Paraguay and Uruguay...
more info
Baltic States, Riga: As beer sales in Lithuania and Estonia have risen sharply this year with sales in Latvia declining, an Estonian study showed that beer prices have actually fallen
over the past year, The Baltic Times has posted recently. Lithuania's beer market grew 5.6 percent from January to the end of April with 69 million liters. In April alone, the output soared 11.8 percent to 22.7 million liters, said the Lithuanian Brewers' Association. Meanwhile, exports rocketed over the same period. Led by Svyturys-Utenos Alus, Lithuanian brewers delivered 63.4 percent more beer in the first four months of this year. Svyturys-Utenos Alus exports surged amid a significant rise in sales of Carlsberg beer in Estonia and Latvia, Audrius Vidzys, president of the brewers' association, told the Baltic News Service. Carlsberg beer accounted for two-thirds of the company's total beer exports, he added. Svyturys-Utenos Alus, which is controlled by Scandinavian-owned Baltic Beverages Holding, also launched the export of Svyturio Extra beer to the United States in late February. The beer is being marketed in seven U.S. states. Kalnapilis-Tauras, which is majority owned by the Danish Brewery Group, saw a 73.5 percent drop in its four-month exports, while Siauliai-based Gubernija, posted a 23.5 percent decline in exports. In Estonia, brewers sold 19.7 million liters of beer on the domestic market in the first quarter, 18 percent more than the same period last year. "The significant rise in beer sales can be explained by better availability of cheaper beers," said Juri Kert, chairman of the Estonian Beer Union. "For the first time, all Estonian breweries are represented with PET-packaged beers."...
more info
Russia, St Petersburg: Baltic Beverages Holdings, Scottish & Newcastle's half-owned brewery that is Russia's beer market leader, has struck an aggressive posture
on further market share growth. Leading BBH executives indicated they believed they could take its market share from the current 32.6 per cent to between 35 and 50 per cent through a mixture of acquisitions and organic growth. Christian Ramm-Schmidt, president of BBH, whose other parent company is Denmark's Carlsberg, said he continued to believe "we would like to be the Anheuser Busch of Russia". Anheuser Busch has about 50 per cent of the US market. Ramm-Schmidt said: "I'm not happy for our market share to remain where it is now. "There is definitely room for growth, although this has to be balanced between market share and profits." S&N paid Ł1.2 billion for Hartwall, Finland's largest brewer, in February 2002 and picked up the 50 per cent share in BBH in the process. Anton Artemiev, executive vice president of BBH, about three-quarters of whose sales are in Russia, said: "The regulators in Russia have shown they are comfortable with a beer market share of 35 per cent. But although gains will then come under greater scrutiny, we know the regulators will allow more if you show you are not playing around on price." It is believed BBH, whose profits have increased on a pro-forma basis, to 264 million last year from 9m in 1994, has been stung by recent quarterly trading results to end-March 2004 showing its market share fell from 33 to 32.6 per cent due to a "marked increase in channel-stocking by distributors."...
more info
Malt News
Australia's malt exports in the first half of the crop year 2003/04 were 244,000 tonnes. Total exports in 2002/03 had been 526,000 tonnes. Largest destinations in the second semester of 2003 were Vietnam and Japan 49,000 tonnes each, Korea 42,000 tonnes, Thailand 34,000 tonnes and Philippines 27,000 tonnes.
Grupo Modelo intends to invest US$80 million in building a new malt-making factory in Idaho, US, a spokesman for the Mexican brewer told the Latin American press on May 12. The facility, which has a capacity of 100,000 tonnes will reduce the amount of raw materials the company has had to import into the US for production, the spokesman said. Late last month, Modelo reported a 6.6% increase in net profit for the quarter, ahead of market expectations. Net profit for the company reached 1.110 billion pesos (US$100m), up from 1.041 billion pesos a year earlier. The brewer operates seven plants in Mexico and exports five beer brands to around 150 countries.
Barley News
Canada, Winnipeg: The Canadian Wheat Board (CWB) plans to export over 16.0 million metric tonnes of western Canadian wheat, durum and barleyJ during the 2003-04 crop year, which began August 1, 2003 and ends July 31, 2004. By the end of May, it's expected that 85% of this export target will have been met, the CWB said on May 11. At the end of December, the CWB had shipped 40% of its export target. "There is every indication the 85% target will be met," Louise Waldman, a spokeswoman with the CWB said. Out of the 16 million tonnes export program, 11 million tonnes was expected to consist of wheat, 3 million of durum and 2 million of feed and malting barley. Demand from the Eastern Seaboard this season has remained strong, Waldman said. She acknowledged that there was an early start for the winter rail program, which ships product directly to the terminals on the St. Lawrence River from the western prairies. "Unfortunately, we don't have a final tally on exactly how much grain was moved via the winter rail program," she said. High ocean freight costs resulted in the West Coast sales program getting off to a slower than usual start. The CWB announced on May 13 that 2003-04 initial payments for wheat, durum, feed and designated barley will increase effective May 19, 2004. For feed barley, the increase in initial payments will be $22 per tonne, while the increase for designated barley will be $15 per tonne.
EU: The enlargement of the European Union will change some trade channels, but will not have a very large impact on barley markets. The new countries will be inside the EU customs walls, which permit barley imports of 300,000 tonnes per year at a tariff of EUR 16 per tonne, additional imports would cost EUR 93 per tonne. This will virtually stop Black Sea barley imports into Cyprus, Malta, also into Poland and the Baltic States. Trade inside the EU had already been facilitated by "double profit" quotas in the past and will now become larger along established routes.
Theoretical malt prices.
EURO = USD 1.1822 May 14, 2004
Crop year
2003
Parity
FOB Antwerp
Position
May 2004-Sept 2004
Conditioning
Bulk
In bags
Bulk containers
Bags, containers
Malting barley variety
EURO
USD
EURO
USD
EURO
USD
EURO
USD
2RS
Scarlett
255.50
302.50
271.00
320.00
267.50
316.00
276.50
327.00
2RS
Prestige
254.50
300.50
269.50
318.50
266.00
314.50
275.50
325.50
2RS
Aspen
253.50
299.50
268.50
317.50
264.50
313.00
274.50
324.50
2RS
Optic
253.50
299.50
268.50
317.50
264.50
313.00
274.50
324.50
2RS
Astoria
252.00
298.00
267.00
315.50
263.50
311.50
273.00
322.50
2RS
Cork
252.00
298.00
267.00
315.50
263.50
311.50
273.00
322.50
2RS
Average price
253.50
300.00
269.00
318.00
265.50
313.50
274.50
325.00
2RS
FAQ
250.50
296.50
266.00
314.50
262.50
310.00
272.00
321.50
6RW
Esterel
246.00
290.50
261.00
308.50
257.50
304.50
267.00
315.50
*
Asia Malt 70/30
251.50
297.00
266.50
315.00
263.00
310.50
272.50
322.00
**
Asia Malt 50/50
249.50
295.50
265.00
313.00
261.50
309.00
271.00
320.00
* - 70/30 = 70% Average two Rows Spring and 30% Six Rows Winter
** - 50/50 = 50% Average two Rows Spring and 50% Six Rows Winter
Theoretical malt prices for crop 2004 are available online
www.e-malt.com/MarketPrices
Malting barley prices. French barley prices.
Nominal prices.
EURO = USD 1.1822 May 14, 2004
Crop year
2003
2004
Parity
FOB Creil
FOB Creil
Position
July 2003
July 2004
Type
Variety
EURO
USD
EURO
USD
2RS
Scarlett
119.00
141.00
129.00
152.50
2RS
Prestige
118.00
139.50
128.00
151.50
2RS
Cellar
118.00
139.50
128.00
151.50
2RS
Aspen
117.00
138.50
127.00
150.50
2RS
Optic
117.00
138.50
127.00
150.50
2RS
Astoria
116.00
137.50
126.00
149.00
2RS
Cork
116.00
137.50
126.00
149.00
6RW
Esterel
111.00
131.50
113.00
133.50
Graph of the week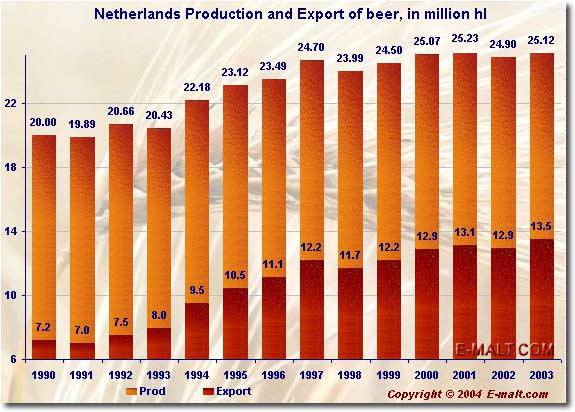 Agenda
May 2004:
EBC SYMPOSIUM 'FOOD SAFETY & TRACEABILITY'
CANADEAN'S 4th INTERNATIONAL BEER CONFERENCE
CITBUSMED 2004
PIVO, GASTRO, BAKERY / Bulgaria
ALCO + SOFT 2004 / Ukraine
FOOD & DRINKS/FOOD TECHNOLOGY 2004 / Moldova
Beer International Brewing Technology Exhibition / Russia

June 2004:
ALIMENTARIA MEXICO International Food and Beverages Exhibition
Hotelympia
10th international symposium on pre-harvest sprouting in cereals;
BevTek / BrewTek
IGC GRAINS CONFERENCE 2004
26th Annual National Homebrewers Conference
Coceral Congress 2004
The 9th International Barley Genetics Symposium
Little Oktoberfest

July 2004:
VI Moscow Beer Festival;
Lucky Baldwin's IPA Festival
BevTek / BrewTek China
Vermont Brewers Festival
World Brewing Congress 2004
Hop, malt and beer of Russia Exhibition

More events are available on site e-malt.com