Australia: Lion Nathan Ltd., Australia's second- biggest brewer, and Heineken NV have concluded negotiations to establish a joint venture
which will manufacture, import, market, sell and distribute Heineken Lager in Australia, Lion Nathan announced on May 17. Under the terms of the agreement, Heineken will provide its brand to the joint venture, together with access to Heineken's international marketing initiatives and technical support on the brewing of its brand in Lion Nathan's Australian breweries. Lion Nathan will provide brewing, importing, sales, warehousing and distribution, and back office and support services. The current Managing Director of Heineken Australia, Hans-Erik Tuijt, will become the Managing Director of the joint venture. In a joint statement, Lion Nathan Australia Managing Director, Andrew Reeves and the Managing Director of Heineken Australia, Hans-Erik Tuijt said: "The premium segment of the Australian market, and in particular the international premium segment, is very attractive and has significant growth potential. We believe that the combined strength of Lion Nathan's brands and infrastructure and one of the world's leading premium brand, Heineken (which grew its volume in Australia by 45 per cent last year), will provide both companies with significant opportunities to grow their respective businesses in Australia."...
more info
New Zealand, Wellington: New Zealand brewer DB Breweries Ltd. said on May 17 it will no longer produce Heineken beer for the Australian market
after Lion Nathan Ltd. and Dutch brewer Heineken NV agreed to establish a joint venture in that country. "Although timing is yet to be confirmed, it is likely that DB will continue its current production arrangement until the end of this year," the company said in a statement to the stock exchange. "While DB, which is part-owned by Heineken, will continue to brew and sell Heineken's product in New Zealand, the deal with Lion means DB loses a small but lucrative export venture," a New Zealand media said in a statement. DB Breweries has been producing Heineken keg beer for Australia for five years as part of a deal with Heineken NV. The exports of Heineken contributed NZ$800,000 to earnings before interest and tax in DB Breweries' last financial year. DB's total pre-tax earnings were $35.7 million last year and the company said yesterday that Heineken keg sales to Australia were just one part of its export business. "It's very small in the scheme of things", said managing director Brian Blake. Export volumes of other DB brands continue to grow in Australia and other markets, DB said in a statement. DB is 76 % by Singapore-based Asia Pacific Breweries (APB) Group, which in turn is 42.5 % owned by Heineken. Until now, bottled Heineken sold in Australia has been imported from Europe.
Japan, Tokyo: Combined shipments of beer and "happoshu" low-malt beer by Japan's five top brewers in April slipped 9.1%
from a year ago for the fourth monthly year-on-year fall, according to reports by the five brewers released May 17. Beer and happoshu shipments by Kirin Brewery Co, Asahi Breweries Ltd, Sapporo Holdings Ltd, Suntory Ltd and Orion Breweries Ltd totaled 43.29 million cases in April, according to Kyodo News. The volume of beer shipped by the top-five Japanese breweries for April rose 6.1 % year-on-year to 331,171 thousand litres, the first increase in two months, the Brewers Association of Japan (BAJ) said. In the January-April period, beer shipments fell 0.8 % year-on-year to almost 1.04 billion litres. The BAJ attributed the increase of shipments for April to good weather, the ongoing economic recovery and active promotion campaigns by beer makers. Meanwhile, shipments of low-malt liquor by the top-five Japanese breweries for April fell 25.4 percent year-on-year to 216,940 kiloliters, a sister body of the BAJ, focusing on low-malt liquor, said. In the January-April period, shipments low-malt liquor dropped 16.5 percent year-on-year to 693,061 kiloliters. The low-malt industry body attributed the drop in shipments to the tax increase on low-malt liquor.
Hong Kong: SABMiller Plc, the world's second biggest brewer, is thirsty for more acquisition opportunities in China but targets are getting fewer and more expensive
, a senior executive said on May 17. SABMiller, which has announced a takeover bid for Harbin Brewery Group Ltd and aims to grab a 20 % share in the world's biggest beer market, is now focusing on the richest eastern cities, under Reuters report. It also seeks to develop a national Chinese brand and introduce new global brands, including Miller Genuine Draft, Pilsner Urquell and Peroni in the next two years. "Good targets are becoming fewer as the industry consolidates and the interest in the good targets is becoming greater as you probably know and the prices are being driven up," said Andre Parker, SABMiller's managing director for Africa and Asia told Reuters in an interview by telephone from Johannesburg. The London and South African-based brewer has a 10 percent share in China via its 49 percent-owned venture, China Resources Breweries (CRB), the second biggest beer maker in the country. SABMiller also holds 29.4 % stake in China's fourth-largest beer maker Harbin Brewery and made its US$553-million hostile offer in early May after larger rival Anheuser-Busch said it was buying a 29 % stake in the Chinese brewer. Including the 29.4 % stake in Harbin, SABMiller has a market share of over 14 % in China...
more info
Singapore: Asia Pacific Breweries Limited (APB) announced on 14 May 2004 that it continued its double-digit growth trend for the first half of the financial year
ended 31 March 2004. Revenue for the period under review grew 14% from $649.6 million to S$741.3 million. Profit before interest and taxation increased 16% from S$100 million to S$116.2 million. Attributable profit (before exceptional items) gained 11% to S$63.8 million this year. Return On Equity and Earnings Per Share have risen from 7.5% to 8.0% and 22.7 cents to 25.0 cents respectively. Net asset value per share gained 10 cents to $3.14. The Directors have recommended an interim dividend of 14 cents per share (as compared to 12 cents per share for the corresponding period last year), being after deduction of Singapore tax, to be paid on 15 June 2004. This is equivalent to a gross (pre-tax) dividend of 17.5%. Pleased with the results, Mr Koh Poh Tiong, Chief Executive Officer, APB said, "The double digit growth over the last half year is further proof that our regionalisation drive in the past decade was the right move. Our investments in emerging markets such as Vietnam and Cambodia generated good returns. Rising incomes and an increasing desire for premium products explain why Tiger, Heineken and other APB beers are highly sought after in these markets. A second brewery was set up in Hatay, North Vietnam last year to cater to the increasing demand. As we expect these markets to continue their strong growth, IndoChina is expected to remain as one of the key growth drivers for APB...
more info
Malt News
On May 1 ten countries joined the European Union. In 2002 the EU shipped 100,000 tonnes of malt to these countries. The Czech Republic exported 213,000 tonnes in 2003, however, only 85-90,000 tonnes outside the expanded EU. Also Slovakia's exports were 207,000 tonnes, of which more than half inside the new EU. The largest customer of both countries has been Poland, 86,000 tonnes from the Czech Republic, and a similar amount from Slovakia, analysts revealed in a statement.
Barley News
North American barley acreage, intended plantings for 2004 (in thousand ha)


| | | | | | | |
| --- | --- | --- | --- | --- | --- | --- |
| CANADA | 2003 | 2004 | | USA | 2003 | 2004 |
| Manitoba | 445 | 465 | | North Dakota | 830 | 729 |
| Saskatchewan | 2,064 | 1,902 | | Montana | 446 | 385 |
| Alberta | 2,185 | 2,023 | | Idaho | 304 | 284 |
| TOTAL CANADA | 5,046 | 4,732 | | TOTAL USA | 2,146 | 1,897 |
North America's barley acreage was given up in favour of corn and soybeans. It is much too dry in the West, the two-row barley area. The Saskatchewan government reports that 60 % of all farms do not have adequate moisture levels. The weekly report of AMBA puts moisture levels in Montana at short/very short 66 % for topsoil and 73 % for subsoil moisture. Idaho, which relies on irrigation, reports only 29 % good water supplies. Recent rainfalls improved the picture in Oregon and Colorado.
EU: Prices in 2003/04 developed in a particular way. The deficit of feed grains in the EU led to extremely firm markets for feed barley. There was more than enough malting barley in the market, and at certain moments the premium for it almost disappeared. Large quantities of good quality barley were sold to the feed sector. Since a few months feed markets have become weaker after large corn and sorghum imports as well as wheat, rye and barley sales from intervention. Also good new crop prospects weighed on the market. Prices of crop 2004 barley have developed in the usual manner: feed barley close to intervention price levels, and malting barley at a premium established by supply and demand. Experience has shown, however, that excessive premiums cannot be sustained for long (2nd class barley can also be malted). Quotes for world feed barley markets are US $ 156 FOB EU seaport in May, new crop US $ 135 in September. The intervention price is the bottom of the market, and $ prices depend on the US $ / EUR exchange rate.
Theoretical malt prices.
EURO = USD 1.1949 May 19, 2004
Crop year
2003
Parity
FOB Antwerp
Position
May 2004-Sept 2004
Conditioning
Bulk
In bags
Bulk containers
Bags, containers
Malting barley variety
EURO
USD
EURO
USD
EURO
USD
EURO
USD
2RS
Scarlett
254.50
304.00
269.50
322.00
266.00
317.50
275.50
329.00
2RS
Prestige
253.50
302.50
268.50
320.50
264.50
316.50
274.50
327.50
2RS
Aspen
252.00
301.00
267.00
319.00
263.50
315.00
273.00
326.50
2RS
Optic
252.00
301.00
267.00
319.00
263.50
315.00
273.00
326.50
2RS
Astoria
250.50
299.50
266.00
317.50
262.50
313.50
272.00
324.50
2RS
Cork
250.50
299.50
266.00
317.50
262.50
313.50
272.00
324.50
2RS
Average price
252.50
301.50
267.50
319.50
264.00
315.50
273.50
327.00
2RS
FAQ
249.50
298.00
264.50
316.50
261.00
312.00
270.50
323.50
6RW
Esterel
244.50
292.50
259.50
310.50
256.00
306.00
265.50
317.50
*
Asia Malt 70/30
250.00
299.00
265.50
317.00
261.50
312.50
271.00
324.00
**
Asia Malt 50/50
248.50
297.00
263.50
315.00
260.00
310.50
269.50
322.00
* - 70/30 = 70% Average two Rows Spring and 30% Six Rows Winter
** - 50/50 = 50% Average two Rows Spring and 50% Six Rows Winter
Theoretical malt prices for crop 2004 are available online
www.e-malt.com/MarketPrices
Malt Price Evolution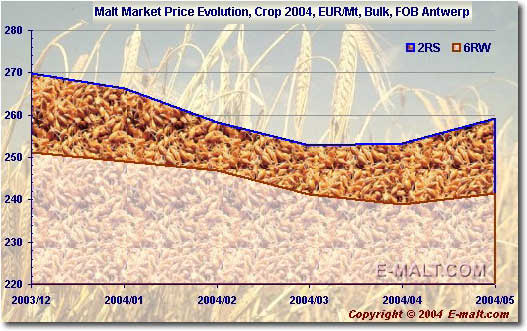 | | |
| --- | --- |
| | Maximum price for 2RS Malt, crop 2004: 270.50 EUR/tonne - in December 2003 |
| | Minimum price for 2RS Malt, crop 2004: 251.00 EUR/tonne - in April 2004 |
| | Maximum price for 6RW Malt, crop 2004: 252.50 EUR/tonne - in December 2003 |
| | Minimum price for 6RW Malt, crop 2004: 237.50 EUR/tonne - in April 2004 |
Source: E-malt.com

Malting barley prices. French barley prices.


Nominal prices.



EURO = USD 1.1949 May 19, 2004
Crop year
2003
2004
Parity
FOB Creil
FOB Creil
Position
July 2003
July 2004
Type
Variety
EURO
USD
EURO
USD
2RS
Scarlett
118.00
141.00
128.00
153.00
2RS
Prestige
117.00
140.00
127.00
152.00
2RS
Cellar
117.00
140.00
127.00
152.00
2RS
Aspen
116.00
139.00
126.00
150.50
2RS
Optic
116.00
139.00
126.00
150.50
2RS
Astoria
115.00
137.50
125.00
149.50
2RS
Cork
115.00
137.50
125.00
149.50
6RW
Esterel
110.00
131.50
112.00
134.00
Graph of the week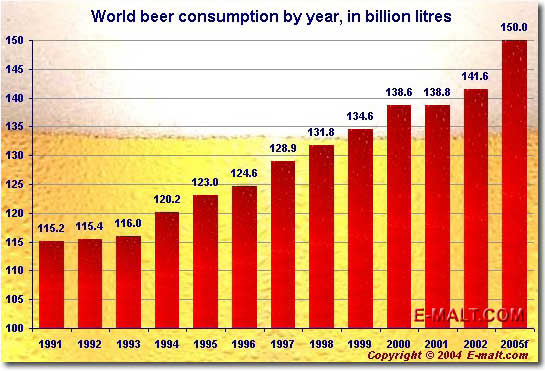 Agenda


May 2004:
EBC SYMPOSIUM 'FOOD SAFETY & TRACEABILITY'
CANADEAN'S 4th INTERNATIONAL BEER CONFERENCE
CITBUSMED 2004
PIVO, GASTRO, BAKERY / Bulgaria
ALCO + SOFT 2004 / Ukraine
FOOD & DRINKS/FOOD TECHNOLOGY 2004 / Moldova
Beer International Brewing Technology Exhibition / Russia

June 2004:
ALIMENTARIA MEXICO International Food and Beverages Exhibition
Hotelympia
10th international symposium on pre-harvest sprouting in cereals;
BevTek / BrewTek
IGC GRAINS CONFERENCE 2004
26th Annual National Homebrewers Conference
Coceral Congress 2004
The 9th International Barley Genetics Symposium
Little Oktoberfest

July 2004:
VI Moscow Beer Festival;
Lucky Baldwin's IPA Festival
BevTek / BrewTek China
Vermont Brewers Festival
World Brewing Congress 2004
Hop, malt and beer of Russia Exhibition

More events are available on site e-malt.com