China: Belgium's Interbrew said on May 20 it struck a pact to distribute its premium Beck's brand in China through its tie-up with Zhujiang brewery
. The move is the latest in a spree of deals by foreign brewing giants keen to increase their share of the world's largest beer market by volume. Under the deal, Zhujiang will use its sales and distribution channels to market Beck's throughout China. Interbrew said it will in turn help Zhujiang to explore overseas markets, although it did not say how. The distribution deal comes as Anheuser-Busch and SABMiller, the world's two largest beer makers, are poised for a battle to take over Harbin Brewery, China's fourth largest. Interbrew, which is expected to become the world's largest beer maker when its purchase of Brazil's AmBev is completed, owns a 24 % stake in Zhujiang Joint Stock Co. Zhujiang, which has been Interbrew's partner in China for 20 years, ranks seventh in China's regionally fragmented beer industry, with a market share of 3.6 percent. It has a market share of 50 percent in Guangdong province, one of the richest in China. Global brewers have been rushing to buy breweries in fast-growing China, where the average person drinks just 19 litres of beer a year, compared with roughly 84 litres in the United States.
Hong Kong: Anheuser-Busch, a leading global brewer, announced on May 19, 2004 the completion of its purchase of approximately 29 % of Harbin Brewery Group Ltd.
, a leading brewer in China, through the purchase of Global Conduit Holdings Ltd., an investment holding company. The holding company acquired the brewery shares from the City of Harbin under a previous agreement, and the transfer to Anheuser-Busch was completed after receipt of all requisite approvals for the transaction. The total purchase price was HK$1.08 billion (US$139 million), or the equivalent of HK$3.70 per share, Anheuser-Busch wrote. The U.S. brewer's move has prompted world number-two beer maker SABMiller, which already holds 29.4 % of Harbin Brewery, to launch a bold US$553 million bid in early May. SABMiller said it would make an offer for all Harbin shares at HK$4.30 each. Anheuser-Busch spokesman in Hong Kong declined comment on whether the U.S. firm plans to make a counter offer. Harbin Brewery Chief Executive Peter Lo has said it favoured the U.S. giant as a long-term partner, and the Harbin city government also backed Anheuser-Busch saying it was "the right strategic partner" for Harbin. Harbin's board of directors had urged its shareholders not to act on SABMiller's offer. SABMiller is scheduled to send an offering document to all Harbin Brewery's shareholders no later than next Wednesday. Anheuser-Busch acquired Harbin shares via the purchase of an investment holding company, Global Conduit Holdings Ltd. Shares in Harbin Brewery ended unchanged at HK$4.75 on May 19. The stock has gained more than 47 % since SABMiller launched the hostile bid for the firm...
more info
South Korea: The Czech brewery Budejovicky Budvar claimed victory on May 20 over beer giant Anheuser-Busch in the latest round of their global trademark dispute
. South Korea's highest court upheld a previous court decision that Budvar can use the Budejovicky Budvar trademark in that country. The ruling also gave Budvar's trading company the right to use the name Budweiser Budvar, the Czech brewer said. The court said the trademark and the name did not conflict with Anheuser-Busch's trademarks, according to Business Report. The verdict was final, said Budvar director Jiri Bocek. The two companies have been battling over Budweiser and other trade names for a century. Currently, they are involved in about 40 lawsuits worldwide. Budejovicky Budvar was founded in 1895 in Ceske Budejovice, called Budweis by the German-speaking people who populated the area at the time. Beer has been brewed there since 1265. Anheuser-Busch's founders used the name Budweiser because it was well known in their German homeland. The St Louis brewery started in 1852. It began producing Budweiser, America's first national beer brand, in 1876. Since 2001 Budvar has been exporting lager to the US under the name Czechvar.
Norway, Oslo: The supply of beer in Norway is soon to dry up because of a national strike by brewery workers
, the BBC reported on May 20. Some 2,560 full-time brewery staff walked off the job to protest the growth in a temporary workforce that could undermine job security. The Norwegian Food and Allied Workers Union wants the ability to veto hiring decisions, but employer representatives have refused to budge. "We cannot allow employees to have a veto right when it comes to these matters, said Carl Roenneberg, director for the Federation of Norwegian Food and Drink Industry. Beer drinkers are especially uneasy, as supplies can't be shipped in from neighboring Sweden or Denmark because Norwegian truck drivers are also on strike. The trucker strike has left most of the country's grocery stores empty of eggs, butter and cheese. Arild Oliversen, a spokesman of the Norwegian Food and Allied Workers Union, told the BBC's World Business Report that he expected to win, but that the strike could take months. The separate truck driver strike has left most of Norway's grocery stores almost empty of eggs, butter and cheese.
Peru: Cia. de Bebidas das Americas, South America's largest beermaker, said on May 20 it faces at least a three-month delay in starting beer operations in Peru
as more than a dozen lawsuits seek to block construction of a brewery in Lima, Bloomberg revealed in a statement. Ambev, which is being acquired by Interbrew SA, can't open the $40 million plant while courts weigh allegations the brewery will cause environmental damage, Juan Vergara, head of AmBev's international operations, said in an interview in Lima. AmBev is relying on production from the plant to inaugurate sales in Peru's $350 million beer market. The plant, about 13 miles south of Lima, was scheduled to open in the third quarter. "We have found ourselves mired in a bunch of legal obstacles, in a very well orchestrated plan to delay our building the factory,'' Vergara, 44, said. AmBev, seeking to diversify revenue outside its home market of Brazil, where it accounts for two-thirds of beer sales, is expanding across Central and South America, seeking to take sales from established brewers with almost total control of their markets. UCP Backus & Johnston SA, a unit of Colombian brewer Bavaria SA, sells 98 percent of the beer in Peru, and AmBev aims to capture 6 percent of that market by 2007, Carlos Bembhy, the company's head of operations in the country, said in an interview in January. AmBev's volume sales in Brazil, its core market, fell 6.2 percent in the first quarter. The 17 suits against AmBev claim the Hauchipa plant threatens the water quality of a reservoir that serves Lima, Marco Palacios, the lawyer representing most of the plaintiffs said. AmBev said in court documents it has complied fully with all Peruvian environmental laws and regulations...
more info
Malt News
USA: International Malting Co. announced plans last year to build a $60 million malting plant north of Great Falls. A $33.7 million loan from the Montana Board of Investments was the most significant economic incentive, said John Kramer, president of the Great Falls Development Authority. The loan is believed to be the largest in the 20-year history of the board, which makes loans from the state's coal-tax trust fund. The plant is expected to go on line in 2005 and will process between 8 million and 12 million bushels of malting barley a year. Kramer said the malt plant would provide about 35 full-time jobs. The biggest benefit of the plant isn't necessarily its payroll, but the creation of a market for value-added Montana agriculture products. Kramer estimates that the malting plant will generate between $10 million and $20 million a year in economic benefits.
Australia: Nicole Birrell has been appointed to the chair of AusMalt, the wholly owned malting subsidiary of AusBulk, replacing Perry Gunner who is remaining on the board but stepping down as chair to concentrate on the proposed merger of AusBulk and ABB Grain, the company has recently reported. AusMalt, which was created to oversee the Joe White Maltings and Adelaide Malting Company businesses acquired by AusBulk, is the leading Australian maltster and the eighth largest in the world. Ms Birrell was appointed to AusMalt's board in April 2004 and has served as an AusBulk director since 2000. She has 26 year's experience in local and overseas corporate and investment banking, most recently as Head of Operational Risk and Compliance, Institutional Financial Services at ANZ Bank. She left full-time employment in April 2004 to pursue board and consulting interests. Ms Birrell said AusMalt was performing extremely well with production fully committed to 2005 and expansions to its Cavan (SA) and Devonport (Tas) plants proceeding to schedule. In addition to Ms Birrell, the AusMalt board comprises Bill Gill (managing director), Perry Gunner (deputy chair, AusBulk) and John Murray (managing director, AusBulk).
Barley News
Import restrictions of the EU for barley and feed wheat are certainly damaging Russian and Ukrainian grain exports, analysts posted in a statement. Also compound industries in EU Mediterranean countries would appreciate more open markets for Black Sea grains.
EU: As a consequence of new malting capacities becoming operational, estimates are that Sweden will need 100,000 tonnes more malting barley ex crop 2004, Belgium and France 65,000 tonnes more each. In the new countries Poland is expected to import 200,000 tonnes, Slovakia 120,000 tonnes in 2004/2005. Altogether the expanded EU may have and export surplus of 750,000 tonnes, a figure much lower than in past years. In case of very good crops this figure may be higher, but a lower surplus and firmer markets would threaten in case of adverse weather conditions. Export markets for EU malting barley will be Balkan countries, Russia, South America and less likely South Africa, Turkey and China.
Theoretical malt prices.
EURO = USD 1.1938 May 21, 2004
Crop year
2003
Parity
FOB Antwerp
Position
May 2004-Sept 2004
Conditioning
Bulk
In bags
Bulk containers
Bags, containers
Malting barley variety
EURO
USD
EURO
USD
EURO
USD
EURO
USD
2RS
Scarlett
254.50
303.50
269.50
322.00
266.00
317.50
275.50
329.00
2RS
Prestige
253.50
302.50
268.50
320.50
264.50
316.00
274.50
327.50
2RS
Aspen
252.00
300.50
267.00
319.00
263.50
314.50
273.00
326.00
2RS
Optic
252.00
300.50
267.00
319.00
263.50
314.50
273.00
326.00
2RS
Astoria
250.50
299.50
266.00
317.50
262.50
313.00
272.00
324.50
2RS
Cork
250.50
299.50
266.00
317.50
262.50
313.00
272.00
324.50
2RS
Average price
252.50
301.50
267.50
319.50
264.00
315.00
273.50
326.50
2RS
FAQ
249.50
298.00
264.50
316.00
261.00
311.50
270.50
323.00
6RW
Esterel
244.50
292.00
259.50
310.00
256.00
305.50
265.50
317.00
*
Asia Malt 70/30
250.00
298.50
265.50
316.50
261.50
312.50
271.00
323.50
**
Asia Malt 50/50
248.50
296.50
263.50
314.50
260.00
310.50
269.50
322.00
* - 70/30 = 70% Average two Rows Spring and 30% Six Rows Winter
** - 50/50 = 50% Average two Rows Spring and 50% Six Rows Winter
Theoretical malt prices for crop 2004 are available online
www.e-malt.com/MarketPrices
Malt Price Evolution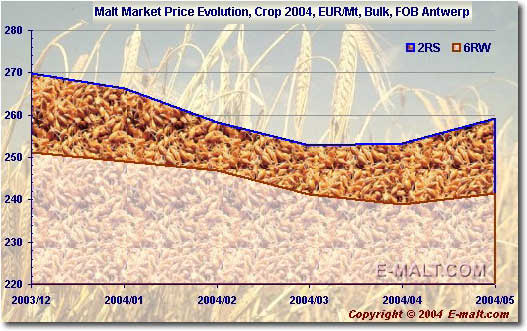 | | |
| --- | --- |
| | Maximum price for 2RS Malt, crop 2004: 270.50 EUR/tonne - in December 2003 |
| | Minimum price for 2RS Malt, crop 2004: 251.00 EUR/tonne - in April 2004 |
| | Maximum price for 6RW Malt, crop 2004: 252.50 EUR/tonne - in December 2003 |
| | Minimum price for 6RW Malt, crop 2004: 237.50 EUR/tonne - in April 2004 |
Source: E-malt.com

Malting barley prices. French barley prices.


Nominal prices.



EURO = USD 1.1938 May 21, 2004
Crop year
2003
2004
Parity
FOB Creil
FOB Creil
Position
July 2003
July 2004
Type
Variety
EURO
USD
EURO
USD
2RS
Scarlett
118.00
141.00
128.00
153.00
2RS
Prestige
117.00
140.00
127.00
152.00
2RS
Cellar
117.00
140.00
127.00
152.00
2RS
Aspen
116.00
138.50
126.00
150.50
2RS
Optic
116.00
138.50
126.00
150.50
2RS
Astoria
115.00
137.50
125.00
149.50
2RS
Cork
115.00
137.50
125.00
149.50
6RW
Esterel
110.00
131.50
112.00
134.00
Graph of the week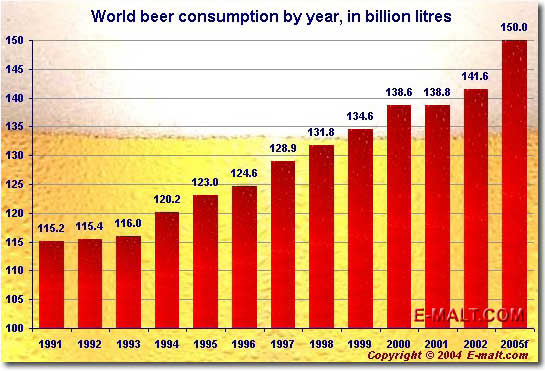 Agenda


May 2004:
EBC SYMPOSIUM 'FOOD SAFETY & TRACEABILITY';
CANADEAN'S 4th INTERNATIONAL BEER CONFERENCE;
CITBUSMED 2004;
PIVO, GASTRO, BAKERY / Bulgaria;
ALCO + SOFT 2004 / Ukraine;
FOOD & DRINKS/FOOD TECHNOLOGY 2004 / Moldova;
Beer International Brewing Technology Exhibition / Russia

June 2004:
ALIMENTARIA MEXICO International Food and Beverages Exhibition;
Hotelympia
10th international symposium on pre-harvest sprouting in cereals;
BevTek / BrewTek;
IGC GRAINS CONFERENCE 2004;
26th Annual National Homebrewers Conference;
Scottish Traditional Beer Festival;
Coceral Congress 2004;
The 9th International Barley Genetics Symposium;
Little Oktoberfest;

July 2004:
VI Moscow Beer Festival;
Lucky Baldwin's IPA Festival;
BevTek / BrewTek China;
Vermont Brewers Festival;
World Brewing Congress 2004;
Hop, malt and beer of Russia Exhibition;

More events are available on site e-malt.com