Brazil: The Brazilian Finance Ministry's SEAE competition watchdog on May 27 recommended Interbrew's planned acquisition of 54.4 % of Brazilian brewer AmBev
be approved without restrictions. Schincariol, Brazil's No.2 brewer behind Companhia de Bebidas das Americas (AmBev), had filed a request with Brazilian antitrust authorities asking them to suspend the deal on the grounds it would hurt competition in Brazil, according to Reuters. The ministry's SEAE competition body said the Justice Ministry, which runs Brazil's main anti-monopoly body, the Administrative Council of Economic Defense (CADE), should allow the deal to go ahead because the Belgium brewer sold only a small amount of beer in Brazil. "After the operation, the joint (market) share of the applicants will be 67.001 percent, being that the 0.001 percent represents Interbrew's stake in the Brazilian beer market," the SEAE said in a statement. Interbrew and Companhia de Bebidas das Americas (AmBev) said on March 3 that they would merge operations to create InterbrewAmbev, the world's No.1 brewer by volume, surpassing Anheuser-Busch Cos. Inc. (nyse: BUD - news - people). The union would bring heavyweight brands like Stella Artois, Beck's, and Skol under the same roof. The CADE has yet to approve the sale, but earlier this month its president told a Congressional hearing on the protection of consumer rights that the $11.5 billion tie-up did not appear to pose a threat to the current competitiveness of the market. AmBev controls about two-thirds of the Brazilian beer market. Its main rivals are privately owned Schincariol and Kaiser, owned by Canadian brewer Molson Inc.. The company's shares gained 1.4 % on May 27 to close at 577 reais. Brazil's benchmark Bovespa stock index gained 3.5 % during the session.
USA, Chicago: Just days after Anheuser-Busch "Unleashed the Dawgs" of a new anti-Miller Beer advertising campaign, Miller has unleashed the lawyers
. Miller filed suit in federal court on May 26 accusing Anheuser-Busch of "false, unfair and illegal" marketing tactics, according to AdAge. Last week, in the latest round of an escalating marketing war for share in the light-beer category, Anheuser-Busch launched a major ad offensive for its Bud Light against Miller Lite. Full-page newspaper ads called the Miller product "Queen of Carbs" and charged that Miller was "South African Owned." In response, Miller, a unit of London-based SABMiller, on May 26 filed suit that alleges Anheuser-Busch has "either authorized, encouraged or condoned" agents or employees to affix stickers advertising its beers on Miller Lite beer in retail outlets. The suit, filed in a federal court in Wisconsin, also claims that Anheuser-Busch ads depicting Miller Lite as "Owned by South African Breweries" or as the "Queen of Carbs" are false. The suit seeks to enjoin Anheuser-Busch from continuing to use them. Since late last year, the once-moribund Miller Lite has posted sales gains as Bud Light sales have slowed. "Evidently sensing a loss in marketshare, Anheuser-Busch has reacted in a mean-spirited, disparaging and ultimately illegal manner," the suit says...
more info
Philippines, Manila: San Miguel Corp, Southeast Asia's largest food and beverage firm, said on May 27 its net income rose 32 % to 2.42 billion pesos
($43.3 million) in January to April from the same period of 2003. The company said strong domestic and international beer operations lifted consolidated net sales to 53.5 billion pesos during the four-month period, up 18 percent from a year earlier. Forecasts for San Miguel's full-year profit range from 7.4 billion to 9.2 billion pesos, according to Reuters Estimates. The company, which is 15 percent owned by Japan's Kirin Brewery Co Ltd, had net income of 7.37 billion pesos in 2003. Analysts had expected a strong start to the year for San Miguel due to spending related to national elections that were held in the Philippines on May 10. The group sells nine of every 10 bottles of beer consumed in the Philippines and also dominates store shelves with its soft drinks, processed meat and poultry. Beer and other alcoholic beverages account for about a third of its revenues. San Miguel, the Philippines' biggest company, said in a statement the volume of domestic beer sales rose 23 % in the first four months of the year from the same 2003 period. Beer revenues for January to April jumped 26 % to 12.6 billion pesos. The volume of international beer sales grew 15 % in the first four months from a year earlier. San Miguel has four breweries in China and one in Vietnam, Indonesia and Australia.
Russia: Baltika, Russia's biggest brewery announced on May 26 its first quarter 2004 net profit totalled $13.7 million
, little changed from $13.6 million in the same period last year. Baltika, jointly owned by Denmark's Carlsberg and Scottish & Newcastle, said in a statement that revenues grew to $170 million from $130 million according to U.S. Generally Accepted Accounting Principles. Baltika sold 338 million litres of beer, or 6.8 % more than in the same period of 2003. The company retained a 20 % share of the world's fifth largest beer market, the level held in the fourth quarter last year, although its market share increased to 20.5 % in April, Baltika spokeswoman Marianna Volodina said. "The first quarter is usually very slow, especially for beer," she said. Earnings Before interest, taxation, depreciation and amortisation (EBITDA) rose to $39 million from $31 million. But EBITDA margin, an indication of a company's effectiveness, slipped to 22.9 percent from 23.8 percent. "The market has overestimated Baltika's ability to return to profitability," said Alfa bank analyst Alexander Svinov, adding that Baltika's net profit margin had been in the 20s since 2001. Net profit margin for the first quarter this year was 8%, he said. Christian Ramm-Schmidt, the chief executive of Baltic Beverages Holding, through which the two Western brewers control Baltika, has said its big investments in new breweries and distribution, which caused the margin erosion, were coming to an end. Baltika has recently completed restructuring its distribution network and restyling its main brands, which have also affected sales, Svinov said. He added that the rise in volumes of beer was an encouraging sign, as sales volumes have not grown for some time. "The first quarter does not really signify much," he said. "Judging by what they are doing, Baltika should have a good year."
Ireland: The price of a pint in Ireland is set to rise next week. The increase, signaled at the beginning of this year by Diageo
, equates to an average rise of €0.15 on a pint of Guiness, Smithwicks, Harp, Carlsberg and Budweiser. From June 1 2004 Diageo will put €0.06 on the wholesale price of its brands. Publicans will have to pay an extra €5.45, a rise of 4.5%, for a keg. It is widely assumed that publicans will increase their prices in line with the wholesale price rise. Diageo announced the price rise in March, but chose to defer it until 1 June because of the implementation of the smoking ban. The increase is set to leave the cost of a pint heading close to the euro5 mark (£3.35) mark, and could be in place as early as next week. Tourism Minister John O'Donoghue led political criticism of the plan, calling on the drinks sector to consider the potentially negative impact of the move. The minister said it was clear that Ireland had a competitiveness issue around the cost of drink and eating out – a factor that had been borne in visitor-attitude surveys and in a recent major review of Irish tourism policy completed by his department. He added: "I would call upon both brewers and the licensed trade to seriously consider the potential negative impacts of proceeding with drink price increases which can only exacerbate our existing competitive disadvantage in this area. "This sort of behaviour can only go so far before it begins to have possibly long-term negative consequences. "It may also once again raise the issue of the adequacy of competition in the drinks industry."...
more info
Malt News
Malt export business was surprisingly good in April, analysts have recently revealed. In Europe Russia purchased at least 15,000 tonnes, Romania and Ukraine undisclosed quantities. In Latin America Brazil purchased somewhere between 60,000 and 80,000 tonnes for late 2004 end 2005, partly from the EU and from Mercosur. Chile and the Dominican Republic asked for offers as well.
Barley News
EU: Stratégie Grains estimates that the barley carryover of the old EU will be 4.2 million tonnes, of the expanded EU 5.1 million tonnes, less than the minimum needed in July/August until new crop barley comes on the market. Therefore the export surplus for crop 2004 is put at only 3.8 million tonnes. Shipments from old to new EU countries are estimated to come to 700,000 tonnes.
Australia: Grain company GrainCorp Ltd reported on May 27a 28 % jump in first half net profit to $A12.5 million ($US8.81 million). Despite the profit hike, the firm kept its full year profit forecast at $A24 ($US16.92 million) to $A26 million, according to Asia Pulse. "GrainCorp is on track to achieve the forecast full year profit of $24-26 million despite the predicted subdued start to the year," managing director Tom Keene said. "We remain focused on organic growth and disciplined restructuring as we continue the transition away from the drought of 2002/03." He said the $12.5 million net profit for the six months to March 31, 2004, was influenced by "near-record low levels of carry over grain coming into the 2003/04 harvest and a slow first six months for grain exports". "Grain exports are expected to pick up in the second half," he said. GrainCorp said first half revenue grew 44 per cent to $439.62 million. The company declared a 17 cent interim dividend fully franked, compared to no interim dividend the previous corresponding period, and a special dividend of 10 cents per share. That brought the total forecast dividends for the year to between 36 cents to 40 cents per share, the company said. "Our half year result has been influenced by the near record low levels of carry over grain coming into the 2003/04 harvest and a slow first six months for grain exports," Mr Keene said. "Grain exports are expected to pick up in the second half."...more info
Theoretical malt prices.
EURO = USD 1.2270 May 28, 2004
Crop year
2003
Parity
FOB Antwerp
Position
June 2004-Sept 2004
Conditioning
Bulk
In bags
Bulk containers
Bags, containers
Malting barley variety
EURO
USD
EURO
USD
EURO
USD
EURO
USD
2RS
Scarlett
253.50
310.50
268.50
329.50
264.50
325.00
274.50
336.50
2RS
Prestige
252.00
309.00
267.00
327.50
263.50
323.50
273.00
335.00
2RS
Aspen
250.50
307.50
266.00
326.50
262.50
321.50
272.00
333.50
2RS
Optic
250.50
307.50
266.00
326.50
262.50
321.50
272.00
333.50
2RS
Astoria
249.50
306.00
264.50
324.50
261.00
320.50
270.50
332.00
2RS
Cork
249.50
306.00
264.50
324.50
261.00
320.50
270.50
332.00
2RS
Average price
251.50
308.50
266.50
327.00
262.50
322.50
272.50
334.00
2RS
FAQ
248.50
304.50
263.50
323.50
260.00
318.50
269.50
330.50
6RW
Esterel
243.50
298.50
258.50
317.00
255.00
312.50
264.50
324.50
*
Asia Malt 70/30
249.00
305.50
264.00
324.00
260.50
319.50
270.00
331.00
**
Asia Malt 50/50
247.50
303.50
262.50
322.00
259.00
317.50
268.50
329.50
* - 70/30 = 70% Average two Rows Spring and 30% Six Rows Winter
** - 50/50 = 50% Average two Rows Spring and 50% Six Rows Winter
Theoretical malt prices for crop 2004 are available online
www.e-malt.com/MarketPrices
Malting barley prices. French barley prices.
Nominal prices.
EURO = USD 1.2270 May 28, 2004
Crop year
2003
2004
Parity
FOB Creil
FOB Creil
Position
July 2003
July 2004
Type
Variety
EURO
USD
EURO
USD
2RS
Scarlett
116.00
142.50
126.00
155.00
2RS
Prestige
115.00
141.50
125.00
153.50
2RS
Cellar
115.00
141.50
125.00
153.50
2RS
Aspen
114.00
140.00
124.00
152.50
2RS
Optic
114.00
140.00
124.00
152.50
2RS
Astoria
113.00
139.00
123.00
151.00
2RS
Cork
113.00
139.00
124.00
152.50
6RW
Esterel
108.00
132.50
109.00
134.00
Graph of the week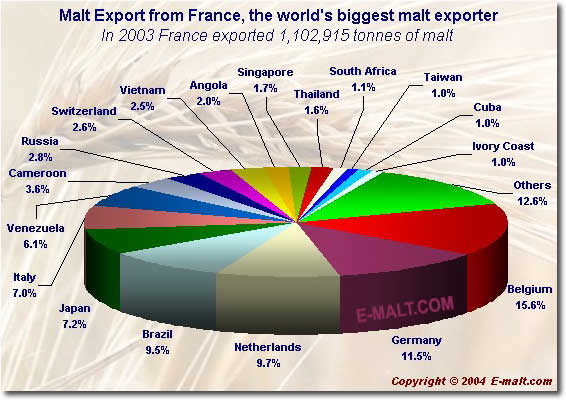 Agenda
May 2004:
EBC SYMPOSIUM 'FOOD SAFETY & TRACEABILITY';
CANADEAN'S 4th INTERNATIONAL BEER CONFERENCE;
CITBUSMED 2004;
PIVO, GASTRO, BAKERY / Bulgaria;
ALCO + SOFT 2004 / Ukraine;
FOOD & DRINKS/FOOD TECHNOLOGY 2004 / Moldova;
Beer International Brewing Technology Exhibition / Russia;
NEWARK'S 9TH BEER FESTIVAL

June 2004:
BrewNZ 2004;
ALIMENTARIA MEXICO International Food and Beverages Exhibition;
Hotelympia;
BEVEX 2004 - Korea Int'l Beverage & Brewery Processing Technology Expo;
10th international symposium on pre-harvest sprouting in cereals;
BevTek / BrewTek;
IGC GRAINS CONFERENCE 2004;
26th Annual National Homebrewers Conference;
Scottish Traditional Beer Festival;
Coceral Congress 2004;
American Homebrewers Association 26th Annual National Homebrewers Conference;
Food Taipei;
The 9th International Barley Genetics Symposium;
Little Oktoberfest;

July 2004:
VI Moscow Beer Festival;
Lucky Baldwin's IPA Festival;
BevTek / BrewTek China;
Vermont Brewers Festival;
World Brewing Congress 2004;
Hop, malt and beer of Russia Exhibition;

More events are available on site e-malt.com