---
Newsletter Summary

---
Currency rates
Brewery news
Malt news
Barley news
More news
Theoretical malt prices
Malting barley prices
Graph of the week
Agenda
Do you know e-malt.com?
---
Average market prices Change trend
---

Note: Just click on the price link and you will be led to our Market Price History.
Average barley market prices are French and are estimated on FOB Creil basis.
Average malt market prices are estimated on FOB Antwerp basis.
The changes are compared to last Friday's prices.
Arrows indicate the direction of the change.


---
Easy E-malt.com
---
---
E-malt.com access
---
---
Do you know
E-malt.com ?
---
Dear E-malt Reader!

E-malt.com Newsletters Archive could be found directly on e-malt.com site. Browsing through our Newsletters' Archive you may see all the issues you have missed. To this purpose you just have to login e-malt.com and click on Newsletters link in the menu. Reading our Newsletters you will be kept informed with the latest news and events regarding malting and beer world. You may also submit your own news, events or other information to the address info@e-malt.com!

Updated figures related to USA barley and malt trade with Mexico and Canada could be seen in NAFTA section of e-malt.com menu. To this purpose please enter e-malt.com!

You may find updated malt, barley and beer statistics on e-malt.com Statistics section. Just enter e-malt.com! Here you will find all tables issued with e-malt.com newsletters.

E-malt.com Agenda gives the possibility to keep you informed about the Events planned to be held in the whole world related to the brewing and malting industries. To this purpose you just have to login e-malt.com and click on Agenda link in the menu. Reading our Event Agenda you will find out about the future symposia, conferences and festivals related to malting and beer world. You may also submit your own events to the address info@e-malt.com

E-malt.com has Trading Online system. The system is to be used for malt/barley trading. One can register a malt/barley offer or a malt/barley request. The registering person could be as a seller/buyer or as an agent for seller/buyer. The User can see information about all active malt/barley offers & requests. If needed the system allows user to buy/sell malt/barley due to reasonable offers/requests. The way to do this is to confirm reasonable transaction. Trading Online rules are available through the Internet in the Trading Online as well as Tutorial (useful for persons who starts the system usage). To visit the E-malt Trading Online first go to the E-malt.com site, then click Trading Online link in the left menu of the e-malt.com home page. For more details please contact info@e-malt.com

Thank You!

---
E-malt.com Links!
---
Industry news
Market prices
EU Regulations
NAFTA
Specifications
Special malts
Professional Help
Trading online
Costing online
Statistics
Graphs
NewsLetters
Agenda
Accounts
Log In
Contact us
---
Other e-malt.com newsletters
---
Last five newsletters
---


Newsletter 22b, 2004


Newsletter 22a, 2004


Newsletter 21b, 2004


Newsletter 21a, 2004


Newsletter 20b, 2004
---
Market price evolutions
---
The evolution of market prices for barley and malt, which are periodicaly issued with e-malt.com newsletters are published on e-malt.com site in Market Prices section. Just click here!
---
Available market price evolutions
---


Malt Market Price Evolution. Crop 2004


French Malting Barley Price Evolution. Crop 2004


Malt Market Price Evolution. Crop 2003


French Malting Barley Price Evolution. Crop 2003
---
E-malt.com graphs
---
All graphs issued with e-malt.com newsletters are published in Graph section of e-malt.com site.
---
Last five graphs
---


Malt Export from France in 2003


World beer consumption by year


Netherlands production and export of beer


Venezuela beer consumption


Czech Exports of Malt
---
E-malt.com Tables
---
We have the pleasure to let you know that all e-malt.com tables are published in e-malt.com Statistics section. The Statistics section includes Barley statistics, Malt statistics and Beer statistics. The tables related to barley are published in Barley Statistics section, the tables related to malt in Malt Statistics section and the tables related to beer in Beer Statisctis section.
---
Last five tables
search in statistics
---


Major Barley Exporters 1999-2004


North American barley acreage


EU malt export licence fixations


USA craft beer industry


Estimate of EU Barley Crops
---
Note
---
If you have any comments, questions, suggestions or remarks, you can send a mail to: info@e-malt.com. To submit your own news to our editorial team, email to: info@e-malt.com
---
If you have received this newsletter by a colleague, you can obtain your own free subscription here, or a full FREE registration here.
---
You may recommend our site to your friend by clicking here
---
If you do not wish to receive our newsletter, please unsubscribe your e-mail address (@EMAILADDRESS@) from our mailing list using unsubscribe form from our site!
May 31 - June 02, 2004 Currency Rates

Base Currency: Euro, EUR
on 01-June-2004

1 EUR = 1.2188 USD
1 EUR = 0.6656 GBP
1 EUR = 1.6626 CAD
1 EUR = 1.7049 AUD
1 EUR = 133.33 JPY
1 EUR = 3.8868 BRL
1 EUR = 35.3452 RUB

Base Currency: US Dollar
on 01-June-2004

1 USD = 0.8207 EUR
1 USD = 0.5461 GBP
1 USD = 1.3641 CAD
1 USD = 1.3988 AUD
1 USD = 109.41 JPY
1 USD = 3.189 BRL
1 USD = 29 RUB

EUR/USD Chart
Top Industry News
More News
Brewery News


China: Anheuser-Busch is expected to bid about $720 million for Harbin Brewery Group Ltd after raising its stake in the Chinese beer maker

, topping rival SABMiller's hostile $550 million offer. The maker of Budweiser beer boosted its holding in Harbin from 29 % to 36 % on May 31, which will trigger a full bid under Hong Kong rules. A source familiar with the deal said on June 1 that Anheuser-Busch will offer HK$5.58 a share, the same price it paid to lift its Harbin stake, according to Reuters. Harbin shares were suspended ahead of the market open on Tuesday after closing at HK$5.10 on Monday. The shares have rocketed 58 % since early May, when SABMiller and Anheuser-Busch first squared-off for control of the company. Global brewers have been pouring money into beer makers in China, the world's largest market by volume, but where the average person drinks just 19 litres of beer a year, compared with 50 in Japan and 84 in the United States. Anheuser-Busch's offer values Harbin at 35 times forecast 2004 profits. "Harbin is just a regional brewery. It isn't worth that much," said Herbert Lau, research director of Celestial Asia Securities, who called Anheuser-Busch's bid "unreasonable." The U.S. brewer's surprisingly high bid and its increased stake make it tougher for SABMiller to make a rival bid, ING Financial Markets analyst Lilian Leung said. Still, SABMiller would not walk away empty-handed. If it sells its stake to Anheuser-Busch at HK$5.58 a share, it would pocket a profit of $124 million on its investment in Harbin...

more info Philippines: San Miguel Corp., the Philippines' largest food and beverage conglomerate, said on June 1 it has received the green light from the Thai government

to produce beer in Thailand. "This is the first step in San Miguel's entry into the highly attractive Thai beer market," the company said in a statement. The approval was given by Thailand's Ministry of Finance. Just two months ago, San Miguel signed a deal to acquire the beer division of Thai Amarit Brewery Ltd. The acquisition, valued at $102 million, is aimed at accelerating San Miguel's entry into Thailand's beer market. The transaction is expected to be closed in the next two to three weeks, San Miguel said on June 1. Thai Amarit's beer division includes a modern and fully equipped beer brewery on a 21.75 hectare site in Pathum Thani province in central Thailand. The brewery, which uses European technology, has a capacity of one million hectoliters. One hectoliter is equivalent to 100 liters. In March, San Miguel broke ground on an industrial estate in Rayong, Thailand. The complex will handle the manufacturing and distribution of all San Miguel product lines in Thailand. San Miguel has set aside $700 million for its overseas expansion plans, and has so far spent or earmarked around $300 million for investments in Thailand, China and Vietnam.

Russia: SUN Interbrew Limited, a leading brewer in Russia and Ukraine, announced on May 31, 2004 its financial results for the 1st quarter ended 31 March 2004

. The Company's beer volume grew by 48.6% versus the 1st quarter of 2003. Net Turnover increased by 60.7% versus the 1st quarter of 2003. EBITDA for the 1st quarter was €17.2m, or 126.9% higher than in the same period in 2003. Excluding the negative currency, EBITDA was €18.5m, a 144.1% increase versus the same quarter in 2003. EBIT growth for the 1st quarter of 2004 was €6.0m versus the 1st quarter of last year. Net Loss was reduced to € (1.8)m from € (7.1)m. SUN Interbrew continued to build on last year's key initiatives; strengthening our route to market; introducing new higher margin brands; and optimizing our operational efficiency. In Russia, these activities led to a volume growth of 61.0% for the 1st quarter leading to an improvement in market share to 16.0% up from 12.8% in the same period of 2003. In Ukraine, the Company realised a volume increase of 21.4%. In the 1st quarter the market share reached 34.3%. SUN Interbrew's brands: Tolstiak® Grechishnoye, Klinskoye® Arriva and Sibirskaya Korona® Yantarnoye and Georgievskoye were launched into the Russian market. In March, the Company started producing Stella Artois® at Novocheboksarsk brewery in Russia. Chernigivske® Bagryane and Yantar® Unfiltered were introduced on the Ukrainian market. The financial performance of SUN Interbrew Limited in the 1st quarter of 2004 was underpinned by strong volume growth in both Russia and Ukraine. The Euro exchange rate evolution had a €1.3m negative impact on EBITDA...

more info Hong Kong: Guangdong Brewery Holdings said on June 1, 2004 it signed a letter of intent to build a 375 million yuan ($1=CNY8.28) brewery

to boost production by 200,000 metric tonnes per annum. The company said it plans to finance the plant with its own cash, bank borrowings, or debt or equity fund raising, according to Reuters. "The investment in the brewery is a good opportunity for the group to further increase its production capacity, add to its supply chain and network of strategically located breweries and represents another major step to penetrate into the Guangdong beer market, in particular the Pearl River Delta region," it said. Construction is planned to begin early next year with the plant entering production in early 2006, making Guangdong Brewery's Kingway brand of beer. Guangdong Brewery said it may subsequently consider doubling production at the plant by a further 200,000 tons. The company said last month it would ask shareholders to approve a name change to Kingway Brewery Holdings Ltd. to better reflect the importance of its biggest brand of beer.

UK: British brewer and pub chain Fuller, Smith & Turner posted a 3.0 % rise in full-year profits on May 28

and said it was encouraged by an upturn in London's financial district after three tough years for its City pubs. Fuller's 23 pubs in London's square mile, which make up 10 % of its total estate, had been hit by a downturn in investment banking, which left tens of thousands of City workers jobless since late 2000. There have been recent signs that confidence is returning and employment is picking up again, Chief Executive Michael Turner told Reuters. At 1014 GMT shares in the maker of Britain's leading premium ale, London Pride, were up 1.5 percent at 640 pence. Pre-tax profit before exceptionals rose to 16.9 million pounds ($31.1 million) for the year to end-March on turnover up two percent at 140.3 million pounds. A good performance in its beer-making division, with profits by up 14 percent and volumes by two percent for the year, was blighted by weak trading at its City pubs and its eight hotels. "Hotels are pretty cyclical; everyone in the hotel market is suffering," Turner said. There were signs of improvement in the second half, and the firm opened a new 55-room hotel in west London last week, he added. He saw the company's biggest growth coming from beer and planned to extend the brewery floor space by 11 percent to cope with increased demand. Growth by acquisition is also an option, and the company will consider any opportunity that arises, Turner said. The brewer increased its dividend on its "A" shares by 7.0 percent to 12.21 pence, bringing the total for the year to 17.3p.

Malt News

Malt Export of European Economic Community, in metric tonnes


| | | | | | |
| --- | --- | --- | --- | --- | --- |
| | 1999 | 2000 | 2001 | 2002 | 2003 |
| Austria | 22,934 | 20,274 | 14,556 | 17,247 | |
| Belgium | 516,293 | 497,350 | 612,824 | 485,840 | 492,583 |
| Germany | 538,366 | 528,564 | 563,301 | 590,618 | 480,160 |
| Denmark | 138,417 | 135,563 | 154,005 | 160,541 | |
| Spain | 60,447 | 36,203 | 12,800 | 18,300 | |
| Finland | 110,866 | 108,019 | 105,500 | 95,964 | 101,389 |
| France | 1,028,094 | 1,057,378 | 1,058,544 | 1,086,521 | 1,102,915 |
| Italy | | | | | |
| Ireland | 51,500 | 170,330 | 46,000 | 59,241 | 40,835 |
| Netherlands | 114,658 | 137,025 | 144,664 | 126,171 | 126,368 |
| Sweden | 99,983 | 102,080 | 104,620 | | 92,643 |
| UK | 434,455 | 435,594 | 428,532 | 378,993 | 363,641 |
USA, Great Falls: Although the International Malting Co., a $70 million plant, is a year away from starting operation, and work inside the monstrous building is taking place at a frenetic pace, Great Falls Tribune posted on May 30. "This is going to go right to the last day," said Philip Van Rensburg, director of corporate engineering for International Malting. A peek inside the 132,000-square-foot structure hints at where the time will be spent. In various stages of completion are a series of six steel tanks or vessels, 100 feet in diameter, that are being welded together, sheet by sheet. Once formed, the tanks will be sandblasted inside and out to provide a smooth, finished look. "This is not just a tank," said Van Rensburg, noting each must be perfectly round to allow machinery that will stir barley as it is being transformed into malt to work properly. The germination building and silos will be joined by a large kiln operation, the third major component of the plant. The actual kiln will be 120 feet in diameter, making it the second largest such operation in the world, according to Chris Mulder, IMC's chief manufacturing officer. There are just a handful of suppliers of malting equipment in the world and IMC figured it could spend up to $25 million if it bought directly from them. Instead, the Milwaukee-based company, a subsidiary of the Lesaffre International Corp., has acquired not only $9 million in proprietary equipment but rights to technology that allows it to build other necessary components. "We took that other $18 million and are having it all made," said Van Rensburg. "We are fabricating the majority of the stuff that people normally buy right here in this building...more info
Barley News
EU: According to analysts' estimations, crop forecasts in the EU are good. Eastern France and parts of Germany complained about dryness, but there have been enough rainfalls recently to alleviate any fear of a real drought. Of course, May and June are still critical months for plant development. The French Ministry estimates spring barley acres at 574,000 ha against earlier industry estimates of only 500,000 ha. Therefore crop estimates for all barley in the old EU now range from 48.4 to 49 million tonnes, 2.5 million tonnes more than last year. Spring barley, however, is anticipated 1.1 to 1.7 million tonnes less. Coceral forecasts a barley crop of 8.25 million tonnes in the 10 new countries, of which 5 million tonnes spring barley.
Australia: Grain storage company AusBulk's managing director John Murray said on June 1 he had generally received positive feedback about a planned merger with ABB Grain Ltd, according to Asia Pulse. Mr Murray's comments came after AusBulk posted a A $31.8 million (US$22.71 million) net profit for the six months to March 31 this year, up 63 % from the previous first half. The result was boosted by the 2003/04 harvest, the third largest on record in South Australia, bringing in revenue of A$366 million (US$261.42 million) for AusBulk. The company was also boosted by a A$6.8 million (US$4.86 million) one-off tax benefit. AusBulk announced a few weeks ago that it would be part of an A$850 million (US$607.11 million) merger - along with its 53.5 per cent shareholder United Grower Holdings (UGH) - with ABB Grain. The new company would go under the ABB Grain name and would come under ABB Grain's current Australian Stock Exchange (ASX) listing. The merger announcement followed several years of on-again, off-again discussions with ABB Grain. AusBulk is not listed on the ASX, but has a shareholder base among grain growers. Mr Murray said on June 1 he had received some feedback from the growers. "Obviously there's quite a long process ahead, with ACCC approval required, tax rulings required, we have got to go through a court approved scheme of arrangement," he said. "In general the majority of growers believe that the benefits of the merger are such that it's positive for the company...more info
Theoretical malt prices.
EURO = USD 1.2188 June 01, 2004
Crop year
2003
Parity
FOB Antwerp
Position
June 2004-Sept 2004
Conditioning
Bulk
In bags
Bulk containers
Bags, containers
Malting barley variety
EURO
USD
EURO
USD
EURO
USD
EURO
USD
2RS
Scarlett
253.50
308.50
268.50
327.00
264.50
322.50
274.50
334.50
2RS
Prestige
252.00
307.00
267.00
325.50
263.50
321.00
273.00
332.50
2RS
Aspen
250.50
305.50
266.00
324.00
262.50
319.50
272.00
331.50
2RS
Optic
250.50
305.50
266.00
324.00
262.50
319.50
272.00
331.50
2RS
Astoria
249.50
304.00
264.50
322.50
261.00
318.00
270.50
329.50
2RS
Cork
249.50
304.00
264.50
322.50
261.00
318.00
270.50
329.50
2RS
Average price
251.50
306.00
266.50
324.50
262.50
320.50
272.50
332.00
2RS
FAQ
248.50
302.50
263.50
321.00
260.00
316.50
269.50
328.50
6RW
Esterel
243.50
296.50
258.50
315.00
255.00
310.50
264.50
322.50
*
Asia Malt 70/30
249.00
303.50
264.00
321.50
260.50
317.50
270.00
329.00
**
Asia Malt 50/50
247.50
301.50
262.50
320.00
259.00
315.50
268.50
327.00
* - 70/30 = 70% Average two Rows Spring and 30% Six Rows Winter
** - 50/50 = 50% Average two Rows Spring and 50% Six Rows Winter
Theoretical malt prices for crop 2004 are available online
www.e-malt.com/MarketPrices
Malting barley prices. French barley prices.
Nominal prices.
EURO = USD 1.2188 June 01, 2004
Crop year
2003
2004
Parity
FOB Creil
FOB Creil
Position
July 2003
July 2004
Type
Variety
EURO
USD
EURO
USD
2RS
Scarlett
116.00
141.50
126.00
153.50
2RS
Prestige
115.00
140.50
125.00
152.50
2RS
Cellar
115.00
140.50
125.00
152.50
2RS
Aspen
114.00
139.00
124.00
151.50
2RS
Optic
114.00
139.00
124.00
151.50
2RS
Astoria
113.00
138.00
123.00
150.00
2RS
Cork
113.00
138.00
124.00
151.50
6RW
Esterel
108.00
132.00
109.00
133.00
Graph of the week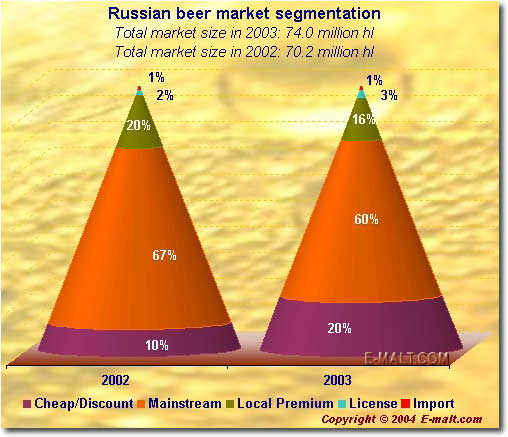 Agenda
June 2004:
BrewNZ 2004;
ALIMENTARIA MEXICO International Food and Beverages Exhibition;
Hotelympia;
BEVEX 2004 - Korea Int'l Beverage & Brewery Processing Technology Expo;
10th international symposium on pre-harvest sprouting in cereals;
BevTek / BrewTek;
IGC GRAINS CONFERENCE 2004;
26th Annual National Homebrewers Conference;
Scottish Traditional Beer Festival;
Coceral Congress 2004;
American Homebrewers Association 26th Annual National Homebrewers Conference;
Food Taipei;
The 9th International Barley Genetics Symposium;
Little Oktoberfest;

July 2004:
VI Moscow Beer Festival;
Lucky Baldwin's IPA Festival;
BevTek / BrewTek China;
Vermont Brewers Festival;
World Brewing Congress 2004;
Hop, malt and beer of Russia Exhibition;

August 2004:
Great British Beer Festival;
Worcester Beer and Cider Festival;
BeerTek China Beer and Brewing Technology Exhibition;
Peterborough Beer Festival 2004;
FOODWORLD Food and Beverage Exhibition;

More events are available on site e-malt.com