Ukraine, Kiev: East European brewer Baltic Beverages Holding (BBH) opened a new 50 million euro ($62 million) plant in Ukraine on June 7
in hopes of gaining more of the country's fast-growing beer market. BBH, owned 50-50 by Britain's Scottish&Newscastle PLc and Denmark's Carlsberg, already controls two beer plants in Ukraine and has 20 % of the market. It plans to boost its market share to 23 % in 2004. "We have invested 50 million euros to build the plant. Total investment in Ukraine has reached about $170 million," BBH Chief Executive Christian Ramm-Schmidt told reporters at the opening ceremony. "If the market grows further, we will continue investments." The two BBH breweries in Ukraine increased its sales by 21 % year-on-year in the first five months of the year, officials said, without giving exact figures. BBH's major rivals in Ukraine are Belgium's Interbrew and two Ukrainian private firms -- Obolon and Sarmat. The new BBH plant employs about 400 people and has a capacity of 12 million litres of beer a month. Ukraine's beer market has grown by about 10 % annually over the last five years. Industry analysts say there is large potential for further growth. The country's beer consumption stands at about 31 litres per capita per year, far below 51 litres in neighboring Russia and the EU average of 76 litres.
Mexican brewer Grupo Modelo, maker of the famous Corona brand beer, announced that last year its sales volume in Spain and Europe as a whole rose 15 % and 25 %
, respectively, EFE posted on June 4. Jose Pares, Grupo Modelo's investors relations director, told EFE that Iberocermex, its exporting arm, sold 1.8 million crates of beer in Spain in 2003, resulting in revenues of 23 million euros ($28 million). Pares said that 2003 was a difficult year for the company in Spain due to the weak economy and the fact that imported beers sell at a premium, leaving Modelo at a competitive disadvantage. The director noted, however, that Modelo had become the top supplier of imported beer in Spain. Modelo's exports topped $1 billion last year, with Europe accounting for 5 percent of that amount and Spain being the biggest market in the old continent. Pares said Modelo was not looking to open a plant in Europe and would focus its energies on the import market.
Kazakhstan: The Netherlands' brewing force, Heineken N.V., announced on June 8 that it has reached an agreement with its Kazakhstan co-shareholders to increase its stake
in Kazakhstan based Dinal LLP from 51% to 97%. Heineken has financed the transaction from its available cash resources. The acquisition represents a further strengthening of Heineken's position in fast growing beer markets. The enlarged position in Kazakhstan will make a further development of the brewery possible and create a platform for growth of the Heineken brand, imported from Russia. Heineken acquired its initial 28% stake in 1999, the year in which the Dinal brewery commenced production, and raised its stake to a controlling stake of 51% in 2002. Dinal LLP has a market share of 8.8% with the local brand Tian Shan and the international brand Amstel. It is the number 4 brewery in the country. The sales capacity of the brewery is 300,000 hectolitres and the estimated sales volume for 2004 is 225,000 hectolitres. In 2003 the net turnover amounted to EUR 7 million. The brewery employs 200 people. Kazakhstan has extensive oil deposits and other natural resources. The country has a growing economy and a growing beer market. The local beer market of Kazakhstan had a total volume of about 2.3 million hectolitres in 2003.
Colombia, Bogota: Colombian brewer Bavaria plans to issue $110 million pesos worth of bonds in Colombia, and another $50 million in bonds in Peru, in June and July
to put toward debt management, a source close to the situation said on June 7. The Colombian bonds would carry maturities of between 7 and 12 years, and could be linked to Colombia's benchmark DTF interest rate, the source, which declined to be named, told Reuters. The DTF is set weekly according to a Central Bank survey of commercial bank interest rates. The 300 billion pesos in Colombian bond issues, which is the equivalent of about $110 million, is part of a pre-announced plan to issue 1 trillion pesos in bonds on the local market. Separately, the source said Bavaria planned to issue $50 million in bonds in Peru during July. The source declined to offer additional details. Last month, Colombia-based Bavaria Business Group forecast a 4 percent increase in its 2004 earnings, and more than 60 percent fall in the drink maker's refinancing needs against the previous year. The group includes Bavaria, South America's second-largest brewer, along with non-brewing and foreign operations. Bavaria's stock has risen more than 60 % this year to 21,000 pesos per share on June 4, due to increasing optimism about the company and a general rise of the Bogota bourse. Bavaria started 2004 at 12,980 pesos per share. The drinks maker has been aggressively extending its reach in Latin America, and has spent $1.1 billion on expansion by buying brewers in Peru, Ecuador and Panama to double its output over the past three years. It said in March that it aimed to become the world's seventh-largest brewer within three years as Latin American populations grow and beer consumption increases.
Thailand, Bangkok: A major Thai brewer has signed a three-year deal worth $2.7 million to have its twin elephants logo displayed on the uniforms of English Premier League side Everton
, a daily newspaper said on June 6. Thawatchai Satchakul, business manager for Thailand's national soccer team, said Thai Beverages would pay $900,000 per year to Everton, whose shirts were previously emblazoned with the logo of Chinese mobile phone company Kejian. "They have signed the deal and will start displaying their logo on Everton's shirts in the coming season," Thawatchai told Reuters. Thai Beverages adviser Thanit Thamsukati, however, said the company was still in talks with Everton and had yet to sign the deal. "We are still talking details but we expect to finalise this over the next few weeks," said Thanit. The Thai firm, led by one of the country's richest men, Charoen Sirivadhanabhakdi, produces top selling Chang Beer and several brands of whisky such as Mekong and Saeng Som. The company makes a profit of more than $250 million a year. Chang Beer has a distinctive green elephant on its label. "Chang" is the Thai word for elephant. Thanit said Chang Beer remained interested in becoming the shirt sponsor for Everton's neighbours Liverpool, whose kit bears the logo of Danish brewer Carlsberg. Thailand's billionaire Prime Minister Thaksin Shinawatra has bid for a stake in Liverpool, and Thanit said last month that any kit sponsorship deal with Chang would depend on the success of the offer...
more info
Malt News
USA: Mid America Brewing Supply, a Minnesota based distributor of brewing ingredients that is wholly owned by Rahr Malting Company of Shakopee, MN, announced on June 1, 2004 the purchase of Brewer's Supply Group, a wholesale distributor of brewing ingredients with operations in Newport, RI (Brewer's Wholesale Supply), San Leandro, CA (Premium Brewer's Supply) and Yakima, WA (Brewer's Lemmens Hops). Mid America has also purchased an interest in Superior Malt Handling of St. Hyacinthe, Quebec, Canada. "By conjoining the sales, distribution and manufacturing efforts of Rahr Malting, Mid America and Brewer's Supply Group, our collective vision of providing our customers with the best brewing ingredients is nearly complete" said Kelly Kuehl, Mid America's Vice President of Sales. "With our newly acquired distribution centers on both coasts, our current distribution center in the Midwest and our future distribution center in the Colorado area, we'll be well positioned to service breweries of all types." "William Crisp and his sales team, Dr. Ian Ward, Gerard Lemmens, Jeff Loranger and all of the other Brewer's Supply Group supporting staff deserve to be extremely proud of the company that they have built" stated Gary Lee, President of Mid America Brewing Supply. "Our customers can look forward to receiving the same great service from the same great people." "Our facility in St. Hyacinthe will play a key role in Mid America's new vision," stated Helen Knowles, a representative of Superior Malt Handling. "Our facility has the ability to import, export and distribute malt in a much more efficient manner for customers around the world...more info
Malt has traded and further interest is shown in the intra-maltster market, analysts have recently revealed. There are both longs and shorts in the EU malting industry. In view of the very good export figure and an apparent better domestic demand, the situation of the industry is better than expected some months ago. Germany reported a gain of 11,6 % in beer sales in March, 4,3 % for the year. Spain claims inofficially a plus of 10 % since last summer.
Excellent beer sales are reported from Russia and Ukraine, it seems possible that brewers of these countries must buy more malt for the summer, according to market analysts forecast. Japan's total sales are still stuttering, recently beer sold better than happo-shi. Thai beer sales continue to grow quickly. In 2003 output was 16 million hl, it increased by 30 % within two years.
Barley News
Australia: ABARE forecast for winter barley production 2004-2005 is down 0.7 million tonnes to 7.8 million tonnes. Autumn rainfall across the grain belt was variable and some southern areas are still waiting for sufficient planting rains to allow winter crops to be sown. While it is becoming too late in most areas to plant canola, wheat and barley crops can still be planted up to the end of June without significant yield penalties, ABARE posted in the Crop Report on June 8, 2004. Sowing conditions have generally been favorable in northern New South Wales and most of the cropping areas in Queensland. The grain growing areas most in need of rain are in the northern areas of the Central Highlands in Queensland, southern and central New South Wales, northwest Victoria, most grain growing regions in South Australia and the eastern cropping belt of Western Australia. According to ABARE, in New South Wales the area planted to barley is estimated to rise by 5 % to 640,000 hectares in 2004-05, reflecting expected higher sowings in the north and south. By the end of May around a third of the crop had been planted, with most of this having been sown in the north. There is potential for further plantings of barley if there is a late break to the season in areas that currently remain dry. In Victoria state the area planted to barley is estimated to be similar to last year at around 740,000 hectares in 2004-05, with production forecast to be around 1.54 million tonnes. The very good planting conditions mean that the Queensland area planted to barley is likely to be well above the area sown in recent years. In Western Australia the area sown to barley is estimated to fall by 7 % to 1.15 million hectares in 2004-05. A reduced area planted, together with reduced yields are expected to result in lower production this year — 2.38 million tonnes, a fall of 19 %. The South Australia area planted to barley is forecast to be largely unchanged at around 1.1 million hectares in 2004-05. Barley production in 2004-05 is forecast to be 2.3 million tonnes, a decrease of 11 % on last season's production as a result of forecast lower average yield.

Australia barley crop estimates 2004-2005


State
Area f,
'000 ha
Yield f,
t/ha
Production f, '000 t
Production change from 2003-04, %
New South Wales
640
2.02
1,293
13 %
Victoria
740
2.08
1,539
–7 %
Queensland
140
2.05
287
33 %
Western Australia
1,150
2.07
2,381
–19 %
South Australia
1,080
2.10
2,268
–11 %
Tasmania
10
24
Australia
3,760
2.07
7,792
-8.6 %
Source: ABARE forecast, 2 June, 2004.
EU: Markets are inactive and depressed, according to experts. Old crop and new crop malting barley, 2rs Scarlett, are offered at the same price FOB Creil (France), EUR 126 -127 June respectively July. In the U.K. and Germany old crop stocks have almost disappeared by now, as well winter malting barley in France. Denmark still offers good quantities, at least 100,000 tonnes, Barke/Alliot are quoted at EUR 137 for June/July, Prestige/Passadena at EUR 2 less. Small business is reported to Russia and Finland. New crop markets are also neglected, farmers are unhappy about the price decline since winter and the small premium offered for malting above feed barley prices. Maltsters are caught by an incredibly bad malt market, they would need barley prices between EUR 110 and 120 to operate profitably. In 2004/2005 the EU intervention price will remain at EUR 101,31 basis October, the monthly increment from November to May will drop by half to EUR 0,47 per tonne. Present feed barley quotes delivered port of Rouen are EUR 100-101 per tonne. Winter malting barley, 6rw Esterel, is 110 FOB Creil, 2rs Scarlett EUR 16 higher. That is a small premium for selecting, screening and perhaps drying spring malting barley. It is hard to believe that malting barley prices can decline much below present levels. In export positions and consumption centres of Benelux and Germany minimum prices of EUR 135 per tonne ex harvest and 140 /145 average for the year are thought to be the bottom.
Theoretical malt prices.
EURO = USD 1.2268 June 09, 2004
Crop year
2003
Parity
FOB Antwerp
Position
June 2004-Sept 2004
Conditioning
Bulk
In bags
Bulk containers
Bags, containers
Malting barley variety
EURO
USD
EURO
USD
EURO
USD
EURO
USD
2RS
Scarlett
249.50
306.00
264.50
324.50
261.00
320.00
270.50
331.50
2RS
Prestige
247.00
303.00
262.00
321.50
258.50
317.00
268.00
328.50
2RS
Aspen
246.50
302.00
261.50
320.50
258.00
316.50
267.50
328.00
2RS
Optic
246.50
302.00
261.50
320.50
258.00
316.50
267.50
328.00
2RS
Astoria
245.50
301.50
261.00
320.00
257.00
315.50
266.50
327.00
2RS
Cork
245.50
301.50
261.00
320.00
257.00
315.50
266.50
327.00
2RS
Average price
247.00
303.00
262.00
321.50
258.50
317.00
268.00
328.50
2RS
FAQ
244.50
300.00
259.50
318.50
256.00
314.00
265.50
325.50
6RW
Esterel
239.50
293.50
254.50
312.50
251.00
308.00
260.50
319.50
*
Asia Malt 70/30
244.50
300.00
260.00
318.50
256.50
314.50
265.50
326.00
**
Asia Malt 50/50
243.00
298.50
258.50
317.00
254.50
312.50
264.50
324.00
* - 70/30 = 70% Average two Rows Spring and 30% Six Rows Winter
** - 50/50 = 50% Average two Rows Spring and 50% Six Rows Winter
Theoretical malt prices for crop 2004 are available online
www.e-malt.com/MarketPrices
Malting barley prices. French barley prices.
Nominal prices.
EURO = USD 1.2268 June 09, 2004
Crop year
2003
2004
Parity
FOB Creil
FOB Creil
Position
July 2003
July 2004
Type
Variety
EURO
USD
EURO
USD
2RS
Scarlett
115.00
141.50
125.00
153.50
2RS
Prestige
113.00
139.00
123.00
151.00
2RS
Cellar
112.50
138.50
122.50
150.50
2RS
Aspen
112.50
138.50
122.50
150.50
2RS
Optic
112.50
138.50
122.50
150.50
2RS
Astoria
112.00
137.50
122.00
150.00
2RS
Cork
112.00
137.50
122.00
150.00
6RW
Esterel
107.00
131.50
108.00
132.50
Graph of the week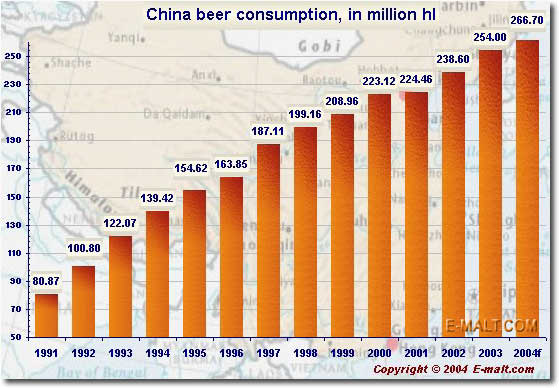 Agenda
June 2004:
BrewNZ 2004;
ALIMENTARIA MEXICO International Food and Beverages Exhibition;
Hotelympia;
BEVEX 2004 - Korea Int'l Beverage & Brewery Processing Technology Expo;
10th international symposium on pre-harvest sprouting in cereals;
BevTek / BrewTek;
IGC GRAINS CONFERENCE 2004;
26th Annual National Homebrewers Conference;
Scottish Traditional Beer Festival;
Coceral Congress 2004;
American Homebrewers Association 26th Annual National Homebrewers Conference;
Food Taipei;
The 9th International Barley Genetics Symposium;
Little Oktoberfest;

July 2004:
VI Moscow Beer Festival;
Lucky Baldwin's IPA Festival;
BevTek / BrewTek China;
Vermont Brewers Festival;
World Brewing Congress 2004;
Hop, malt and beer of Russia Exhibition;

August 2004:
Great British Beer Festival;
Worcester Beer and Cider Festival;
BeerTek China Beer and Brewing Technology Exhibition;
Peterborough Beer Festival 2004;
FOODWORLD Food and Beverage Exhibition;
TecnoBebida Latin America International Exhibition of Technologies for the Beverage Industry;

More events are available on site e-malt.com