---
Newsletter Summary

---
Currency rates
Brewery news
Malt news
Barley news
More news
Theoretical malt prices
Malting barley prices
Graph of the week
Agenda
Do you know e-malt.com?
---
Average market prices Change trend
---

Note: Just click on the price link and you will be led to our Market Price History.
Average barley market prices are French and are estimated on FOB Creil basis.
Average malt market prices are estimated on FOB Antwerp basis.
The changes are compared to last Friday's prices.
Arrows indicate the direction of the change.


---
Easy E-malt.com
---
---
E-malt.com access
---
---
Do you know
E-malt.com ?
---
Dear E-malt Reader!

E-malt.com Newsletters Archive could be found directly on e-malt.com site. Browsing through our Newsletters' Archive you may see all the issues you have missed. To this purpose you just have to login e-malt.com and click on Newsletters link in the menu. Reading our Newsletters you will be kept informed with the latest news and events regarding malting and beer world. You may also submit your own news, events or other information to the address info@e-malt.com!

Updated figures related to USA barley and malt trade with Mexico and Canada could be seen in NAFTA section of e-malt.com menu. To this purpose please enter e-malt.com!

You may find updated malt, barley and beer statistics on e-malt.com Statistics section. Just enter e-malt.com! Here you will find all tables issued with e-malt.com newsletters.

E-malt.com Agenda gives the possibility to keep you informed about the Events planned to be held in the whole world related to the brewing and malting industries. To this purpose you just have to login e-malt.com and click on Agenda link in the menu. Reading our Event Agenda you will find out about the future symposia, conferences and festivals related to malting and beer world. You may also submit your own events to the address info@e-malt.com

E-malt.com has Trading Online system. The system is to be used for malt/barley trading. One can register a malt/barley offer or a malt/barley request. The registering person could be as a seller/buyer or as an agent for seller/buyer. The User can see information about all active malt/barley offers & requests. If needed the system allows user to buy/sell malt/barley due to reasonable offers/requests. The way to do this is to confirm reasonable transaction. Trading Online rules are available through the Internet in the Trading Online as well as Tutorial (useful for persons who starts the system usage). To visit the E-malt Trading Online first go to the E-malt.com site, then click Trading Online link in the left menu of the e-malt.com home page. For more details please contact info@e-malt.com

Thank You!

---
E-malt.com Links!
---
Industry news
Market prices
EU Regulations
NAFTA
Specifications
Special malts
Professional Help
Trading online
Costing online
Statistics
Graphs
NewsLetters
Agenda
Accounts
Log In
Contact us
---
Other e-malt.com newsletters
---
Last five newsletters
---


Newsletter 24b, 2004


Newsletter 24a, 2004


Newsletter 23b, 2004


Newsletter 23a, 2004


Newsletter 22b, 2004
---
Market price evolutions
---
The evolution of market prices for barley and malt, which are periodicaly issued with e-malt.com newsletters are published on e-malt.com site in Market Prices section. Just click here!
---
Available market price evolutions
---


Malt Market Price Evolution. Crop 2004


French Malting Barley Price Evolution. Crop 2004


Malt Market Price Evolution. Crop 2003


French Malting Barley Price Evolution. Crop 2003
---
E-malt.com graphs
---
All graphs issued with e-malt.com newsletters are published in Graph section of e-malt.com site.
---
Last five graphs
---


China beer consumption


Russian beer market segmentation


Malt Export from France in 2003


World beer consumption by year


Netherlands production and export of beer
---
E-malt.com Tables
---
We have the pleasure to let you know that all e-malt.com tables are published in e-malt.com Statistics section. The Statistics section includes Barley statistics, Malt statistics and Beer statistics. The tables related to barley are published in Barley Statistics section, the tables related to malt in Malt Statistics section and the tables related to beer in Beer Statisctis section.
---
Last five tables
search in statistics
---


Australia barley crop forecast 2004-2005


Malt Export of European Economic Community


Major Barley Exporters 1999-2004


North American barley acreage


USA craft beer industry
---
Note
---
If you have any comments, questions, suggestions or remarks, you can send a mail to: info@e-malt.com. To submit your own news to our editorial team, email to: info@e-malt.com
---
If you have received this newsletter by a colleague, you can obtain your own free subscription here, or a full FREE registration here.
---
You may recommend our site to your friend by clicking here
---
If you do not wish to receive our newsletter, please unsubscribe your e-mail address (@EMAILADDRESS@) from our mailing list using unsubscribe form from our site!
June 14 - June 16, 2004 Currency Rates

Base Currency: Euro, EUR
on 16-June-2004

1 EUR = 1.2165 USD
1 EUR = 0.6644 GBP
1 EUR = 1.6656 CAD
1 EUR = 1.7416 AUD
1 EUR = 133.17 JPY
1 EUR = 3.8016 BRL
1 EUR = 35.315 RUB

Base Currency: US Dollar
on 16-June-2004

1 USD = 0.8222 EUR
1 USD = 0.5461 GBP
1 USD = 1.3692 CAD
1 USD = 1.4317 AUD
1 USD = 109.50 JPY
1 USD = 3.125 BRL
1 USD = 29.03 RUB

EUR/USD Chart
Top Industry News
More News
Brewery News


UK: Scottish & Newcastle's business in the UK has now received full acceptance of its offer to purchase the assets of the Northern Club Federation Brewery

(NCFB) by the 303 members of NCFB, Scottish & Newcastle announced on June 14. This follows S&N's successful acquisition of the NCFB brewery in Dunston in April 2004. The assets to be acquired in a deal worth £16.2 million, include the brands, wholesaling business, tied estate and distribution assets. S&N plans to move its Tyne brewing operations to the NCFB site to form a combined business in the North East of England by March 2005. The acquisition is expected to complete in early July and is dependent on the necessary OFT clearance and FSA registration.

US, New York: Miller Brewing Co., a unit of SABMiller Plc', said on June 14 it dropped part of a legal complaint against rival Anheuser-Bush Cos Inc

. Miller Brewing filed a lawsuit against Anheuser-Busch on May 26, claiming the top U.S. brewer was making "false and misleading statements" about Miller Lite in its advertising. In one element of the case, Miller Brewing took issue with a new Anheuser-Busch print advertisement touting Bud Light as "The King of Beers" and calling Miller Lite "The Queen of Carbs," a dig at Miller Lite commercials that specify the amount of carbohydrates the product contains. "We are removing from the complaint the queen of carbs issue, which was scheduled for a preliminary injunction hearing on June 29," Miller Brewing spokesman Scott Bussen said on Monday. The other issues coming out of the May 26 lawsuit will continue on the schedule the court determines, Bussen said. Miller Brewing's lawsuit also claims that Anheuser-Busch's distributors have been placing Anheuser-Busch stickers on Miller Lite cases, cans, bottles and advertising displays, Miller Brewing said in a court filing. The tactics are part of the struggle between the companies, which are competing for weight-conscious consumers with their Bud Light and Miller Lite brands, Miller Brewing has said. An Anheuser Bush spokesman has said that placing stickers on a competitor's packaging is against company policy. Wall Street analysts have noted that Anheuser-Busch has stepped up its marketing against Miller Lite, which has made some share gains in recent months.

Czech beer production is to increase by 1% in the first half of this year, compared to the first six months of 2003

, Jan Vesely, the chairman of the Czech Association of Beer and Malt Producers revealed. The country's beer output for the whole of 2004 is expected to rise by 2% year-on-year. According to Vesely beer production between January and April 2004 rose by 4% year-on-year, but slowed down in May due to the cool weather. In the first quarter of 2004 the Czech Republic's beer production increased by 3.6% year-on-year and reached about 3.8 million hl. Exports of Czech breweries are expected to be boosted by the country's accession to the European Union on 1 May. Local brewing companies predict that exports to other new EU member countries will attract the greatest increase.

China: Interbrew, the third biggest beer maker in the world, recently held its senior directorate in Wenzhou City of Zhejiang Province

and said it would speed up acquisition in China's beer market, SinoCast posted on June 10. Fourteen directors of Interbrew arrived in Wenzhou City from the headquarters in Belgium and talked about acquirement of China'sbeer factories. John F. Brock, CEO of Interbrew, revealed that they have come to Wenzhou City mainly because it is an important market in China. Insiders disclosed, "The great increase in Chinese beer market will probably draw the directors' attention." He said Interbrew had acquired over 30 beer enterprises in 18 countries, including more than 200 brands. China is the next key market. In 2002, Interbrew acquired 70 percent shareholding in Zhengjiang Kaikai Group and purchased a 24 percent stake in Zhujiang Beer. In 2004, Interbrew bought 50 percent shareholding Malaysia Lion Group's business in China for CNY 131.5 million. Insiders expect fiercer competition in China's beer market after Interbrew enters.

Russia: In 2003, Russians drank 53.4 litres a person, up from 36.6 in 2000, and consumption is expected to keep growing about 4 % to 6 % a year

. There is room to catch up: last year, the British drank 99 litres a person and Czechs, 160 litres, New York Times posted on June 15, 2004. New York Times published an article about Oleg Tinkov, who sees himself as something more than Russia's "beer oligarch," as he has been called. The 36-year-old founder of Tinkoff Private Brewery sells no ordinary proletarian suds, but premium-priced brews, as well as a sense of home-grown hip, to Russia's growing class of young professionals. (Using the two-F French spelling of his name for the beer is meant to accentuate that.) Vodka may forever be identified as Russia's national drink, but Mr. Tinkov has been capitalizing on beer's increasing popularity in Russia. Mr. Tinkov has also been capitalizing on his sometimes shocking irreverence. His provocative opinions show up even in the company's stated mission: "Propagate liberal values and respect freedom of choice." While other wealthy Russian businessmen have toed the Kremlin line since the arrest and jailing of one of their own, the oil billionaire Mikhail B. Khodorkovsky, Mr. Tinkov is having fun with the fortune he made, mixing free speech and free enterprise...

more info

Malt News

EU malt export licence bookings are almost 2.2 million tonnes in the former EU plus 24,000 tonnes in the new countries. Licence bookings now equal the total fixations of the crop year 2001/02 and are 160,000 tonnes ahead of the bookings of last year. Official statistics for the years 2001 and 2002 show physical exports of malt to third countries of 2.328 resp. 2.372 million tonnes, therefore one must wonder, if the statistics are fully correct. It must be taken into account, of course, that export licences have a usage margin of plus and minus 5 %. Official export data for 2003 are still not available. In any case it is obvious by now that the loudly announced reduction of exports has not taken place yet and will not take place during this calendar year.

EU malt export licence fixations:


(in tonnes)
2000 - 2001
2001 - 2002
2002 - 2003
July 1, 2003 - May 25, 2004
France
523,190
701,134
661,772
679,830
Germany
305,980
468,314
408,063
394,695
Belgium
277,584
296,368
287,850
293,124
U.K.
254,793
350,621
294,995
406,418
Finland
65,550
91,890
100,758
98,110
Denmark
52,326
96,812
94,791
79,227
Sweden
50,847
101,000
76,916
73,869
Netherlands
54,835
51,310
66,219
77,421
Ireland
26,003
35,145
31,140
32,900
Austria
4,850
8,840
8,620
49,326
Spain
3,000
2,400
5,640
10,000
Greece
1,800
1,744
1,306
979
Portugal
340
221
85
610
Italy
-
-
2
-

Total former EU

1,621,098
2,205,799
2,038,157
2,196,509
New EU members since May 01/2004
Czech Republic
21,925
Poland
1,997
Other new members
-

Total EU

1,621,098
2,205,799
2,038,157
2,220,431
| | |
| --- | --- |
| | Total Wheat malt, tonnes |
| Total 2000/2001 | 4,686 |
| Total 2001/2002 | 12,805 |
| Total 2002/2003 | 30,908 |
| July 01/2003 – May 25/2004 | 12,818 |
| | |
| | Total Roasted malt, tonnes |
| Total 2000/2001 | 23,967 |
| Total 2001/2002 | 23,480 |
| Total 2002/2003 | 23,603 |
| July 01/2003 – May 25/2004 | 21,617 |
| New members since May 01/2004 | 315 |
Serbia-Montenegro: The Soufflet group, the world's leading maltster, announced on June 15 it has just acquired the majority of the stocks and shares of "Maltinex" maltings, situated in Bajka Palanka, 100 km north-west of Belgrade, in the Republic of Serbia-Montenegro. Maltinex is a maltings in Serbia-Montenegro, with a yearly production capacity of 50,000 tonnes. Maltinex is situated in the heart of the large cereal plain of the Vojvodine where the production potential of quality malting barley is very promising. The Soufflet group, the world's leading maltster, continues with this investment, developing in Central Europe, which began at the end of 1998. Malteries Soufflet will now produce in nine countries, France, Poland, the Czech Republic, Hungary, Romania, Russia, Kazakhstan, Ukraine and Serbia-Montenegro. Following this acquisition, the Soufflet group's maltings will now have a capacity of 1,432,000 tonnes.
Barley News
EU: The Commission has repeatedly stated that definitely no restitutions are foreseen for malt and for barley to typical malting barley destinations. Without such refunds, EU new crop malting barley costs: Danish/French two-row spring barley EUR 205-210, French six-row winter barley Esterel EUR 185-190 CIF South American Atlantic coast, some EUR 5 more for South China. Ocean freight has declined sharply, any further reduction or a better US-Dollar would improve the EU export position.
Australia quotes US $ 140 FOB for (Northern Hemisphere) old crop positions, but will have to adjust prices for the second half of the year, according to analysts. Canadian feed barley at the Winnipeg exchange closed the month of May at CAN $ 156.50 for October equal to US $ 115.
Theoretical malt prices.
EURO = USD 1.2165 June 16, 2004
Crop year
2003
Parity
FOB Antwerp
Position
June 2004-Sept 2004
Conditioning
Bulk
In bags
Bulk containers
Bags, containers
Malting barley variety
EURO
USD
EURO
USD
EURO
USD
EURO
USD
2RS
Scarlett
250.50
304.50
265.50
323.00
262.00
318.50
271.50
330.00
2RS
Prestige
248.00
301.50
263.00
320.00
259.50
315.50
269.00
327.00
2RS
Aspen
247.50
300.50
262.50
319.00
259.00
314.50
268.50
326.50
2RS
Optic
247.50
300.50
262.50
319.00
259.00
314.50
268.50
326.50
2RS
Astoria
246.50
300.00
262.00
318.50
258.00
314.00
267.50
325.50
2RS
Cork
246.50
300.00
262.00
318.50
258.00
314.00
267.50
325.50
2RS
Average price
248.00
301.50
263.00
320.00
259.50
315.50
269.00
327.00
2RS
FAQ
245.50
298.50
260.50
317.00
257.00
312.50
266.50
324.00
6RW
Esterel
240.50
292.50
255.50
311.00
252.00
306.50
261.50
318.00
*
Asia Malt 70/30
245.50
299.00
261.00
317.50
257.50
313.00
266.50
324.50
**
Asia Malt 50/50
244.00
297.00
259.50
315.50
255.50
311.00
265.50
322.50
* - 70/30 = 70% Average two Rows Spring and 30% Six Rows Winter
** - 50/50 = 50% Average two Rows Spring and 50% Six Rows Winter
Theoretical malt prices for crop 2004 are available online
www.e-malt.com/MarketPrices
Malting barley prices. French barley prices.
Nominal prices.
EURO = USD 1.2165 June 16, 2004
Crop year
2003
2004
Parity
FOB Creil
FOB Creil
Position
July 2003
July 2004
Type
Variety
EURO
USD
EURO
USD
2RS
Scarlett
115.00
140.00
124.00
151.00
2RS
Prestige
113.00
137.50
122.00
148.50
2RS
Cellar
112.50
137.00
121.50
148.00
2RS
Aspen
112.50
137.00
121.50
148.00
2RS
Optic
112.50
137.00
121.50
148.00
2RS
Astoria
112.00
136.50
121.00
147.50
2RS
Cork
112.00
136.50
121.00
147.50
6RW
Esterel
107.00
130.50
107.00
130.50
Graph of the week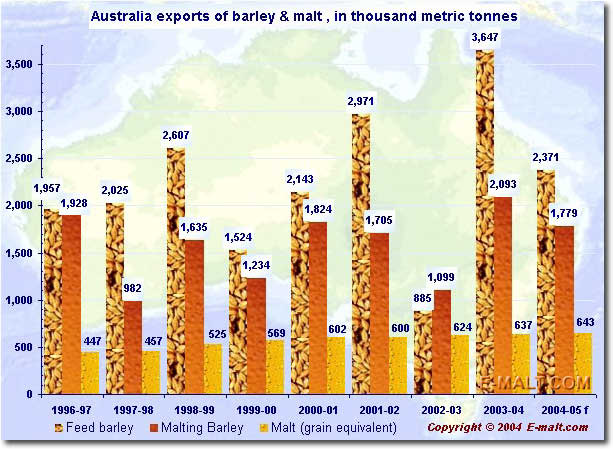 Agenda
June 2004:
BrewNZ 2004;
ALIMENTARIA MEXICO International Food and Beverages Exhibition;
Hotelympia;
BEVEX 2004 - Korea Int'l Beverage & Brewery Processing Technology Expo;
10th international symposium on pre-harvest sprouting in cereals;
BevTek / BrewTek;
IGC GRAINS CONFERENCE 2004;
26th Annual National Homebrewers Conference;
Scottish Traditional Beer Festival;
Coceral Congress 2004;
American Homebrewers Association 26th Annual National Homebrewers Conference;
Food Taipei;
The 9th International Barley Genetics Symposium;
Little Oktoberfest;

July 2004:
VI Moscow Beer Festival;
Lucky Baldwin's IPA Festival;
BevTek / BrewTek China;
Vermont Brewers Festival;
World Brewing Congress 2004;
Hop, malt and beer of Russia Exhibition;

August 2004:
Great British Beer Festival;
Worcester Beer and Cider Festival;
BeerTek China Beer and Brewing Technology Exhibition;
Peterborough Beer Festival 2004;
FOODWORLD Food and Beverage Exhibition;
TecnoBebida Latin America International Exhibition of Technologies for the Beverage Industry;

More events are available on site e-malt.com