China, Shanghai: Tsingtao Brewery, China's largest beer maker, said on June 16 it will buy a 50 % stake in Gansu Nongken Beer Co., a small brewery based in western China
, for 60.5 million yuan ($7.3 million), according to The Associated Press. Tsingtao's purchase of part of Nongken, a six-year-old brewery based in the city of Lanzhou, is aimed at boosting its market share in the relatively undeveloped regional market of northwestern China, according to reports in the state-run media. Nongken, maker of the Wuquan brand of beer, has an annual production capacity of 200,000 tons. It has been seeking outside investment to help improve its technology and competitiveness. "It's quite a small acquisition and [Gansu] is not a key market," said Fan Cheuk-wan, deputy head of China research at ABN Amro. "This Gansu deal will have little impact on the M&A trend in the sector." Tsingtao, the maker of China's best-known beer abroad, owns 48 breweries in China. It has an alliance with Anheuser-Busch Co., the world's biggest brewer, which holds a 27 % stake in the 101-year-old Chinese company. Tsingtao's acquisition of Nongken follows a recent announcement by Danish beer maker Carlsberg A/S that it has set up a 500 million yuan ($60.5 million) 50-50 joint venture with Lanzhou Huanghe Enterprise Co., also based in the city. That venture will have an annual capacity of 500,000 tons of beer. Anheuser-Busch, SABMiller and Carlsberg are among dozens of foreign brewers stepping up expansions into the fast-growing Chinese market. Fan said at US$11 (HK$85.8) per hectolitres, or slightly more than US$100 per tonne, the acquisition was cheap but the market was concerned about Nongken's profitability...
more info
Poland: Austrian brewer Brau Union, part of Holland's Heineken group, decided on June 15 to close its Polish unit, Brau Union Polska, and transfer its breweries to Heineken's Zywiec
, said Nico Nusmeier, the Brau Union board member responsible for the Austrian company's Polish operations, according to Interfax Information Services. The decision to liquidate the loss-making Brau Union Polska comes after its merger with top Polish brewer Zywiec, a unit of Holland's Heineken, a direct consequence of the Dutch brewing giant's takeover of Brau Union in May 2003. Brau Union Polska, operating in Poland since 2000, has never turned a profit. Its losses currently stand at PLN 100 mln. "Any parent would have a problem carrying such a subsidiary," Nusmeier, also the president of Heineken's Zywiec, told journalists Tuesday. The move will entail the closure of Brau Union Polska's brewery in Warsaw, which produces the Krolewskie brand of beer. Its production will be transferred to Grupa Zywiec's Warka brewery outside of Warsaw. Brau Union Polska's other brewery, Browar Kujawiak, in western Poland's Bydgoszcz, will be sold within a month to Grupa Zywiec. Company officials declined to specify figures concerning the production transfer and sale. "The Warsaw brewery would have been closed regardless of the situation with Brau Union Polska," he added. "The brewery's location in Warsaw brings with it high operational costs, limited production capacity and no possibility of expansion, because it is in a residential area." Grupa Zywiec and Brau Union Polska together boasted a 37 percent share of Poland's beer market after the first three months of 2004, little changed from their market share of 37.3 percent at the end of 2003...
more info
Singapore's Asia Pacific Breweries (APB) announced on June 16 it would consider raising its stake in Guangdong Brewery Holdings
in the wake of the recent level of interest international brewers have been showing in the mainland beer market. "We are not unhappy with our current stake," said Koh Poh Tiong, chief executive officer and director of APB. "If additional stakes are available, we will consider it,'' he said at the company's annual meeting on June 15, according to The Standard. Heineken Asia Pacific Breweries China, a 50-50 venture between Singapore's APB and Heineken, acquired a 21.5 % stake in Guangdong Brewery this year. Ye Xuquan, chairman of Guangdong Brewery, said despite Beijing's recent efforts to cut government ownership in state-owned enterprises, the Guangdong provincial government has not indicated any interest in reducing its stakes in the mainland's 12th largest brewer. "The Guangdong government's participation in state-owned enterprises is lower ... compared with the northeastern parts of China," said Lilian Leung, an analyst with ING Financial Markets. Guangdong Brewery is 53 % owned by Guangdong Investment, the investment arm of the Guangdong provincial government. "It may not happen in the near future but possibly in the longer term," said Fan Cheuk-wan, deputy head of China research at ABN Amro. Stephen Fung, chief financial officer of Guangdong Brewery, said turnover grew 38 % in the first five months this year compared with the same period last year. Ye said while the company has just 1.1 % of the beer market, its share of profits made by all mainland brewers last year was 5 per cent...
more info
Germans are drinking less German beer but foreigners are drinking more of it, according to figures released on June 17 by Germany's 1,200 breweries
. Domestic beer consumption dropped by 2.1 percent in 2003 to 105.5 million hectolitres, Expatica posted. That meant the average German drank 4.2 litres less beer during 2003 than in 2002, said Richard Weber, president of the German Brewers Association (DBB). Speaking at the outset of the DBB's annual congress, he said the average German drank 117.5 litres of beer last year, dropping below the 120-litre mark for the first time in years. He cited cuts in consumer spending and Germany's controversial mandatory deposit on all canned beverages as contributing factors to the downturn. Meanwhile, exports of German beer rose 1.0 percent to 12 million hectolitres with Italy, France, Britain and the United States all showing big gains in 2003.
Canadian brewing force, Molson Inc. announced on June 17 that it had signed a multi-year agreement with Independent Liquor, a leading Australian and New Zealand drinks company
that will market and sell A Marca Bravara, a golden lager brewed in Brazil by Cervejarias Kaiser. This marks the beginning of the second phase in building the international presence of the Brazilian-bottled beer, after the successful launch in Canada in the Summer of 2003. "Less than a year ago, Molson identified the export market as a short term priority and a means to maximize the value of the existing business and further build shareholder value. The underlying strategy is to build international volume in a small number of markets through local relationships," explained Peter Amirault, Senior Vice-president Innovation and Business Development. He continued: "Extensive market research on a selection of Molson brands was done in several international markets and it confirmed the immediate appeal of the Brazilian-produced lager brewed by Cervejarias Kaiser. Both New Zealand and Australia were among the markets that showed immediate promise and we are entering these markets in partnership with Independent Liquor, a successful alcoholic beverage manufacturer and marketer and the largest ready-to-drink player in New Zealand and one of the largest in Australia." With a combined population of 23.6 million, Australia and New Zealand are attractive new markets for Bravara, a premium import, that will benefit from the fact that in both these countries the import/premium segment is the fastest growing segment within the beer category. Roger Smith, Australasian Sales Director of Independent Liquor explained: "Imports have been showing strong growth and we are very excited by the launch of Bravara. With its unique packaging, great taste and Brazilian imagery we are confident the beer will rapidly become a favourite of Australian and New Zealand beer drinkers". Rebranded "A Marca Bravara" for the Asian and European markets, the easy- drinking blond lager, is expected to benefit from the exoticism that surrounds Brazil and the Rio de Janeiro region...
more info
Malt News
Russia: OAO Russky Solod, a subsidiary of Avangard Bank, launched a malting plant in Elevatorny community of Voronezh region. According to the bank's press the new plant has a production capacity of 100 thousand tonnes per annum that will provide an output of 500 million litres of beer. They built the plant in two years and invested about US$ 40 million. The plant has an average area of 18 thousand m2. Now Avangard Bank is financing the construction of three malt plants in Russia: in Moscow, Voronezh and Orlovsk regions. The plant in Voronovo community, Moscow region is already active. The bank has already started to work under building the third malt plant in Zmievka community, Orlovsk region. They has also decided to build the forth malt plant.
EU: After Japan and Brazil in April month it were at least 3 African buyers in May, which started to cover malt for 2005. While total sales to third countries for next year are still negligible, domestic brewers in the EU continued to buy for the coming campaign. In Germany two of the largest national groups purchased, but Heineken and Interbrew have still abstained. Germany's beer sales fell by 3,5 % in April, but are still 2 % ahead for the year.
Barley News
Ukraine: May precipitation and cool temperatures were altogether beneficial for grain crops. UkrAgroConsult has posted that market has declined to the lowest levels since many months, old crop is quoted US$ 98 to US$ 108 ex silo interior and US$ 115 to US$ 118 FOB Seaport. Jordan purchased 100,000 tonnes of Black Sea barley, June shipment at US$ 152.50 CIF, according to analysts. New crop is valued at US $ 80 ex interior.
Weather in May has been predominantly advantageous for the development of all crops, mostly cool and rainy, even in the Balkans and the Iberian Peninsula. All forecasters have increased their crop estimates of barley and other grains. In South, West and Central Europe the yields of winter barley look very good and can hardly be affected by detrimental weather any more during the last weeks before harvest. Especially Spain and France will harvest large crops. Spring barley, which is looking good as well at this time, still needs good precipitation for high yields and good quality. It must not be overlooked that soil moisture in parts of France, Benelux, Germany and the Czech Republic is still at perilously low level. Semi-official and private sources reduced acreage expectations of spring barley in the U.K., Denmark and Sweden, therefore our crop estimate of 57,8 Mill. tons in the expanded EU is 500,000 tonnes lower than the latest IGC figure. No doubt, final figures may still improve. Another feature of the crop prospects is quality. If a good crop is harvested, the share of malting barley will be larger than earlier thought, and the surplus beyond domestic needs may surpass the 1 million tonnes by a good margin (Stratégie Grains already estimates 2 million tonnes).
Theoretical malt prices.
EURO = USD 1.2059 June 18, 2004
Crop year
2003
Parity
FOB Antwerp
Position
June 2004-Sept 2004
Conditioning
Bulk
In bags
Bulk containers
Bags, containers
Malting barley variety
EURO
USD
EURO
USD
EURO
USD
EURO
USD
2RS
Scarlett
250.50
302.00
265.50
320.00
262.00
315.50
271.50
327.50
2RS
Prestige
248.00
299.00
263.00
317.00
259.50
312.50
269.00
324.50
2RS
Aspen
247.50
298.00
262.50
316.50
259.00
312.00
268.50
323.50
2RS
Optic
247.50
298.00
262.50
316.50
259.00
312.00
268.50
323.50
2RS
Astoria
246.50
297.50
262.00
315.50
258.00
311.50
267.50
323.00
2RS
Cork
246.50
297.50
262.00
315.50
258.00
311.50
267.50
323.00
2RS
Average price
248.00
299.00
263.00
317.00
259.50
312.50
269.00
324.50
2RS
FAQ
245.50
296.00
260.50
314.00
257.00
310.00
266.50
321.50
6RW
Esterel
240.50
290.00
255.50
308.50
252.00
304.00
261.50
315.50
*
Asia Malt 70/30
245.50
296.50
261.00
314.50
257.50
310.00
266.50
321.50
**
Asia Malt 50/50
244.00
294.50
259.50
312.50
255.50
308.50
265.50
320.00
* - 70/30 = 70% Average two Rows Spring and 30% Six Rows Winter
** - 50/50 = 50% Average two Rows Spring and 50% Six Rows Winter
Theoretical malt prices for crop 2004 are available online
www.e-malt.com/MarketPrices
Malting barley prices. French barley prices.
Nominal prices.
EURO = USD 1.2059 June 18, 2004
Crop year
2003
2004
Parity
FOB Creil
FOB Creil
Position
July 2003
July 2004
Type
Variety
EURO
USD
EURO
USD
2RS
Scarlett
115.00
139.00
124.00
149.50
2RS
Prestige
113.00
136.50
122.00
147.50
2RS
Cellar
112.50
136.00
121.50
146.50
2RS
Aspen
112.50
136.00
121.50
146.50
2RS
Optic
112.50
136.00
121.50
146.50
2RS
Astoria
112.00
135.50
121.00
146.00
2RS
Cork
112.00
135.50
121.00
146.00
6RW
Esterel
107.00
129.50
107.00
129.50
Graph of the week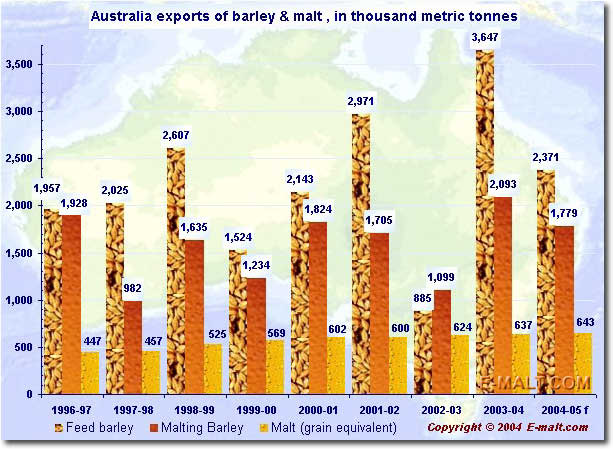 Agenda
June 2004:
BrewNZ 2004;
ALIMENTARIA MEXICO International Food and Beverages Exhibition;
Hotelympia;
BEVEX 2004 - Korea Int'l Beverage & Brewery Processing Technology Expo;
10th international symposium on pre-harvest sprouting in cereals;
BevTek / BrewTek;
IGC GRAINS CONFERENCE 2004;
26th Annual National Homebrewers Conference;
Scottish Traditional Beer Festival;
Coceral Congress 2004;
American Homebrewers Association 26th Annual National Homebrewers Conference;
Food Taipei;
The 9th International Barley Genetics Symposium;
Little Oktoberfest;

July 2004:
VI Moscow Beer Festival;
Lucky Baldwin's IPA Festival;
BevTek / BrewTek China;
Vermont Brewers Festival;
World Brewing Congress 2004;
Hop, malt and beer of Russia Exhibition;

August 2004:
Great British Beer Festival;
Worcester Beer and Cider Festival;
BeerTek China Beer and Brewing Technology Exhibition;
Peterborough Beer Festival 2004;
FOODWORLD Food and Beverage Exhibition;
TecnoBebida Latin America International Exhibition of Technologies for the Beverage Industry;

More events are available on site e-malt.com