China: Belgian brewing force Interbrew announced on 21 June 2004 that it had acquired a 70% controlling interest in Zhejiang Shiliang Brewery Company Ltd.
, located in the Yangtze Delta for a consideration of USD 53.2 million. This transaction strengthens Interbrew's number one position in Zhejiang Province where, pursuant to this transaction, the company will have a market share of close to 50%. The transaction is expected to close during the summer of 2004. Interbrew currently has six breweries and one bottling center in Zhejiang Province, representing operations in Ningbo, Zhoushan, Wenzhou, Yandangshan, Pingyang, Jinhua and Yuyao. This Zhejiang Shiliang Brewery Company Ltd. transaction clearly solidifies Interbrew's number one position in this Chinese province with 47 million inhabitants. With a strong local brand, Red Shiliang, an excellent distribution network, a very experienced local management and a good geographic fit, Zhejiang Shiliang Brewery Company Ltd. will integrate very well with Interbrew's existing operations in Zhejiang province. This transaction was completed at an EV/EBITDA multiple of 11.6. On an EPS before goodwill amortization basis the acquisition will make an accretive contribution to Interbrew's EPS from year one. "With this acquisition Interbrew has reinforced its leading position in Zhejiang by adding over 2m hl sales volume to its current operations in the province." says Patrice Thys, President Interbrew Asia Pacific Zone. "Zhejiang, one of the wealthiest provinces in East China, is a key platform for advancing our strategy of being a leading player in China's beer industry." Zhejiang Shiliang Brewery Company Ltd.'s General Manager, Mr. Qiu Jiangsheng says, "Zhejiang Shiliang Brewery Company Ltd. is very pleased to have reached agreement with Interbrew, the world's major brewery group, with respect to this transaction. By combining our own strength in the brewery operation and Interbrew's technical, management and financial capacitates, Zhejiang Shiliang Brewery Company Ltd. can further enhance its competitiveness and achieve better development in the future...
more info
Mexico: Fomento Economico Mexicano, S.A. de C.V. ("FEMSA"), and Heineken NV ("Heineken") announced on June 21, 2004 that FEMSA Cerveza and Heineken USA have reached
a definitive agreement that will make Heineken USA the sole and exclusive importer, marketer and seller of FEMSA's beer brands in the United States. The three-year agreement signed between Wisdom Import Sales LLP, FEMSA Cerveza's wholly owned subsidiary, and Heineken USA is expected to become effective towards the end of the year, 120 days after FEMSA completes its announced repurchase of a 30% stake of FEMSA Cerveza. At the end of the three-year period both parties will discuss how they will take this commercial relationship forward. Under the terms of the agreement, Heineken USA will assume responsibility for the marketing, sales and distribution of the beer brands Tecate, Dos Equis, Sol, Carta Blanca and Bohemia across the United States. FEMSA's brands have traditionally thrived in the Southwestern United States, and joining forces with Heineken will provide the necessary commercial muscle to expand the focus East of the Mississippi river and realize the brands' full potential. In addition, the attributes and positioning of the Heineken brands in the U.S.A. fit well with those of FEMSA's brands, such that the combined portfolio will be ideally suited to serve the full spectrum of import market segments and preferences. Heineken's strategy in the U.S.A. is to grow its premium brands within the import segment, the fastest growing beer segment in the U.S.A. Expanding its portfolio with the strong premium and specialty brands of FEMSA fits this strategy perfectly. Heineken USA will benefit from greater scale and from the broader portfolio of brands, which will allow Heineken USA to increase its leadership in the import segment...
more info
EU: Anheuser-Busch Cos., can't register its Budweiser name as a single trademark in all 25 European Union countries
, according to the latest ruling in a century-old battle over the beer brand, Bloomberg News posted on June 22. In rejecting the St. Louis, Mo.-based company's 1996 "community trademark" application, the EU's Office for Harmonization in the Internal Market said the Budweiser name is identical to one already registered by Czech rival Budejovicky Budvar NP in France and Austria. Anheuser-Busch must instead rely on previously held national trademarks. "Due to the high similarity of the signs and the identity of the goods, the office concludes that there is likelihood of confusion in France and Austria," the trademark office said in its June 10 decision. After failing to agree on a takeover in the 1990s, the two brewers have been fighting in about 50 countries over the Budweiser and Bud names. Budvar, based in a town called Ceske Budejovice in Czech and Budweis in German, claims brewers have used the name for hundreds of years. Anheuser-Busch argues it has used the trademark since 1876, 19 years before Budvar was established. Anheuser-Busch will have to apply for trademark registration in five of the EU nations where it doesn't already have protection for the Bud or Budweiser names. The application for a trademark was filed " to expand our already extensive rights to Budweiser in the EU," Stephen Burrows, the head of Anheuser-Busch's international operations, said.
Philippine food and drink conglomerate San Miguel Corp. said on June 16 it has completed the acquisition of the brewery assets of Thai Amarit Brewery Ltd.
San Miguel paid Thai Amarit 3.9 billion baht ($1=THB40.785) for the brewery assets, which include a modern and fully equipped brewery on a 21.75-hectare site in Pathum Thani north of Bangkok, according to Dow Jones. The completion of the acquisition follows San Miguel's announcement earlier this month that it has received the green light from Thailand's Ministry of Finance to produce beer in Thailand. With the acquisition of the Thai Amarit brewery, which has an annual capacity of about 1 million hectoliters of beer, San Miguel would gain access to the Thai beer market, currently Southeast Asia's largest. The acquisition also offers potential synergy with other San Miguel projects in Thailand and the region, particularly with San Miguel (Thailand) Co., the Philippine conglomerate's venture in Thailand's Amata City Industrial Estate in Rayong. San Miguel plans to manufacture and distribute beverage products, processed food and animal feeds in Rayong. San Miguel said Thai Amarit's Pathum Thani site still has around 11 hectares that can be used for future expansion. Aside from the Pathum Thani site, San Miguel also acquired Thai Amarit's 2.4-hectare property at the Bang Po area of Bangkok. San Miguel has set aside $700 million for its overseas expansion plans and has so far spent or earmarked around $300 million for investments in Thailand, China and Vietnam.
Germany: The General Assembly of Carlsberg's German subsidiary Holsten-Brauerei approved on 22 June 2004 that Holsten sells the breweries König-Brauerei
in Duisburg and Licher Privatbrauerei in Lich to the Bitburger Group at a total enterprise value of € 469 million (DKK 3.5 billion), according to Carlsberg A/S statement. This deal will be sought completed as soon as possible. The German competition authorities have approved Holsten's sale of the water business Hansa-Brunnen to Lange-HANSA-Holding GmbH, so this deal can now be closed. Carlsberg is selling Holsten activities at a total enterprise value of € 645 (DKK 4.8 billion). Due to the increased sales price of the water business compared to the originally expected price, the net acquisition price of the assets which Carlsberg retains is reduced from € 437 million (DKK 3.2 billion) to € 420 million (DKK 3.1 billion). "I am very satisfied that we have achieved a higher price than expected for the water business and that the selling of the König and Licher breweries most likely will be closed soon. Together with the staff reduction recently announced by Holsten, this means that we can now concentrate on improving the operation of Holsten", says Nils S. Andersen, President and CEO of Carlsberg.
Malt News
Lithuania: Litmalt, the largest Baltic malt producer, has completed the construction of new plant in Panevezys, Lithuania, under the name UAB Viking Malt. Finland's Viking Malt invested about 100 million litas (EUR 29 million) in new plant construction. Encouraged by successful reconstruction, Litmalt strives to conquer 80 % of domestic malt market, the Respublika daily has reported on June 15. Reconstruction will boost the capacities of the company to 60,000 tonnes of malt per year, four times greater than before, according to Baltic News Service. However, in 2004 the market demand is expected to reach 50,000 tonnes. The capacities of old plant of the company made up 15,000 tonnes of malt per year. The technical design of the maltings will easily enable capacity to be doubled in the near future, to 120000 tonnes of malt per year. High-quality malting barley is available locally and the main varieties are Barke and Scarlett, Viking Malt said in a statement. Meanwhile, the daily predicts a considerable rise in competition on domestic malt market, noting that a small malt plant in Svencioneliai will be commissioned by the end of 2004. For 2003 Litmalt reported a turnover of 17.2 million litas, a 7.5 percent decline from 2002. This year the company expects its sales to hit approximately 32 million litas. Company's sales on domestic market made up 14,621 tons of malt last year, almost unchanged from 2002. Litmalt has an authorized capital of 68 million litas. The Finnish malt producer Viking Malt owns 85.3 percent of the shares. Svyturys-Utenos Alus, Lithuania's number one beer maker, holds the remaining 14.7 percent. (EUR 1 = LTL 3.45)
China reports unofficially that beer sales during the first four months of the year went up by about 20 %. In view of last year's total output of 254 million hl, 20 % is a staggering figure, but we must not overlook that the first months of last year were badly affected by the SARS crisis. Rumours about little malt use per hl of beer have made the round since last year because of China's disappointing barley purchases. A reliable source puts the average malt use at 10 kilos per hl.
Barley News
EU Malting Barley Supply and Demand Estimate 2004/2005


(in 1,000 tonnes)
Malt production
Barley demand
Supply Spring malting barley
Supply Winter Malting barley
Net Plus / Minus
Total
Spring
Winter
Northwest:
Belgium
660
825
15
-
- 810
- 510
- 300
France
1,380
1,620
2,100
2/6row 1,500
1,980
1,180
800
Germany
2,050
2,560
1,700
2row 50
- 810
- 610
- 200
Ireland
160
200
250
-
50
50
-
Netherlands
240
300
200
-
- 100
- 50
- 50
United Kingdom
1,550
1,950
1,700
2row 700
450
400
50
Total Northwest
6,040
7,455
5,965
2/6 row 2,250
760
460
300
Baltic:
Denmark
255
320
1,320
-
1,000
1,000
-
Finland
175
220
170
-
- 50
- 50
-
Lithuania
60
75
75
-
-
-
-
Poland
280
350
175
-
- 175
- 175
-
Sweden
250
315
365
-
50
50
-
Total Baltic
1,020
1,280
2,105
-
825
825
-
Southeast:
Austria
155
200
170
-
- 30
- 30
-
Czech Republic
500
625
750
-
125
125
-
Hungary
140
175
100
-
- 75
- 75
-
Slovakia
280
350
300
-
- 50
- 50
-
Total Southeast
1,075
1,350
1,320
-
- 30
- 30
-
Mediterranean:
Total Mediterranean
580
725
525
-
- 200
- 100
- 100
Net Total
8,715
10,810
9,915
2,250
1,355
1,155
200
Russia planted less barley than a year ago, IGC forecasts a crop of 16.5 million tonnes versus 17.9 in 2003. Present conditions promise better quality than last year. During July/March 2003/04 Russia imported 219,000 tonnes of barley, of which 69,000 tonnes (feed) from Kazakhstan and 150,000 tonnes of malting barley from the EU. Exports of feed barley during the same period were 2.935 million tonnes.
Australia has registered below average rainfalls in its barley regions in April/May
. Only 5-10 % of the intended barley acres have been planted to-date. Forecasts are for good rainfalls in first half June. If planting is finished by end June and regular rains occur from then on, a good barley harvest is still possible. The very conservative ABB forecasts no more than 6.0-6.5 million tonnes.
Theoretical malt prices.
EURO = USD 1.2103 June 23, 2004
Crop year
2003
Parity
FOB Antwerp
Position
June 2004-Sept 2004
Conditioning
Bulk
In bags
Bulk containers
Bags, containers
Malting barley variety
EURO
USD
EURO
USD
EURO
USD
EURO
USD
2RS
Scarlett
249.00
301.50
264.50
319.50
260.50
315.50
270.00
327.00
2RS
Prestige
246.50
298.50
262.00
317.00
258.00
312.50
267.50
324.00
2RS
Aspen
246.00
297.50
261.00
316.00
257.50
311.50
267.00
323.50
2RS
Optic
246.00
297.50
261.00
316.00
257.50
311.50
267.00
323.50
2RS
Astoria
245.50
297.00
260.50
315.50
257.00
311.00
266.50
322.50
2RS
Cork
245.50
297.00
260.50
315.50
257.00
311.00
266.50
322.50
2RS
Average price
246.50
298.50
262.00
317.00
258.00
312.50
267.50
324.00
2RS
FAQ
244.00
295.50
259.50
314.00
255.50
309.50
265.50
321.00
6RW
Esterel
239.50
289.50
254.50
308.00
251.00
303.50
260.50
315.00
*
Asia Malt 70/30
244.50
296.00
259.50
314.00
256.00
309.50
265.50
321.50
**
Asia Malt 50/50
243.00
294.00
258.00
312.50
254.50
308.00
264.00
319.50
* - 70/30 = 70% Average two Rows Spring and 30% Six Rows Winter
** - 50/50 = 50% Average two Rows Spring and 50% Six Rows Winter
Theoretical malt prices for crop 2004 are available online
www.e-malt.com/MarketPrices
Malting barley prices. French barley prices.
Nominal prices.
EURO = USD 1.2103 June 23, 2004
Crop year
2003
2004
Parity
FOB Creil
FOB Creil
Position
July 2003
July 2004
Type
Variety
EURO
USD
EURO
USD
2RS
Scarlett
114.00
138.00
124.00
150.50
2RS
Prestige
112.00
135.50
122.00
148.00
2RS
Cellar
111.50
135.00
121.50
147.50
2RS
Aspen
111.50
135.00
121.50
147.50
2RS
Optic
111.50
135.00
121.50
147.50
2RS
Astoria
111.00
134.50
121.00
146.50
2RS
Cork
111.00
134.50
121.00
146.50
6RW
Esterel
106.00
128.50
108.00
131.00
Graph of the week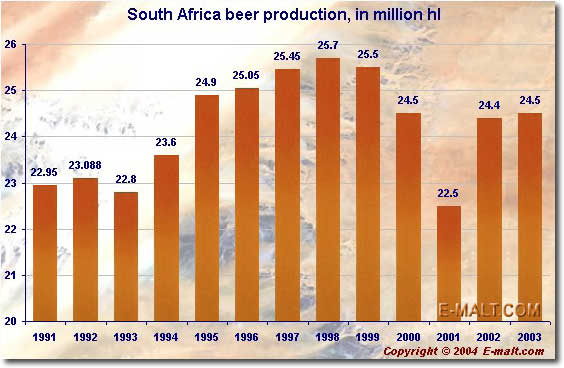 Agenda
June 2004:
BrewNZ 2004;
ALIMENTARIA MEXICO International Food and Beverages Exhibition;
Hotelympia;
BEVEX 2004 - Korea Int'l Beverage & Brewery Processing Technology Expo;
10th international symposium on pre-harvest sprouting in cereals;
BevTek / BrewTek;
IGC GRAINS CONFERENCE 2004;
26th Annual National Homebrewers Conference;
Scottish Traditional Beer Festival;
Coceral Congress 2004;
American Homebrewers Association 26th Annual National Homebrewers Conference;
Food Taipei;
The 9th International Barley Genetics Symposium;
Little Oktoberfest;

July 2004:
VI Moscow Beer Festival;
Lucky Baldwin's IPA Festival;
BevTek / BrewTek China;
Vermont Brewers Festival;
World Brewing Congress 2004;
Hop, malt and beer of Russia Exhibition;

August 2004:
Great British Beer Festival;
Worcester Beer and Cider Festival;
BeerTek China Beer and Brewing Technology Exhibition;
Peterborough Beer Festival 2004;
FOODWORLD Food and Beverage Exhibition;
TecnoBebida Latin America International Exhibition of Technologies for the Beverage Industry;

More events are available on site e-malt.com