China: There may be a hitch in Anheuser-Busch's plan to make Harbin Brewery Ltd. in China a private company. U.S.-based Castlerigg International Ltd.,
a fund company, has bought a 10.01 % stake in Harbin, the Hong Kong Stock Exchange said. Harbin is registered in the Cayman Islands. Under Cayman Islands law, a shareholder can only compulsorily take a company private if it holds at least 90 percent of the firm. As long as Castlerigg holds its 10.01 percent, Anheuser-Busch would not be able to privatize Harbin. Some analysts said Castlerigg bought the stake to pressure Anheuser-Busch to raise its offer price for Harbin's shares, according to a Dow Jones Newswires report. Anheuser-Busch offered HK$5.58, or about 71 U.S. cents, for each outstanding share of Harbin. Or Castlerigg could sell its stake to A-B in the tender offer at a small profit. Castlerigg paid HK$5.55 a share, according to Hong Kong Stock Exchange data. On June 18, Anheuser-Busch Cos. Inc. closed on its acquisition of a majority stake in China's Harbin Brewery Group and started the tender offer for the shares it doesn't own. St. Louis-based Anheuser-Busch Cos. Inc., the world's largest brewer, manufactures and recycles aluminum cans and operates theme parks. It is the area's 19th largest employer.
Mexico: FEMSA announced on June 23, 2004 that it is to distribute Coors Light in Mexico
. Cerveceria Cuauhtemoc Moctezuma, S.A. de C.V. ("CCM"), a subsidiary of FEMSA Cerveza, S.A. de C.V. ("FEMSA Cerveza") and an indirect subsidiary of Fomento Economico Mexicano, S.A. de C.V. ("FEMSA"), and Coors Brewing Company ("Coors"), announced on June 23, 2004 that they have reached an agreement that will make CCM the sole and exclusive importer, distributor, marketer and seller of Coors Light beer in Mexico. The renewable agreement for an initial term of 10 years, allows both parties to capitalize on a business opportunity that complements their core strategies. For FEMSA Cerveza, the agreement provides a high quality imported light beer that fits well with its existing portfolio. For Coors, it provides access to a powerful commercial and distribution network that will accelerate the growth of its Coors Light brand in the Mexican market. Javier Astaburuaga, co-Chief Executive Officer of FEMSA Cerveza, commented: "At FEMSA we strive to be a premier customer-oriented beverage company, and we believe that the imported beer category in Mexico is underdeveloped. We will now serve this attractive market segment with Coors Light, the world's seventh largest selling beer brand. This brand enjoys very strong equity in its home market, and we intend to realize its significant potential in Mexico by complementing our already rich brand portfolio, and by leveraging our considerable commercial and logistical capabilities. This is an excellent business opportunity for both companies and we are enthusiastic about the possibilities it represents." Peter Swinburn, President of Coors Brewers Worldwide, said, "The agreement with FEMSA Cerveza is a significant step in the continued growth of Coors' international volume and in expanding visibility of one of our key brands in the world's eighth largest beer market...
more info
Philippines, Manila: Philippine food and beverage firm San Miguel Corp announced on June 24 its net profit jumped 32 percent in January to May from a year earlier on higher beer
sales and lower costs at its soft drinks unit. San Miguel said in a statement its consolidated net income was 3.29 billion pesos ($59 million) in the first five months of the year. Southeast Asia's largest food and beverage group, 15 % owned by number-two Japanese beer maker Kirin Brewery Co Ltd, said the volume of domestic beer sales grew 20 % in January to May from a year earlier. International beer sales rose 19 percent in the same period. San Miguel, which makes nine of every 10 bottles of beer sold in its home market, said fixed costs at its soft drinks unit Coca-Cola Beverage Philippines Inc had been contained but did not give details. "Significant bottom line improvement coming from the food group also boosted San Miguel's strong performance from January to May," it said. Analysts had expected the company, which dominates store shelves in the Philippines with its processed meat and poultry products, to benefit from spending on food and beverages related to the country's general elections on May 10. Consolidated sales revenues in the first five months grew 15 percent from the same period of last year to 68 billion pesos. Reuters Estimates gave an average 2004 net income forecast for San Miguel from 11 institutions of 8.53 billion pesos, up 15.7 percent from last year's 7.37 billion pesos. San Miguel's A-shares, restricted to local investors, closed unchanged at 57.50 pesos on Thursday. Its B-shares, open to all investors, fell 50 centavos or 0.68 percent to 73 pesos.
Australia: Belgian brewing force, Interbrew and Lion Nathan Australia (Lion Nathan) have entered into an exclusive long term agreement in Australia for Lion Nathan to brew
, distribute and market Interbrew's global premium beer, Beck's®, in Australia, Interbrew announced on 24 June 2004. The agreement supersedes an existing arrangement, which has been in place for more than three years. Beck's® is a key brand for Lion Nathan in the fast growing premium segment, which now represents over 9 per cent of the Australian beer market. The agreement follows strong growth for Beck's® in Australia both on and off premise under Lion Nathan's stewardship. Beck's®, Interbrew's global premium brand, is the number 1 German beer in the world and the fastest growing international brand. In the first quarter of 2004, Beck's® organic volume grew by more than 19 per cent worldwide. This German beer is sold in over 120 countries, with global sales volumes reaching 5 million hl 2003. Commenting on the new arrangement, Lion Nathan Australia's Managing Director Andrew Reeves said, "International brands have played an important role in the growth of the premium segment and we are proud of the progress we have made in bringing this outstanding brand to Australian beer drinkers." "Given this success, we were keen to secure the future of the brand in Australia. This important agreement enables Lion Nathan to develop and implement a long-term strategy for Beck's® in Australia, which will fully realize the brand's potential. Beck's® offers significant growth prospects and we are delighted with the opportunity to take the brand to the next level," Reeves continued...
more info
Peru: Congress began on June 23 an investigation into allegations a former adviser to President Alejandro Toledo took bribes to favor the sale of Peru's only brewer in 2002
, Reuters posted on June 23. The probe was launched after Peru's most influential daily, El Comercio, reported this month that Latin America's No. 4 brewer, Bavaria, paid the adviser $2 million to support its purchase of Union de Cervecerias Backus & Johnston. Venezuela's Empresas Polar brewery was competing with Bavaria to buy Backus, which makes the Cristal, Pilsen and Cusquena brand beers. Both Bavaria and the adviser, Cesar Almeyda, deny any wrongdoing. Almeyda at the time of the sale was a board member of Peru's stock-market regulator, CONASEV. Although the full Congress has no prosecution powers, a finding of guilt on Almeyda's part would pressure the judiciary for a trial. It would also cause embarrassment for the unpopular Toledo, whose credibility has been shattered by a series of sleaze and influence-peddling scandals since he took office in July 2001. Almeyda is jailed and on trial on charges of trying to corrupt judges in the 1990s. The congressional commission conducting the probe wants testimony from Toledo and CONASEV members, Javier Velasquez, head of the commission and a member of the opposition APRA party, told Reuters. "We want Toledo's version of events. The idea is to have a preliminary report ready before July 20," he said. According to comments by witness Hugo Duran, quoted by El Comercio, Colombia-based Bavaria brewery channeled the alleged bribes to offshore bank accounts in Panama. Duran said Toledo had received part of bribe money, an allegation the government denies. Bavaria and Polar battled to take over Backus in mid-2002 and both parties accused the other of foul play. CONASEV began a probe, but in a surprise move in December 2002, Polar sold its almost 25 percent state in Backus to Bavaria in a $568 million deal. The purchase took Bavaria's stake in Backus to 49 %, and Bavaria went on in 2003 to take a controlling stake.
Malt News
The world uses 17 million tonnes of malt for brewing beer, distilling whisky and as an ingredient in food, soft beverage and pharmaceutical products. The maltsters of the EU 15 produced about 50% of the world's demand for malt, a figure that has increased with the entry of other malt producers from the acceding countries.
In 2003, UK maltsters exported about 350,000 tonnes of malt "underlining the UK's importance in the global market". "We must maintain this position through improved communication and new initiatives with farmers, seed producers and agricultural merchants," HGCA said in a report on June 26. The top ten export destinations for UK malt are Japan, Thailand, Russia, Nigeria, Germany, Vietnam, Trinidad, Malaysia, Venezuela and the USA. These countries account for approximately 300,000 tonnes or 85% of the UK malt exports. The main demand is for a malt to make lager style beers, with 35% supplied in the band 1.55–1.65% nitrogen content and 50% at 1.65–1.85%. While European, Canadian and Australian competitors of UK have their different varieties, the main UK spring varieties of Optic and Cellar are well received and set benchmarks for quality, HGCA revealed. The UK's reputation has recently been augmented by the unparalleled and unique Assured UK Malt marque. Assurance is a new initiative, driven by the Maltsters Association of Great Britain (MAGB), and it is a valuable extension to the widely respected Assured Combinable Crops Scheme (ACCS) and Scottish Quality Cereals (SQC), according to HGCA. It offers assurance of complete traceability to the buyers of our malt. It is a scheme that is independently audited, meeting the increasing demands of an ever-demanding consumer market.
Barley News
Sweden: Swedish barley forecast for the 2004 malting barley crop is positive and optimistic, according to Viking Malt reports. The estimate shows a steady increase in malting barley supply in Sweden. Crop 2003 resulted in approximately 390,000 tonnes of malting barley. The forecast for crop 2004 shows an increase of about 40,000 tonnes and a total crop of about 430,000 tonnes (screened and ready for delivery to the maltings). Looking at the specific varieties for crop 2004 Barke (130,000 tonnes) is still number one followed by Pasadena (105,000 tonnes), Astoria (100,000 tonnes) and Prestige (75,000 tonnes). These varieties have kept their order of precedence but have changed their total share. The main changes are: Barke has lost about 14% share from 2003 till 2004, a share that represents approximately 40,000 tonnes. Astoria, the main variety in the central part of Sweden, went from 18% to 25%, an increase corresponding about 30,000 tonnes. Prestige gained 10% and approximately 43,000 tonnes. Jersey has been added as a newcomer. On the development side a lot of work is put down in finding new varieties that are suitable for the Swedish conditions. Several varieties are tested in production scale for malting and brewing qualities before approval as a malting barley variety. For crop 2004 the new varieties Power (DK), Sebastian (DK) and Catriona (SE) will be tested in full-scale maltings if the harvest is favourable. The actual sowing started already in the middle of March in the most southern parts of Sweden. The rest of the country will follow in April and in the beginning of May.
The EU Commission has proposed to the WTO to drop all export subsidies on agricultural products, provided other countries, specifically the USA, abolish or reduce their support measures in a similar way. France has objected to the offer by Brussels. Washington shows willingness to follow the EU's approach. Both the EU and the U.S. are interested to put new life into the WTO discussions, which had abruptly ended in Cancun last year. On basis of this announcement, it will be difficult for the Commission to grant any export restitutions until the successful or unsuccessful end of the next WTO round. Time being the Commission says that no restitutions will be granted till the time, when a more precise picture of world crops and demand is available. The EU has concluded a Free Trade Agreement with Mexico, which, however, does not change the existing trade barriers for grains and malt. Another agreement is negotiated with the Mercosur countries, and this deal will include improvements for the traffic of grains and grain products, details must still be worked out.
Theoretical malt prices.
EURO = USD 1.2170 June 25, 2004
Crop year
2003
Parity
FOB Antwerp
Position
June 2004-Sept 2004
Conditioning
Bulk
In bags
Bulk containers
Bags, containers
Malting barley variety
EURO
USD
EURO
USD
EURO
USD
EURO
USD
2RS
Scarlett
249.00
303.00
264.50
321.50
260.50
317.00
270.00
328.50
2RS
Prestige
246.50
300.00
262.00
318.50
258.00
314.00
267.50
325.50
2RS
Aspen
246.00
299.50
261.00
318.00
257.50
313.50
267.00
325.00
2RS
Optic
246.00
299.50
261.00
318.00
257.50
313.50
267.00
325.00
2RS
Astoria
245.50
298.50
260.50
317.00
257.00
312.50
266.50
324.50
2RS
Cork
245.50
298.50
260.50
317.00
257.00
312.50
266.50
324.50
2RS
Average price
246.50
300.00
262.00
318.50
258.00
314.00
267.50
325.50
2RS
FAQ
244.00
297.00
259.50
315.50
255.50
311.00
265.50
322.50
6RW
Esterel
239.50
291.00
254.50
309.50
251.00
305.00
260.50
316.50
*
Asia Malt 70/30
244.50
297.50
259.50
316.00
256.00
311.50
265.50
323.00
**
Asia Malt 50/50
243.00
295.50
258.00
314.00
254.50
309.50
264.00
321.50
* - 70/30 = 70% Average two Rows Spring and 30% Six Rows Winter
** - 50/50 = 50% Average two Rows Spring and 50% Six Rows Winter
Theoretical malt prices for crop 2004 are available online
www.e-malt.com/MarketPrices
Malting barley prices. French barley prices.
Nominal prices.
EURO = USD 1.2170 June 25, 2004
Crop year
2003
2004
Parity
FOB Creil
FOB Creil
Position
July 2003
July 2004
Type
Variety
EURO
USD
EURO
USD
2RS
Scarlett
114.00
139.00
124.00
151.00
2RS
Prestige
112.00
136.50
122.00
148.50
2RS
Cellar
111.50
136.00
121.50
148.00
2RS
Aspen
111.50
136.00
121.50
148.00
2RS
Optic
111.50
136.00
121.50
148.00
2RS
Astoria
111.00
135.50
121.00
147.50
2RS
Cork
111.00
135.50
121.00
147.50
6RW
Esterel
106.00
129.50
108.00
131.50
Graph of the week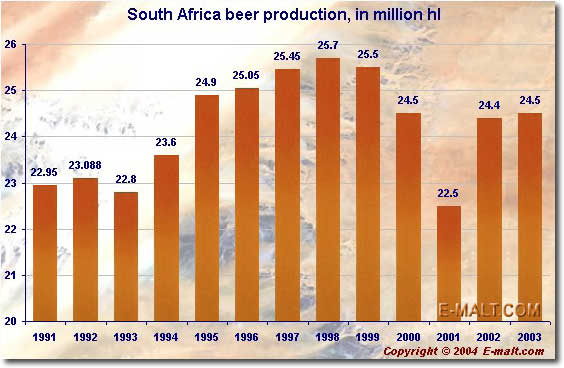 Agenda
June 2004:
BrewNZ 2004;
ALIMENTARIA MEXICO International Food and Beverages Exhibition;
Hotelympia;
BEVEX 2004 - Korea Int'l Beverage & Brewery Processing Technology Expo;
10th international symposium on pre-harvest sprouting in cereals;
BevTek / BrewTek;
IGC GRAINS CONFERENCE 2004;
26th Annual National Homebrewers Conference;
Scottish Traditional Beer Festival;
Coceral Congress 2004;
American Homebrewers Association 26th Annual National Homebrewers Conference;
Food Taipei;
The 9th International Barley Genetics Symposium;
Little Oktoberfest;

July 2004:
VI Moscow Beer Festival;
Lucky Baldwin's IPA Festival;
BevTek / BrewTek China;
Vermont Brewers Festival;
World Brewing Congress 2004;
Hop, malt and beer of Russia Exhibition;

August 2004:
Great British Beer Festival;
Worcester Beer and Cider Festival;
BeerTek China Beer and Brewing Technology Exhibition;
Peterborough Beer Festival 2004;
FOODWORLD Food and Beverage Exhibition;
TecnoBebida Latin America International Exhibition of Technologies for the Beverage Industry;

More events are available on site e-malt.com