China: Chongqing Brewery Co., China's sixth- biggest brewer by production, said the local government approved its plan to sell a 19.5 % stake to Scottish & Newcastle Plc
., the brewer of John Smith's and Kronenbourg, Bloomberg posted on July 2. The company's parent got permission from the Chongqing city authority to sell 50 million state-owned shares to the U.K.'s largest brewer, Chongqing Brewery said in a statement to the Shanghai stock exchange. Scottish & Newcastle said in February it will pay 35 million pounds ($65 million) for the stake. Scottish & Newcastle is making its first foray into China, where Anheuser-Busch Cos., SABMiller Plc and Interbrew SA are stepping up expansion as more Europeans and Americans cut back on beer drinking. China is the world's last beer producer, making 25.7 million tons last year, up 6.4 percent from 2002, according to Tsingtao Brewery Co., the nation's biggest brewer. Anheuser-Busch last month outbid SABMiller in a takeover battle for Harbin Brewery Co. in northeastern China. Interbrew bought 70 percent of China's Zhejiang Shiliang Brewery Company for $53.2 million in June. Chongqing, in the southwest, is China's most populous city, with about 31 million people, almost the population of Canada.
Danish brewing force, Carlsberg A/S, announced on 30 June 2004 that IØ acquires shares in Carlsberg breweries in Serbia and Bulgaria
. In connection with Carlsberg's decision to make an offer for the Serbian brewery Pivara Celarevo AD during the autumn of 2003 The Investment Fund for Central and Eastern Europe (IØ) promised to become shareholder once Carlsberg had gained full control over Pivara Celarevo, according to Carlsberg's press release. Today, Carlsberg owns 99.9 per cent of the brewery and therefore IØ will acquire 20 per cent of the share capital in the Serbian brewery at a price of DKK 93.3 million. Furthermore, Carlsberg and IØ have agreed that IØ also shall acquire 20 per cent of the share capital in Carlsberg Bulgaria AD at a price of DKK 56.1 million. Carlsberg's two Bulgarian breweries - Pirinsko Pivo AD and Shumensko Pivo AD - are in the process of being merged into one single company named Carlsberg Bulgaria AD. The total income of DKK 149.4 million will not have any effect on Carlsberg's financial results but improve the company's cash flow. Furthermore, the selling of shares gives Carlsberg a possibility to rely on upon IØ's extensive experience from other investments in Central and Eastern Europe.
Brazil's main antitrust regulator should approve the merger of AmBev and Belgium's Interbrew, which would create the world's largest brewer
, a competition watchdog said on June 29, according to Reuters. The deal would not compromise competition in the Brazilian beer market, the Justice Ministry's Economic Rights Secretariat (SDE) said in a statement. The watchdog recommended that the Administrative Council of Economic Defense, the antitrust regulator known as Cade, approve the $11.5 billion deal without conditions. Cade President Joao Grandino Rodas in May said the merger appeared to pose no competition threat in Brazil as Interbrew's share of the beer market was very small. Interbrew and Companhia de Bebidas das Americas (AmBev) said in March they would merge operations to create InterbrewAmbev, the world's No.1 brewer by volume, surpassing Anheuser-Busch Cos. Inc. (BUD.N: Quote, Profile, Research) . Schincariol, Brazil's No.2 brewer, filed a request with Brazilian antitrust authorities asking them to suspend the deal because it would hurt competition in Brazil. AmBev controls about two-thirds of the Brazilian beer market. Its main rivals are privately owned Schincariol and Kaiser, which is owned by Canadian brewer Molson Inc. AmBev's shares closed 0.2 percent higher at 612.50 reais in Brazil. The country's benchmark Bovespa stock gained 2.2 percent during the session.
Mexico: The CEO of Mexico's Grupo Modelo, the top U.S. beer importer with its Corona brand, said on June 30 a deal in the United States between local rival Femsa
and Dutch giant Heineken NV was a "master move." But Modelo CEO Carlos Fernandez said in a rare interview that the Mexico City-based brewer, No. 6 in the world, would not give up its leading position in the U.S. import market -- with 37 percent of imports -- without a fight, Reuters revealed on June 30. Femsa said in mid-June it was giving Heineken, the fourth largest brewer in the world, sole U.S. import rights for Femsa beers including Dos Equis and Tecate. "There are moves that I would classify as masterful from many of our international competitors ... master moves because no one expected them," Fernandez said. "The most reasonable would have been (for Femsa) to link with a local producer in the United States and have made some sort of alliance but it did not do it like that. Very good," the 37-year-old industrial engineer said. Heineken is the second-largest beer importer to the United States after Modelo, half owned by Anheuser Busch Cos. Inc., the world's largest brewer. "I believe (the Femsa-Heineken link) is going to strengthen, a lot, the portfolio of global brands that they are going to sell now in the United States," Fernandez said. "But it is nothing new," he said. "The important thing is not to rest on our laurels, to be very alert and look after our brands. That's always been our philosophy. "We are going to dedicate time to doing what we have always done, and that is to fight," he said. Analysts believe Heineken will position Femsa's beers in direct competition to Modelo's in the United States. The Heineken-Femsa accord, involving no money changing hands, came a month after Femsa dissolved its ties with Belgium's Interbrew SA (INTB.BR: Quote, Profile, Research) , agreeing to pay the Brussels company $1.245 billion to end a 10-year alliance. Modelo exports five times more beer to the United States than Femsa.
Russia: SUN Interbrew Ltd, a leading brewer in Russia and Ukraine, announced on July 1 it sells Bavaria to brewery management
. SUN Interbrew Ltd has made a decision to divest its stake (approx. 99%) in OJSC Bavaria, Saint-Petersburg, Russia (hereinafter "Bavaria"). This decision was taken in the context of a further optimization of the Company's brewing footprint in Russia. Given the responsibility felt for the employees of the brewery and in recognition of Bavaria's historical value to the city of Saint-Petersburg, SUN Interbrew is selling Bavaria to the brewery's management, which has expressed its intention to operate the brewery in the best interests of its staff and with full respect for city's cultural heritage. As part of a strategy to maintain a strong presence in the Saint-Petersburg region, SUN Interbrew and the Bavaria management have agreed that Bavaria will continue to produce certain products for SUN Interbrew for an agreed period of time. Mr. Joseph Strella, Chief Executive Officer of SUN Interbrew, will maintain his seat on the Board of Directors of the Bavaria until the next annual shareholders' meeting of the brewery. SUN Interbrew Limited is the second largest brewer in Russia and the largest brewer in Ukraine. The company is a strategic partnership between Interbrew, one of the largest brewers in the world, and the SUN Group, which has operated in the region since 1958, and in the beer sector of Russia and the CIS since the early 1990s. The company's main brands are Stella Artois®, Beck's®, Staropramen®, Sibirskaya Korona ®, Klinskoye ®, and Tolstiak® in Russia, and Stella Artois®, Beck's®, Chernigivske®, Rogan®, Taller® and Yantar® in Ukraine. SUN Interbrew is a public company registered in Jersey, whose shares are listed in Luxembourg and traded on the Luxembourg, Frankfurt and Berlin stock exchanges.
Malt News
France: The co-operative Agrial with 5800 workers is to invest EUR 45 million for an output of 100,000 tonnes of malt, planned for 2006/07 through its current project, a malt factory in Caen. Agrial invests about EUR 35 million per annum. French exports of malting barley are placed at the second world rank. So in the world's terms, 12% of world's beer is brewed using French barley.
Russia imported 101,000 tonnes of malt in January-March 2004, which is 27,000 tonnes more than a year ago. For the nine months of the crop year 2003/04 the imports were 360,000 tonnes, of which 73,000 tonnes from the new EU member countries.
Barley News
Lithuania: The forecast for the Lithuanian barley crop 2004 is optimistic. Compared to the 2003 crop the total acreage, the total barley crop and the share of malting barley is expected to increase, Viking Malt revealed in a press release. Over 100,000 tonnes of malting barley is needed to satisfy the total need of the malting industry in Lithuania. With the forecast in mind and looking back on previous years it seems that there will be enough domestic raw material to cover the demand in Lithuania if the summer is fairly good. If not, and Lithuania will be faced with a shortage of malting barley, there still is a possibility to import some of the needed quantity from other European countries to cover parts of the total demand. The normal sowing period in Lithuania is between the middle of April and the middle of May. We expect a slight change in varieties comparing the 2003 and 2004 crops. Barke is still the main variety on the Lithuanian fields with an estimated share of 60% representing 60 000 ton, followed by Scarlett (10%/10 000 tons) and the newcomer Prestige (10%/10 000 tons). Alexis and Pasadena on the other hand have lost their share as dominant varieties when they dropped 10% and 5% respectively from crop 2003 till crop 2004.
Theoretical malt prices.
EURO = USD 1.2170 July 02, 2004
Crop year
2003
Parity
FOB Antwerp
Position
July 2004-Sept 2004
Conditioning
Bulk
In bags
Bulk containers
Bags, containers
Malting barley variety
EURO
USD
EURO
USD
EURO
USD
EURO
USD
2RS
Scarlett
249.50
304.00
265.00
322.50
261.50
318.00
270.50
329.50
2RS
Prestige
247.50
301.00
262.50
319.50
258.50
315.00
268.50
326.50
2RS
Aspen
246.50
300.00
261.50
318.50
258.00
314.00
267.50
325.50
2RS
Optic
246.50
300.00
261.50
318.50
258.00
314.00
267.50
325.50
2RS
Astoria
246.00
299.50
261.00
317.50
257.50
313.50
267.00
325.00
2RS
Cork
246.00
299.50
261.00
317.50
257.50
313.50
267.00
325.00
2RS
Average price
247.50
301.00
262.50
319.50
258.50
315.00
268.50
326.50
2RS
FAQ
244.50
298.00
260.00
316.50
256.50
312.00
266.00
323.50
6RW
Esterel
240.00
292.00
255.00
310.50
251.50
306.00
261.00
317.50
*
Asia Malt 70/30
245.00
298.00
260.00
316.50
256.50
312.00
266.00
323.50
**
Asia Malt 50/50
243.50
296.50
258.50
314.50
255.00
310.50
264.50
322.00
* - 70/30 = 70% Average two Rows Spring and 30% Six Rows Winter
** - 50/50 = 50% Average two Rows Spring and 50% Six Rows Winter
Theoretical malt prices for crop 2004 are available online
www.e-malt.com/MarketPrices
Malting barley prices. French barley prices.
Nominal prices.
EURO = USD 1.2170 July 02, 2004
Crop year
2003
2004
Parity
FOB Creil
FOB Creil
Position
July 2003
July 2004
Type
Variety
EURO
USD
EURO
USD
2RS
Scarlett
114.00
139.00
124.00
151.00
2RS
Prestige
112.00
136.50
122.00
148.50
2RS
Cellar
111.50
136.00
121.50
148.00
2RS
Aspen
111.50
136.00
121.50
148.00
2RS
Optic
111.50
136.00
121.50
148.00
2RS
Astoria
111.00
135.50
121.00
147.50
2RS
Cork
111.00
135.50
121.00
147.50
6RW
Esterel
106.00
129.50
108.00
131.50
Graph of the week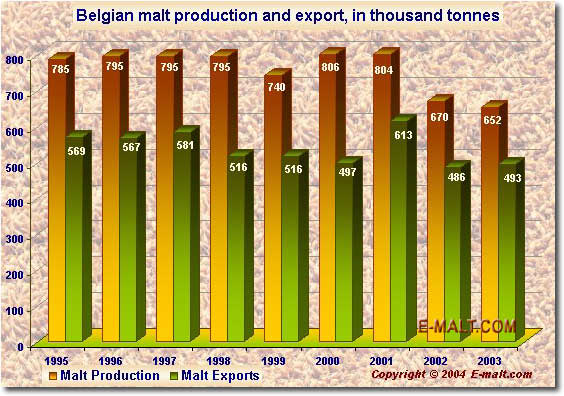 Agenda
July 2004:
VI Moscow Beer Festival;
Lucky Baldwin's IPA Festival;
BevTek / BrewTek China;
Vermont Brewers Festival;
BEVTECH 2004 Thailand;
World Brewing Congress 2004;
Hop, malt and beer of Russia Exhibition;

August 2004:
Great British Beer Festival;
Worcester Beer and Cider Festival;
BeerTek China Beer and Brewing Technology Exhibition;
Peterborough Beer Festival 2004;
FOODWORLD Food and Beverage Exhibition;
TecnoBebida Latin America International Exhibition of Technologies for the Beverage Industry;

September 2004:
6th BELGIAN BEER WEEKEND;
China Brew 2004 / China Beverage 2004;
International Brewery and Soft Drinks Industry Exhibition;
FOOD & BEVERAGE PROCESSING & PACKAGING INDONESIA 2004;
Pivoindustria International Beer Industry Exhibition;
National Beer Wholesalers Show 2004;
PAN ASIAN FOOD & BEVERAGE TRADE SHOW 2004;
Barley Malt Quality Evaluation Short Course;
EUROMALT BARLEY SEMINAR 2004;
bevex Beverage Trade Fair;
InterBev 2004;
YUGOSLAVIA INTERNATIONAL FAIR OF FOOD & BEVERAGES 2004;
BevExpo 2004;
Great American Beer Festival;

More events are available on site e-malt.com