Belgium: Interbrew announced on 13 July 2004 it realized a total volume of 54.7 million hectoliters in the first half of 2004
, +21% higher than the volume of 45 million hectoliters in the same period of last year. Organic volume growth amounted to 2.5 million hectoliters, or +5.5%, almost three times the global industry growth rate. This growth was realized in a broadly favorable pricing environment. Particularly positive were the continued market-share gains of the two international premium brands, with Stella Artois® volume growing more than +6% and Beck's® more than +14%. Second-quarter organic volume growth was +2%, below first-quarter growth of +11%, which benefited from a particularly weak 2003 first quarter, while the 2003 second quarter was strong. Organic volume growth in the Americas was +7%, led by stronger volumes in the U.S. import segment. Our operations in Canada produced slightly higher volumes despite aggressive pricing in the value & discount segment. In Western Europe, volume and share gains occurred in most of our markets but organic volume declined -1.8%, mainly due to the termination of a beverage distribution contract in the UK, which will have no impact on EBITDA. Organic volume growth in Central and Eastern Europe was +18%. In Central Europe, the growth of the beer market slowed, and Interbrew's performance was in line with that trend. Both the Russian and Ukrainian operations experienced outstanding year-to-date performances, with volumes and market share showing substantial growth. Organic volume in the Asia Pacific Zone declined -2.8%. In South Korea, due to the economic environment the beer market remained depressed. The 5.9 million hectoliters volume growth in China is mostly explained by the acquisition of the Lion Group, while existing operations recorded double digit organic volume growth...
more info
Japan: Japanese beer shipments failed in the first half of 2004 for the third straight year despite favourable weather and against industry expectations
, figures from the nation's five main brewers showed on July 12, according to Reuters. The fall could prompt makers such as Kirin Brewery Co. Ltd. to cut their full-year volume outlooks, analysts said. The brewers' combined shipments of beer and the popular low-malt alternative, "happoshu", fell 6.4 % in January-June from the same period a year earlier. That was in spite of expectations of a rebound in May, a year after a higher tax rate for happoshu was introduced. Combined shipments for May fell, however, as Japanese consumers turned increasingly to non-beer alternatives such as "chuhai", a drink based on Japanese shochu liquor and soda water. Daiwa Institute of Research analyst Tsutomu Matsuno said he expected companies to revise down target sales although this would not necessarily affect their profit outlooks. "There won't be that much impact on profits since the companies have a lot of leeway to cut costs such as marketing costs," he said. For the full year, top brewer Asahi Breweries Ltd., known for its flagship "Super Dry" beer, has projected flat growth for its full year beer and happoshu sales volume, after a 2.6 percent fall in 2003. Number-two Kirin has forecast 2004 combined sales to rise 2.2 percent this year following a 7.6 percent slide last year. Both companies said their forecasts remain unchanged at least until August when half-year results are due. Of the two, Kirin had the harder time, with its first-half beer and happoshu shipments falling 6.6 percent, although its market share was little changed at 35.7 percent...
more info
Hong Kong: Anheuser-Busch, the world's largest brewer, announced on July 12 it now holds 99.66 % of China's Harbin Brewery Group Ltd
. and plans to take the company private. The U.S. brewer, which made a $720 million bid for Harbin, said in a statement that it had received acceptances for 98.81 % of the shares in the offer, or 64.42 % of the Chinese firm's issued share capital. The offer period has been extended until further notice to give shareholders who have yet to accept the offer more time to consider, the statement said. Anheuser-Busch, which won a landmark takeover battle with arch-rival SABMiller for control of Harbin, said Harbin will apply to Hong Kong's stock exchange to delist its shares. Harbin shares have gained 41 % in the past three months on the Hong Kong Stock Exchange. On Monday, Harbin Brewery closed at HK$5.50 (US$0.70) on the stock exchange, down HK$0.05 from the previous trading day. London-based beer maker SABMiller, the world's second largest brewer in volume, had also tried to take over Harbin Brewery but withdrew from the tender process, saying the Chinese company was "not an essential asset at any price." Anheuser-Busch is reportedly paying a fat $720 million for Harbin Brewery, which is among the top five brewers in China, where consumption has surged 40 percent sine 1997 and is expected to grow 6 percent a year for the near future, way above the 1 percent growth in the US market. In addition to the 36 percent stake in Harbin Brewery, Anheuser-Busch holds a 9.9 percent share in Tsingtao Brewery Co., which plans to increase to 27 percent over the next several years. Anheuser-Busch also owns 97 percent of the Budweiser Wuhan International Brewing Co. in Wuhan, China, which produces the Budweiser beer for the China market.
Euro 2004 results: 25 million liters of beer were sold in Portugal during the only period of the Euro 2004
. UK sales of beer and lager during the Euro 2004 tournament are 25% higher than those seen at any point during the 2002 World Cup, with kick-off times a big factor, according to TNS Superpanel. TNS are running weekly reports on supermarket beer and lager sales throughout the Euro 2004 competition. In the four-weeks to 20 June 2004, beer sales in Britain have reached their highest level, outside of Christmas sales, for three years. Sales actually dropped very slightly last week – probably a result of specific match schedules and the promotion of 24-pack purchases which meant drinkers stocked up early on in the tournament - but were still well above average weekly sales from last month. The Carlsberg brand is both official sponsor to Euro 2004 and the official beer of the England team, and seems to be reaping the benefits with Carlsberg ranked as the leading brand performer in supermarkets for two weeks running. Other strong performances have been seen in the sales of Budweiser, Stella Artois and Kronenbourg 1664 during the week ending 20 June 2004...
more info
United States imports of beer, in hectolitres
| | | | |
| --- | --- | --- | --- |
| from | 2002 | 2003 | Change, % |
| Mexico | 11,509,730 | 11,997,923 | 4.2% |
| Netherlands | 6,894,989 | 6,967,088 | 1.0% |
| Canada | 3,974,368 | 3,893,284 | -2.0% |
| Germany | 1,442,217 | 1,402,651 | -2.7% |
| Ireland | 711,608 | 958,829 | 34.7% |
| United Kingdom | 1,179,724 | 952,662 | -19.3% |
| Belgium | 162,817 | 225,310 | 38.4% |
| Czech Republic | 174,441 | 164,126 | -5.9% |
| Jamaica | 132,780 | 159,659 | 20.2% |
| Dominican Republic | 135,714 | 137,585 | 1.4% |
| Poland | 56,346 | 99,096 | 75.9% |
| Italy | 75,246 | 87,331 | 16.1% |
| Total | 26,449,980 | 27,045,544 | 2.3% |
Malt News
USA: Now, after a major construction project, the Anheuser-Busch plant south of Idaho Falls will be able to double its malt-barley production. Idaho is the second largest producer of malt barley in the United States, Idaho News posted on July 8. Work is finished on the multi (m) million dollar expansion at the malt plant. The facility can now buy more barley from local growers and produce 16 (m) million bushels of malt per year. The plant employs 59 workers. The construction put in an additional 25 (m) million dollars of revenue into the local economy. Anheuser-Busch says the farm income generated by these grower contracts is 73 (m) million dollars. Last Saturday, Anheuser-Busch celebrated its expansion with state and county leaders and local barley growers on the grounds of the malt plant.
EU: Good malt export figures did not improve the market mood, analysts have recently revealed in a statement. According to them, the threatening overcapacity and the market power of the large brewery groups did not allow an improvement of prices. Quantities of malt purchased in June for delivery in 2005 were very substantial, buyers were Interbrew for Germany, Kronenbourg, Carlsberg-Holsten, Brau+Brunnen. Prices were below EUR 250, average price for the year, delivered breweries.
Barley News
France: The content of protein in French barley is heterogeneous, generally ranging between 10,5% and 12%, according to the first estimation of the barley harvest in France. Calibration is sometimes disappointing, in particular for Esterel, analysts revealed in a statement.
China imported 1.014 million tonnes of barley in July – April 2004, of which 623,000 tonnes from Australia and 253,000 tonnes from Canada. It is still uncertain, whether some or even many shipments of Australian and Canadian barley in container were not registered in the import statistics, according to analysts' statements. Forecasts are that China will need to import 1.8 – 2.0 million tonnes in the calendar year 2004.
In Denmark planted acres of spring barley are around 580,000 ha
, however, harvested acres are estimated at 520,000 ha, because Danish farmers will cut 50-60,000 ha for green fodder.
Theoretical malt prices.
EURO = USD 1.2412 July 13, 2004
Crop year
2003
Parity
FOB Antwerp
Position
July 2004-Sept 2004
Conditioning
Bulk
In bags
Bulk containers
Bags, containers
Malting barley variety
EURO
USD
EURO
USD
EURO
USD
EURO
USD
2RS
Scarlett
248.50
308.50
263.50
327.00
260.00
322.50
269.50
334.50
2RS
Prestige
246.00
305.50
261.00
324.00
257.50
319.50
267.00
331.50
2RS
Aspen
245.50
304.50
260.50
323.50
257.00
319.00
266.50
330.50
2RS
Optic
245.50
304.50
260.50
323.50
257.00
319.00
266.50
330.50
2RS
Astoria
244.50
303.50
260.00
322.50
256.50
318.00
266.00
330.00
2RS
Cork
244.50
303.50
260.00
322.50
256.50
318.00
266.00
330.00
2RS
Average price
246.00
305.50
261.00
324.00
257.50
319.50
267.00
331.50
2RS
FAQ
243.50
302.50
258.50
321.00
255.00
316.50
264.50
328.50
6RW
Esterel
238.50
296.00
253.50
315.00
250.00
310.50
259.50
322.50
*
Asia Malt 70/30
243.50
302.50
259.00
321.50
255.50
317.00
265.00
328.50
**
Asia Malt 50/50
242.50
300.50
257.50
319.50
254.00
315.00
263.50
327.00
* - 70/30 = 70% Average two Rows Spring and 30% Six Rows Winter
** - 50/50 = 50% Average two Rows Spring and 50% Six Rows Winter
Theoretical malt prices for crop 2004 are available online
www.e-malt.com/MarketPrices
Malting barley prices. French barley prices.
Nominal prices.
EURO = USD 1.2412 July 13, 2004
Crop year
2003
2004
Parity
FOB Creil
FOB Creil
Position
July 2003
July 2004
Type
Variety
EURO
USD
EURO
USD
2RS
Scarlett
113.00
140.50
123.00
153.00
2RS
Prestige
111.00
138.00
121.00
150.50
2RS
Cellar
110.50
137.50
120.50
149.50
2RS
Aspen
110.50
137.50
120.50
149.50
2RS
Optic
110.50
137.50
120.50
149.50
2RS
Astoria
110.00
136.50
120.00
149.00
2RS
Cork
110.00
136.50
120.00
149.00
6RW
Esterel
105.00
130.50
105.00
130.50
Graph of the week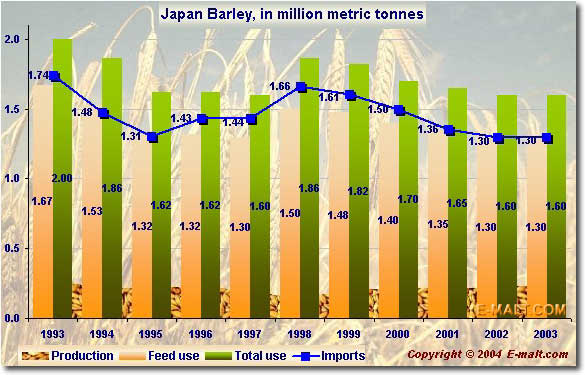 Agenda
July 2004:
VI Moscow Beer Festival;
Lucky Baldwin's IPA Festival;
BevTek / BrewTek China;
Vermont Brewers Festival;
BEVTECH 2004 Thailand;
INTERNATIONAL QUALITY GRAINS CONFERENCE;
World Brewing Congress 2004;
Hop, malt and beer of Russia Exhibition;

August 2004:
Great British Beer Festival;
Worcester Beer and Cider Festival;
BeerTek China Beer and Brewing Technology Exhibition;
Peterborough Beer Festival 2004;
FOODWORLD Food and Beverage Exhibition;
TecnoBebida Latin America International Exhibition of Technologies for the Beverage Industry;

September 2004:
6th BELGIAN BEER WEEKEND;
China Brew 2004 / China Beverage 2004;
International Brewery and Soft Drinks Industry Exhibition;
FOOD & BEVERAGE PROCESSING & PACKAGING INDONESIA 2004;
Pivoindustria International Beer Industry Exhibition;
National Beer Wholesalers Show 2004;
PAN ASIAN FOOD & BEVERAGE TRADE SHOW 2004;
Barley Malt Quality Evaluation Short Course;
EUROMALT BARLEY SEMINAR 2004;
bevex Beverage Trade Fair;
InterBev 2004;
YUGOSLAVIA INTERNATIONAL FAIR OF FOOD & BEVERAGES 2004;
BevExpo 2004;
Great American Beer Festival;

More events are available on site e-malt.com