Russia, Moscow: Alfa Eko, a unit of Russian private financial company Alfa Group, announced on Tuesday, July 13, it had acquired 10.4 % of the voting shares in brewer Sun Interbrew
in the form of global depository receipts (GDRs). Alfa Eko said it acquired 2,896,531 voting shares of Sun Interbrew. The company has not revealed the amount of transaction, however, according to analysts, Alfa Eko paid about US$ 8.7 per share. On July 15 Alfa Group announced already it had increased its share holding in Sun Interbrew to 15% and it intends to buy more shares reaching 30% plus one share, according to Russian media. The acquisition makes Alfa Group's Alfa Eko the third-biggest holder of voting shares in Sun Interbrew, which is the No. 2 brewer in Russia and market leader in Ukraine. "The acquisition of these shares is motivated by the group striving to occupy a serious position in the beer industry in Russia and the Commonwealth of Independent States," Alfa Eko said in a statement. Alfa Eko plans to call for an extraordinary shareholders' meeting at Sun Interbrew to install one or several of its representatives on the board of directors. "Of course we will obtain places on the board of directors. We believe a Russian partner with experience of mergers and acquisitions will be useful to the company's management," Alfa Eko director Igor Baranovsky told Reuters. "We will conduct talks. We don't want to act in an unfriendly or aggressive manner." Sun Interbrew is the Russian-Ukrainian subsidiary of Belgium's Interbrew and India's Sun Group. Belgian Interbrew controls more than 70% of the company and Indian group SUN - more than 10%. SUN Interbrew Limited is the second largest brewer in Russia and the largest brewer in Ukraine. The company is a strategic partnership between Interbrew, one of the largest brewers in the world, and the SUN Group, operating in the region since 1958, and in the beer sector of Russia and CIS since the beginning of 1990s...
more info
World: In 2003 there was a year-on-year increase in world's beer output of 2.4%
. Last year the world's breweries produced about 1.478 billion hl of beer versus 1.443 billion hl in 2002. In 2003, by far the greatest growth in terms of volume was recorded in China. While the greatest growth in Europe was recorded in Russia (3.0m hl / 4.3%), the sharpest fall was in Germany (2.1m hl / 1.9%). Mexico's growth of +2.7m hl / 4.3% was the main factor in the significant rise in output in Central America. In Asia, growth in China (18.5m hl / 7.8%) was offset by the sharp fall in Japan (-4.3m hl / -6.3%). The large increase in Africa comes mainly from Nigeria (1.6m hl / 22.9%).
China: Denmark's brewing giant, Carlsberg A/S, announced on 15 July 2004 it acquires more breweries in China
. Carlsberg and the Danish Industrialization Fund for Developing Countries (IFU) have agreed with Lanzhou Huanghe Enterprise Group to acquire 50 % of the Lanzhou Huanghe Brewery, which includes three breweries in the Gansu province. The three Lanzhou Huanghe breweries hold a capacity of approximately 2.5 million hl beer and a 36 per cent market share with a rising trend. Furthermore, there is only one more brewery in the Gansu province. For over two years, the Lanzhou Huanghe Brewery's sales in the Gansu province have developed very positively. The group's strong regional brand Huanghe (Yellow River) is one of only three Chinese beer brands, which have been given the title "China's Most Famous Trademark". Over a 10-year period, the present per capita consumption of 8.5 litres in the Gansu province is expected to increase to approximately 20 litres which is the present average per capita consumption in China. In the neighbouring Qinghai province, a green field brewery with an initial capacity of 0.5 million hl beer will be constructed of which Carlsberg and IFU acquire 40 per cent. Construction will start this summer and until the new brewery is finalized, the market will be supplied from the Gansu province. In the Qinghai province, the present per capita consumption of 12 litres is expected to develop in line with that of Gansu. Carlsberg and IFU acquire the four breweries in the Gansu and Qinghai provinces at a total price of DKK 115 million. The price equals $17 per hl installed capacity. In 2004, the four breweries' sales is expected to reach a total of 1.6 million hl beer and once the construction in the Qinghai province is finalized, the total capacity of the four breweries will be approximately 3 million hl beer. The acquisition of a total production capacity of approximately 3 million hl beer and a well-known brand fits well into Carlsberg's strategy to establish a strong position in Western Chinese provinces. Therefore, this investment is a natural extension of previous acquisitions in the Yunnan province and Tibet. IFU also participated in Carlsberg's previous acquisition in Tibet and the investment in the Gansu and Qinghai provinces is in line with IFU's objective to enter into projects in regions in great need of economic and social development.
Brazil: AmBev, Brazil's top brewer, recovered more domestic beer market share in June, while rivals Molson and Schincariol were steady or lost ground
, the market leader said on July 14. Companhia de Bebidas das Americas (AmBev) said data from market research firm AC Nielsen showed its share of the Brazilian market, where it earns most of its revenue, rose 0.3 percentage points to 66.3 % in June. Reuters revealed that AmBev is in the process of merging with Belgium's Interbrew to create the world's biggest brewer in volume terms ahead of U.S. giant Anheuser-Busch Cos. Inc. Privately owned Brazilian brewer Schincariol saw its market share remain stable at 13.1 percent, AmBev said. But the share of Canada's Molson Inc. eased to 10.9 percent in June from 11.1 percent in May, its third consecutive monthly drop. Representatives of AC Nielsen were not immediately available to comment. The firm usually declines comment on its Brazil beer market research as a matter of policy. Schincariol helped drag AmBev's market share down to 63.2 percent in December from 70.1 percent in June with a revamp of its main brand Nova Schin and large marketing campaign. But AmBev, whose brands include Skol, Brahma and Antarctica, has spent more on marketing this year to try to recover its traditional 67 percent to 70 percent market share. AmBev stock closed 0.3 percent weaker at 652 reais on Wednesday. Brazil's benchmark Bovespa stock index ended steady.
Malaysia: San Miguel Corp., the Philippines' largest food and beverage company's application for a permit to build a brewery and liquor plant in Johor
is believed to facing stern resistance from rival beer makers. Mail Money was told that Malaysia's existing brewers are against the move to issue the licence to San Miguel on concerns that its entry here would push prices down, and malign capacity, The Malay Mail posted on July 13. The two breweries operating here - Carlsberg Brewery Malaysia Bhd and Guinness Anchor Bhd - are believed to be operating at between 60 % and 70 % of their capacity. San Miguel had made a formal application for the permit some months ago, with a commitment to spend as much as US$100 million (US$1 = RM3.80) to exert its presence in Malaysia and Singapore. San Miguel, the Philippines biggest listed company with a market capitalisation of about US$1.5 billion is 27 % owned by the Philippines Government, while Japan's number two beer maker Kirin Brewery Co Ltd has a 15 % stake. The Manila-based brewer, which sells nine of every 10 bottles of beer in the Philippines, had acquired over the past couple of weeks the assets of Thai Amarit Brewery Co and set up a new company PT San Miguel Indonesia Foods & Beverages, as part of its seven-country, US$700 million expansion plan. In Malaysia, San Miguel plans to purchase a 20ha site in Johor to establish a beer and hard liquor facility. If it gets the licence, San Miguel will become only the third brewer operating directly from Malaysia. In 2003 Malaysia output 1.25 million hl of beer versus 1.4 million hl in 2002.
Malt News
In its monthly report of June 30 the International Grain Council reports "that the world malt trade of 2002/03 had been 4.3 million tonnes. That is an increase of 37 % in seven years, from the crop year of 1995/96. As China continues to process barley itself and Russia is constructing a number of new malting factories, the malt trade is expected to stagnate over the next few years, until 2008/09. Sales losses to Russia will be compensated by a better demand in Latin America and some Asian countries. Trade of malting barley, on the other hand, will grow by 5 % annually, to almost 6.3 million tonnes in that same year of 2008/09".
Barley News
Ukraine: APK-Inform analysts are forecasting the total barley crop in Ukraine in 2004 to be at the level of 10 million tonnes. The experts have reviewed their previous barley crop forecast of 8.8 million tonnes on account of the latest updates on the planted areas and operative reports about the yield of the crop being harvested, AgriMarket.Info posted on July 13. According to State Statistics Committee's finalized data, the total sown area of barley to be harvested this year in Ukraine (both winter and spring varieties) is 4.7 million hectares. The harvest area, according to the analysts, should be expected at about 4.3 million hectares. According to the operative reports, the actual barley yield on 7 percent of the area, harvested up to the moment, is at the level of 2.87 tonnes per hectare in bunker weight equivalent. The experts forecast the yield in the final weight equivalent to be around 2.33 tonnes per hectare, with a possible upward revision of this figure (and, consequently, of the total barley crop) in the next periods. According to State Statistics Committee, harvest area of barley in 2003 was 4.6 million hectares, with the planted area having been 5.8 million hectares. The total barley crop was 6.8 million tonnes at an average yield of 1.49 tonnes per ha. Vast areas of winter barley were lost or severely damaged by disastrous weather conditions in winter 2002/03.
USDA barley trade forecast: In 2004/2005 Russia is to export about 2,0 million tonnes of barley an increase of 200,000 tonnes versus the last forecast, according to the new forecast of USDA published on July 13. USDA also predicted Ukraine will export 2.3 million tonnes of barley in 2004/2005. EU-25 barley export forecast is lowered by 500,000 tonnes to 2.5 million in light of stronger competition from the Black Sea region and the current absence of export subsidies.
Theoretical malt prices.
EURO = USD 1.2349 July 16, 2004
Crop year
2003
Parity
FOB Antwerp
Position
July 2004-Sept 2004
Conditioning
Bulk
In bags
Bulk containers
Bags, containers
Malting barley variety
EURO
USD
EURO
USD
EURO
USD
EURO
USD
2RS
Scarlett
248.50
306.50
263.50
325.50
260.00
321.00
269.50
332.50
2RS
Prestige
246.00
303.50
261.00
322.50
257.50
318.00
267.00
329.50
2RS
Aspen
245.50
303.00
260.50
321.50
257.00
317.50
266.50
329.00
2RS
Optic
245.50
303.00
260.50
321.50
257.00
317.50
266.50
329.00
2RS
Astoria
244.50
302.50
260.00
321.00
256.50
316.50
266.00
328.50
2RS
Cork
244.50
302.50
260.00
321.00
256.50
316.50
266.00
328.50
2RS
Average price
246.00
303.50
261.00
322.50
257.50
318.00
267.00
329.50
2RS
FAQ
243.50
300.50
258.50
319.50
255.00
315.00
264.50
326.50
6RW
Esterel
238.50
294.50
253.50
313.50
250.00
309.00
259.50
320.50
*
Asia Malt 70/30
243.50
301.00
259.00
319.50
255.50
315.50
265.00
327.00
**
Asia Malt 50/50
242.50
299.00
257.50
318.00
254.00
313.50
263.50
325.00
* - 70/30 = 70% Average two Rows Spring and 30% Six Rows Winter
** - 50/50 = 50% Average two Rows Spring and 50% Six Rows Winter
Theoretical malt prices for crop 2004 are available online
www.e-malt.com/MarketPrices
Malting barley prices. French barley prices.
Nominal prices.
EURO = USD 1.2349 July 16, 2004
Crop year
2003
2004
Parity
FOB Creil
FOB Creil
Position
July 2003
July 2004
Type
Variety
EURO
USD
EURO
USD
2RS
Scarlett
113.00
139.50
123.00
152.00
2RS
Prestige
111.00
137.50
121.00
149.50
2RS
Cellar
110.50
136.50
120.50
149.00
2RS
Aspen
110.50
136.50
120.50
149.00
2RS
Optic
110.50
136.50
120.50
149.00
2RS
Astoria
110.00
136.00
120.00
148.50
2RS
Cork
110.00
136.00
120.00
148.50
6RW
Esterel
105.00
130.00
105.00
130.00
Graph of the week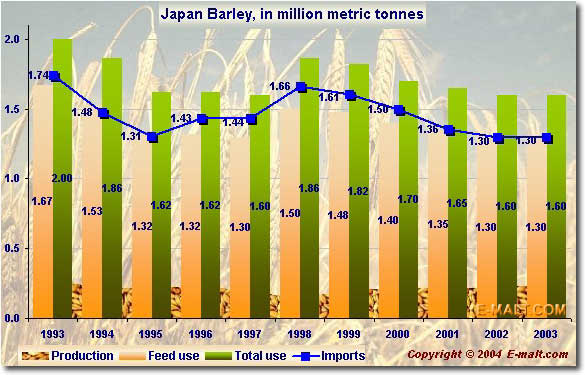 Agenda
July 2004:
VI Moscow Beer Festival;
Lucky Baldwin's IPA Festival;
BevTek / BrewTek China;
Vermont Brewers Festival;
BEVTECH 2004 Thailand;
INTERNATIONAL QUALITY GRAINS CONFERENCE;
World Brewing Congress 2004;
Hop, malt and beer of Russia Exhibition;

August 2004:
Great British Beer Festival;
Worcester Beer and Cider Festival;
BeerTek China Beer and Brewing Technology Exhibition;
Peterborough Beer Festival 2004;
FOODWORLD Food and Beverage Exhibition;
TecnoBebida Latin America International Exhibition of Technologies for the Beverage Industry;

September 2004:
6th BELGIAN BEER WEEKEND;
China Brew 2004 / China Beverage 2004;
International Brewery and Soft Drinks Industry Exhibition;
FOOD & BEVERAGE PROCESSING & PACKAGING INDONESIA 2004;
Pivoindustria International Beer Industry Exhibition;
National Beer Wholesalers Show 2004;
PAN ASIAN FOOD & BEVERAGE TRADE SHOW 2004;
Barley Malt Quality Evaluation Short Course;
EUROMALT BARLEY SEMINAR 2004;
bevex Beverage Trade Fair;
InterBev 2004;
YUGOSLAVIA INTERNATIONAL FAIR OF FOOD & BEVERAGES 2004;
BevExpo 2004;
Great American Beer Festival;

More events are available on site e-malt.com