Canada: In response to reports published on July 19 in the public media, Molson Inc. and Adolph Coors Company confirmed that they are in advanced discussions
concerning a possible merger of equals between the two companies, the terms of which are still being discussed and are subject to final Board approvals. The parties confirmed that the terms being discussed include Eric Molson (currently Molson's Chairman) becoming Chairman of the Board; Leo Kiely (currently Coors' Chief Executive Officer) becoming Chief Executive Officer; and Daniel J. O'Neill (currently Molson's President and Chief Executive Officer) becoming Vice Chairman, Synergies and Integration, of the combined company. "An announcement could be made in the near future. There can be no assurance that a transaction will take place. The parties do not intend to make any further comment prior to entering into a combination agreement or the termination of negotiations." The deal, if completed, would likely offer little or no premium to shareholders of either company and split the executive jobs among the two companies. The terms being discussed include naming Molson Chairman Eric Molson the combined company's chairman, while Coors Chief Executive Officer Leo Kiely would be CEO, the companies said in a joint statement. The deal would solve expansion issues for both companies, which have watched larger rivals snatch up competitors around the globe over the past few years, Reuters commented on July 19. "Global beer is consolidating at a fairly healthy clip," said Raymond Lai, analyst with Raymond James Ltd. "And certainly from a purchasing power point of view, a bigger beer company would benefit from purchasing advantage as they do much more global sourcing of their raw materials, which is a large component of cost structuring...
more info
EU: A European Union Office for Harmonisation in the Internal Market (OHIM) has rejected Czech brewer Budejovicky Budvar's efforts to block Anheuser-Busch's registration
for "Bud" in a variety of entertainment and marketing services, the US brewer said on July 19, according to American City Business Journals. The office ruled in favor of A-B in three of four trademark classes, the company said. A-B said it plans to appeal the other portion of the ruling. If upheld on appeal, the company would get registration for "Bud" for all marketing services in the European Union, it said. "The EU trademark office has resoundingly rejected Budejovicky Budvar's attempts to block our registration for our 'Bud' trademark," said Steve Burrows, president and chief executive, Anheuser-Busch International, in a statement. "This sets an important precedent as we fight to protect our 'Budweiser' and 'Bud' trademarks in Europe." This legal dispute between the two companies began in 2001 when Budejovicky Budvar opposed Anheuser-Busch's registration for Bud, and has spread to more than 50 countries worldwide. A-B has won most of the battles, but almost all of these have focused on the beer name – opening up the tantalising possibility that Budvar could attempt similar blocking moves at the marketing level in other countries. St. Louis-based Anheuser-Busch Cos. Inc., the world's largest brewer, manufactures and recycles aluminum cans and operates theme parks. It is the area's 19th largest employer.
Hong Kong: China's leading Tsingtao Brewery and Anheuser-Busch are seeking to rewrite a strategic "hands-off'' agreement after Anheuser's acquisition of Harbin Brewery
. Tsingtao chairman Li Guirong says the agreement stated that Tsingtao would not co-operate with another foreign brewer in China, nor would Anheuser-Busch partner with another local brewer, The Standard announced on July 20. Li told Hong Kong reporters at the company's headquarters in Qingdao on Friday that Anheuser-Busch's takeover of Harbin, China's fourth-largest brewer, broke an agreement signed two years ago. At stake is a leading position in the world's largest beer market, which analysts say is poised to grow at 5-8 per cent a year over the medium to long term after torrid growth of 10-20 per cent annually in the 1980s. The Chinese consumed 254 million hectolitres of beer in 2003, compared to 238.7 million hectolitres in 2002. Li said when Anheuser-Busch, which has a 9.9 per cent stake in Tsingtao, notified Tsingtao about its interest in taking control of Harbin, Tsingtao supported the decision. Li said the two brewers recognised that was an acquisition opportunity when SABMiller and Harbin seemed to have met some obstacles in their venture - SABMiller acquired a 29.4 per cent stake in Harbin last July. Now that the American giant brewer has acquired 99.66 per cent of Harbin after winning the mainland's first foreign hostile takeover with its arch-rival SABMiller, and announced its intention to privatise Harbin, Li said Tsingtao and Anheuser-Busch would have to iron out some terms in their exclusive agreement. "We have a strategic partnership agreement with Anheuser-Busch that is exclusive and obvious," Li said. "Now that Anheuser-Busch has acquired Harbin, it should return to discuss the exclusive agreement." Li refused to elaborate further on what exactly the two brewers will discuss. "How we are going to proceed is still under discussion,'' he said, without giving a timeframe. "It will definitely be in the best interests of our shareholders...
more info
Russia: Russian brewery, Ivan Taranov Breweries (PIT), is to increase its market share in the local licenced beer segment from 6% to 20% by 2007
, Russian media posted on July 16. The group hopes to achieve the result with the help of Bitburger and Bavaria brands. PIT plans to reach 5% of the licenced beer segment from Bitburger sales and 15% from Bavaria sales. In December 2003 Ivan Taranov signed the licenced agreement with the German group Bitburger to output the beer under the same brand. Ivan Taranov Breweries (PIT) was created in 1998 on the base of distributing company North Winds Brewing Co., which has already invested in the Russian beer industry more than USD 70 million. PIT output local brands: PIT, Tri Medvedya, Doctor Diesel etc. and licenced ones: Goesser, Bavaria, Bitburger.
The 40 beer giants of the world for 2003
Rank
Brewery
Country
Beer production in million hl
Percentage of world beer production
1
Anheuser-Busch
USA
152.0
10.3 %
2
SAB-Miller
South Africa/USA
137.8
9.3 %
3
Heineken
Netherlands
99.0
6.7 %
4
Interbrew
Belgium
97.9
6.6 %
5
Carlsberg
Denmark
88.8
6.0 %
6
AmBev
Brazil
67.4
4.6 %
7
Modelo
Mexico
41.9
2.8 %
8
Coors
USA
38.6
2.6 %
9
Tsingtao
China
32.6
2.2 %
10
Scottish&Newcastle
United Kingdom
31.8
2.2 %
11
Asahi
Japan
25.9
1.8 %
12
Femsa
Mexico
24.6
1.7 %
13
Santo Domingo (Bavaria)
Columbia
23.5
1.6 %
14
Kirin
Japan
23.1
1.6 %
15
Yan Ying
China
22.3
1.5 %
16
Molson
Canada
21.0
1.4 %
17
Baltika
Russia
16.1
1.1 %
18
Schincariol
Brazil
15.0
1.0 %
19
San Miguel
Philippines
14.8
1.0 %
20
Diageo/Guinness
United Kingdom/Ireland
13.0
0.9 %
21
Foster's
Australia
12.7
0.9 %
22
BGI/Castel
France
12.6
0.9 %
23
Efes
Turkey
11.8
0.8 %
24
Harbin
China
11.7
0.8 %
25
Chang
Thailand
11.1
0.8 %
26
Polar
Venezuela
11.0
0.7 %
27
Lion Nathan
New Zealand/Australia
10.6
0.7 %
28
Mahou – San Miguel
Spain
10.3
0.7 %
29
Hite
South Korea
10.0
0.7 %
30
Gold Star
China
9.4
0.6 %
31
Chong Qing
China
9.1
0.6 %
32
Zhu Jiang
China
8.8
0.6 %
33
Holsten
Germany
8.8
0.6 %
34
Sapporo
Japan
8.5
0.6 %
35
Radeberger
Germany
7.6
0.5 %
36
Brau und Brunnen
Germany
7.2
0.5 %
37
Suntory
Japan
6.8
0.5 %
38
Damm
Spain
6.1
0.4 %
39
Ochakovo
Russia
6.0
0.4 %
40
Bitburger
Germany
5.8
0.4 %
1-40
Total (1-40)
1,173.0
79.3 %
World beer production 2003
1,478.5
100.0 %
Source: Joh.Barth
Malt News
Trifle business regarding malt has been done to Japan, Vietnam, Singapore; many large buyers have not yet entered the market for 2005, in spite of attractive price levels. Call-offs on existing contracts are good, proving malt usage and beer production in many importing countries are going well.
Barley News
USA, North Dakota: The top barley-producing state in the nation has seen acreage rise and fall like a yo-yo in recent years, with contract prices one of the bigger influences on the string. Falling barley contract prices are at the root of a dramatic drop in expected production of the malting grain in North Dakota this year, officials say, according to Associated Press report from July 18. The crop is estimated at 90 million bushels - a drop of nearly 25 % from last year, according to the Agriculture Department. Last year's production was double the previous year's. That has led to sizable stocks - more than 30 million bushels on June 1, up 123 percent from 2003. "Last year's crop was excellent quality, so now everybody's sitting on it, hoping that if something happens to this year's crop they'll be able to sell it at a premium price," said Dazey farmer Jim Broten, chairman of the North Dakota Barley Council. North Dakota typically produces between one-third and one-half of the U.S. crop. When the nation's 2002 crop turned out to be the smallest in 65 years, brewers and maltsters who were worried about supply offered lucrative contracts to farmers for the 2003 crop year, leading to the big crop and bulging bins. But contract prices have fallen this year. "That has steered a few away" from barley, and toward other crops such as corn and soybeans that provide better returns, said Steve Edwardson, the Barley Council's administrator. Other factors have played into the barley drop, he said. They include crop insurance problems, flooded-out acres in northern North Dakota and potentially poor yields in the dry western part of the state. But both Edwardson and Broten said the barley contracts were not high enough this year to buy a lot of acres. North Dakota acreage is down 20 percent from last year, the Agriculture Department said. Malting companies and brewers typically do not make public their contract prices, for competition reasons. Cargill declined comment on the lower prices. Anheuser-Busch did not immediately comment.
China: According to the Chinese Ministry for Agriculture, China imported about 1 million tonnes of barley in the first half of the year that is 12.1% less than in the same period last year. Forecasts are that China will need to import 1.8 – 2.0 million tonnes in the calendar year 2004.
Lithuania: Barley is normally sown in April and the beginning of May, between week 15-19. This year was no different
, said Viking Malt. The sowing took place during the normal period and during quite warm and dry conditions. In total, malting barley was sown on 30 000 hectares. In case of favourable conditions during the summer and a good crop this might result in about 100 000 tons of high quality malting barley for the local maltings. The weather conditions from completed sowing until beginning of June have been quite dry and cold. Hopefully this enabled for the barley plants to establish in a good way so that they can develop well during the summer. Estimated time for harvest in Lithuania is in August.
Theoretical malt prices.
EURO = USD 1.2329 July 21, 2004
Crop year
2003
Parity
FOB Antwerp
Position
July 2004-Sept 2004
Conditioning
Bulk
In bags
Bulk containers
Bags, containers
Malting barley variety
EURO
USD
EURO
USD
EURO
USD
EURO
USD
2RS
Scarlett
247.50
305.00
262.50
323.50
259.00
319.50
268.50
331.00
2RS
Prestige
245.00
302.00
260.00
320.50
256.50
316.50
266.00
328.00
2RS
Aspen
244.50
301.50
259.50
320.00
256.00
315.50
265.50
327.50
2RS
Optic
244.50
301.50
259.50
320.00
256.00
315.50
265.50
327.50
2RS
Astoria
243.50
300.50
259.00
319.00
255.50
314.50
265.00
326.50
2RS
Cork
243.50
300.50
259.00
319.00
255.50
314.50
265.00
326.50
2RS
Average price
245.00
302.00
260.00
320.50
256.50
316.50
266.00
328.00
2RS
FAQ
242.50
299.00
257.50
317.50
254.00
313.50
263.50
325.00
6RW
Esterel
237.50
293.00
252.50
311.50
249.00
307.00
258.50
319.00
*
Asia Malt 70/30
242.50
299.50
258.00
318.00
254.50
313.50
264.00
325.50
**
Asia Malt 50/50
241.50
297.50
256.50
316.00
253.00
311.50
262.50
323.50
* - 70/30 = 70% Average two Rows Spring and 30% Six Rows Winter
** - 50/50 = 50% Average two Rows Spring and 50% Six Rows Winter
Theoretical malt prices for crop 2004 are available online
www.e-malt.com/MarketPrices
Malting barley prices. French barley prices.
Nominal prices.
EURO = USD 1.2329 July 21, 2004
Crop year
2003
2004
Parity
FOB Creil
FOB Creil
Position
July 2003
July 2004
Type
Variety
EURO
USD
EURO
USD
2RS
Scarlett
113.00
139.50
123.00
152.00
2RS
Prestige
111.00
137.00
121.00
149.50
2RS
Cellar
110.50
136.50
120.50
148.50
2RS
Aspen
110.50
136.50
120.50
148.50
2RS
Optic
110.50
136.50
120.50
148.50
2RS
Astoria
110.00
136.00
120.00
148.00
2RS
Cork
110.00
136.00
120.00
148.00
6RW
Esterel
105.00
129.50
105.00
129.50
Graph of the week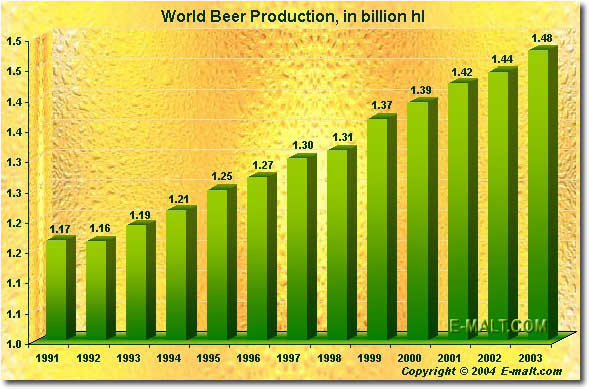 Agenda
July 2004:
VI Moscow Beer Festival;
Lucky Baldwin's IPA Festival;
BevTek / BrewTek China;
Vermont Brewers Festival;
BEVTECH 2004 Thailand;
INTERNATIONAL QUALITY GRAINS CONFERENCE;
World Brewing Congress 2004;
Hop, malt and beer of Russia Exhibition;

August 2004:
Great British Beer Festival;
Worcester Beer and Cider Festival;
BeerTek China Beer and Brewing Technology Exhibition;
Peterborough Beer Festival 2004;
FOODWORLD Food and Beverage Exhibition;
TecnoBebida Latin America International Exhibition of Technologies for the Beverage Industry;

September 2004:
6th BELGIAN BEER WEEKEND;
China Brew 2004 / China Beverage 2004;
International Brewery and Soft Drinks Industry Exhibition;
FOOD & BEVERAGE PROCESSING & PACKAGING INDONESIA 2004;
Pivoindustria International Beer Industry Exhibition;
National Beer Wholesalers Show 2004;
PAN ASIAN FOOD & BEVERAGE TRADE SHOW 2004;
Barley Malt Quality Evaluation Short Course;
EUROMALT BARLEY SEMINAR 2004;
bevex Beverage Trade Fair;
InterBev 2004;
YUGOSLAVIA INTERNATIONAL FAIR OF FOOD & BEVERAGES 2004;
BevExpo 2004;
Great American Beer Festival;

More events are available on site e-malt.com