Canada: Molson and Coors announced on July 22 a merger of equals to create world's fifth largest brewer
. Adolph Coors Company (NYSE: RKY) and Molson, Inc. announced on July 22, 2004 a definitive agreement to combine in a merger of equals that will create a new company with the operating scale and balance sheet strength to take a leading role in the consolidating global brewing industry. With combined beer sales of 60 million hectoliters (51 million U.S. barrels), Molson Coors Brewing Company will be the world's fifth largest brewing company by volume, with pro-forma combined net sales of US$6.0 billion, EBITDA of US$1.0 billion and free cash flow of US$707 million for the twelve month period ended March 31, 2004. In addition, the combination is expected to generate approximately US$175 million in annualized synergies by 2007, with half of these benefits achieved within 18 months following completion of the merger. The transaction is expected to be earnings accretive to the shareholders of both companies within the first full year of combined operations. The transaction brings together Coors, founded in 1873, and the third- largest brewer in the U.S. with an 11 percent market share, and the second- largest brewer in the U.K. with a market share of 21 percent, with Molson, North America's oldest beer company, founded in 1786 and Canada's leading brewer with a 43 percent market share, and the third-largest brewer in Brazil, where it has an 11 percent market share. "This transaction allows us to create a stronger company in a consolidating global industry while preserving Molson's rich heritage as North America's oldest beer company and Canada's leading brewer," said Eric H. Molson, chairman of Molson. "We are extremely pleased to be combining with Coors, one of the world's most respected brewers, in such a strategically compelling merger. We look forward to working together to realize the full potential of the new company." Peter H. Coors, chairman of Coors, said: "I am very proud to see the company started by my great-grandfather more than 130 years ago combine with a company of Molson's caliber and heritage. This historic transaction combines 350 years of brewing excellence and will create a dynamic and competitive organization able to deliver long-term value to shareholders while continuing to be an important contributor to the communities in which we operate...
more info
Netherlands: Dutch brewer Heineken said on Wednesday, July 21 2004, it was looking "with interest" at the proposed merger of Coors and Heineken's Canadian partner Molson
, but a spokeswoman declined to comment on media reports that it might make its own bid for Molson. "That's just speculation", she said. Broker SNS said the Coors-Molson merger talks were important for Heineken because it affected its position on the Canadian market and in Brazil, where Heineken and Molson jointly own Kaiser, according to Reuters. But Heineken declined to comment on media reports that the Dutch firm might seek to buy out its partner in Kaiser or even be tempted to spoil the Coors-Molson merger with a counter bid. "Molson is a partner of Heineken, that is what we said in 2002 when we signed a 10-year agreement. But it is too early to speculate on what will happen now," she said. Heineken took a 20 % stake in Kaiser after Molson bought the Brazilian brewer to combine it with the Bavaria branded business that it already owned there -- unrelated to a Dutch brewer of that name.Molson also distributes Heineken beer in Canada and Heineken Chief Executive Anthony Ruys has praised their "excellent relationship". The Wall Street Journal said on Wednesday that Coors and Molson would announce a $6-billion merger as early as Thursday, after the two companies said earlier this week that they were in talks an a merger, which would create a powerful international rival to SABMiller and Anheuser-Busch. Molson is 55-% owned by the family that founded it 218 years ago, but in June Deputy Chairman Ian Molson quit after a dispute with Chairman Eric Molson and the family may not vote in one block in favour of a merger...
more info
USA: Stagnant domestic beer sales and increasing pressure to expand have forced the hands of the nation's top brewers - get bigger or get bought out
, The Denver Post wrote on July 22. In 2002, South African Breweries Plc bought Milwaukee-based Miller Brewing Co. for $5 billion, making the combined company, SABMiller, the second-largest brewer in the world. In November, San Antonio-based Pabst Brewing Co., the No. 4 U.S. beermaker, put itself on the block. And this week, Golden-based Adolph Coors Co., the No. 3 brewer in the country and No. 8 worldwide, said it was in advanced merger talks with Montreal-based Molson Inc. "The beer industry, like almost every other industry, is becoming more global," said Eric Shepard, executive editor of Beer Marketer's Insight, a Nanuet, N.Y.-based trade publication. Once the world leader in beer sales, the United States has fallen behind China in terms of market share. In 1998, the United States accounted for 17.8 percent of worldwide beer sales, compared with 14.2 percent for China, according to research firm Euromonitor International. In 2003, China's share jumped to 20 percent, while the United States' grew slightly to 18.4 percent. At the same time, countries such as Russia, Poland and South Korea have also experienced market-share growth greater than that of the United States. Experts attribute the United States' sluggish growth in beer consumption to a number of factors, including changes in drinking habits, with younger consumers choosing alternative drinks such as flavored alcoholic beverages. That trend has forced U.S. beermakers to find ways to grow by increasing their presence elsewhere. In 2001, Coors acquired the No. 2 beer brand in the United Kingdom when it bought Interbrew SA's Carling business for $1.7 billion. "It's a matter of survival," said Paul Gatza, director of the Boulder-based Association of Brewers. "If (Coors) sat back and did nothing, they would get further marginalized in the market...
more info
Kenya Breweries Limited announced on July 21, 2004 that it is investing Ksh 600 Million into new manufacturing equipment for its brew house
. The company will be investing in new vessels, which will be used in the manufacturing process. The new vessels will see improved energy utilization through heat recovery and energy storage. The new brew house equipment with increased level of automation will replace the existing ones and improve on material handling. The new state of the art brew house equipment is currently being shipped from Germany and is due to arrive in Kenya on 23rd July 2004. The Kenya Breweries Managing Director, Mr. James Musyoki said that the company was committed to ensuring improved product quality by continually upgrading its manufacturing process. "It is KBL's policy to ensure that our product quality is world class", said Mr. Musyoki. "We are passionate about our consumers and we are committed to providing them with brands developed, produced and marketed to the highest standards of quality. The new brewhouse vessels are aimed at achieving this," he added. The installation of the new brew house equipment will be implemented in two phases – beginning October 2004 and to be completed in February 2005. Kenya Breweries Limited recently invested Ksh 200 Million into a new waste water treatment plant. The treatment plant -the first of its kind in Kenya, is aimed at reducing effluent emissions by the brewery. Last year KBL also invested Ksh 1.4 billion into a new bottling line.
Russia: St Petersburg based Russian brewing force, announced on July 21 that its second-quarter revenues rose 15 % year-on-year
due to an overhaul of its logistics and a new marketing strategy. Baltika added that sales volume rise was at double the pace of growth in the Russian beer market, which rose 6.8 percent year-on-year. It estimated its market share at 22 % versus 20 % in the first quarter. April-June revenues rose to 7.5 billion RUB (roubles) ($257.9 million) from 6.5 million RUB in the year-ago period, with sales in unit volumes rising to 5.5 million hectolitres, an increase of 61% versus the first quarter 2004, and an increase of 14% versus the same period last year, the firm said in a statement. The growth rate of the Russian beer market in the second quarter of the year accounted for 6.8%. Russian brewery Baltika is jointly owned by Denmark's Carlsberg and Scottish & Newcastle.
Malt News
Thailand: In 2003,Thailand imported 9,008 tonnes of barley valued at CA$ 3.5 million (CIF value) versus 7,201 tonnes valued at CA$ 2.6 million in 2002. Meanwhile Thailand imported 198,619 tonnes of malt valued at CA$ 99.8 million (CIF value) against 167,248 tonnes valued at CA$ 77.5 million in 2002, according to Agriculture and Agri-Food Canada (AAFC). This level of import makes Thailand a sizeable target for malt and barley exporters. Trade sources comment that malt extract is not used as an ingredient by local brewers except for Boon Rawd, which sometimes uses minimal quantities of malt extract to add colour to the beer. Trade sources indicated that malt extract, if used, forms less than 1% of total production quantity. Barley and malt is imported wholly for consumption in the domestic market. 9 different countries exported malt to Thailand in the period from 2001 to 2003. In 2003, the major exporters of malt were: UK, with 38% share of the total import market. Trade sources indicated that the UK is a traditional supplier of malt to Thailand. It supplied the most competitively priced malt to Thailand in 2003; Australia, with 31% share of the total import market. Trade sources indicated that Australian malt has an excellent reputation as a high quality and price competitive product in Thailand; Germany, with 11% share of the total import market. Germany has consistently been the third largest supplier of malt to Thailand, being a traditional supplier of malt to Thailand. Its price was less competitive compared to the UK and Australia. Thailand also imported 7% of malt from France, 5% from Belgium and 1% from the other countries. In the same period, only 5 different countries exported barley to Thailand. In 2003, the major exporters of barley was Germany, with 67% share of the total import market. It was the only consistent supplier of barley to Thailand in the period. Trade sources indicated that Germany is a traditional supplier of barley to Changmai Malting Co, the malting company of Boon Rawd Brewery. In 2003, Georgia was the other supplier of barley to Thailand. It is an erratic supplier of barley to Thailand, it did not supply any barley to Thailand in 2002 and only supplied 600 tonnes in 2001. Its landed cost was more price competitive than Germany's in 2003...more info
Barley News
Europe: Harvest has progressed very well in Southern Europe, according to analysts. Reported results from the Iberian Peninsula and Italy are very good. In Spain 75 % of the barley crop have been combined up to a line of Madrid-Zaragoza. Yields are good, so is the quality of malting barley. Private estimates of the crop have been raised to 10.2 million tonnes. Spain would have an export surplus of malting barley this year, but the feed deficit and long ways of transport make exports most unlikely, with the exception of shipments to Portugal.
Finland: The normal period for sowing in Finland is around the 10-15 th of May. This year sowing took place before middle of May under good conditions and slightly earlier than average, Viking Malt has recently revealed. The month of May brought a cold period when the growth was almost zero. Now, in the middle of June, expectations for the coming crop are good. Growth is even and we have had enough rain. In Finland there is no separate statistics of malting barley areas. The total barley area on the other hand increased from 530 000 - 570 000 hectares. Our estimation is that most of the increase is in malting barley varieties. Estimated time for harvest is the end of August/beginning of September.
Theoretical malt prices.
EURO = USD 1.2254 July 23, 2004
Crop year
2003
Parity
FOB Antwerp
Position
July 2004-Sept 2004
Conditioning
Bulk
In bags
Bulk containers
Bags, containers
Malting barley variety
EURO
USD
EURO
USD
EURO
USD
EURO
USD
2RS
Scarlett
247.50
303.00
262.50
321.50
259.00
317.50
268.50
329.00
2RS
Prestige
245.00
300.00
260.00
318.50
256.50
314.50
266.00
326.00
2RS
Aspen
244.50
299.50
259.50
318.00
256.00
313.50
265.50
325.50
2RS
Optic
244.50
299.50
259.50
318.00
256.00
313.50
265.50
325.50
2RS
Astoria
243.50
298.50
259.00
317.50
255.50
313.00
265.00
324.50
2RS
Cork
243.50
298.50
259.00
317.50
255.50
313.00
265.00
324.50
2RS
Average price
245.00
300.00
260.00
318.50
256.50
314.50
266.00
326.00
2RS
FAQ
242.50
297.00
257.50
315.50
254.00
311.50
263.50
323.00
6RW
Esterel
237.50
291.00
252.50
309.50
249.00
305.50
258.50
317.00
*
Asia Malt 70/30
242.50
297.50
258.00
316.00
254.50
311.50
264.00
323.50
**
Asia Malt 50/50
241.50
295.50
256.50
314.50
253.00
309.50
262.50
321.50
* - 70/30 = 70% Average two Rows Spring and 30% Six Rows Winter
** - 50/50 = 50% Average two Rows Spring and 50% Six Rows Winter
Theoretical malt prices for crop 2004 are available online
www.e-malt.com/MarketPrices
Malting barley prices. French barley prices.
Nominal prices.
EURO = USD 1.2254 July 23, 2004
Crop year
2003
2004
Parity
FOB Creil
FOB Creil
Position
July 2003
July 2004
Type
Variety
EURO
USD
EURO
USD
2RS
Scarlett
113.00
138.50
122.00
149.50
2RS
Prestige
111.00
136.50
121.00
148.50
2RS
Cellar
110.50
135.50
121.00
148.50
2RS
Aspen
110.50
135.50
120.50
148.00
2RS
Optic
110.50
135.50
120.50
148.00
2RS
Astoria
110.00
135.00
120.00
147.50
2RS
Cork
110.00
135.00
120.00
147.50
6RW
Esterel
105.00
129.00
105.00
129.00
Graph of the week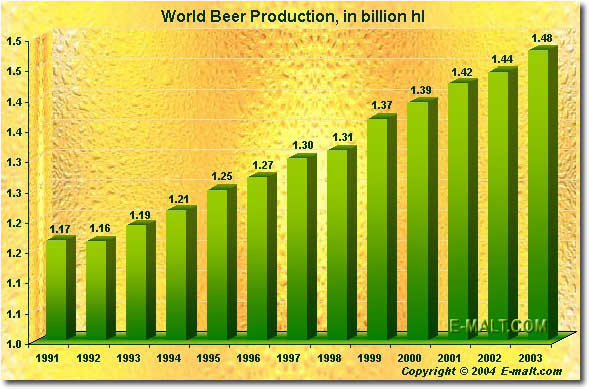 Agenda
July 2004:
VI Moscow Beer Festival;
Lucky Baldwin's IPA Festival;
BevTek / BrewTek China;
Vermont Brewers Festival;
BEVTECH 2004 Thailand;
INTERNATIONAL QUALITY GRAINS CONFERENCE;
World Brewing Congress 2004;
Hop, malt and beer of Russia Exhibition;

August 2004:
Great British Beer Festival;
Worcester Beer and Cider Festival;
BeerTek China Beer and Brewing Technology Exhibition;
Peterborough Beer Festival 2004;
FOODWORLD Food and Beverage Exhibition;
TecnoBebida Latin America International Exhibition of Technologies for the Beverage Industry;

September 2004:
6th BELGIAN BEER WEEKEND;
China Brew 2004 / China Beverage 2004;
International Brewery and Soft Drinks Industry Exhibition;
FOOD & BEVERAGE PROCESSING & PACKAGING INDONESIA 2004;
Pivoindustria International Beer Industry Exhibition;
National Beer Wholesalers Show 2004;
PAN ASIAN FOOD & BEVERAGE TRADE SHOW 2004;
Barley Malt Quality Evaluation Short Course;
EUROMALT BARLEY SEMINAR 2004;
bevex Beverage Trade Fair;
InterBev 2004;
YUGOSLAVIA INTERNATIONAL FAIR OF FOOD & BEVERAGES 2004;
BevExpo 2004;
Great American Beer Festival;

More events are available on site e-malt.com