---
Newsletter Summary

---
Currency rates
Brewery news
Malt news
Barley news
More news
Theoretical malt prices
Malting barley prices
Graph of the week
Agenda
Do you know e-malt.com?
---
Average market prices Change trend
---

Note: Just click on the price link and you will be led to our Market Price History.
Average barley market prices are French and are estimated on FOB Creil basis.
Average malt market prices are estimated on FOB Antwerp basis.
The changes are compared to last Newsletter's prices.
Arrows indicate the direction of the change.


---
Easy E-malt.com
---
---
E-malt.com access
---
---
Do you know
E-malt.com ?
---
Dear E-malt Reader!

E-malt.com Newsletters Archive could be found directly on e-malt.com site. Browsing through our Newsletters' Archive you may see all the issues you have missed. To this purpose you just have to login e-malt.com and click on Newsletters link in the menu. Reading our Newsletters you will be kept informed with the latest news and events regarding malting and beer world. You may also submit your own news, events or other information to the address info@e-malt.com!

Updated figures related to USA barley and malt trade with Mexico and Canada could be seen in NAFTA section of e-malt.com menu. To this purpose please enter e-malt.com!

You may find updated malt, barley and beer statistics on e-malt.com Statistics section. Just enter e-malt.com! Here you will find all tables issued with e-malt.com newsletters.

E-malt.com Agenda gives the possibility to keep you informed about the Events planned to be held in the whole world related to the brewing and malting industries. To this purpose you just have to login e-malt.com and click on Agenda link in the menu. Reading our Event Agenda you will find out about the future symposia, conferences and festivals related to malting and beer world. You may also submit your own events to the address info@e-malt.com

E-malt.com has Trading Online system. The system is to be used for malt/barley trading. One can register a malt/barley offer or a malt/barley request. The registering person could be as a seller/buyer or as an agent for seller/buyer. The User can see information about all active malt/barley offers & requests. If needed the system allows user to buy/sell malt/barley due to reasonable offers/requests. The way to do this is to confirm reasonable transaction. Trading Online rules are available through the Internet in the Trading Online as well as Tutorial (useful for persons who starts the system usage). To visit the E-malt Trading Online first go to the E-malt.com site, then click Trading Online link in the left menu of the e-malt.com home page. For more details please contact info@e-malt.com

Thank You!

---
E-malt.com Links!
---
Industry news
Market prices
EU Regulations
NAFTA
Specifications
Special malts
Professional Help
Trading online
Costing online
Statistics
Graphs
NewsLetters
Agenda
Accounts
Log In
Contact us
---
Other e-malt.com newsletters
---
Last five newsletters
---


Newsletter 30b, 2004


Newsletter 30a, 2004


Newsletter 29b, 2004


Newsletter 29a, 2004


Newsletter 28b, 2004
---
Market price evolutions
---
The evolution of market prices for barley and malt, which are periodicaly issued with e-malt.com newsletters are published on e-malt.com site in Market Prices section. Just click here!
---
Available market price evolutions
---


Malt Market Price Evolution. Crop 2004


French Malting Barley Price Evolution. Crop 2004


Malt Market Price Evolution. Crop 2003


French Malting Barley Price Evolution. Crop 2003
---
E-malt.com graphs
---
All graphs issued with e-malt.com newsletters are published in "Graph" section of e-malt.com site. new ! The graphs are updated from time to time. Just see the updates online on e-malt.com site!
---
Last five graphs
---


World beer production


Japan Barley


Mexico beer production


Belgian malt production and export


South Africa beer production
---
E-malt.com Tables
---
We have the pleasure to let you know that all e-malt.com tables are published in e-malt.com Statistics section. The Statistics section includes Barley statistics, Malt statistics and Beer statistics. The tables related to barley are published in Barley Statistics section, the tables related to malt in Malt Statistics section and the tables related to beer in Beer Statisctis section.
---
Last five tables
search in statistics
---


The 40 beer giants of the world for 2003


United States imports of beer, 2003


EU malt export licence fixations


Ukraine barley crop estimate


EU Malting Barley Suply and Demand 2004/2005
---
Note
---
If you have any comments, questions, suggestions or remarks, you can send a mail to: info@e-malt.com. To submit your own news to our editorial team, email to: info@e-malt.com
---
If you have received this newsletter by a colleague, you can obtain your own free subscription here, or a full FREE registration here.
---
You may recommend our site to your friend by clicking here
---
If you do not wish to receive our newsletter, please unsubscribe your e-mail address (@EMAILADDRESS@) from our mailing list using unsubscribe form from our site!
July 26 - July 28, 2004 Currency Rates

Base Currency: Euro, EUR
on 28-July-2004

1 EUR = 1.2050 USD
1 EUR = 0.6614 GBP
1 EUR = 1.6058 CAD
1 EUR = 1.7235 AUD
1 EUR = 133.71 JPY
1 EUR = 3.6825 BRL
1 EUR = 35.0655 RUB

Base Currency: US Dollar
on 28-July-2004

1 USD = 0.8302 EUR
1 USD = 0.5490 GBP
1 USD = 1.3326 CAD
1 USD = 1.4303 AUD
1 USD = 110.98 JPY
1 USD = 3.056 BRL
1 USD = 29.10 RUB

EUR/USD Chart
Top Industry News
More News
Brewery News


Singapore's Asia Pacific Breweries Limited (APBL), announced on 26 July 2004 its intention to make an unconditional takeover offer for the purchase of the 23.09% of New Zealand brewer DB Breweries Limited

(DB) that it does not already own. The offer price is NZ$9.50 cash per share. This represents a 20.25% premium to the last trade of NZ$7.90. The bid values DB at about NZ$479 million. In pre-bid agreements, Accident Compensation Corporation (ACC), the largest shareholder in DB after APBL and several other investors, have agreed to sell their entire holdings totalling 4,206,055 shares, into the offer. This means that APBL is entitled to record a relevant interest of 85.25% in the capital of DB. The offer is being made to enable APBL to privatise and de-list DB, and reflects APBL's strong long-term commitment to its business in New Zealand. APBL believes that DB's capital expenditure requirements can be met without the need to raise capital on the NZX, thereby making a stock exchange listing of DB less relevant. APBL's unconditional offer will allow all DB shareholders an excellent opportunity to exit their shares at a strong premium to a market price that is close to its highest level in more than a decade. The offer is expected to be mailed to all shareholders on August 9. If the offer is mailed on August 9, it will close on September 6, unless extended by APBL. APBL is a Singapore listed company with brewing operations throughout the Asia Pacific region. It is majority owned by a joint venture of Heineken N V and Singapore-based diversified group Fraser and Neave Limited. APBL produces and markets throughout Asia two of the world's best known beer brands, Heineken and Tiger Beer. DB produces and markets some of New Zealand's best-known beers including leading brands such as DB Draught, Export Gold, Tui, Heineken and Monteith's. APBL is being advised jointly by Societe Generale and Mariner Corporate Finance...

more info Japan: Sapporo Holdings Ltd said on July 26 it expects to post a profit in the first six months of the 2004 business year

; the first time in four years; due mainly to higher sales of its Draft One beer-like alcoholic beverage. The Japanese company announced that it expects profit to rise by 120% to a record JPY14.7 billion (US$133.8 million) for the year to 31 December. The brewery had initially projected a 32% decline for 2004 to JPY4.6 billion. The company mentioned it believes group sales will rise by 2% this year, while net profit should leap by 110% to JPY5 billion. The major Japanese brewery said it expects its group net balance to swing into the black in the period to June 30 with a profit of 2.7 billion yen, a turnaround from a loss of 6.4 billion yen projected Feb 20. Sapporo's preliminary annual sales target for Draft One, which it released nationwide in February, was 10 m cases, but it revised this target in April to 14 m and in July upgraded it to 17 m cases. The product sells for less than low-malt beer, boosting its popularity across a wide range of age groups, Sapporo said. Sapporo also said that cost-cutting efforts at its factories and in raw materials procurement are progressing better than planned.

Australia's third-largest brewer, Coopers Brewery, has started a A$7 million (US$8 million) expansion program to meet increasing demand

. The company is to to boost capacity at its Regency Park brewery in Adelaide. The South Australia-based company said the expansion would include new fermenters and yeast tanks at its Regency Park brewery in Adelaide, The New Zealand Herald posted on July 27. "The program includes a major warehouse extension, the addition of two new fermenters and two new yeast tanks, the purchase of another 12,000 kegs and the acquisition of a new can seamer and a new keg filling line," the company reported in a statement. Managing Director, Dr Tim Cooper, said the capital work was necessary because of Cooper's continued sales growth since moving to Regency Park. "In the past 12 month, Coopers beer sales nationally rose by 16.4%, with sales of kegged beers in the eastern States up by almost 55%," he said. "As a result, we have had to increase our production capacity by a similar amount to feel comfortable about meeting strong demand again next year." Dr Cooper said work on the $3 million warehouse expansion had already commenced with steelwork now being erected. "We will be boosting the size of the warehouse by about 33%, with work expected to be completed early in October," he said. Dr Cooper said that two additional 1700 hectolitre (170,000 litres) fermenters would be installed this month at a total cost of about $800,000, while two new yeast tanks were being installed at a cost of about $200,000. An additional 12,000 kegs, costing about $1.5 million, had been ordered from Belgium and were expected to arrive next month. "The new fermenters will increase our production capacity by about 20%, while the new kegs represent a 25% rise in our total keg numbers, which should see us through until next year when we'll have to review the situation," he said...

more info Brussels, Moscow, - SUN and Interbrew, the controlling shareholders of SUN Interbrew Ltd. (the "Company"), announced on 27 July 2004 that, as permitted by the Shareholders Agreement

relating to SUN Interbrew Ltd., they have agreed to allow each other to make additional share purchases of the voting shares of SUN Interbrew Ltd. up to a combined level of 75.5%. SUN and Interbrew have also agreed to certain provisions that are designed to ensure that the balance of control between them is not affected by the possible purchases of additional voting shares. SUN and Interbrew exercise strategic and operational control over the Company under the Articles of Association and by virtue of the Shareholders Agreement entered into by SUN and Interbrew. The agreement regarding the purchase of additional voting shares is a clear demonstration of SUN and Interbrew's commitment to the continued successful development of SUN Interbrew Ltd. SUN and Interbrew have informed the Board of SUN Interbrew Ltd. that they will continue to abide by the Company's policies on dealing in the shares of SUN Interbrew Ltd. as posted on the Company's official website at www.suninterbrew.ru in connection with all such possible purchases and sales. SUN Group is an international investment group, active in building and investing in businesses in a variety of sectors around the world, including in India and the Russian Federation. SUN Group is the founding shareholder of SUN Interbrew Ltd. (formerly SUN Brewing Ltd.), which it established in 1992 and built into the second largest brewing group in Russia. Interbrew is a publicly traded company (INTB - Euronext) based in Belgium. The company's origins date back to 1366, and today it is one of the leading global brewers...

more info Peru, Lima: President Alejandro Toledo angrily denied reports July 26 that he had received a bribe of more than $5 million and pledged to open his bank accounts for investigators

. Peru's leading news magazine, Caretas, had reported that Toledo's former adviser, Cesar Almeyda, who is awaiting trial on separate corruption charges, said in a jailhouse interview that a company paid the bribe to Toledo. Almeyda did not name the company or say where any such cash was deposited, the magazine said. Toledo denied the accusation. "I tell you today that this president will never stop his fight against corruption," he said, adding that he was willing to show his financial records to investigators if they demand them. Toledo said his wife, Eliane Karp, was cutting short an overseas vacation with their daughter "to show we are not afraid" of the allegations of corruption. In a televised message to the nation a week ago, Toledo vigorously denied bribery and electoral fraud allegations. Caretas did not quote Almeyda directly, but its report came after Peru's most influential newspaper, El Comercio, reported that Almeyda took a $2 million bribe from Latin America's No. 4 brewer, Bavaria, to help the company win a bidding war for Peru's only brewer, Backus & Johnston. Congress is investigating those allegations which Bavaria, a Colombian company, has denied. The news magazine said Almeyda, who is awaiting trial on charges of trying to bribe judges in the 1990s, had spoken of a commercial operation in which a company was pressured by Toledo. "As a result, a series of deposits were made," the magazine said, adding that Almeyda "did not want to mention specific amounts but noted they were well above $5 million." The Caretas report followed a week of allegations from witnesses that Toledo's sister, Margarita, had been involved, with the president's blessing, in running a "forgery factory" falsifying signatures to register his political party for the 2000 elections. Toledo promised to run a clean government after the corruption-plagued administration of President Alberto Fujimori but has lost seven ministers in corruption scandals in recent months...

more info

Malt News

The Philippines imported 89,009 tonnes of malt valued at C$ 31 million at FOB value in 2002. This level of import makes the Philippines a significant target for malt exporters, according to Agriculture and Agri-Food Canada (AAFC). Trade sources comment that neither barley nor malt extract is used as an ingredient by local brewers. Malt is imported only for consumption in the domestic market. 10 different countries exported malt to the Philippines in the period from 2000 to 2002. In 2002, the major exporters of malt were: Australia, with 60% share of the total import market. Australia has dominated the supply of malt to the Philippines for many years. Belgium, with 39% share of the total import market. Trade sources comment that it took over as the second largest supplier of malt from France in 1997 due to its competitive price. According to trade sources, the bulk of imported malt is distributed to San Miguel Corp. Trade sources comment that: About 90% of imported malt are used by the Philippines' largest brewery, San Miguel Corp. It is the market leader in the Philippines beer market. The balance of the imported malt is used by Asia Brewery Inc., which holds the balance of the beer market. According to trade sources, Australia and Belgium suppliers are able to closely meet the quality, specifications and price expectations of the local brewery companies. One source in San Miguel Corp. comment that Canada was one of its supply source but this stopped when Canada's malt was not price competitive.

Barley News

European barley crop estimate. Production forecast in thousand tonnes.


Barley production in '000 tonnes

Spring barley
Total barley
2003
2004
2003
2004

EU-15

Austria
538
467
869
878
Denmark
3,002
2,864
3,763
3,657
Finland
1,671
1,824
1,671
1,824
France
3,973
3,405
9,818
10,577
Germany
3,606
2,992
10,637
11,838
Ireland
1,000
982
1,096
1,098
Belgium/Lux.
31
26
335
339
Netherlands
351
247
372
367
Spain
6,607
7,410
8,388
9,880
Sweden
1,514
1,611
1,547
1,641
UK
3,517
2,915
6,370
6,209
Italy
920
1,133
Greece
310
372
Portugal
33
53
TOTAL EU-15
25,811
24,744
46,128
49,866

EU-10

Czech Republic
1,628
1,260
2,080
1,824
Hungary
380
513
825
1,311
Poland
2,603
2,655
2,833
3,165
Slovakia
682
567
832
602
Cyprus
79
92
Estonia
263
265
Latvia
221
224
Lithuania
756
775
Slovenia
28
29
Malta
3
3
TOTAL EU-10
5,293
4,995
7,919
8,289

TOTAL EU-25

31,103
29,739
54,047
58,155

Europe Non-EU

Romania
340
350
540
853
Bulgaria
180
212
580
800
Serbia
230
279
Croatia
85
149
Bosnia
60
53
Macedonia
120
117
Albania
30
30
TOTAL Europe Non-EU
520
562
1,645
2,282
TOTAL EUROPE 31
31,623
30,300
55,692
60,437
Source: Coceral, Brussels June 2004
Sweden: The tall and narrow Sweden is divided into two parts when it comes to barley: The early south region where the barley normally is sown in April and the later mid region where sowing usually takes place the second half of April – the first half of May. This year the sowing in the whole Sweden was very early and concentrated to a shorter period of time than normal as more or less all of the barley was sown before mid of April. Until mid of May everything looked very fine. We had enough rain directly after sowing to enable for the plants to establish well before a warmer period came. May has brought a lot less rain than normal and therefore some forecasts of the coming crop have been reduced to an estimated harvest of about 400 000 tons (originally about 430 000 tons) which is slightly more that for previous years. Both quantity and quality of the Swedish 2004 crop are strongly dependent on the weather during June and July. If we get adequate amount of rainfall, the possibility of an excellent crop is still possible. Estimated time for harvest in Sweden is about 3 1/2 months from sowing – around end of July beginning of August.
Theoretical malt prices.
EURO = USD 1.2050 July 28, 2004
Crop year
2003
Parity
FOB Antwerp
Position
July 2004-Sept 2004
Conditioning
Bulk
In bags
Bulk containers
Bags, containers
Malting barley variety
EURO
USD
EURO
USD
EURO
USD
EURO
USD
2RS
Scarlett
247.50
298.00
262.50
316.50
259.00
312.00
268.50
323.50
2RS
Prestige
245.00
295.00
260.00
313.50
256.50
309.00
266.00
320.50
2RS
Aspen
244.50
294.50
259.50
312.50
256.00
308.50
265.50
320.00
2RS
Optic
244.50
294.50
259.50
312.50
256.00
308.50
265.50
320.00
2RS
Astoria
243.50
293.50
259.00
312.00
255.50
307.50
265.00
319.00
2RS
Cork
243.50
293.50
259.00
312.00
255.50
307.50
265.00
319.00
2RS
Average price
245.00
295.00
260.00
313.50
256.50
309.00
266.00
320.50
2RS
FAQ
242.50
292.50
257.50
310.50
254.00
306.00
263.50
317.50
6RW
Esterel
237.50
286.50
252.50
304.50
249.00
300.00
258.50
311.50
*
Asia Malt 70/30
242.50
292.50
258.00
310.50
254.50
306.50
264.00
318.00
**
Asia Malt 50/50
241.50
290.50
256.50
309.00
253.00
304.50
262.50
316.00
* - 70/30 = 70% Average two Rows Spring and 30% Six Rows Winter
** - 50/50 = 50% Average two Rows Spring and 50% Six Rows Winter
Theoretical malt prices for crop 2004 are available online
www.e-malt.com/MarketPrices
Malting barley prices. French barley prices.
Nominal prices.
EURO = USD 1.2050 July 28, 2004
Crop year
2003
2004
Parity
FOB Creil
FOB Creil
Position
July 2003
July 2004
Type
Variety
EURO
USD
EURO
USD
2RS
Scarlett
113.00
136.50
122.00
147.50
2RS
Prestige
111.00
134.00
121.00
146.00
2RS
Cellar
110.50
133.50
121.50
146.50
2RS
Aspen
110.50
133.50
120.50
145.50
2RS
Optic
110.50
133.50
120.50
145.50
2RS
Astoria
110.00
132.50
120.00
144.50
2RS
Cork
110.00
132.50
120.00
144.50
6RW
Esterel
105.00
126.50
105.00
126.50
Graph of the week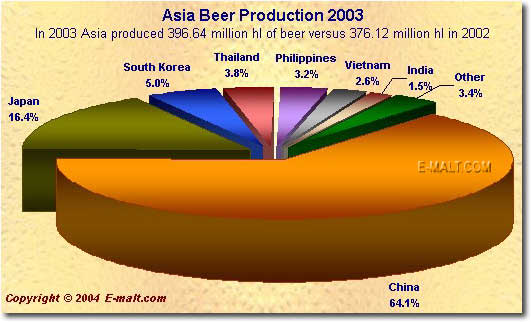 Agenda
July 2004:
VI Moscow Beer Festival;
Lucky Baldwin's IPA Festival;
BevTek / BrewTek China;
Vermont Brewers Festival;
BEVTECH 2004 Thailand;
INTERNATIONAL QUALITY GRAINS CONFERENCE;
World Brewing Congress 2004;
Hop, malt and beer of Russia Exhibition;

August 2004:
Great British Beer Festival;
Worcester Beer and Cider Festival;
BeerTek China Beer and Brewing Technology Exhibition;
Peterborough Beer Festival 2004;
FOODWORLD Food and Beverage Exhibition;
TecnoBebida Latin America International Exhibition of Technologies for the Beverage Industry;

September 2004:
6th BELGIAN BEER WEEKEND;
China Brew 2004 / China Beverage 2004;
International Brewery and Soft Drinks Industry Exhibition;
FOOD & BEVERAGE PROCESSING & PACKAGING INDONESIA 2004;
Pivoindustria International Beer Industry Exhibition;
National Beer Wholesalers Show 2004;
PAN ASIAN FOOD & BEVERAGE TRADE SHOW 2004;
Barley Malt Quality Evaluation Short Course;
EUROMALT BARLEY SEMINAR 2004;
bevex Beverage Trade Fair;
InterBev 2004;
YUGOSLAVIA INTERNATIONAL FAIR OF FOOD & BEVERAGES 2004;
BevExpo 2004;
Great American Beer Festival;

More events are available on site e-malt.com