Global premium beer market is to top US$200 billion by 2010. Global sales of premium beer totalled US$86 billion in 2000
. By 2003, total global premium beer sales had risen by nearly 35%, to US$116 billion, representing an average annual growth rate of 11.6%. In volume terms, just-drinks.com estimates that the global market for premium beer grew by a massive 79% between 2000 and 2003 to 269m hectolitres (hl), according to a just-drinks report. In 2003, Western Europe was the largest regional market for premium beer, accounting for 39% of total global sales by volume. North America accounted for 21.6%; followed by Eastern Europe with 14.9%; and Asia Pacific also with 14.9%; then Latin America (5.2%); Africa and the Middle East (3.3%); and Australasia (1.1%). The US (70m hl) followed by Germany (35m hl) and the UK (24m hl) were the biggest individual markets for premium beer in 2002. Between them they accounted for 47% of total global sales, just-drinks says. China (12m hl) was the fourth largest market for premium beer sales in 2002 in spite of being the biggest market for total beer sales of any type. The premium sector accounted for 5.1% of total beer sales in China in 2002. While the beer market, as a whole, has been static in many regions, the premium sector has been showing healthy growth and will continue to do so for some time to come. In the developed markets of the West, premium beer has been something of a lifeline. In recent years, it has been and remains the fastest growing segment of the beer market, both globally and in many regions...
more info
USA: Mexico's Femsa, Latin America's top bottler and brewer, on July 30 filed with U.S. regulators to sell $345 million in American Depositary Shares
to finance its planned repurchase of a stake in its beer unit, under the Reuters report. Femsa in a registration filed with the U.S. Securities and Exchange Commission said it plans to use the proceeds to repay a bridge loan that will be used for acquiring about 30 percent in FEMSA Cerveza. Femsa, also known as Fomento Economico Mexicano, in May announced the end of a 10-year partnership with Belgium's Interbrew. Under the accord, Femsa will buy back a 30 percent stake Interbrew holds in Femsa's beer unit, which makes Tecate, Sol and Dos Equis brands, for $1.245 billion. The Mexicans had always planned to finance the deal by using cash flows and local bond placements as well as through issuing shares on the New York Stock Exchange and the Mexican bourse. In the deal with Interbrew, Femsa will also take back control of its U.S. exports, which had been part controlled by Interbrew. Femsa recently said Dutch brewer Heineken would be the sole U.S. importer and seller of Femsa's brews once the split is finalized later this year. Femsa had long complained that its partnership with Interbrew had hampered its beer sales in the United States, with its beers not receiving equal marketing attention as another partner in a joint venture with Interbrew.
Russia: The State Duma passed a bill in its second reading on Saturday, July 31, placing severe restrictions on beer ads
that could cost media outlets millions of dollars in revenue. The draft law bans the broadcasting of beer commercials on television and radio between 7 a.m. and 10 p.m. and prohibits advertisers from maintaining that beer is "crucial in achieving success in sports and personal life," the Moscow Times quoted on August 2. In a rare display of solidarity, 432 out of 450 deputies voted in favour of the bill with only one abstention. The bill, due to have its final reading on Thursday, must then be approved by the Federation Council and President Vladimir Putin before becoming law. It has been under consideration by the Duma for more than two years. Its passage has sparked an outcry from brewers and advertisers. Beer commercials are estimated to account for roughly one-tenth of the television ad market, which amounted to more than $720 million in the first half of 2004, or 36 percent more than in the same period last year, according to figures released by the Association of Communications Agencies of Russia Thursday. In addition to time restrictions, the draft law prohibits beer advertisers from using images of "people or animals" and requires them to devote at least 10 percent of ad space to health warnings. Beer advertisements would also be banned from the front and back pages of magazines and inside sports facilities and cultural institutions. "Attractive, obsessive and aggressive beer advertising makes it extremely attractive for consumption," Vladimir Vasilyev, head of the Duma's Security Committee, told parliament on Saturday. He added that persistent beer advertising was behind increased consumption in recent years, particularly by teenagers. Vasilyev was supported by many of his colleagues, some of whom outdid themselves in their fervor to limit beer ads. Liberal Democratic Party leader Vladimir Zhirinovsky proposed completely banning any advertising of the drink, as well as its public consumption. His amendments were rejected...
more info
Japan: Kirin Brewery Co. Ltd, Japan's second-biggest beer maker, said on August 3 it expected first-half pretax profit to top 40 billion yen
($361 million), beating its target as strong drug and beverage sales offset sluggish beer sales at home. Kirin had set a first-half target of 37 billion yen. A Kirin spokeswoman said the company also expected operating profit in the period, which ran to the end of June, to rise 10 percent from a year ago to around 44 billion yen, according to Reuters. Beer sales slowed during the period due to a shift in consumer tastes to newer, cheaper drinks such as those based on shochu, a distilled alcohol made from raw materials like sweet potatoes and barley, and rival Sapporo Holdings Ltd.'s beer-like "Draft One", which is taxed less than beer or happoshu. Last month, Kirin posted a 6.6-% drop in its beer and happoshu, or low-malt beer, shipments in the first half compared to a year ago. Beer shipments alone fell 3.5 percent. Kirin's rivals are also facing a drop in their beer sales this year, forcing them to diversify their alcohol products. Kirin and Japan's four other major breweries saw a 6.4-% fall in their combined beer and happoshu shipments during the January-June period against a year earlier. Most of them, however, are expecting increased profit for the first half because non-beer subsidiaries are doing well and cost cuts have brought savings. Kirin Brewery's earnings will be reported on August 10.
Malt News
Viking Malt announced on August 1, 2004 that the investment project in Panevezys has been successfully concluded and malt production in the new maltings has started. At the end of July UAB Litmalt has changed its name to UAB Viking Malt. Annual capacity of the new UAB Viking Malt will be four times greater than before and reach 60,000 tonnes of malt. The technical design of the maltings will easily enable capacity to be doubled in the near future, to 120,000 tonnes of malt per year. High-quality malting barley is available locally and the main varieties are Barke and Scarlett.
EU: Prices reached new lows, analysts commented in a malt price report, the lower levels of new crop malting barley were passed on to malt buyers, and malting margins did not recover. Quotes were: two-row spring barley malt, FOB seaport, in bulk, EUR 240-245 FOB seaport, in bulk in container EUR 262-270 6row winter barley malt EUR 10 to 12 per ton less. The price difference between winter and spring barley does hardly favour purchases of winter barley malt.
Barley News
Canadian malting barley exports by areas and countries


in thousand tonnes
1997-98
1998-99
1999-00
2000-01
2001-02
2002-03
Western Europe
Belgium
< 0.5
Netherlands
United Kingdom
9
5
Total Western Europe
9
5
< 0.5
Africa
Liberia
4
South Africa
26
72
61
Total Africa
30
72
61
Asia
China
562
291
428
472
399
45
Japan
49
60
40
21
29
24
South Korea
10
Total Asia
611
351
468
493
438
68
Western Hemisphere
Argentina
6
Barbados
< 0.5
< 0.5
Chile
8
1
Colombia
< 0.5
52
Ecuador
< 0.5
Mexico
54
62
99
34
8
2
United States
598
555
585
554
380
172
Venezuela
< 0.5
< 0.5
Total Western Hemisphere:
666
617
684
589
441
174
Grand Total:
1,276
969
1,152
1,121
956
303
Czech Republic: According to first estimates, the barley crop would reach 469,000 tonnes this year against 550,000 in 2003. Harvest started with good yields and qualities, analysts commented. It is now expected that the county will produce a surplus of malting barley of 150-200,000 tonnes. As the local market paid about CZK 3,800 ex farm (EUR 119), Czech barley has been uncompetitive in other EU countries. Slovak crop results are as good as in Austria and the Czech Republic. Price patterns followed the Czech market.
The Canadian Wheat Board (CWB) announced on July 30, 2004 the market outlook for the 2004–05-crop year
. According to CWB, the offshore feed barley market is expected to be very competitive in 2004–05. Global barley production is currently projected at 147 million tonnes, up 7 million tonnes from the previous year, CWB cited USDA. The increase is primarily driven by a production recovery in Europe and the CIS leading to a potentially large export surplus despite tight grain carryover stocks in this region. An increase in feed wheat supplies available from the Black Sea region combined with prospects for a record U.S. corn crop are also expected to weigh on global feed barley values. Domestically, prospects for a larger barley crop are expected to pressure the domestic feed grain market but prices will also depend on the quality of the wheat harvest and domestic demand. A resumption of live cattle exports to the U.S., blocked since the discovery of one case of BSE in May 2003, would positively impact domestic feed barley prices, although it is unclear at this time when a resolution to this trade issue will be achieved. Global trade of designated barley is expected to recover in 2004–05 largely driven by a recovery in Chinese malting barley import demand. After a very slow start in 2003–04, China's import pace returned to more normal levels later in the season. Harvest rains in parts of the CIS may have damaged quality, reducing domestically available supply of malting barley and increasing import demand in spite of larger crops this year. Ample carryover supplies and good crop conditions to date in the U.S. have tempered import demand expectations. On the supply side, in spite of some poorly timed rains in Germany, the EU is expected to have an average malting barley export program this year while Australia's barley production prospects are fairly good at this time. The global malting barley market should be relatively competitive in 2004–05.
France: The winter barley crop is large and of good, homogeneous quality. Esterel yields are about 7 tonnes per ha
, 75 % full barley, protein 10-11 %. Vanessa yields even up to 8 tonnes/ha, 90 – 95 % full barley, protein 11 % and lower. Spring barley harvest just finishing now in the North, excellent yields of 7 – 8 tonnes/ha in the traditional malting barley regions, proteins 10 – 11,5 %, full barley 90 % and more, moisture from 15 % in the early harvest areas down to 13 % during the past few days. Markets dropped in one week: Scarlett, July, FOB Creil, from EUR 123 to EUR 116 per tonne. Scarlett, FOB Moselle, traded at EUR 120. Esterel sold at EUR 103 FOB Creil.
Theoretical malt prices.
EURO = USD 1.2055 August 04, 2004
Crop year
2004
Parity
FOB Antwerp
Position
Oct 2004-Sept 2005
Conditioning
Bulk
In bags
Bulk containers
Bags, containers
Malting barley variety
EURO
USD
EURO
USD
EURO
USD
EURO
USD
2RS
Scarlett
249.50
301.00
265.00
319.50
261.50
315.00
270.50
326.50
2RS
Prestige
248.50
299.50
263.50
317.50
260.00
313.50
269.50
325.00
2RS
Aspen
248.00
298.50
263.00
317.00
259.50
312.50
269.00
324.00
2RS
Optic
248.00
298.50
263.00
317.00
259.50
312.50
269.00
324.00
2RS
Astoria
247.50
298.00
262.50
316.50
258.50
312.00
268.50
323.50
2RS
Cork
247.50
298.00
262.50
316.50
258.50
312.00
268.50
323.50
2RS
Average price
248.50
299.00
263.50
317.50
259.50
313.00
269.50
324.50
2RS
FAQ
246.00
296.50
261.00
314.50
257.50
310.50
267.00
322.00
6RW
Esterel
231.50
278.50
246.50
297.00
242.50
292.50
252.50
304.00
*
Asia Malt 70/30
243.00
293.00
258.50
311.50
254.50
307.00
264.00
318.50
**
Asia Malt 50/50
239.50
289.00
255.00
307.50
251.50
303.00
260.50
314.50
* - 70/30 = 70% Average two Rows Spring and 30% Six Rows Winter
** - 50/50 = 50% Average two Rows Spring and 50% Six Rows Winter
Theoretical malt prices for crop 2003 are available online
www.e-malt.com/MarketPrices
Malting barley prices. French barley prices.
Nominal prices.
EURO = USD 1.2055 August 04, 2004
Crop year
2003
2004
Parity
FOB Creil
FOB Creil
Position
July 2003
July 2004
Type
Variety
EURO
USD
EURO
USD
2RS
Scarlett
113.00
136.50
119.00
143.50
2RS
Prestige
111.00
134.00
118.00
142.50
2RS
Cellar
110.50
133.50
118.50
143.00
2RS
Aspen
110.50
133.50
117.50
142.00
2RS
Optic
110.50
133.50
117.50
142.00
2RS
Astoria
110.00
133.00
117.00
141.50
2RS
Cork
110.00
133.00
117.00
141.50
6RW
Esterel
105.00
126.50
104.00
125.50
French Malting Barley Price Evolution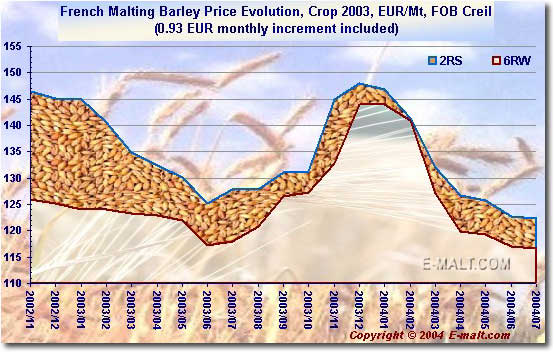 | | |
| --- | --- |
| | Maximum average price* for 2RS Barley: 148.50 EUR/tonne - in November 2002 |
| | Minimum average price* for 2RS Barley: 110.79 EUR/tonne - in July 2004 |
| | Maximum average price* for 6RW Barley: 140.00 EUR/tonne - in December 2003 |
| | Minimum average price* for 6RW Barley: 105.00 EUR/tonne - in July 2004 |
| * | without increment |
Graph of the week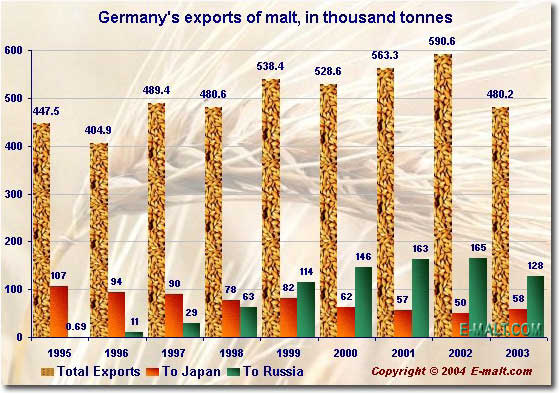 Agenda
August 2004:
Great British Beer Festival;
Worcester Beer and Cider Festival;
BeerTek China Beer and Brewing Technology Exhibition;
Peterborough Beer Festival 2004;
FOODWORLD Food and Beverage Exhibition;
TecnoBebida Latin America International Exhibition of Technologies for the Beverage Industry;

September 2004:
6th BELGIAN BEER WEEKEND;
China Brew 2004 / China Beverage 2004;
International Brewery and Soft Drinks Industry Exhibition;
FOOD & BEVERAGE PROCESSING & PACKAGING INDONESIA 2004;
Pivoindustria International Beer Industry Exhibition;
National Beer Wholesalers Show 2004;
PAN ASIAN FOOD & BEVERAGE TRADE SHOW 2004;
Barley Malt Quality Evaluation Short Course;
EUROMALT BARLEY SEMINAR 2004;
bevex Beverage Trade Fair;
InterBev 2004;
YUGOSLAVIA INTERNATIONAL FAIR OF FOOD & BEVERAGES 2004;
BevExpo 2004;
Great American Beer Festival;

October 2004:
Great American Beer Festival;
bevex Beverage Trade Fair. Germany;
Great Welsh Beer & Cider Festival;
ST. PETERSBURG FOOD SALON 2004;
Beer Fair. Spain;
Expo Bebidas Beverage Exhibition. Mexico;
EXPOALIMENTOS Y BEBIDAS 2004. Panama;
Fall Eastern PA Breweriana;
Knoxville Brewer's Jam - A Memorial to Tom Rutledge;
INTERPRODTECH Food and Beverages Processing Exhibition. Russia;
Alko and Drinks Show Alcoholic Beverages and Non-alcoholic Drinks Exhibition. Russia;
WORLD FOOD KAZAKHSTAN 2004;
PAN ASIAN FOOD & BEVERAGE TRADE SHOW 2004. Canada;

More events are available on site e-malt.com