---
Newsletter Summary

---
Currency rates
Brewery news
Malt news
Barley news
More news
Theoretical malt prices
Malt Price Evolution
Malting barley prices
Table of the week
Graph of the week
Agenda
Do you know e-malt.com?
---
Average market prices Change trend
---

Note: Just click on the price link and you will be led to our Market Price History.
Average barley market prices are French and are estimated on FOB Creil basis.
Average malt market prices are estimated on FOB Antwerp basis.
The changes are compared to last Newsletter's prices.
Arrows indicate the direction of the change.


---
Easy E-malt.com
---
---
E-malt.com access
---
---
Do you know
E-malt.com ?
---
Dear E-malt Reader!

E-malt.com Newsletters Archive could be found directly on e-malt.com site. Browsing through our Newsletters' Archive you may see all the issues you have missed. To this purpose you just have to login e-malt.com and click on Newsletters link in the menu. Reading our Newsletters you will be kept informed with the latest news and events regarding malting and beer world. You may also submit your own news, events or other information to the address info@e-malt.com!

Updated figures related to USA barley and malt trade with Mexico and Canada could be seen in NAFTA section of e-malt.com menu. To this purpose please enter e-malt.com!

You may find updated malt, barley and beer statistics on e-malt.com Statistics section. Just enter e-malt.com! Here you will find all tables issued with e-malt.com newsletters.

E-malt.com Agenda gives the possibility to keep you informed about the Events planned to be held in the whole world related to the brewing and malting industries. To this purpose you just have to login e-malt.com and click on Agenda link in the menu. Reading our Event Agenda you will find out about the future symposia, conferences and festivals related to malting and beer world. You may also submit your own events to the address info@e-malt.com

E-malt.com has Trading Online system. The system is to be used for malt/barley trading. One can register a malt/barley offer or a malt/barley request. The registering person could be as a seller/buyer or as an agent for seller/buyer. The User can see information about all active malt/barley offers & requests. If needed the system allows user to buy/sell malt/barley due to reasonable offers/requests. The way to do this is to confirm reasonable transaction. Trading Online rules are available through the Internet in the Trading Online as well as Tutorial (useful for persons who starts the system usage). To visit the E-malt Trading Online first go to the E-malt.com site, then click Trading Online link in the left menu of the e-malt.com home page. For more details please contact info@e-malt.com

Thank You!

---
E-malt.com Links!
---
Industry news
Market prices
EU Regulations
NAFTA
Specifications
Special malts
Professional Help
Trading online
Costing online
Statistics
Graphs
NewsLetters
Agenda
Accounts
Log In
Contact us
---
Other e-malt.com newsletters
---
Last five newsletters
---


Newsletter 37b, 2004


Newsletter 37a, 2004


Newsletter 36b, 2004


Newsletter 36a, 2004


Newsletter 35b, 2004
---
Market price evolutions
---
The evolution of market prices for barley and malt, which are periodicaly issued with e-malt.com newsletters are published on e-malt.com site in Market Prices section. Just click here!
---
Available market price evolutions
---


Malt Market Price Evolution. Crop 2004


French Malting Barley Price Evolution. Crop 2004


Malt Market Price Evolution. Crop 2003


French Malting Barley Price Evolution. Crop 2003
---
E-malt.com graphs
---
All graphs issued with e-malt.com newsletters are published in "Graph" section of e-malt.com site.
---
Last five graphs
---


Asia per capita consumption of beer in 2003


World premium beer market


Belgium beer production and export


Russian beer exports


Argentina beer consumption
---
The graphs are updated from time to time. Just see the updates online on e-malt.com site!
---
Last updated graphs
---


Canada Domestic and Imported Beer Sales


Canada's per capita consumption of beer


Canada's Number of Breweries


Australia export of barley & malt


Canada exports of malt
---
E-malt.com Tables
---
We have the pleasure to let you know that all e-malt.com tables are published in e-malt.com Statistics section. The Statistics section includes Barley statistics, Malt statistics and Beer statistics. The tables related to barley are published in Barley Statistics section, the tables related to malt in Malt Statistics section and the tables related to beer in Beer Statisctis section.
---
Last five tables
search in statistics
---


EU malt export licence fixations until August 24, 2004


Ukrainian barley export


Canadian malting barley exports by countries


European barley crop estimate


The 40 beer giants of the world for 2003
---
Note
---
If you have any comments, questions, suggestions or remarks, you can send a mail to: info@e-malt.com. To submit your own news to our editorial team, email to: info@e-malt.com
---
If you have received this newsletter from a colleague, you can obtain your own free subscription here, or a full FREE registration here.
---
You may recommend our site to your friend by clicking here
---
If you do not wish to receive our newsletter, please unsubscribe your e-mail address (@EMAILADDRESS@) from our mailing list using unsubscribe form from our site!
E-malt.com Newsletter 38a
September 13 - September 15, 2004 Currency Rates

Base Currency: Euro, EUR
on 15-September-2004

1 EUR = 1.2260 USD
1 EUR = 0.6827 GBP
1 EUR = 1.5858 CAD
1 EUR = 1.7472 AUD
1 EUR = 134.41 JPY
1 EUR = 3.5677 BRL
1 EUR = 35.836 RUB

Base Currency: US Dollar
on 15-September-2004

1 USD = 0.8159 EUR
1 USD = 0.5565 GBP
1 USD = 1.2935 CAD
1 USD = 1.4251 AUD
1 USD = 109.63 JPY
1 USD = 2.91 BRL
1 USD = 29.23 RUB

EUR/USD Chart
Top Industry News
More News
Brewery News


China: Lion Nathan Limited in deal to sell Chinese beer business for $A219 million. Lion Nathan Ltd said on September 15 it has entered into an unconditional agreement to sell its Chinese beer business

, Lion Nathan China, to China Resources Breweries (CRB) for $US154 million ($NZ236m). The sale follows the conclusion of a competitive sales process, ShareChat News posted on September 15, 2004. CRB is a joint venture owned by SABMiller and China Resources Enterprises, and is the second largest brewer in China, operating more than 30 breweries in the Chinese mainland. The sale price represents a premium to the book value of Lion Nathan China of around $A120 million ($NZ129 million). The consideration comprises approximately $US71 million in cash as well as the assumption by CRB of about $US83 million in debt. Completion is expected to occur on September 30. "This is an excellent outcome for Lion Nathan and its shareholders," said Lion Nathan chief executive officer Gordon Cairns. "It can be attributed to a number of factors including the quality of our assets and brands, the strategic importance of our operations in the rapidly consolidating Yangtze River Delta beer market and the outstanding job the Lon Nathan China team has done in building our business in China," he said. Lion Nathan chief financial officer Jamie Tomlinson said the decision to sell the Chinese beer business followed a detailed review of Lion Nathan's competitive position in China. He said the options considered included increasing the scale of the business through acquisitions, participating in the consolidation of the Chinese beer market by way of a merger or joint venture, or selling the business into the current wave of industry consolidation. "Having considered all of these options, Lion Nathan concluded that this sale was the best outcome for Lion Nathan shareholders especially given the capital and profit risk associated with remaining in China," he said. The proceeds of the sale will be applied to debt reduction, Tomlinson said.

Colombia: Colombian brewer Bavaria will take direct control of Compania Boliviana de Bebidas

, which it already controls indirectly via its Peruvian subsidiary Cervecerias Peruanas Backus y Johnston, Bavaria said on Tuesday, Sept 14, according to Reuters. "We simply want the head office to have more direct control over the operation in Bolivia. We're going to make a bit more of an effort in marketing and publicity to beef up that operation," a Bavaria official said. Bavaria plans to spend about $4 million on marketing and refrigeration units for Compania Boliviana de Bebidas, which produces non-alcoholic drinks and shares rights to PepsiCo Inc (PEP.N: Quote, Profile, Research) products in Bolivia, the official said. Bavaria, controlled by Colombian businessman Julio Mario Santo Domingo, has recently bought breweries in Panama and Peru and has consolidated its brewing in Ecuador. It also has operations in Costa Rica.

Germany: Despite searing temperatures, the German Beer market declined more sharply in 2003 than in any of the previous three years

. According to a brand new report from leading beverage industry analysts Canadean, the effects of the controversial deposit scheme were dramatic. Introduced on the opening day of the year, the scheme charges consumers a deposit on all non-refillable packs and actually resulted in some retailers de-listing products from their shelves altogether. As a result, sales of canned Beer were decimated with consumption plummeting by more than 70%. The repercussions were widespread and even the Beer Mix segment, which has been expanding rapidly, took a significant downturn. The launch of the scheme could not have come at a worse time for the market, which has been in decline for a number of years. Overall, consumption dropped by more than 3% although the losses in canned Beer were partly offset by the strong growth in exports, particularly to other EU countries. Although export levels have traditionally been low when compared with domestic consumption, they are now booming. As turnover increases, German brewers are unsurprisingly showing a greater interest in these foreign markets! The largest segment, Pils, was responsible for over 90% of the total market decline. Much of this volume was lost to the third most important and fastest growing segment, namely Export (Export style beers as opposed to Exports). Second placed Weizen also grew strongly and is now enjoying something of a cult status. The on-premise channel proved especially rewarding for the segment which is moving further away from its regional roots in southern Germany to become a national and international favourite. This said, the very small number of national brands indicates that the potential for further growth may still be considerable. Between 1999 and 2002, consumption of Beer Mix Drinks grew by almost 80%. However, many products launched exclusively in cans were withdrawn from sale completely once the retailers began de-listing. The segment also faced increasing competition from flavoured alcoholic beverages. Germany remains the largest Beer market in Europe and is home to no less than three quarters of the EU's brewers. The number of breweries is expected to decline as the merger and acquisition activity seen in recent years continues apace. Looking forward, Canadean predict that the impact of the deposit scheme will be softened as more brands are marketed in refillable packs and retailers institute systems for the return of packaging. Exports should continue to thrive in 2004 but the familiar challenges presented by the shift towards healthier lifestyles, lower disposable incomes and the substitution of Beer for other beverages are likely to result in total consumption declining further still.

UK: InBev is to close the Boddingtons Brewery. Workers at Boddingtons went on a wildcat strike on Tuesday afternoon (September 14) as anger mounted over controversial plans to close Manchester's historic brewery

. All daytime production staff at the Strangeways plant, which has been operating since 1778, walked out just before 1pm in protest at threats to axe jobs. Earlier, officials from the T and G union met senior management figures from InBev - formerly Interbrew - the Belgium-based brewing giant that owns Boddies, which has proposed the closure. Staff hoped the meeting would produce a breakthrough and a change of heart by the company. But after two hours of talks, union representatives told the workforce that InBev was still determined to close the brewery, with the loss of 55 jobs. Angry workers then decided to walk out and stay out for 24 hours. Their action was not sanctioned by the T and G, which had not expected such a furious reaction on the shop floor. InBev announced last week that it would be shutting the Boddingtons Brewery in Manchester, home to the "Cream of Manchester" for almost 200 years. Interbrew UK, which owns the Stella Artois and Beck's brands, said that it was planning to shift production of cask Boddingtons to the rival Hydes Brewery in Manchester under contract. Production of its non-cask ales will be moved to Preston, South Wales and Glasgow. Cask ale Boddingtons, which InBev says accounts for 10 % of business, is set to be produced at Hyde's brewery in Moss Side. The shock announcement came two years after the M.E.N, the union and the workers combined to persuade InBev to drop a similar plan. But the brewing giant says that it has now done all it can to try to keep the site open. The company says that there has been a 14.5 % drop in sales of Boddingtons cask ales in the past two years. But the T and G disputes the figures and is calling on workers in InBev plants around the world to back their campaign to stay open. Workers held an angry meeting a night before when they unanimously backed plans to oppose the closure. They argue that the brewery is performing within budgets, increasing production and is in better shape than two years ago. One of those Boddies staff present said: "This was one of the most angry meetings I have seen in many years at this place. The people here feel like they've been sold down the river and they want to take this fight to InBev at the very highest level." ...

more info Brazil: Brazilian brewer Kaiser has concluded an agreement with Femsa, Mexico's largest beverage company, to produce Sol beer in Brazil

, according to Mexico press. The drink is already being manufactured in Kaiser's factory in Araraquara city in the state of Sao Paulo, Valor Econômico reported on September 13. Citing José Antonio Fernandez, Femsa's main executive, in the story, the newspaper said that the partnership is the first step by the Mexican company to increase its beer sales in the Latin American market.

China: SABMiller, the world's second largest brewer, made the second round of bidding for Australian brewer Lion Nathan's Chinese business

, The Times reported on Tuesday, September 14. The estimated 85-million-pound ($153 million) bid, reported by The Times without citing specific sources, compares with a range of analysts' expectations of A$100 million ($70 million) to A$150 million for the loss-making China operations. SABMiller, listed in both London and Johannesburg, withdrew from a bidding war for China's Harbin Brewery earlier this year, ceding the field to arch-rival Anheuser Busch. But it did not renounce its ambition to expand in China, the world's largest beer market, which is growing at about 6 percent a year. Global rivals such as Anheuser Busch, Dutch Heineken and Belgium's InBev have also been tipped as possible bidders in Lion Nathan's China auction, as have Asian groups such as China's Chongqing and Japan's Asahi, according to Reuters. Melbourne analysts said Lion Nathan would benefit from a wave of mergers among Chinese brewers as it moved closer to the sale. " "Clearly Lion Nathan is trying to strike while the iron is hot," an analyst said. Lion Nathan entered China in 1995 but its operations there have since tallied up losses of more than A$200 million, including writedowns. China is the world's largest beer market by volume but Lion Nathan has found it tough to turn a profit in the highly competitive market. Its China revenues in the six months to March 31 climbed 15.9 per cent to A$22.8 million and volumes, excluding the acquisition of the Hua Xia Brewing Co in Changzhou, were up 54 per cent to 49.6 million litres. But Lion Nathan warned increased competition and cost pressures would make it challenging to break even in operating earnings terms for the full year. The company's key brands in China are Taihushui, Steinlager, and Rheineck, targeting the Yangtze River Delta region, which includes Shanghai. Its main breweries are in Suzhou and Wuxi and it also has a smaller plant at Changzhou. Its plants had been operating at well below capacity, analysts said.

Malt News

Russia: In January/ June this year Russia still imported 290,000 tonnes of malt (550,000 tonnes July 2003 – June 2004). Imports of barley were 410,000 tonnes in the crop year 2003/04, which included 260,000 tonnes malting barley from the EU, according to the latest figures.

Barley News

Canada: For 2004-05, barley production in Canada is forecast by Agriculture and Agri-Food Canada (AAFC) to increase by 5% due to higher yields, despite lower seeded area, AAFC posted on September 10. Due to higher carry-in stocks and production, supplies are expected to rise by 9%. Feed use is projected to increase significantly, due to higher barley supplies in western Canada and increased shipments to eastern Canada. Malting barley exports are expected to rise, as import demand from China returns to normal. Feed barley exports are forecast to fall, due to increased competition from the Black Sea region, the EU-25, and Australia. Carry-out stocks are forecast to increase significantly. Off-Board feed barley prices are expected to decrease by about $15/t from 2003-04 to $120/t, due to increased domestic barley production and depressed US corn prices. The CWB August PRO for No.1 CW Feed Barley is $116/t I/S VC/SL, versus $167/t for 2003-04. The PRO for Special Select Two Row designated barley is $181/t versus $200/t for 2003-04, mainly due to higher supplies expected in Europe and Australia.

USA: While workers are building the $60 million International Malting Co. plant near Great Falls, farmers are waiting to see if the new plant will reshape the malt barley business in Montana. "We are really looking forward to them opening up and working with them," said Dave Henderson, a Cut Bank-area barley grower. Tribune Business posted that along with expanding the market for Montana barley, producers are hoping the contracts with IMC will yield better prices for high-quality malt barley. Higher prices will not only help farmers but also could put additional money into circulation in many northcentral Montana communities, officials say. An IMC official says the Milwaukee-based company likes what it sees in Montana so far. "Montana is getting a pretty good barley crop," said Alain Caekaert, who heads IMC barley buying in the United States and Canada. "It's a good start to our program." Caekaert said IMC, working with staffers from its buying agent in Montana, Columbia Grain, signed contracts with about 80 Montana growers early this year. He declined to discuss how much barley the company hopes to land from the 2004 crop. The contracting is just a start to what IMC plans to do in coming years, Caekaert said. "It was a small program to get the farmers familiar with us," he said, noting IMC was pleased with the reception it received from barley producers. The contracted barley, coupled with barley IMC will buy on the open market, will be used to fuel the Great Falls plant, which is slated to begin production in June 2005. In the long-term, the company hopes to be able to buy all the barley it needs for the new plant from Montana growers. IMC says it will use about 12 million bushels per year at the plant. Some of that amount could come from customers who supply their own barley as part of "toll malting" deals with IMC. The malt produced in Great Falls will be sold to brewers, distillers and food producers. It is expected to help IMC meet increasing demand for malt in the western United States, as well as overseas. While the brewing industry has been growing only slowly in North America, markets in the China, Southeast Asia, Mexico and other places in Latin America are fueling demand ...more info

Ukraine will export 3 million tonnes of barley in 2004/05-market year, APK-Inform posted on September 13. According to State Statistics Committee, the amount of barley exported from Ukraine in July 2004 made up 129,000 tonnes. The average price of barley exported in July was US$109 per tonne versus US$137 per tonne in the previous month. The main buyers of Ukrainian barley in July were Saudi Arabia (35,000 tonnes or 27 % of the total export), Libya (32,000 tonnes or 25 %) and Israel (27,000 tonnes or 21 %). According to APK-Inform data, during August-September 2004 barley shipments from Ukrainian ports have increased significantly. According to preliminary data 380,000 tonnes of barley were shipped in August. Over 300,000 tonnes of barley were shipped during the period of September 1-13. APK-Inform analysts forecast barley export in 2004/05 MY to reach 3 million tonnes. This figure will be a record for Ukraine. Last season Ukraine exported 1.52 million tonnes of barley.



Theoretical malt prices.
EURO = USD 1.2260 September 15, 2004
Crop year
2004
Parity
FOB Antwerp
Position
Oct 2004-Sept 2005
Conditioning
Bulk
In bags
Bulk containers
Bags, containers
Malting barley variety
EURO
USD
EURO
USD
EURO
USD
EURO
USD
2RS
Scarlett
240.00
294.50
255.50
313.00
251.50
308.50
261.00
320.00
2RS
Prestige
239.00
292.50
254.00
311.50
250.50
307.00
260.00
318.50
2RS
Aspen
238.50
292.00
253.50
310.50
249.50
306.00
259.50
318.00
2RS
Optic
238.50
292.00
253.50
310.50
249.50
306.00
259.50
318.00
2RS
Astoria
237.50
291.50
252.50
310.00
249.00
305.50
258.50
317.00
2RS
Cork
237.50
291.50
252.50
310.00
249.00
305.50
258.50
317.00
2RS
Average price
238.50
292.50
253.50
311.00
250.00
306.50
259.50
318.50
2RS
FAQ
236.50
289.50
251.50
308.50
248.00
304.00
257.50
315.50
6RW
Esterel
226.50
277.50
241.50
296.50
238.00
292.00
247.50
303.50
*
Asia Malt 70/30
235.00
288.00
250.00
306.50
246.50
302.00
256.00
314.00
**
Asia Malt 50/50
232.50
285.00
247.50
303.50
244.00
299.50
253.50
311.00
* - 70/30 = 70% Average two Rows Spring and 30% Six Rows Winter
** - 50/50 = 50% Average two Rows Spring and 50% Six Rows Winter
Theoretical malt prices for crop 2003 are not quoted.
Malt Price Evolution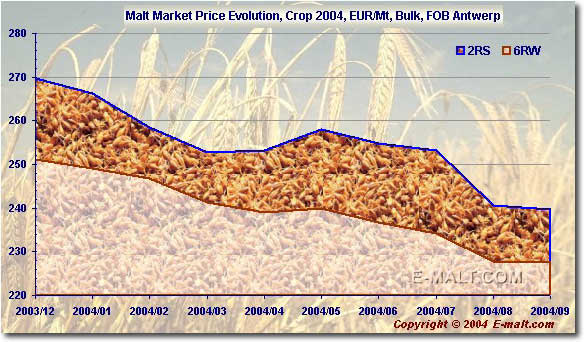 | | |
| --- | --- |
| | Maximum average price for 2RS Malt, crop 2004: 270.50 EUR/tonne - in December 2003 |
| | Minimum average price for 2RS Malt, crop 2004: 238.50 EUR/tonne - in August-September 2004 |
| | Maximum average price for 6RW Malt, crop 2004: 252.50 EUR/tonne - in December 2003 |
| | Minimum average price for 6RW Malt, crop 2004: 226.50 EUR/tonne - in August-September 2004 |
Source: E-malt.com

Malting barley prices. French barley prices.


Nominal prices.



EURO = USD 1.2260 September 15, 2004
Crop year
2003
2004
Parity
FOB Creil
FOB Creil
Position
July 2003
July 2004
Type
Variety
EURO
USD
EURO
USD
2RS
Scarlett
nq
nq
112.00
137.50
2RS
Prestige
nq
nq
111.00
136.50
2RS
Cellar
nq
nq
111.50
137.00
2RS
Aspen
nq
nq
110.50
135.50
2RS
Optic
nq
nq
110.50
135.50
2RS
Astoria
nq
nq
110.00
135.00
2RS
Cork
nq
nq
110.00
135.00
6RW
Esterel
nq
nq
101.00
124.00
Table of the week

Estimate of EU Barley Crops (in thousand metric tonnes)


in '000 tonnes
WINTER
SPRING
TOTAL
Acreage

Crop

Acreage
Crop
Acreage

Crop

2003
2004
2003
2004
2003
2004
2003
2004
2003
2004
2003
2004
EU Members
Austria
73
80
341
480
139
111
541
612
212
191
882
1,092
Belgium
30
34
205
245
11
6
66
37
41
40
271
282
Denmark
130
130
776
845
580
550
3,000
3,025
710

680

3,776

3,870

Deutschland
1,323
1,360
6,979
9,548
751
613
3,617
3,373
2,074
1,973
10,596
12,921
Spain
744
790
2,022
2,373
2,345
2,367
6,676
7,449
3,089
3,157
8,698
9,822
France
1,053
1,051
5,878
7,277
697
581
3,990
3,566
1,750
1,632
9,868
10,843
Greece
105
112
242
298
-
-
-
-
105
112
242
298
Ireland
17
13
131
95
169
161
1,022
1,058
186
174
1,153
1,153
Italy
310
310
1,009
1,130
-
-
-
-
310
310
1,009
1,130
Luxembourg
5
5
28
38
5
4
27
25
10
9
55
63
Netherlands
3
3
20
21
53
53
352
329
56
56
372
350
Portugal
10
11
12
18
-
-
-
-
10
11
12
18
Finland
-
-
-
-
530
564
1,697
1,813
530
564
1,697
1,813
Sweden
7
6
40
30
356
393
1,502
1,772
363
399
1,542
1,802
United Kingdom
456
422
2,851
2,659
622
612
3,518
3,550
1,078
1,034
6,369
6,209
Total old EU members
4,266
4,327
20,534
25,057
6,258
6,015
26,008
26,609
10,525
10,342
46,542
51,666
New EU Members
Estonia
132
135
263
256
132
135
263
256
Latvia
139
140
247
273
139
140
247
273
Lithuania
309
292
900
875
309
292
900
875
Poland
106
142
228
728
910
926
2,603
2,680
1,016
1,068
2,831
3,408
Cyprus
50
50
100
127
50
50
100
127
Czech Republic
86
116
440
594
464
353
1,628
1,862
550
469
2,068
2,456
Slovakia
20
19
150
86
220
205
682
834
240
224
832
920
Slovenia
14
16
39
68
14
16
39
68
Hungary
181
189
445
873
168
147
380
600
349
336
825
1,473
Total new EU members
457
532
1,402
2,476
2,342
2,198
6,703
7,380
2,799
2,730
8,105
9,856
TOTAL EU
4,723
4,859
21,936
27,533
8,600
8,213
32,711
33,989
13,323
13,072
54,647
61,522

Graph of the week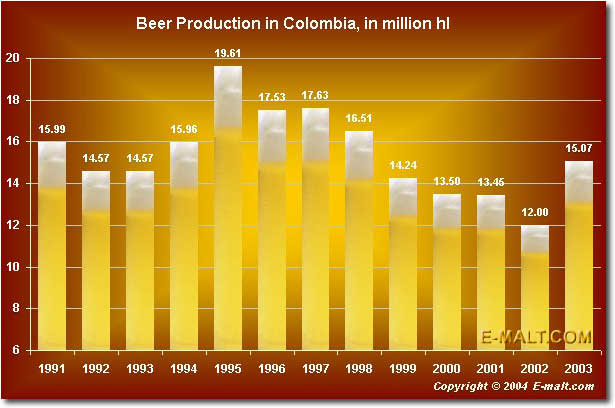 Agenda


September 2004:
6th BELGIAN BEER WEEKEND;
China Brew 2004 / China Beverage 2004;
International Brewery and Soft Drinks Industry Exhibition;
FOOD & BEVERAGE PROCESSING & PACKAGING INDONESIA 2004;
Pivoindustria International Beer Industry Exhibition;
National Beer Wholesalers Show 2004;
PAN ASIAN FOOD & BEVERAGE TRADE SHOW 2004;
Barley Malt Quality Evaluation Short Course;
EUROMALT BARLEY SEMINAR 2004;
OCTOBERFEST Famous German Beer Festival;
Agro + Food + Drink + Tech Expo Georgia Food, Beverages and Processing Equipment Trade Fair;
bevex Beverage Trade Fair;
InterBev 2004;
YUGOSLAVIA INTERNATIONAL FAIR OF FOOD & BEVERAGES 2004;
BevExpo 2004;
Great American Beer Festival;

October 2004:
OCTOBERFEST Famous German Beer Festival;
Great American Beer Festival;
bevex Beverage Trade Fair. Germany;
Great Welsh Beer & Cider Festival;
ST. PETERSBURG FOOD SALON 2004;
Beer Fair. Spain;
Expo Bebidas Beverage Exhibition. Mexico;
EXPOALIMENTOS Y BEBIDAS 2004. Panama;
Fall Eastern PA Breweriana;
Knoxville Brewer's Jam - A Memorial to Tom Rutledge;
INTERPRODTECH Food and Beverages Processing Exhibition. Russia;
Alko and Drinks Show Alcoholic Beverages and Non-alcoholic Drinks Exhibition. Russia;
WORLD FOOD KAZAKHSTAN 2004;
PAN ASIAN FOOD & BEVERAGE TRADE SHOW 2004. Canada;

More events are available on site e-malt.com