Germany: InBev, the world's largest brewer by volume, announced on October 1, 2004 that the strategic partnership with Gabriel Sedlmayr Spaten-Franziskaner Bräu KGaA ("Spaten")
, which combines Spaten's beer business with Interbrew Deutschland, is closed as of today. All brewery operations of the Spaten-Franziskaner-Löwenbräu-Group (Munich) are now part of Interbrew Deutschland. The acquisition of the Dinkelacker-Schwaben Bräu (Stuttgart) and Mauritius (Zwickau) breweries is expected to close on October 4, 2004. The partnership with Spaten makes InBev's affiliate, Interbrew Deutschland, the number two brewer in Germany's domestic market, with an 11% market share. This strategic partnership strengthens Interbrew Deutschland's geographic presence in all the important segments of the German beer market. Based on total sales, including export volumes of Beck's®, among others, Interbrew Deutschland is now the number one German brewer. "We are delighted to have achieved the closing of this partnership within the timeframe we predicted," commented InBev's CEO, John Brock. "Spaten not only gives us a strong position in southern Germany, it also adds some very attractive brands with great international potential to our portfolio. Going forward, Germany remains very much in our strategic focus." Germany is a key strategic market, said the brewery. It is Europe's largest beer market, and it is consolidating. InBev's aim is to be number 1 or number 2 in every market where it is present, with a balanced portfolio of outstanding brands. InBev entered the German market in 2001. With breweries in Bremen, Issum, Hannover, Braunschweig and Wernigerode, and a national sales, marketing and distribution structure, Interbrew Deutschland has outperformed market growth and lifted margins. The company's new brands, together with its national lager brands, Beck's® and Hasseröder®, its regional brands Gilde®, Haake-Beck® and Wolters®, and its leading Altbier brand, Diebels®, further enhance its strength in the German market. While Interbrew Deutschland already had a strong brand portfolio, modern breweries, and a high-quality national distribution network, there were two areas where it needed to reinforce its presence: in the Weissbier segment, and in southern Germany. Combining Spaten's brewing interests with Interbrew Deutschland has filled these gaps, and provides a powerful platform for additional cross-selling, top-line volume growth, and further margin improvement. Franziskaner® gives Interbrew Deutschland a strong position in the popular Weissbier segment...
more info
Brazil: Molson Inc. revealed that Brazil is the right place to be. Company's CEO, Dan O'Neill, announced on Friday, 01 October 2004 that a proposed merger with Adolph Coors Co would help its troubled brewery there
, which faces a C$200 million writedown. "In Brazil we feel most importantly it would give us time to recapture and not sell too early and to make sure if there's an opportunity there we can capture that opportunity," Dan O'Neill said at an investors conference in Quebec city. "Also there's been a lot of testing of Coors Lite in Brazil and they feel in several markets there is an opportunity." O'Neill's comments come less than 24 hours after Molson warned of a second-quarter profit shortfall because of weaker summer beer sales in Canada and a write-down at its Brazilian unit Kaiser, Reuters revealed. Molson, which is trying to complete a friendly merger with Coors by the end of the year, said that its earnings before nonrecurring items would be below the current range of estimates published by financial analysts. The company said it could face a C$200 million write-down on its Brazil brewer, whose operations are being reevaluated to cope with eroding revenues and profit margins. The warning prompted brokerage Raymond James to reduce its target price on the company's stock to C$33 a share from C$36. National Bank Financial lowered its forecast on the company's earnings per share for fiscal 2005, which ends March 31. National Bank also cut its target price on the brewer's shares to C$36 from C$39. UBS placed its rating and target price on the company's stock under review and said "We had grown to view our outlook as being a bit on the optimistic side, but clearly did not anticipate a shortfall of this magnitude." Desjardins Securities reduced its financial forecast for fiscal 2005 and cut its target price on Molson's stock to C$34 from C$35 a share and said "should the merger with Coors not be approved, we expect the share price to fall below C$30." A union between Canada's oldest brewer and Colorado-based Coors will create the world's fifth largest brewer by volumes and will help shoulder the burden of Brazil. ...
more info
EU: The European Commission has fined brewers Heineken and Kronenbourg 2.5 million euros (1.7 million pounds) for reaching an "armistice" agreement to divide beer distribution networks in France
, Reuters revealed on September 29. The Commission, the European Union's executive, said on Wednesday France's two main brewers had agreed in 1996 to stop acquiring distributors outside an agreed list, calling a halt to an "acquisition war" that was costly for both firms. The Commission, the EU's executive, fined Dutch brewer Heineken 1 million euros. Groupe Danone and Brasseries Kronenbourg received a 1.5 million euro fine. The Kronenbourg brand has since been bought from Danone by Britain's biggest brewer, Scottish & Newcastle. The Commission, the European Union's executive, said France's two main brewery groups had agreed in 1996 to stop acquiring distributors outside an agreed list, calling a cease-fire in an "acquisition war" that was costly for both firms. Heineken and Kronenbourg also agreed to balance the total volumes of beer they distributed, as well as the volumes of each other's beer brands that they delivered, the Commission said. The Commission said the agreement, code-named "armistice", was never implemented and it took this into account when assessing the fines. The Commission quoted an internal note from the CEO of Heineken in 1996, who wrote: "Yesterday we have reached agreement with Danone to put an end to the stupid and costly acquisition war." Heineken said in a statement that it was studying the ruling in order to decide if it would make an appeal, but that the size of the fine indicated the alleged infringement was only "incidental" in nature. Commission spokesman Tilman Lueder said the Commission, which has already levied more than 90 million euros in fines for beer cartels, had one outstanding investigation in the Netherlands. That would not close imminently, he said.
China: InBev, the world's largest brewer by volume, announced on September 30, 2004 the closing of its acquisition of the remaining 50 % of Lion Group's beer business in China, hereby gaining 100 % control
. In September 2003, Lion Diversified Holdings Berhad (LDHB), a diversified Malaysian group, sold 50 %of its China brewing activities to InBev for USD131.5 million, and transferred the management control of the strategic partnership to InBev. On 20 September 2004, InBev announced the acquisition of the remaining 50% for a cash consideration of USD131.5 million. InBev is today the third-largest brewer in China, with 30 million hectoliters of capacity, produced by 18 breweries, and present in 6 major provinces: Zhejiang, Guangdong, Hubei, Hunan, Jiangsu and Shandong. InBev is a publicly traded company (Euronext: INB) based in Leuven, Belgium. The company's origins date back to 1366, and today it is the leading global brewer by volume. InBev's strategy is to strengthen its local platforms by building significant positions in the world's major beer markets through organic growth, world-class efficiency, targeted acquisitions, and by putting consumers first. InBev has a portfolio of more than 200 brands, including Stella Artois®, Brahma®, Beck's®, Leffe®, Hoegaarden®, Staropramen® and Bass®. InBev employs some 70,000 people, running operations in over 30 countries across the Americas, Europe and Asia Pacific. In 2003, InBev realized a net turnover of approximately 9.3 billion euro (2003 pro forma).
Russia: Moscow-Efes Breweries, a subsidiary of Turkish beverage giant Efes, has reached a letter contract of purchasing 68% of Pivoindustriya Primorya brewery in Vladivostok
. The brewery is appreciated at US$ 20 million, Russian newspapers posted on September 28. The deal is to be closed by the end of October. Moscow-Efes' CEO said the company is considering some regional enterprises including Pivoindustriya Primorya. The final decision about the acquisition was not taken. Some other two companies are reported to have shown an interest Pivoindustriya Primorya's stake: the Baltika brewery, owned by the Russian Baltic Beverage Holdings, and Sun Interbrew, jointly controlled by Belgian group Interbrew (now InBev) and India-based Sun group. However the most probable buyer is Efes. These three already have strong ties with Russia. Baltika is the number one player, supplying more than 30 per cent of the Russian beer market, while Sun Interbrew is the second-largest beer producer. Moscow Efes, meanwhile, owns the country's third largest brewery. But of the big players, only Baltika currently has a brewery in Russia's far east, which may leave good potential for expansion in an area of the country where beer consumption is still relatively low. Anyone who does invest in Pivoindustriya Primoriya, currently owned by shareholders of Russian dairy and juice company Wimm-Bill-Dann (WBD), will have to invest extra money in order to expand its capacity, but if the Far East beer market grows like its counterpart in the European part of the country then the move could be extremely profitable. Dutch company Heineken has already upped its presence in Russia, stating that it expects the Russian beer market as a whole to grow by a further seven per cent during 2004. In August this year, Heineken became the third biggest company in Russia's beer market after acquiring WBD shareholders' controlling stake in the Volga and Shikhan breweries making up the Central European Brewing Company (CEBCO), which used to include Pivoindustriya Primoriya."...
more info
Philippines: San Miguel Corporation (SMC) announced on October 1 sustained its steady growth for the first eight months of 2004 with consolidated operating income reaching P10.1 billion
, 35% better than last year. This was achieved on consolidated revenues of P107.9 billion, 12% higher than last year. Corporate volume in the January-August period grew by 6%. Consolidated net income to-date rose 28% to P4.76 billion from last year's P3.72 billion despite higher financing charges. Higher volumes of beer and the fixed cost containment of the Coca-Cola Beverage Group continued to account for these improvements. Domestic Beer Operations' sales volume for the eight-month period rose 16% from last year. Corresponding sales revenue as of August was P23.4 billion, up 20%, while operating profit was P4.71 billion, 25% better than a year ago. The benefits of improved distribution, right product portfolio and the influx of new drinkers in the market resulted in these gains. Beer International sales volume for the first eight months was 13% above last year's level. Year-to-date sales revenue of US$166.3 million is 14% better than last year's US$145.3 million. San Miguel Corporation is the largest publicly-listed food, beverage, and packaging company in the Philippines. Founded in 1890 as a brewery, the company has over 100 facilities in the Philippines, Southeast Asia, China, and Australia. San Miguel's flagship product, San Miguel Beer, holds over 90% share of the Philippine beer market. It is among the world's largest selling beers and is one of the top three brands in Asia. The Company has five breweries in the Philippines, one brewery each in Indonesia and Vietnam, and four breweries in China, including Hong Kong. Ginebra San Miguel, Inc., a San Miguel subsidiary, is the leader in the Philippine distilled spirits market.
Malt News
European Union and Mercosur officials criticized each other's trade proposals on Thursday, making an Oct. 31 deadline to create a transatlantic free trade area appear increasingly unrealistic. "I think that with this EU offer, it's going to be more difficult (to meet the deadline)," said Regis Arslanian, Brazil's chief negotiator for the trade talks. Brazil leads the South American bloc Mercosur, which also groups Argentina, Paraguay and Uruguay, Reuters revealed. Asked if Mercosur could improve its offer, he said: "On both sides it can improve ... The EU offer is terrible, it does not meet the basic conditions of Mercosur." Mercosur, a major agricultural producer, wants greater access to the EU's lucrative food market and wants rules liberalized to allow its professionals to work in the EU. "Mercosur's offer on malt is not more that a tariff preference of 20%, versus a complete liberalization in the previous offer. Let us recall that this new offer is actually made to unblock the negotiation of a free exchange agreement," EU authorities revealed.
Barley News
USA: Barley production for 2004 in the United States is estimated at 280 million bushels (about 6.1 million metric tonnes), up 3% from the August 1 forecast and up 1% from last year, according to the USDA's small grains production forecast, AgReport posted on September 30. Average yield per acre, at a record high 69.5 bushels, is up 3.8 bushels from the last forecast and 10.6 bushels above 2003. The area harvested for grain is estimated at 4.03 million acres, down 3% from August and 15% below a year ago. The increase from the previous production forecast is mostly due to Montana, where harvested area is up 50,000 acres and the yield increased by 8 bushels per acre. For Idaho, North Dakota, and Washington, yields increased from August but are more than offset by decreases in the harvested acreage, resulting in lower production. U.S. barley stocks in all positions in the United States on September 1, 2004 totaled 292 million bushels, up 21% from September 1, 2003, according to the latest USDA stocks in all positions estimate. On-farm stocks are estimated at 177 million bushels, 24% above a year ago. Off-farm stocks, at 115 million bushels, are 16% above September 2003. The June - August 2004 indicated disappearance is 109 million bushels, 2% above the same period a year earlier.

US Barley prices continue to hold firm despite harvest pressure, Farm & Ranch Guide revealed on September 30. Despite predictions from the USDA's Economic Research Service that the world barley ending stocks will be the largest in six years, the market has been fairly steady. In its report released on Sept. 14, the Economic Research Service (ERS) increased its predicted ending stocks by 1.8 million tonnes this month to 28.4 million tonnes, the largest in six years. According to the ERS, the largest increase in barley production is in the Ukraine region, which could see a one million ton increase. Other areas realizing increased barley production figures include the European Union and Belarus. However, barley prospects dropped in Kazakhstan because of drought, and Canada's barley production was reduced by 0.25 million tons because of early frost and delays in maturity. Domestically, both the production forecasts and estimated farm prices remained unchanged as of Sept. 1. The ERS did say frosts in Canada have raised questions on the potential size of the crop there and that may add some strength to U.S. prices. The ERS is still estimating U.S. barley production this year at 273 million bushels, which compares to a harvest of 276 million bushels last year. This production figure, when combined with a beginning stocks figure of 120 million bushels and imports of 20 million bushels, gives a 413 million bushel barley supply. Total barley use for this marketing year is estimated at 287 million bushels, leaving a projected carryover of 126 million bushels. As for prices, the ERS is still projecting the farm price in a range of $2.25 to $2.65 a bushel on a nation-wide basis ...more info


Theoretical malt prices.
EURO = USD 1.2438 October 01, 2004
Crop year
2004
Parity
FOB Antwerp
Position
Oct 2004-Sept 2005
Conditioning
Bulk
In bags
Bulk containers
Bags, containers
Malting barley variety
EURO
USD
EURO
USD
EURO
USD
EURO
USD
2RS
Scarlett
241.50
300.00
256.50
319.00
253.00
314.50
262.50
326.50
2RS
Prestige
239.00
297.00
254.00
316.00
250.50
311.50
260.00
323.50
2RS
Cellar
239.50
297.50
254.50
316.50
251.00
312.00
260.50
324.00
2RS
Aspen
238.50
296.50
253.50
315.00
249.50
310.50
259.50
322.50
2RS
Optic
238.50
296.50
253.50
315.00
249.50
310.50
259.50
322.50
2RS
Astoria
237.50
295.50
252.50
314.50
249.00
310.00
258.50
321.50
2RS
Cork
237.50
295.50
252.50
314.50
249.00
310.00
258.50
321.50
2RS
Average price
239.00
297.00
254.00
316.00
250.50
311.50
260.00
323.50
2RS
FAQ
236.50
294.00
251.50
313.00
248.00
308.50
257.50
320.00
6RW
Esterel
226.50
281.50
241.50
300.50
238.00
296.00
247.50
308.00
*
Asia Malt 70/30
235.50
292.50
250.50
311.50
246.50
307.00
256.50
318.50
**
Asia Malt 50/50
232.50
289.50
248.00
308.50
244.50
303.50
254.00
315.50
* - 70/30 = 70% Average two Rows Spring and 30% Six Rows Winter
** - 50/50 = 50% Average two Rows Spring and 50% Six Rows Winter
Theoretical malt prices for crop 2003 are not quoted.
Malting barley prices. French barley prices.
Nominal prices.
EURO = USD 1.2438 October 01, 2004
Crop year
2003
2004
Parity
FOB Creil
FOB Creil
Position
July 2003
July 2004
Type
Variety
EURO
USD
EURO
USD
2RS
Scarlett
nq
nq
113.00
140.50
2RS
Prestige
nq
nq
111.00
138.50
2RS
Cellar
nq
nq
111.50
139.00
2RS
Aspen
nq
nq
110.50
137.50
2RS
Optic
nq
nq
110.50
137.50
2RS
Astoria
nq
nq
110.00
137.00
2RS
Cork
nq
nq
110.00
137.00
6RW
Esterel
nq
nq
101.00
126.00
Table of the week
Australia barley crop estimates 2004-2005
| | | | | | |
| --- | --- | --- | --- | --- | --- |
| | Area s, '000 ha 2004-05 | Yield f, t/ha 2004-05 | Production f, '000 t 2004-05 | Production change from 2003-04, % | Production, '000 t Five year average to 2002-03 |
| New South Wales | 640 | 2.00 | 1,293 | 13 % | 1,070 |
| Victoria | 760 | 2.04 | 1,550 | -11 % | 1,173 |
| Queensland | 90 | 1.72 | 155 | - 28 % | 202 |
| Western Australia | 1,000 | 2.05 | 2,050 | -31 % | 1,511 |
| South Australia | 1,071 | 2.07 | 2,214 | -13 % | 2,000 |
| Tasmania | 11 | 2.64 | 29 | 45 % | 25 |
| Total Australia | 3,572 | 2.04 | 7,291 | -15.5 % | 5,981 |
Source: ABARE forecast, 7 September, 2004.

Graph of the week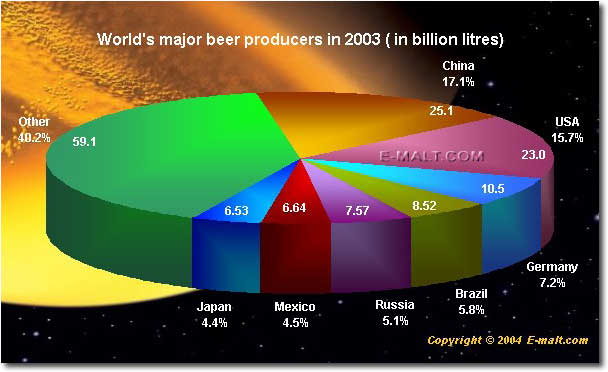 Agenda


September 2004:
6th BELGIAN BEER WEEKEND;
China Brew 2004 / China Beverage 2004;
International Brewery and Soft Drinks Industry Exhibition;
FOOD & BEVERAGE PROCESSING & PACKAGING INDONESIA 2004;
Pivoindustria International Beer Industry Exhibition;
National Beer Wholesalers Show 2004;
PAN ASIAN FOOD & BEVERAGE TRADE SHOW 2004;
Barley Malt Quality Evaluation Short Course;
EUROMALT BARLEY SEMINAR 2004;
OCTOBERFEST Famous German Beer Festival;
Agro + Food + Drink + Tech Expo Georgia Food, Beverages and Processing Equipment Trade Fair;
bevex Beverage Trade Fair;
InterBev 2004;
YUGOSLAVIA INTERNATIONAL FAIR OF FOOD & BEVERAGES 2004;
BevExpo 2004;
Great American Beer Festival;

October 2004:
OCTOBERFEST Famous German Beer Festival;
Great American Beer Festival;
bevex Beverage Trade Fair. Germany;
Great Welsh Beer & Cider Festival;
ST. PETERSBURG FOOD SALON 2004;
Beer Fair. Spain;
Expo Bebidas Beverage Exhibition. Mexico;
EXPOALIMENTOS Y BEBIDAS 2004. Panama;
Fall Eastern PA Breweriana;
Knoxville Brewer's Jam - A Memorial to Tom Rutledge;
INTERPRODTECH Food and Beverages Processing Exhibition. Russia;
Alko and Drinks Show Alcoholic Beverages and Non-alcoholic Drinks Exhibition. Russia;
WORLD FOOD KAZAKHSTAN 2004;
PAN ASIAN FOOD & BEVERAGE TRADE SHOW 2004. Canada;

More events are available on site e-malt.com