---
Newsletter Summary

---
Currency rates
Brewery news
Malt news
Barley news
More news
Theoretical malt prices
Malting barley prices
Table of the week
Graph of the week
Agenda
Do you know e-malt.com?
---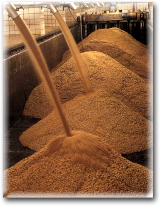 ---
Average market prices Change trend
---

Note: Just click on the price link and you will be led to our Market Price History.
Average barley market prices are French and are estimated on FOB Creil basis.
Average malt market prices are estimated on FOB Antwerp basis.
The changes are compared to last Newsletter's prices.
Arrows indicate the direction of the change.


---
Easy E-malt.com
---
---
E-malt.com access
---
Use the above form to have a full immediate access to E-malt.com site!

Through the drop-down menu you can easily remind your username and password; change your username and password or even edit your account!
---
Do you know
E-malt.com ?
---
Dear E-malt Reader!

E-malt.com Newsletters Archive could be found directly on e-malt.com site. Browsing through our Newsletters' Archive you may see all the issues you have missed. To this purpose you just have to login e-malt.com and click on Newsletters link in the menu. Reading our Newsletters you will be kept informed with the latest news and events regarding malting and beer world. You may also submit your own news, events or other information to the address info@e-malt.com!

Updated figures related to USA barley and malt trade with Mexico and Canada could be seen in NAFTA section of e-malt.com menu. To this purpose please enter e-malt.com!

You may find updated malt, barley and beer statistics on e-malt.com Statistics section. Just enter e-malt.com! Here you will find all tables issued with e-malt.com newsletters.

E-malt.com Agenda gives the possibility to keep you informed about the Events planned to be held in the whole world related to the brewing and malting industries. To this purpose you just have to login e-malt.com and click on Agenda link in the menu. Reading our Event Agenda you will find out about the future symposia, conferences and festivals related to malting and beer world. You may also submit your own events to the address info@e-malt.com

E-malt.com has Trading Online system. The system is to be used for malt/barley trading. One can register a malt/barley offer or a malt/barley request. The registering person could be as a seller/buyer or as an agent for seller/buyer. The User can see information about all active malt/barley offers & requests. If needed the system allows user to buy/sell malt/barley due to reasonable offers/requests. The way to do this is to confirm reasonable transaction. Trading Online rules are available through the Internet in the Trading Online as well as Tutorial (useful for persons who starts the system usage). To visit the E-malt Trading Online first go to the E-malt.com site, then click Trading Online link in the left menu of the e-malt.com home page. For more details please contact info@e-malt.com

Thank You!

---
E-malt.com Links!
---
Industry news
Market prices
EU Regulations
NAFTA
Specifications
Special malts
Professional Help
Trading online
Costing online
Statistics
Graphs
NewsLetters
Agenda
Accounts
Log In
Contact us
---
Other e-malt.com newsletters
---
Last five E-malt Flashes
---


Flash 04b, 2005


Flash 04a, 2005


Flash 03b, 2005


Flash 03a, 2005


Flash 02b, 2005
---
Market price evolutions
---
The evolution of market prices for barley and malt, which are periodicaly issued with e-malt.com newsletters are published on e-malt.com site in Market Prices section. Just click here!
---
Available market price evolutions
---


Malt Market Price Evolution. Crop 2004


French Malting Barley Price Evolution. Crop 2004


Malt Market Price Evolution. Crop 2003


French Malting Barley Price Evolution. Crop 2003
---
E-malt.com graphs
---
All graphs issued with e-malt.com newsletters are published in "Graph" section of e-malt.com site.
---
Last five graphs
---


Globally Beer Leading Companies by Sales Volumes in 2003


EU-25 Barley Market


Spanish Beer Market


The world's seven largest malting companies


Vietnam Beer Production
---
The graphs are updated from time to time. Just see the updates online on e-malt.com site!
---
Last updated graphs
---


EU malt production capacity


U.S.A. Barley Production


United States Beer Exports


Canada Domestic and Imported Beer Sales


Canada's per capita consumption of beer
---
E-malt.com Tables
---
We have the pleasure to let you know that all e-malt.com tables are published in e-malt.com Statistics section. The Statistics section includes Barley statistics, Malt statistics and Beer statistics. The tables related to barley are published in Barley Statistics section, the tables related to malt in Malt Statistics section and the tables related to beer in Beer Statisctis section.
---
Last five tables
search in statistics
---


Ukraine Barley Supply & Demand 1998 - 2004


Australia/Oceania Beer Production 2000-2003


Excise Duties in European Countries 2004


United States Beer Market in 2003


French Barley Supply and Demand
---
Note
---
If you have any comments, questions, suggestions or remarks, you can send a mail to: info@e-malt.com. To submit your own news to our editorial team, email to: info@e-malt.com
---
If you have received this newsletter from a colleague, you can obtain your own subscription here! You are not registered yet? You may register here.
---
You may recommend our site to your friend by clicking here
---
If you do not wish to receive our newsletter, please unsubscribe your e-mail address () from our mailing list using unsubscribe form from our site!
E-malt.com Flash 05a
January 31 - February 02, 2005

You are part of the 19.000 professional readers from 162 countries who receives our free bi-weekly E-malt Newsletters published since 3 years. You looked pleased in getting them as we have registered something like 1.000.000 readings.
To keep this high level of informative reservoir in both brewing and malting industries and in order to continue to improve it we have to request for a small contribution to get a Full Bi-weekly Newsletter.
Many of other readers have responded positively and doing so giving us the possibility to keep developing this world informative reference.
A one-year access costs only 149,- Euros and you will receive full membership to both our Full Bi-weekly Newsletter and website username protected access to all e-malt.com pages and client services.
You can pay by credit card, cheque or bank transfer (against invoice). Ordering is simple, use our online secure ordering system: click hereunder to begin - you could have access in just 5 minutes!

CLICK HEREUNDER TO SUBSCRIBE
One-year individual subscription: 149, - Euros
Two-year individual subscription: 259, - Euros

Save money when your colleagues join:
One-year group subscription for 2-5 members: 299, - Euros
One-year group subscription for 6-10 members: 449, - Euros
One-year group subscription for 11-20 members: 599, - Euros
One-year group subscription for 21-50 members: 799, - Euros
One-year group subscription for 51-100 members: 999, - Euros
One-year group subscription for 101 or more members: 1200, - Euros

For a personal service contact our Membership staff :
Email : info@e-malt.com
Direct line : +32 (0)87 681381; Fax : +32 (0)87 352234
If calling, please note our office hours are 9am - 5pm (Belgium time)


Currency Rates

Base Currency: Euro, EUR
on 02-February-2005

1 EUR = 1.3046 USD
1 EUR = 0.6928 GBP
1 EUR = 1.6130 CAD
1 EUR = 1.6842 AUD
1 EUR = 135.26 JPY
1 EUR = 3.4017 BRL
1 EUR = 36.5027 RUB
1 EUR = 10.8106 CNY

Base Currency: US Dollar
on 02-February-2005

1 USD = 0.7667 EUR
1 USD = 0.5310 GBP
1 USD = 1.2364 CAD
1 USD = 1.2910 AUD
1 USD = 103.68 JPY
1 USD = 2.6075 BRL
1 USD = 27.98 RUB
1 USD = 8.2865 CNY


EUR/USD Chart
Top Industry News
More News
Brewery News


USA: Adolph Coors Company announced on February 1 that at a special meeting of its stockholders on Tuesday, all of the steps necessary to complete the Company's merger with Molson Inc. were approved

. All of the Company's Class A Common shares are held by the Adolph Coors, Jr. Trust and were voted in favor of the merger proposals. The Company's Class B Common shares are publicly held, and over 34.7 million of the outstanding shares were voted, with 33.5 million shares (92.4% of outstanding shares) voted in favor of the merger proposals. Before adjourning the meeting, Peter Coors, Chairman of the Board, commented "This is a momentous time for our Company. We are very appreciative of the support shown by our shareholders for the joining together of two great beer companies and traditions -- Coors and Molson." He added "Coors and Molson were both founded by bold pioneers in their own time and our family looks at this merger as a pioneering step in its own right." "We are extremely pleased that Coors shareholders recognize the compelling strategic and economic benefits of this merger," said Leo Kiely, chief executive officer of Coors. "We now expect to complete the transaction on February 9th, allowing us to quickly begin executing on the comprehensive integration plans we have been preparing. We are thankful for the support we've received from our shareholders, employees and customers, and are energized and confident as we move to capitalize on the great potential of this combination." As previously announced, the final approval from the Quebec Superior Court will be sought on February 2, 2005. The closing of the merger is expected to occur on February 9, 2005 prior to the opening of the stock markets in Canada and the U.S. Additionally, earnings information for both companies will be released on February 9, 2005. Together, Molson Inc. and Adolph Coors Company will form the fifth largest brewer in the world, with combined volume of 51 million barrels and pro-forma net sales of US$6 billion. The brewer will have a market capitalization of US$6 billion and a position of strength to become a future consolidator in the global brewing industry. It will have leading market share in Canada and in the U.K., a growth market in the U.S., and an emerging market in Brazil as well as a portfolio of well established brands such as Molson Canadian, Coors Light and Carling and other brands including Keystone, Aspen Edge, Zima, as well as Molson Ultra, Export, Molson Dry, Rickard's and Kaiser. Founded by pioneering families who are still active in the business and have deep roots in their respective countries, Molson Coors Brewing Company will have over 350 combined years of brewing excellence, 15 breweries and nearly 15,000 employees. Founded in 1873, Adolph Coors Company is the world's eighth-largest brewer, with $5.4 billion in annual gross sales. Its principal subsidiary is Coors Brewing Company, the third-largest brewer in the U.S., with a beverage portfolio that includes Coors Light, Coors, Aspen Edge, Killian's, Zima XXX and the Keystone family of brands. The company's operating unit in the United Kingdom, Coors Brewers Limited, is the U.K.'s second-largest brewer, with brands that include Carling -- the best-selling beer in the U.K. -- Grolsch, Worthington's, Reef and the recently launched Coors Fine Light Beer.

Russia

: InBev announced on January 31 the closings of the amended transaction with SUN Trade (International) Ltd, whereby InBev purchased all of SUN Trade's holding of voting and non-voting shares in SUN Interbrew Ltd., announced on Jan 10th...

more info Japan, Tokyo: Asahi Breweries Ltd. announced on February 2 that it will launch a beer-like alcoholic beverage subject on April 20 to lower liquor taxes for which retailers will be able to set lower prices

, according to Kyodo News. Asahi Brewery will release Asahi Shin-Nama third-category beer, made of soy protein and containing no malt. The product's price is open, but is likely to be set around 120 yen per 350-ml can, about the same as the price of similar products offered by Sapporo and Suntory. Asahi aims for annual sales of 22 million cases of the new product by December 31, 2005. One case holds 12.66 liters, or the equivalent of 20 633-ml bottles. That would account for about 10% of Asahi's targeted beer sales this year. For 2005, Asahi is aiming for a 2.9% rise in overall beer sales to 210 million cases. Asahi's senior managing director Masaaki Okada said, "We hope to obtain the top market share" in the beer-taste beverage product segment, which is often dubbed the "third beer" market. Sapporo Breweries Ltd. and Suntory Ltd. have already launched similar products in the so-called "third category" of beer. Kirin Brewery Co. plans to follow the suit by April. Sapporo Breweries Ltd., of Sapporo Holdings Ltd. (2501.TO), has had huge success since its February 2004 introduction of "Draft One." The product doesn't contain malt or wheat, so it is categorized as neither a regular beer nor a " happoshu" beer, freeing it from Japan's high taxes on beer. While Draft One carries a tax levy of Y24.20 per 350-milliliter can, a low- malt "happoshu" brew, which is already cheaper than regular beer, shoulders a much bigger liquor tax of Y46.99. Sales of "third beer" products, currently brewed by Sapporo and unlisted Suntory Ltd. (SNT.YY), made up about 5% of the entire beer market in 2004. With Asahi and Kirin Brewery Co. (2503.TO) set to join the fray this year, beer company officials expect that ratio to reach 10% or more for 2005. Suntory, which bottles and distributes PepsiCo Inc.'s (PEP) products in Japan, aims to boost its "Super Blue" sales to 10 million cases for 2005. Intensifying competition among major Japanese breweries may fuel discussion about the government's considering to overhaul the liquor tax system to raise the tax on the third-category beer. Prices of third-category beer products can be cheaper than conventional beer and "happoshu" low-malt beer products due to lower liquor taxes as they contain no malt. The taxes on such products are at least 50 yen lower than those on conventional beer products and 20 yen lower than on happoshu products per 350 milliliters.

Philippines, Manila

: Philippine brewers raised prices of beer on February 2 by 14%, or as much as PHP2 a bottle to recoup additional production costs and to cover an increase in taxes, according to Dow Jones...

more info Hong Kong: Heineken NV bought 100,000 shares at 2.80-2.85 hkd each in Kingway Brewery Holdings Ltd

, the Securities and Futures Commission (SFC) said on January 31...

more info Bulgaria: The annual beer consumption in Bulgaria has reached 61 litres per capita last year, versus 55 litres in 2003

, local press announced on February 1. The total amount of beer consumed in Bulgaria was 473 million litres in 2004 compared to 294 million litres in 1997 and 425 million litres in 2003. Beer drinking is expected to see further boosting in the upcoming years, according to experts. Investments into the business have increased about 15 times over the last decade.

Malt News

Malt Market December-January: Malt business in December/January was very limited, analysts commented on January 28. Belgium and Holland purchased...more info

Russia embargoes imports of plant products (including barley and malt) from Denmark, Estonia, Germany and the Netherlands. Russia does not recognize Phytosanitary Certificates from these countries. One Russian request is to introduce a common EU certificate. Negotiations on EU and national levels to lift the ban promise partial results, but at the same time other countries namely: Belgium, Lithuania, Poland received warnings that they may be embargoed as well.

Barley News

Canada: For 2005-2005 Canada barley production is estimated by Statistics Canada to increase by 7% due to higher yields, despite lower seeded area, Agriculture and Agri-Food Canada (AAFC) posted on January 14...more info

The EU malting industry seems to be covered quite well, market analysts commented on January 28. There remain ample stocks of spring and winter barley in France...more info

World barley production in 2005-2006 is expected to decrease to 145 million tonnes from 151 million tonnes in 2004-2005, as lower production in Europe and North America more than offsets higher production in Australia, according to Agriculture and Agri-Food Canada (AAFC) comment from January 14. After two consecutive years of good harvesting, barley production in North Africa is expected to decrease. World barley supplies are projected to remain virtually unchanged from 2004-2005 at 172 million tonnes, as larger carry-in stocks offset lower production. However, world trade is forecast to decrease slightly due mainly to reduced exportable supplies in Europe. Strong import demand for feed barley in the Middle East and North Africa and higher import demand for malting barley in China and, to a lesser degree, in the US are expected to drive world barley prices up. Government water conservative programs in Saudi Arabia are expected to reduce irrigation of locally grown forage crops. This could have the potential of raising Saudi's barley imports further. World carry-out stocks are expected to drop by 1 million tonnes from 2004-2005.

Theoretical malt prices.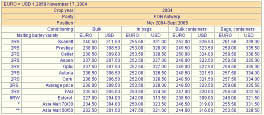 * - 70/30 = 70% Average two Rows Spring and 30% Six Rows Winter
** - 50/50 = 50% Average two Rows Spring and 50% Six Rows Winter
Theoretical malt prices for crop 2005 are available on site
www.e-malt.com/MarketPrices
Malting barley prices. French barley prices.
Nominal prices.

Table of the week
European barley crop estimate. Production forecast in thousand tonnes.
Barley production in '000 tonnes

Spring barley
Total barley
2003
2004
2003
2004

EU-15

Austria
538
540
869
982
Denmark
3,010
2,887
3,777
3,634
Finland
1,671
1,748
1,671
1,748
France
3,973
3,691
9,818
10,944
Germany
3,606
3,372
10,601
12,963
Ireland
1,000
1,104
1,096
1,274
Belgium/Lux.
31
35
335
355
Netherlands
351
262
372
281
Spain
6,607
7,940
8,699
10,582
Sweden
1,517
1,638
1,547
1,699
UK
3,517
2,916
6,370
5,938
Italy
1,032
1,148
Greece
310
310
Portugal
10
16
TOTAL EU-15
25,821
26,133
46,507
51,874

EU-10

Czech Republic
1,763
1,814
2,068
2,401
Hungary
380
600
825
1,472
Poland
2,603
2,852
2,833
3,500
Slovakia
682
778
832
984
Cyprus
79
92
Estonia
263
265
269
282
Latvia
224
221
269
Lithuania
863
756
863
Slovenia
28
29
Malta
3
3
TOTAL EU-10
5,691
7,396
7,914
9,895

TOTAL EU-25

31,512
33,529
54,421
61,769

Europe Non-EU

Romania
340
350
540
839
Bulgaria
180
82
580
876
Serbia
230
279
Croatia
85
149
Bosnia
60
53
Macedonia
120
149
Albania
30
30
TOTAL Europe Non-EU
520
432
1,645
2,375
TOTAL EUROPE 31
32,032
33,961
56,066
64,144
Source: Coceral, Brussels December 2004
Graph of the week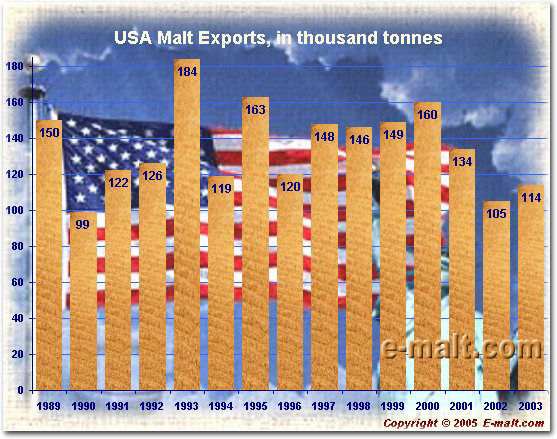 Agenda

February 2005:
Pianeta Birra - Beverage & Co. International Show of Beers, Beverages etc., Italy;
Seminaire orge de brasserie à Paris-Bagnolet;
Liqma International Beverage Industry Exhibition, Spain;
Canadian Food and Beverage Show;
GrainWorld 2005. Canada. CWB.;

March 2005:
Night of Great thirst, Belgium;
Zythos Beer Festival, Belgium;
Institute and Guild of Brewing Africa Section 10th Convention, South Africa;
International Food and Drink (IFE), UK;
Deltabierfestival, The Netherlands;
Spring Beer Festival "Hops on Equinox", Seattle;
Brew and Beverage Industry - Beer Auction International Trade Fair, Russia;
FOODEX JAPAN 2005 / INTERNATIONAL FOOD & BEVERAGE EXH;
China Drinktec China International Exhibition on Beverage, Brewery and Wine Technology;

April 2005:
Helsinki Beer Festival;
Concise Course in Brewing Technology;
World Barley, Malt & Beer Conference 2005;
BEER. Exhibition Pavilion Minsk.;
Craft Brewers Conference & BrewExpo America;
Classic City Brewfest, Athens, GA;
Excursion to West-Flanders;

More events are available on site e-malt.com