Colombia, Bogota: Grupo Empresarial Bavaria (GEB), the largest beverage company in Colombia and the second largest brewer in South America, announced on January 20, 2005 that its parent company, Bavaria S.A., successfully placed Ps. 561,800 million
(US$ 238 million) in 10 year bonds in the Colombian market. The placement results demonstrate the appetite of investors for the long-term obligations of Bavaria and cement the company's position as the largest issuer of corporate bonds in the domestic market. The placement is part of the Bond Issuance and Placement Program authorized by the Colombian Superintendency of Securities (Supervalores) in June 2004, with a global amount of Ps. 1 trillion (US$ 423 million). Previous placements under the program totaled Ps. 438,200 million (US$ 185 million). Bavaria offered on January 19 a first tranche of 10-year bonds for Ps. 300,000 million (US$ 127 million), to be allocated by auction today. Total demand was Ps. 1,476,560 million (US$ 625 million), or an excess demand of Ps. 1,176,560 million (US$ 498 million). The size of the placement was increased to Ps. 561,800 million (US$ 238 million), using the optional excess allocation provisions of the bond program. The cut-off interest rate was IPC + 6.52 percent, which is 40 basis points above the reference rate for equivalent treasury securities (TES). The bonds are payable in a single payment at maturity. The resources provided by this placement will be used in their totality to repay other financial obligations, which will increase the average life of Bavaria's debt. The bonds are rated AAA by Duff & Phelps de Colombia, and carry the aval of Bavaria S.A. subsidiaries Cervecería Unión S.A., Maltería Tropical S.A., Productora de Jugos, S.A., Cervecería Nacional S.A., and Latin Development Corporation. The Placement Agent for the issuance was Correval S.A. Information regarding the issuance is available at Bavaria's Investor Relations Division, the Superintendency of Securities, the Colombian Stock Exchange, and the offices of the Placement Agent. Convenience translation amounts are calculated based on the January 20, 2005 exchange rate of Ps.2,363.69 per dollar. Grupo Empresarial Bavaria (GEB) is the largest beverage company in Colombia and the second largest brewer in South America. Its Águila, Cristal, Pilsener, and Atlas brands are industry leaders in Colombia, Peru, Ecuador, and Panama, respectively. GEB also markets soft drinks, fruit beverages, bottled water, and milk. GEB's parent company is Bavaria S.A., listed on the Colombian Stock Exchange.
United Kingdom
: SABMiller announced on January 20 the launch of a global brand strategy for its Italian premium beer, Nastro Azzurro. The number one Italian premium beer will be renamed Peroni Nastro Azzurro...
more info
China
: Heineken N.V. announced on January 21 that it is in preliminary discussions, through its associated company Heineken Asia Pacific Breweries China Pte Ltd (Heineken-APB), with GDH Limited, the controlling shareholder of Kingway Brewery Holdings Limited in China...
more info
South Korea
, Seoul: Oriental Brewery Co. (OB), one of South Korea's leading breweries, said on January 19 it will produce the Netherlands' high-end "Oranjeboom" beer from April...
more info
Canada, Montreal: Molson Inc. and Adolph Coors Company confirmed on January 21 that a supplement to the joint proxy statement and management information circular in connection with the proposed merger
was filed with the U.S. Securities and Exchange Commission (SEC). The supplement includes updated information relating to the increase in special dividend, from Cdn$3.26 to Cdn$5.44, to be paid to Molson shareholders as part of the merger. The supplement is being mailed to both companies' shareholders on January 21, 2005. The special meeting of Molson shareholders will be reconvened on January 28, 2005 in the Joliet and Marquette Rooms at the Fairmont The Queen Elizabeth Hotel, 900 René-Lévesque Boulevard West, Montréal, Québec, at 9:00 a.m., Eastern Time. Shareholders of record on November 22, 2004 are entitled to vote at the special meeting. Molson shareholders should be reminded that they do not need to vote again if they have already voted, unless they wish to change their vote. All shareholders have until close of business on January 26th 2005 to cast their vote by proxy or register their vote by phone or Internet. The special Molson optionholders meeting has also been reconvened for January 27, 2005 in Molson's Montreal offices. Optionholders have until close of business on January 25, 2005 to cast their vote with respect to option conversion. The Coors' special meeting of stockholders will be reconvened on February 1, 2005 at Coors Brewing Company in the Sixth Floor Auditorium in the Brewery Complex, 12th and Ford Streets, Golden, Colorado, at 9:00 a.m., Mountain Time. Stockholders of record on November 22, 2004 are entitled to vote at the special meeting. Assuming Molson and Coors shareholders approve the merger, final approval from the Québec Superior Court will be sought on February 2, 2005. The closing of the merger is expected to occur on February 9, 2005 prior to the opening of the stock markets in Canada and the U.S. Accordingly, the record date for Molson shareholders to receive the special dividend will be close of business on February 8, 2005. Molson is Canada's largest brewer and one of the world's leading brewers of quality beer with operations in Canada, Brazil and the United States. A global brewer with Cdn$3.5 billion in gross annual sales, Molson traces its roots back to 1786, making it North America's oldest beer company. Committed to brewing excellence, Molson produces an award-winning portfolio of beers including Molson Canadian, Molson Export, Molson Dry, Rickard's, A Marca Bavaria, Kaiser and Bavaria. Founded in 1873, Adolph Coors Company is the world's eighth-largest brewer, with US$5.4 billion in annual gross sales. Its principal subsidiary is Coors Brewing Company, the third-largest brewer in the U.S., with a beverage portfolio that includes Coors Light, Coors, Aspen Edge, Killian's, Zima XXX and the Keystone family of brands. The company's operating unit in the United Kingdom, Coors Brewers Limited, is the U.K.'s second-largest brewer, with brands that include Carling -- the best-selling beer in the U.K. -- Grolsch, Worthington's, Reef and the recently launched Coors Fine Light Beer.
India: Shareholders of India's United Breweries (UB), owners of the country's biggest beer brand, approved plans to sell an up to 37.5% stake in the company to Britain's largest beermaker Scottish and Newcastle
, Agence France-Presses reported on January 20. Vijay Mallya, head of the UB Group, which has interests ranging from liquor to construction and aviation, told reporters the transaction would "unlock the shareholder value." Scottish and Newcastle has said it will invest up to 171 million dollars cash in the transaction which includes 54 million dollars in redeemable UB preference shares. The purchase is another move by the British brewer to tap markets expanding more swiftly than in western Europe. It has said it will give it access to all key beer markets in India and a powerful brand portfolio including the Kingfisher brand which has a 33 percent share of its domestic market. Mallya also said his group hoped to acquire the spirits division of leading rival Shaw Wallace. He told reporters officials overseeing the bidding process had told him that UB's bid "was the highest." Legal complications over the sale surfaced last week when the mother of the late Manu Chabria, who headed Shaw Wallace, disputed it and threatened to take it to the courts. "I don't want to comment on the family dispute. But we've approached this (purchase) in a professional manner. There is a lot of synergy in buying it," Mallya said. "The ball is now in the seller's court and it's up to them to decide the next step. If the transaction is completed we will consolidate our business," he said. Mallya declined to say how much UB had offered but Indian media reports said the bid was 12 billion rupees (261 million dollars). Shaw Wallace sold 15 million cases of spirits during the last fiscal year to March 2004, the second largest amount after UB Group which sold 35 million.
Malt News
Ukraine: In December 2004 Ukrainian malt production decreased by 7% versus November 2004. According to Statistics Department, malt production fell 13% compared to December 2003. The biggest Ukrainian malt manufacturer, Slavutsky Malting plant, produced in December 2004 about 7 thousand tonnes of malt. The second largest maltster was Obolon brewery with a malt output of 4.1 thousand tonnes in December. The third place took Dnipro Brewery with 1.6 thousand tonnes of malt.
Barley News
Brazil, Sao Paulo: Brazilian brewery AmBev has bought all 242,000 tonnes of barley produced in Brazil's southern region...more info

Theoretical malt prices.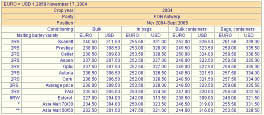 * - 70/30 = 70% Average two Rows Spring and 30% Six Rows Winter
** - 50/50 = 50% Average two Rows Spring and 50% Six Rows Winter
Theoretical malt prices for crop 2005 are available on site
www.e-malt.com/MarketPrices
Malting barley prices. French barley prices.
Nominal prices.

French Malting Barley Price Evolution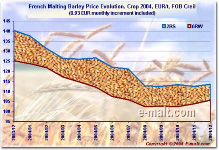 Table of the week
Australia/Oceania Beer Production in thousand hl
| | | | | |
| --- | --- | --- | --- | --- |
| Country | 2000 | 2001 | 2002 | 2003 |
| Australia | 17,150 | 17,400 | 17,480 | 17,260 |
| New Zealand | 2,980 | 3,069 | 3,093 | 3,127 |
| Papua-New Guinea | 350 | 350 | 400 | 400 |
| Tahiti | 180 | 173 | 180 | 180 |
| Fiji Islands | 170 | 173 | 181 | 160 |
| New Caledonia | 125 | 125 | 130 | 130 |
| Samoa | 60 | 68 | 65 | 80 |
| Solomon Islands | 30 | 22 | 20 | 27 |
| Tonga | 8 | 8 | 8 | 8 |
| Vanuatu | 7 | 4 | 7 | 7 |
| Total | 21,060 | 21,392 | 21,564 | 21,379 |
Graph of the week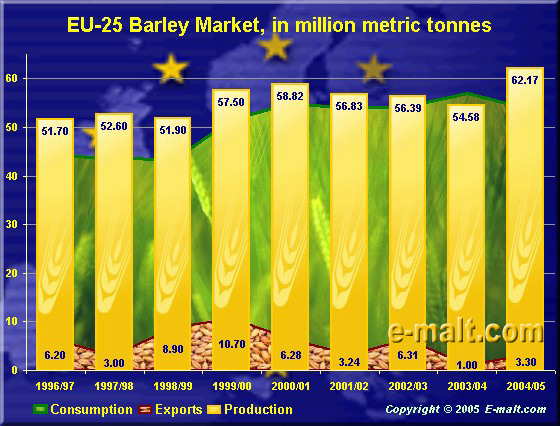 Agenda

January 2005:
AGRIFLANDERS Flemish Agriculture Exhibition;
Big Beers, Belgians & Barleywines Festival. Vail CO;
35th Barley Improvement Conference. The American Malting Barley Association;
VIETFOOD (HANOI) 2005;
Great Alaskan Beer and Barley Wine Festival;
Technologisches Seminar 2005. Organiser: TUM, Lehrstuhl für Technologie der Brauerei I;
Getränke-Kongress. Organiser: Die Akademie Fresenius, Dortmund;
Boston Winter Jubilee;
Extreme Beer Fest;
Atlanta Cask Ale Tasting;
Spirit of Belgium;
National Winter Ales Festival (CAMRA);

February 2005:
Pianeta Birra - Beverage & Co. International Show of Beers, Beverages etc., Italy;
Liqma International Beverage Industry Exhibition, Spain;
Canadian Food and Beverage Show;

March 2005:
Night of Great thirst, Belgium;
Zythos Beer Festival, Belgium;
Institute and Guild of Brewing Africa Section 10th Convention, South Africa;
International Food and Drink (IFE), UK;
Deltabierfestival, The Netherlands;
Spring Beer Festival "Hops on Equinox", Seattle;
Brew and Beverage Industry - Beer Auction International Trade Fair, Russia;
FOODEX JAPAN 2005 / INTERNATIONAL FOOD & BEVERAGE EXH;
China Drinktec China International Exhibition on Beverage, Brewery and Wine Technology;

More events are available on site e-malt.com