China: Kingway Brewery Holdings Ltd., based in Guangdong, announced on December 1 it intends to invest US$100 million (HK$780 million) to build a production plant in Tianjin city North-East China
. The project is the largest brewery's investment ever undertaken in Tianjin, China's third largest city. Kingway said the new plant in Tianjin will have an annual capacity of 400,000 tonnes. The project will be developed in two phases, with an investment of US$50 million in the first phase that can produce 200,000 tonnes a year. Construction will begin after Lunar New Year. "The Tianjin government will give us preferential treatment on tax and land, and the cost there is cheaper,'' said Kingway managing director Jiang Guoqiang, adding that Kingway has allocated funds to invest in the city over the next four years. Chairman Ye Xuquan said the brewer would fund a third to a half of the investment bank loans because current interest rates are low and the borrowings would not dilute shareholders' interests. Annual beer demand in Tianjin is around 450,000 tonnes a year but local production is close to just 180,000 tonnes. Tianjin's beer market is dominated by Yanjing, produced by Beijing Enterprises Holdings, and China Resources Enterprise's Snow, with each selling about 130,000 tonnes a year. Kingway Brewery Holdings Ltd. also predicted on December 1 its net profit will grow at least 42 % in 2004 on cost controls. That translates to net profit of more than HK$149 million, based on the company's HK$105 million profit last year. "We expect both our sales and profit may increase by at least 42 %, from a year ago,'' said chairman Ye Xuquan, adding it will be able to reach its 2004 sales target of 390,000 tonnes. "Increased sales have reduced costs, which we expect to go up by just 1 per cent this year, compared with our domestic peers' which rose an average 17 %,'' he said. Kingway maintains a net cash position, with more than HK$500 million net cash and more than HK$200 million in annual operating cashflow. China's beermakers are benefiting from rising consumption amid the fast-growing economy. The booming market is prompting local brewers such as China Resources Brewery and Tsingtao Brewery to expand, and driving foreign giants like Anheuser-Busch and Carlsberg into acquisition sprees. Kingway has an alliance with Heineken. Kingway was formerly known as Guangdong Brewery Holdings until it changed its name in May this year.
Czech Republic - The Czech Republic has asked the European Union to protect the country's traditional beer to preserve its uniqueness
, an official said Friday, December 3. Jan Vesely, the head of the Czech Beer and Malt Association, said the typical lager produced in the country known also as Czech-type Pilsner or Pilsener has unique features and deserves protection, according to Associated Press. The lager distinctive for its golden color and rich taste was made for the first time in 1842 in the Czech town of Plzen (Pilsen in English). Its style became dominant in the country and was later imitated by brewers in many other countries. According to Vesely, the EU protection would ensure that only such lager using traditional technology based on specific fermentation and using local raw materials such as hops and malt can be called "Czech beer." He said beer producers in the Czech Republic would be allowed to make other types of beer but would not then be allowed to call it "Czech beer." Vesely could not say when the request for protection was filed by the Industrial Property Office on behalf of the country. The Czech Republic joined the EU on May 1 along with nine other mostly former communist nations. Czechs are the world's biggest per-capita beer drinkers. Separately, one of the country's famed lagers, Budejovicky Budvar, already enjoys protection by the EU as a regional product.
United Kingdom: British largest regional brewer Wolverhampton & Dudley announced on December 3 it is acquiring small rival Burtonwood brewery for 119 million GBP
after meeting forecasts with a 6.3 % rise in annual profit. "Burtonwood has an excellent estate of 460 pubs which are a good geographic fit with our existing 1,675 pubs," W&DB Chief Executive Ralph Findlay said on Friday, December 3. "There are significant opportunities to develop further the Burtonwood estate under the ownership of W&DB," he added. Ralph Findlay said he expected the Burtonwood deal to be concluded by early January. Refurbishment would follow and food menus would be expanded, he added. Wolves & Dudley said it would be able to make 3 million pounds a year in cost savings from the combination and would supply the new pubs with its own beers, such as Marston's Pedigree. W&DB posted underlying pretax profit of 77.7 million pounds for the 53 weeks to October 2, compared with analyst forecasts between 76 million and 78 million pounds. Over 400 of the Burtonwood pubs will be operated by W&DB's tenanted Union Pub Company, which generated a 4.2 percent increase in like-for-like sales in the first 8 weeks of this year. The rest will join its managed Pathfinder Pubs, which include the Pitcher & Piano chain and reported a 3.2 percent increase in like-for-like sales, according to Reuters. W&DB increased its dividend by 10 percent to 35.32 pence per share. Its shares closed at 947 pence on Thursday, valuing the group at 758.5 million pounds.
Mexico: The leading Mexican brewery Modelo, maker of the popular Corona beer, is not contemplating "for the moment" a hike in domestic or export beer prices in 2005
because of mixed global economic signals. Jose Pares, Modelo's investor relations chief and spokesman, said on Friday, December 3, the company plans to defer any decision pending further news on inflation, exchange rates and the state of the Mexican and global economies, according to Reuters. "For the moment a price increase (in Mexico and for exports) is not being contemplated," Pares said. "We have to wait." Pares said Modelo, half-owned by U.S.-based Anheuser-Busch Cos. Inc, one of the world's largest brewers, still expects to see growth this year of 1 % to 2 % in domestic beer volume. In late June, the company cut its growth forecast for 2004 domestic volume because rain hit areas where Modelo is dominant that had seen heat waves last year. Its previous forecast was for an expansion of between 2 percent and 3 percent. Global export volumes are seen expanding between 3 % and 4 % this year from 2003, Pares said. Modelo, which also brews Victoria, Pacifico and Montejo beers, raised domestic and export prices in January 2004. The price hikes helped boost revenues but caused sales volumes to vary. Prices of exports, with traditionally 90 percent going to the United States, rose 7 percent on average in dollar terms and local prices increased 5 percent. Shares of Modelo were down 0.3 percent on Friday at 29.10 pesos but not far from 12-month highs. The stock has risen about 8 percent this year, compared with a rise of more than 30 percent in the bourse's main index.
World: Premium beer has been the fastest growing segment of the world's beer market in recent years
. Total global premium beer sales increased in the past 3 years, by about 35.2% to some US$116.1 billion. This segment still remains the fastest growing. According to industry analysts, by 2010 about 6 major breweries will control some 80% of the premium beer segment. The competition between these major players is to grow even more substantial especially in the developed countries. "The premium beer sector is growing faster than the total beer market and accounts for a disproportionate share of its profits. We therefore see good opportunities for brands such as Miller Genuine Draft, Pilsner Urquell, Nastro Azzuro and Castle," SABMiller revealed in its annual report. Premium beer is in essence a marketing notion. However, the industry definition of a premium-packaged lager in UK is determined only by alcohol content. In UK a premium beer is a Class III lager that has 4.3% to 7.5% ABV (Alcohol By Volume) content, in accordance with the British Beer and Pub Association. For the rest of the world the industry definition of a premium beer or larger is not determined only by the alcohol content. A standard beer can become a premium beer in a given region or a particular country within a region. The price reinforces the image of the beer as a premium brand. It shows the consumer appreciates the quality and therefore the brand is able to justify its premium price. The top players on the world's premium beer segment are: Anheuser-Busch, SABMiller, Interbrew, Heineken, Carlsberg, Breweries, Scottish & Newcastle, Coors Brewing Company and Foster's Group. The process of consolidation of the brewing industry will continue on the basis of the major international players acquiring more local brewing companies, especially in the developing markets in Asia.
Malt News
Business in November was negligible, market experts said. Taiwan purchased 24,000 tonnes two-row malt from a French/Belgian company at EUR 260,- CFR. Brazil is in the market for 150-200,000 tonnes of malt. It is reported that they have concluded 30.000 tons from Argentina, 15,000 tonnes from Uruguay, 20,000 tonnes from Brazil and min. 30,000 tonnes from the EU. South Africa purchased about 5,000 tons of Heineken A-grade at prices around EUR 225,-/230,- FOB in bulk. The mood at the Nuremberg Brau Fair was, of course, affected by the crisis in the malt industry, which was faced by low malting margins all year and by equally poor prospects for 2005.
Barley News
Japan: In November Japan purchased 9,000 tonnes of malting barley each from Australia and Canada. Australia won the Taiwan tender for 40,800 tonnes at US$ 203,- CFR. No results are known of the Colombian tender of 153,000 tonnes, of which 100,000 tonnes for Colombia, the balance for Peru, Ecuador, Chile (subsidiaries of Bavaria-Bogota Breweries).

United Kingdom: Eleven new varieties of barley have been added to the new HGCA Recommended Lists: four winter barley varieties - Flagon (potential malting variety), Saffron and Spectrum (two-row feed), and Amarena (six-row feed); seven spring barley types -NFC Tipple, Oxbridge and Westminster (potential malting varieties) and Waggon, Tocada, Wicket and Power (feed varieties), HGCA announced on December 2. HGCA Recommended Lists manager Dr Jim McVittie said: "It's been a real bumper year for barley. The 11 new barley varieties really do add something to the lists, with improvements in potential malting quality, grain yield and agronomic characters. It is very unusual to see so many good varieties come along at one time."

Canada will issue its final crop statistics on December 8. The Wheat Board thinks the barley crop might be a little higher than the 13 million tonnes estimated earlier. Canada's problem was the torrential rainfall before and during harvest time. Barley is plump, protein low (+/- 12 %), but the kernels are stained and weather-damaged. Germination is a problem now, and it may get worse by spring of next year. A final malting barley pool size of about 1.5 million tonnes is expected, however, this will be determined by the extent of the germination problem. The malting selection includes no more than 100,000 tonnes of six-row barley, as Manitoba was affected most by the adverse weather. The export target is half a Million tons. Good quantities were sold to the U.S., China and South Africa. Canadian barley is also being offered in the Colombian tender. Earlier shipments to Colombia and South Africa were executed with crop 2003 barley. Quotes CIF China are US $ 205,-, freight rates are US $ 55,- per tonne.


Theoretical malt prices.
EURO = USD 1.3272 December 03, 2004
Crop year
2004
Parity
FOB Antwerp
Position
Dec 2004-Sept 2005
Conditioning
Bulk
In bags
Bulk containers
Bags, containers
Malting barley variety
EURO
USD
EURO
USD
EURO
USD
EURO
USD
2RS
Scarlett
241.50
320.50
256.50
340.50
253.00
336.00
262.50
348.50
2RS
Prestige
238.00
315.50
253.00
336.00
249.50
331.00
259.00
343.50
2RS
Cellar
238.50
316.50
253.50
336.50
250.00
332.00
259.50
344.50
2RS
Aspen
237.50
315.00
252.50
335.00
249.00
330.00
258.50
343.00
2RS
Optic
237.50
315.00
252.50
335.00
249.00
330.00
258.50
343.00
2RS
Astoria
236.50
314.00
252.00
334.00
248.50
329.50
257.50
342.00
2RS
Cork
236.50
314.00
252.00
334.00
248.50
329.50
257.50
342.00
2RS
Average price
238.50
316.00
253.50
336.50
249.50
331.50
259.50
344.00
2RS
FAQ
235.50
312.50
250.50
332.50
247.00
327.50
256.50
340.50
6RW
Esterel
228.50
303.50
244.00
323.50
240.50
318.50
249.50
331.50
*
Asia Malt 70/30
235.50
312.50
250.50
332.50
247.00
327.50
256.50
340.50
**
Asia Malt 50/50
233.50
309.50
248.50
330.00
245.00
325.00
254.50
337.50
* - 70/30 = 70% Average two Rows Spring and 30% Six Rows Winter
** - 50/50 = 50% Average two Rows Spring and 50% Six Rows Winter
Theoretical malt prices for crop 2005 are available on site
www.e-malt.com/MarketPrices
Malting barley prices. French barley prices.
Nominal prices.
EURO = USD 1.3272 December 03, 2004
Crop year
2004
2005
Parity
FOB Creil
FOB Creil
Position
July 2004
July 2005
Type
Variety
EURO
USD
EURO
USD
2RS
Scarlett
111.50
148.00
120.50
160.00
2RS
Prestige
108.50
144.50
119.50
159.00
2RS
Cellar
109.00
145.00
120.00
159.50
2RS
Aspen
108.00
143.50
119.00
158.00
2RS
Optic
108.00
143.50
119.00
158.00
2RS
Astoria
107.50
143.00
118.50
157.50
2RS
Cork
107.50
143.00
118.50
157.50
6RW
Esterel
101.00
134.50
105.00
139.50
French Malting Barley Price Evolution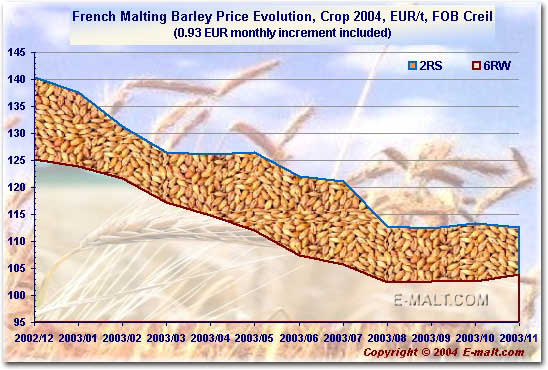 | | |
| --- | --- |
| | Maximum average price for 2RS Malting Barley, Crop 2004: 140.30 EUR/tonne* - in December 2003 |
| | Minimum average price for 2RS Malting Barley, Crop 2004: 108.50 EUR/tonne* - in November 2004 |
| | Maximum average price for 6RW Malting Barley, Crop 2004: 125.50 EUR/tonne* - in December 2003 |
| | Minimum average price for 6RW Malting Barley, Crop 2004: 99.00 EUR/tonne* - in October 2004 |
| * | without increment |
Table of the week
Australian barley prices
Barley

2003
Jan-Mar
Apr-Jun
Jul-Sep
Oct-Dec
A$/t
US$/t
EUR/t
A$/t
US$/t
EUR/t
A$/t
US$/t
EUR/t
A$/t
US$/t
EUR/t

Domestic

2 row feed – Sydney

337
200
186
292
187
164
259
171
146
187
134
112

Export**

Feed (bulk)

250
148
138
223
143
126
202
133
114
208
149
125

Malting (bulk)

311
184
172
286
183
161
374
246
211
217
155
130

International

Feed-US no2 fob Portland*

221
131
122
199
127
112
202
133
114
188
134
113

Barley

2004
Jan-Mar
Apr-Jun
Jul-Sep
Oct-Dec s
A$/t
US$/t
EUR/t
A$/t
US$/t
EUR/t
A$/t
US$/t
EUR/t
A$/t
US$/t
EUR/t

Domestic

2 row feed – Sydney

177
135
108
191
137
113
180
128
104
158
119
93

Export**

Feed (bulk)

197
151
121
210
150
125
169
120
98
165
124
97

Malting (bulk)

208
159
127
250
179
148
224
159
130
223
168
132

International

Feed- US no 2 fob Portland*

172
131
105
185
132
110
160
114
93
147
111
87
Prices refer to bulk sales of grain delivered to Sydney region. Export prices for coarse grains are the average unit fob value of Australian exports recorded by the Australian Bureau of Statistics. Prices quoted only for months in which sizable export volumes were recorded. International prices are obtained from the Unicom Newswire service in US$ and converted to A$ using monthly average of daily exchange rates.
** Export unit values do not reflect current market prices but the average price received for grain exported over the quarter. Generally, there can be a long lag time between when prices were negotiated by exporters and the physical export of product. * Average of daily offer prices made in US$, converted to A$ using monthly average of daily exchange rates. s ABARE estimate. Note: Prices used in these calculations exclude the GST.
Graph of the week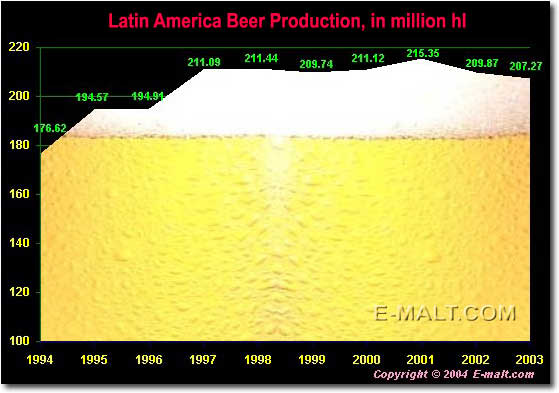 Agenda
November 2004:
World Brewing Academy Applied Brewing Techniques. Munich, Germany;
World Brewing Academy Concise Course in Brewing Technology. Chicago, Illinois, United States;
INTERNATIONAL EXH FOR FOOD & DRINK INDUSTRY / WORLD FOOD UKRAINE 2004;
INT'L EXH OF WINES, ALCOHOLIC & NON ALCOHOLIC DRINKS & PROTECTION EQUIPMENT / EXPO DRINK 2004. Romania;
TALLINN FOODFEST 2004;
Belgian Beer Fest, Boston MA;
Teach a Friend to Brew Day;
FOOD PROCESSING MACHINERY EXPO 2004;
FISPAL RECIFE 2004 / INTERNATIONAL FOOD FAIR. Brazil.;
BRAU Beviale 2004. Nürnberg, Germany.;
Brewers' Association of America Conference;
Fall Fest-Of-Ale. Janesville, Wisconsin, United States;
Accrington Beer Festival. UK;
FOODAPEST 2004. 7th International Food, Drink and Food Processing Trade Fair;
INTERNATIONAL EXH FOR FOOD INGREDIENTS, ADDITIVES & FLAVOURINGS / INGREDIENTS RUSSIA 2004;
BELPRODUKT International Exhibition for Food and Beverages. Minsk, Belarus ;

December 2004:
FOODEX Food, Beverages and Food Technologies Fair. Ankara, Turkey;
Eten & Genieten Food, Beverages and Kitchen Supplies Exhibition. Amsterdam, Netherlands;
Americas Food & beverage Show and Conference;
Holiday Ale Festival;
Sint Niklaas Visits Brewery Ommegang;
IWEX 2004;
WORLD OF FOOD INDIA 2004;
KerstBierFestival 10th edition! Belgium;
VIETFOOD & DRINK 2004 / 3RD INTERNATIONAL EXH ON FOOD AND DRINK;

January 2005:
Big Beers, Belgians & Barleywines Festival. Vail CO;
35th Barley Improvement Conference. The American Malting Barley Association;
VIETFOOD (HANOI) 2005;
Atlanta Cask Ale Tasting;

More events are available on site e-malt.com