China: Beijing Yanjing Brewery Co., the third largest beer maker of China, said it aims to be among the world's top 10 beer makers this year without the help of foreign brewers
. The company announced on March 1 its net profit increased by 12% in 2004. The Beijing-based brewer's net profit rose to CNY270.51 million in 2004, from CNY241.93 million in 2003. Yanjing Brewery attributed the increase to the launch of more medium- and high-end beer increased its revenue. Company's beer sales rose 32 % to 2.64 million tonnes in 2004 from a year earlier, Yanjing Brewery said. Its core revenue rose 36% to CNY4.67 billion, from CNY3.43 billion in 2003. The figures were audited, consolidated and based on Chinese accounting standards. Yanjing Brewery, which has A shares listed in Shenzhen, has said it aims to be among the world's top 10 beer makers this year without the help of foreign brewers. Yanjing holds a stake in Huiquan Brewage Group Inc. The brewer announced a two-for-10 bonus share issue based on profits and a three-for-10 bonus issue based on reserves. Foreign brewers have been keen to enter China's beer market, which surpassed the U.S. in 2002 to become the world's largest in volume terms. Anheuser-Busch Cos. holds stakes in Tsingtao Brewery and Harbin Brewery Ltd., while SABMiller PLC has invested in China Resources Breweries Ltd., the 51%-owned unit of Hong Kong-listed China Resources Enterprise Ltd.
Belgian brewer InBev, which produces Stella Artois and Beck's, announced on March 2 a 50% increase in its profit after its acquisition of AmBev, which made it the world's biggest beer maker by volume
. In such a way the company is outpacing Dutch rival Heineken whose guidance last week was less optimistic. InBev forecast an over 50% growth of its profit this year. At the same time John Brock, InBev's CEO said InBev would consider further acquisitions in Latin America, China, Russia and Germany. John Brock commented: "The overall results for 2004 indicate that our new company is firmly on track to deliver sustainable organic volume and profit growth, as well as EBITDA margin expansion, in 2005 and beyond. They reflect InBev's solid performance and its confidence in the future. I am pleased to already see the fruits of the combination of Interbrew and AmBev, and I look forward to the further success of our global flagship brands, Stella Artois, Brahma and Beck's." InBev also proposed a dividend increase of 8.3 percent to 0.39 euros per share despite a 33.3 percent increase in the total number of outstanding shares at end of 2004. InBev's stock was up 0.3 percent at 28.87 euros in Brussels, not far from its year high of 29.70 euros. Chief Executive John Brock said he expected volume sales to keep growing at two times the industry average in 2005. "We believe we have the right brand portfolio and the right country mix that should enable us to do that," he told reporters on a conference call. Brock reiterated his aim to become as efficient as Anheuser-Bush, the largest U.S. brewer, with a margin on earnings before interest, tax, depreciation and amortization (EBITDA) of 30 percent by 2007. The margin was 24.6 percent in 2004. Heineken gave a less optimistic outlook on its business last week, when it did not rule out a profit decline. The Dutch brewer has not been as aggressive an acquirer as InBev to protect itself from stagnating growth in mature markets like Europe. ING analyst Gerard Rijk said AmBev's strong business was helping InBev stay ahead of its rivals. "It's the Brazil business that is doing it," he said. Also known as Companhia de Bebidas das Americas, AmBev reports its results later in the day. It was acquired by InBev -- formerly known as Interbrew -- last August. Brock dismissed speculation that InBev was interested in Bavaria after the Colombian brewer said it was looking at a merger or partnership with a global brewer. "There appear to be people out there who are more interested than we are," he told reporters. But later at a news conference in Leuven, outside Brussels, Brock said Latin America, China and Russia were key areas InBev would consider for further acquisitions. In mature markets, Germany was high on its list for acquisitions. "We would want to have a seat at the (negotiating) table," Brock said...
more info
United Kingdom: British regional brewer and pub company Greene King Plc raised 600 million pounds on Wednesday, 02 March 2005, from selling its first bond backed by pub receivables
, the banks managing the sale said. The Greene King bond secured on a portfolio of some 900 pubs partly refinances a 1.05 billion pound ($2.02 billion) bridge loan the brewer of Old Speckled Hen and Abbot Ale beers took out for the acquisition of Laurel pubs in 2004, according to Reuters. The Suffolk-based brewer already refinanced 450 million pounds of the bridge loan with a syndicated loan in December 2004. Greene King sold 150 million pounds of single-A rated floating rate notes with weighted average life of seven years; 320 million pounds of single-A rated fixed rate notes with weighted average life of 16.8 years; and 130 million pounds of triple-B rated fixed-to-floating rate notes with weighted average life of 15 years. Final pricing was in line with expectations. "There were about 30 accounts for the single-A paper, and about 40 accounts for the single-B paper," said a syndicate manager working on the deal. He would not disclose the total order book size or the actual number of investors. Some investors bought both the single-A and triple-B notes. The final terms of Greene King's single-A notes compared favourably to those in a deal Unique Pub Finance Company Plc, part of Britain's top pubs group Enterprise Inns, sold on Feb. 11. Greene King's single-A rated floating rate notes achieved the same spread -- 38 basis points over Libor -- with a longer maturity of seven years. Unique also sold floating rate single-A paper at a spread of 38 basis points, but those offered investors a weighted average life of just 4.4 years. Unique raised 563.4 million pounds from its pub-receivable backed bond sale last month.
Belarus
: Belarusian brewers began on March 1 supplying special identification marks to beer, Interfax communicated...
more info
Hong Kong
: Kingway Brewery Holdings Ltd. announced on Monday, February 28, that its parent, GDH Ltd. (Guangdong Holdings Ltd.), is still in preliminary talks with the Dutch beer company, Heineken NV...
more info
Mexico
: Mexico's largest beer-maker, Grupo Modelo SA, maker of the popular Corona beer, announced on February 24 a better-than-expected 43.5% rise in quarterly net profit from cost reductions and one-time tax gains despite flat sales...
more info
Malt News
EU: EU malt export certificates booked during 01.07.04 till 22.02.05 were 1.48 million tonnes, for the EU-25. Last year's fixations at the same date were 1.66 million tonnes...more info
World trade in barley malt in 2004/05 is estimated by IGC at 5.4 million tonnes (July/June, grain equivalent)...more info
Barley News
EU: Changes of acreage are minor altogether, although spring barley plantings will or may be lower in France, Germany and the U.K....more info

Russia: Feed barley exports July-January were 578,000 tonnes, barley imports 173,000 tonnes...more info

United Kingdom: The way arable farmers should manage their spring malting barley crop to ensure that they achieve the correct specification for today's market is outlined in the HGCA's new Topic Sheet. "Specifications for malting barley quality have changed in recent years both for home use and export. Both markets require some barley with a higher nitrogen percentage than is acceptable for traditional ale or distilling," The Journal quoted Professor Graham Jellis, HGCA director of research. HGCA-funded projects, led by The Arable Group, looked at the agronomy of spring malting barley. The aim was to produce high yields with a 1.65-1.80 nitrogen percentage that would suit market requirements. "Projects investigated the effect of strobilurin use together with other agronomic factors including lower plant population, nitrogen splits and timing, and PGR use, to see if they helped achieve the nitrogen percentage required," said Professor Jellis. "Traditionally, only 100-125kg of nitrogen per hectare has been used on malting crops but the higher yields achieved with strobilurin use dilute grain nitrogen percentage and to balance this more nitrogen fertiliser may be required. However, applying additional nitrogen fertiliser increases the risk of disease and lodging," he warned.

Theoretical malt prices.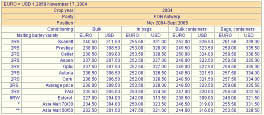 * - 70/30 = 70% Average two Rows Spring and 30% Six Rows Winter
** - 50/50 = 50% Average two Rows Spring and 50% Six Rows Winter
Theoretical malt prices for crop 2005 are available on site
www.e-malt.com/MarketPrices
Malting barley prices. French barley prices.
Nominal prices.

Malting Barley Price Evolution
Table of the week
Ukraine Beer Market, 2004
| | | |
| --- | --- | --- |
| | 2003 | 2004 |
| Market size, in million litres | 1,526 | 1,729 |
| Market growth, % | +8.3 % | +13.3% |
| Per capita consumption, litres | 31 | 36 |
Company

Market share, %

2002
2003
2004
SUN Interbrew
30 %
34 %
36 %
BBH
20 %
22 %
22 %
Obolon Brewery
21 %
21 %
21 %
Donetsk Brewery
16 %
16 %
13 %
Others
13 %
7 %
8 %
Graph of the week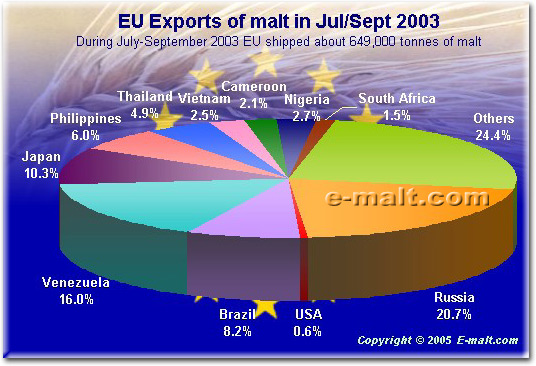 Agenda

March 2005:
Night of Great thirst, Belgium;
Zythos Beer Festival, Belgium;
Institute and Guild of Brewing Africa Section 10th Convention, South Africa;
China Drinktec China International Exhibition on Beverage, Brewery and Wine Technology;
FOODEX JAPAN 2005 / INTERNATIONAL FOOD & BEVERAGE EXH;
International Food and Drink (IFE), UK;
BLACK SEA GRAIN: A NEW ENVIRONMENT IN UKRAINE AND REGIONAL PROSPECTS FOR GROWTH;
Deltabierfestival, The Netherlands;
Spring Beer Festival "Hops on Equinox", Seattle;
Brew and Beverage Industry - Beer Auction International Trade Fair, Russia;
Siebel Institute Brewing Profitability Workshop;

April 2005:
Helsinki Beer Festival;
Concise Course in Brewing Technology;
World Barley, Malt & Beer Conference 2005;
JOINT LEGISLATIVE CONFERENCE. Washington, D.C., USA;
BEER. Exhibition Pavilion Minsk.;
Craft Brewers Conference & BrewExpo America;
Classic City Brewfest, Athens, GA;
WINES, BEERS AND DRINKS Exhibition for the Beverage Industry. Krasnoyarsk, Russia;
Excursion to West-Flanders;

May 2005:
HOFEX 2005. 11th Asian International Exhibition of Food & Drink. Hong Kong;
30th Congress of the European Brewery Convention;
Beer International Brewing Technology Exhibition. Sochi, Russia.;
California Festival of Beers;

More events are available on site e-malt.com