Top Industry News
---
---
More news is available on site www.e-malt.com
Brewery News

Japan: Combined shipments of beer and "happoshu" low-malt beer by Japan's five top brewers in January 2004 dropped 11.4% versus the same period last year, according to reports released by the five brewers on February 12. Beer and happoshu shipments by Kirin Brewery Co, Asahi Breweries Ltd, Sapporo Holdings Ltd, Suntory Ltd and Orion Breweries Ltd totaled 24.23 million cases in January. One case holds 12.66 liters of happoshu or beer. Beer shipments fell 12.7% to 15.29 million cases, declining for the 46th month in a row. Shipments of happoshu shipments fell 8.9% to 8.94 million cases, down for the first time in three months. According to statistics from the top brewers, this was the first total year-on-year decline in two months. Brewers blamed a lack of product innovation in the month and heavy demand a month earlier for the fall.

German family-owned food giant Dr Oetker made on February 12 a 360-million-euro ($461.6 million) bid for the country's fourth-largest brewer, Brau und Brunnen AG, the second takeover in the sector in as many months. Dr Oetker, which controls rival brewer Radeberger, bid 80 euros a share for Brau und Brunnen, a beermaker that was put up for sale last year by major shareholder HVB Group. The bid represents a 7 % premium to Thursday's (February 12) closing price, according to Reuters. The food group, known for its frozen pizzas and desserts, has agreed to buy a 61.7 % stake in the brewer from HVB, Germany's second-biggest bank, for 220 million euros. The acquisition, which is contingent on Dr Oetker gaining a 75 percent stake and on antitrust approvals, could further consolidate one of the world's biggest beer markets that has so far been largely fragmented and boasts some 1,280 breweries. Brau und Brunnen, whose brands include Jever and Schultheiss, was in talks with U.S. private equity firm One Equity Partners last year, but the discussions collapsed. Around that time, Dr Oetker was named as a possible alternative buyer. The brewer said earlier this year it expected an operating profit of more than 20 million euros in 2004. Ahead of the announcement, its shares closed up 2.3 percent at 74.75 euros. A financial source said HVB would book a gain of about 50 million euros from the deal, part of the bank's strategy of selling non-core shareholdings. Germany is home to the world-famous Oktoberfest, a beer-swilling extravaganza, and several foreign beermakers have already made substantial acquisitions...more info

Brazil, São Paulo: Companhia de Bebidas das Américas – AmBev, the world's fifth largest brewer and Brazil's leading Beverage Company, announced on February 12 its decision to enter the Dominican Republic's beverage market, competing in both the beer and soft drinks segments. Encouraged by the successful launch of its operation in Guatemala, which has been created in association with PepsiCo's anchor bottler for the region, Central America Bottling Corporation (Cabcorp), AmBev will now replicate a similar version of that business model in the Dominican Republic. To achieve that, the Company announced on February 12 an agreement with Embotelladora Dominicana CXA (Embodom), PepsiCo's exclusive bottler for that country. Upon the conclusion of this transaction AmBev and Embodom will be partners in a company that will commercialize both soft drinks and beer in the Dominican beverage market, in which AmBev will hold a 66% stake. AmBev will acquire a 51% stake at Embodom for US$ 60 million due in three installments: US$ 40 million in February 2004, US$ 10 million in February 2005 and US$ 10 million in February 2006. The 66% stake will be achieved via asset contribution to Embodom, composed of US$ 10 million in cash and an operational beer production plant, built with existing assets rom AmBev. Despite the financial crisis that hit the country in 2003, AmBev is confident in the recovery of the Dominican economy, as well as in the promising potential of the country's beverage market and the excellent operational capabilities demonstrated by Embodom's share of the soft drink market, the company said in the report. AmBev estimates the size of the Dominican beer market in terms of total volumes and value at 3.2 million hectoliters and over US$ 430 million, respectively...more info

Netherlands was the number one exporter of beer in 2003, totalling US$1.318 billion worth of beer exports, the Food and Agriculture Organisation of the United Nations revealed on February 9. Mexico was second, with $1.164 billion for the year. Mexican beer exports climbed last year by 9.16% year-on-year. Germany was third in the list with beer exports reaching $678m.

USA: The Boston Beer Company Inc., makers of Sam Adams Boston Lager, announced on February 11 fourth quarter 2003 volume, revenue and earnings. For the three month period ended December 27, 2003, Boston Beer shipment volumes were down 6.3%. The following chart compares reported shipment volume for the current period to the prior year, the company said in a statement. The decrease in shipment volume is primarily related to Sam Adams Light(R) which was higher during the fourth quarter 2002 when Sam Adams Light was rolled out nationally. Distributor sales of Boston Beer brands to retail (depletions) during the 2003 fourth quarter totaled 336,000 barrels, approximately a 6% decrease from the same period in 2002. Net revenue per barrel remained flat, with price increases taken in 2003 offset by a shift in the package mix towards kegs from bottles. This shift reflects the return to a more normal mix from the fourth quarter 2002 mix that was affected by the higher shipment volume of Sam Adams Light(R) bottles during the fourth quarter 2002 product launch. The Company earned $3.6 million in net income and $.25 per diluted share for the quarter versus net income of $2.1 million and $.13 per diluted share for the same period last year...more info

Malt News


Australia: Barley marketing concern ABB Grain Ltd. said on February 11 it was in preliminary discussions about a possible merger with grain logistics and malting concern AusBulk Ltd, according to Dow Jones Newswires. "These discussions are incomplete and no agreement has been reached," ABB Grain said in a statement. "ABB's board remains focused on strengthening the company's core business base whilst exploring growth opportunities within Australia and offshore." ABB's confirmation that it was in preliminary discussions with AusBulk followed a report about the talks in the Australian Financial Review newspaper on February 13. CommSec analyst Charles Hyde said a merger between the two companies was inevitable and would deliver significant cost savings. "We believe that a merger between ABB and AusBulk is a natural next step in the rationalisation of the Australian grains industry," Mr Hyde wrote in his report. "It... would create synergy gains of A$16 million ($US12.59 million) per annum." He said the activities of the two companies would complement each other. John Murray, AusBulk's managing director, said Dec. 15 that ABB Grain would be a natural fit for the company. "The two companies fairly well complement each other in their core businesses" and their shareholders, he said then. Both ABB Grain, which markets barley and other grains, and AusBulk are based in South Australia state. The companies have engaged investment bankers to advise on a merger, the Australian Financial Review newspaper reported on February 13.
USA: Great Western Malting Co. is closing its grain elevators in Carter and Brady and getting out of the grain handling business, a spokesman for the Vancouver, Wash., company says. "We are focusing our resources on our value-added malt business," said Bob McKeon. Malt is made from barley and used to make beer and flavor other foods. The closures mean the loss of five jobs, three in Brady and two in Carter. McKeon said employees will receive a severance package and resources designed to help them find other jobs. The move leaves Columbia Grain as the sole grain elevator in Carter. Brady no longer has a grain elevator that buys grain from farmers. Great Western, a subsidiary of Toronto-based Canada Malting Co. Ltd., the world's second-largest producer of malted barley used by brewers, distillers and food manufacturers, has malting operations in Vancouver, Wash.; Pocatello, Idaho; and Los Angeles. "We hate to see this happen; we need all the grain elevators we can get," said Chouteau County Commissioner Ken Evans, who farms north of Fort Benton. Montana Farmers Union President Brooks Dailey said he's not surprised at the announcement. "We saw General Mills exit the grain trade in Montana last year," he said. "Farmers have seen this on the horizon already." In August, Great Western Malting leased its Shelby grain elevator to the only other grain company in town, Harvest States Cooperative. The company recently extended its lease on property at the Port of Vancouver until 2017. Great Western Malting acquired the elevator in Brady in 1983. In 1999 it took over the elevators in Carter and Shelby from Peavey Co.
Barley News


Ukraine barley production for 2003/04 is estimated at 6.85 million tonnes, down 1.15 million or 14 % from last month and down 3.50 million or 34 % from last year, USDA has released in its world production highlights on February 10. The revised estimate is based on preliminary harvest data released by the State Statistical Committee. Area increased by 11 % from last year, to 4.6 million hectares, following extensive reseeding of damaged winter crops. Severe drought, however, reduced the yield potential of the spring barley crop, which typically comprises about 90 % of total barley output in Ukraine. Total barley yield plunged to 1.49 tonnes per hectare, the lowest level in 40 years.

Russia's feed barley exports through Ukrainian ports hit 77,470 tonnes in January 2004, up from 74,310 tonnes in December 2003, the domestic analyst ProAgro said February 11. Russia mainly uses Ukrainian ports in the winter period, as most domestic facilities are closed due to ice. Saudi Arabia was the major destination with 37,290 tonnes of Russian barley shipped there last month. Russia's barley exports in July-December 2003 amounted to 2.5 million tonnes, and feed barley is expected to be the major grain export item in the 2003-04 marketing year (July-June). Kazakhstan's feed barley exports through Ukraine amounted last month to 21,070 tonnes, down from 32,200 tonnes in December 2003. Kazakhstan's barley was shipped mainly to Turkey. Ukraine's barley exports last month stood at 24,760 tonnes, down from 87,360 tonnes in December 2003.

Canada: In 2004-2005 area seeded to barley in western Canada is forecast to decrease 3% in 2004, to 4.6 million haJ, due to a shift from grain to oilseed production, Agriculture and Agree-Food Canada reported on February 6. Off-board feed prices are expected to remain at 2003-2004 levels while malting barley returns are expected to be pressured by larger world supplies. Good returns from malting barley and barley's role as a good cash crop and as a major feed ingredient in western Canada will continue to ensure a large seeded area. However, despite the lower seeded area compared to 2003, in 2004 area seeded to barley is forecast to be above the 1994-2003 10-year average.

Theoretical malt prices.
EURO = USD 1.2808 February 13, 2004
Crop year
2003
Parity
FOB Antwerp
Position
Feb 2004-Sept 2004
Conditioning
Bulk
In bags
Bulk containers
In bags in containers
Malting barley variety
EURO
USD
EURO
USD
EURO
USD
EURO
USD
2RS
Scarlett
272.00
348.50
287.50
368.00
283.50
363.50
293.50
375.50
2RS
Prestige/Cellar
271.50
347.50
286.50
367.00
283.00
362.50
292.50
374.50
2RS
Aspen
269.00
344.50
284.50
364.00
280.50
359.50
290.00
371.50
2RS
Optic
269.00
344.50
284.50
364.00
280.50
359.50
290.00
371.50
2RS
Astoria
269.00
344.50
284.50
364.00
280.50
359.50
290.00
371.50
2RS
Cork
268.00
343.00
283.00
362.50
279.50
358.00
289.00
370.00
2RS
Average price
270.50
346.00
285.50
365.50
281.50
361.00
291.50
373.00
2RS
FAQ
266.50
341.50
282.00
361.00
278.50
356.50
287.50
368.50
6RW
Esterel
266.50
341.50
282.00
361.00
278.50
356.50
287.50
368.50
*
Asia Malt 70/30
269.00
344.50
284.50
364.00
280.50
359.50
290.50
371.50
**
Asia Malt 50/50
268.50
343.50
283.50
363.00
280.00
358.50
289.50
370.50



* - 70/30 = 70% Average two Rows Spring and 30% Six Rows Winter
** - 50/50 = 50% Average two Rows Spring and 50% Six Rows Winter



Theoretical malt prices for crop 2004 are available on site

www.e-malt.com/MarketPrices

Malting barley prices. French barley prices. Nominal prices.


EURO = USD 1.2808 February 13, 2004
Crop year
2003
2004
Parity
FOB Creil
FOB Creil
Position
July 2003
July 2004
Type
Variety
EURO
USD
EURO
USD
2RS
Scarlett
139.50
179.00
134.00
172.00
2RS
Prestige/Cellar
139.00
178.50
133.00
170.50
2RS
Aspen
137.00
175.50
132.00
169.50
2RS
Optic
137.00
175.50
132.00
169.50
2RS
Astoria
137.00
175.50
131.00
168.00
2RS
Cork
136.00
174.50
131.00
168.00
6RW
Esterel
135.00
173.00
123.00
157.50
Graph of the week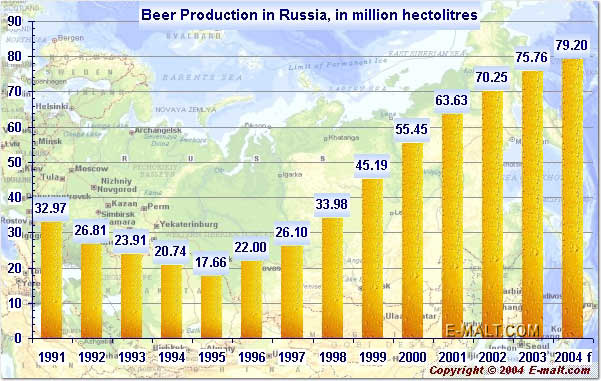 Agenda

February 2004: Pianeta Birra - Beverage & Co. International Show of Beers, Beverages; Orges brassicoles 2004: Des perspectives nouvelles de marchés; HOFEX 2004 Food & Drink; Canadian Food & Beverage Show; BIEREXPO; GrainWorld 2004;
March 2004: New York City Real Beer Festival; Real Ale Festival; The Night of Large Thirst; Zythos Beer Festival; International course - Malting and Brewing Science; FOODEX Japan 2004; ANTAD 2004; 2004 BIENNIAL CONVENTION; Beer Auction 2004, the international exhibition of beer, technology and equipment; China Drinktec 2004. China International Exhibition on Beverage and Brewing Processing Technology
April 2004: World Beer Cup; 2004 National Craft Brewers Conference and trade show BrewExpo America;

More events are available on site e-malt.com
Do you know e-malt.com?

Dear E-malt Reader!

E-malt.com Agenda gives the possibility to keep you informed about the Events planned to be held in the whole world related to the brewing and malting industries. To this purpose you just have to login e-malt.com and click on Agenda link in the menu. Reading our Event Agenda you will find out about the future symposia, conferences and festivals in malting and beer world. You may also submit your own events to the address info@e-malt.com

Thank You!
---
E-MALT.COM Summary!
[Industry news] [Market prices] [EU Regulations] [Specifications] [Special malts] [Professional Help] [Trading online] [Costing online] [Statistics] [Agenda] [Accounts] [Log In] [Contact us]
---
If you have any comments, questions, suggestions or remarks, you can send a mail to
info@e-malt.com
---
If you have received this newsletter by a colleague, you can obtain your own
free subscription here

To submit your own news to our editorial team, email: info@e-malt.com

You may recommend our site to your friend by clicking here

If you do not wish to receive our newsletter, please unsubscribe your e-mail address (@EMAILADDRESS@) from our mailing list using unsubscribe form from our site!
Copyright © E-Malt s.a. 2004