E-Malt.com newsletter
September 25 - September 28, 2003
1. Trading offer & request

At this moment there is one OFFER for 4000 tons of malt on the trading portal www.e-malt.com
Offer for 1-4000 mtons of malt, 2RS Scarlet, crop 2003, bulk, delivery 1/1/2004 - 31/3/2004, at EUR 271.50/mton, FOB Antwerp. (to see and make a bid to the malt offer, please click here to view code MF2409P0957)


Top Industry News
---
---
More news is available on site www.e-malt.com
Karlsberg Brauerei GmbH, the German brewery, has posted a 9.9% rise of its sales up to EUR647.1 million for the year to the end of March, versus the previous year ...more info



One of US leading breweries, Pyramid Breweries Inc., announced on September 23, that Jim Hilger had been appointed Vice President of Finance and Administration, Chief Financial Officer, and ...more info



The Dutch brewing giant Heineken plans to control 15 % of the Russian beer market, newspaper Vedomosti reported in a statement on September 17. Now Heineken holds below 6% of that market. ...more info




2. Brewery News

The world's largest brewer, Anheuser-Busch Cos., has launched again its top-selling beer Budweiser in South Africa, after the absence since 2001 in that birthplace of rival SABMiller, the company announced on September 25, according to Associated Press. Anheuser-Busch, which had a South African presence from 1997 until its former importer ceased trading, will offer Budweiser from its London brewery to that country's major cities, the company said in a statement Thursday. South Africa is the world's 11th-largest beer market, said Andrew Day, vice president and managing director of Anheuser-Busch Europe Ltd. Budweiser is already available in more than 80 countries and it will be imported to South Africa by Xtreme Brands, the domestic distribution arm of Weitnauer Africa Ltd. London-based SABMiller began as South African Breweries. It became the world's second-largest brewer after acquiring Miller Brewing Co. in July 2002. The company controls 98 percent of South Africa's domestic beer market through Castle, Carling Black Label and other brands.

The Asian brewing group, Asia-Pacific Breweries Ltd (APB) said on September 24 it had received undisclosed claims from German, Swedish and Japanese banks after one of the brewer's executives was charged with defrauding them of up to US$69 million. The brewer of Singapore's popular Tiger brand beer is at the the centre of a scandal which on September 24 brought four new charges against Chia Teck Leng, the finance manager of APB's Singapore subsidiary. Chia, suspended from his job and in police custody, has been charged over the past two weeks with 32 counts of fraudulently obtaining loans in the name of the Singapore unit, Asia Pacific Breweries (Singapore) Pte Ltd (APBS). "Claims against APBS have been asserted by banks with respect to the unauthorised transactions," APB said in a statement on September 24. A company official declined to reveal the amount of the claims or say which banks had made them, but the firm plans to contest them. "The company has sought legal advice on these claims and has been advised that legal defences are available to APBS," APB said. In the largest of the alleged scams, Chia has been accused of defrauding Germany's second-largest bank, HVB of $30 million by withdrawing funds from a term loan that he had set up on behalf of the brewer based on what the company says are forged and fictitious documents...more info

The German beer maker, Kulmbacher Brauerei AG, is to take over the private German brewer Privatbrauerei Scherdel, situated in Hof, southeastern Germany, the German press reported today. Scherdel sells around 100,000 hectolitres of beer per annum. It is among the five largest private breweries in Bavaria in terms of beer sales and number of employees.

SAB Ltd, a major earnings contributor to world number two brewer SABMiller Plc, said on September 25 it expected double digit growth in its premium beer market in South Africa over the next 10 years, according to Reuters. SAB Ltd is the South African operation of SABMiller and contributed some 31.5 % of the group's total earnings before interest, tax and amortisation in the year to the end of March, 2003 -- or $338 million. The firm said the premium market currently made up about 4% of South Africa's total beer market, of which it had a 73 % market share. SAB's premium brands include Amstel, Castle Light, Sterling, Miller Genuine Draft and Pilsner Urquell. SAB Ltd head of communications Michael Farr said in a statement that the premium market was growing at a compound rate of around 16 %. "We believe that given current trends, the premium sector will continue to grow until it constitutes approximately eight percent of the total market, in line with international norms," he said. "SAB Ltd is extremely well placed to take advantage of this trend, and we remain committed to offering brands in this sector to assist it to achieve growth over a long period of time."

4. Barley News

Australians may not be consuming beer like they used to but the future for malting barley growers looks pretty bright, according to Lion Nathan's director of logistics and supply, Stephen Lewis, The Northern Daily Leader reported in a statement. Lion Nathan brews beers like Tooheys New, Four X, Hahn and boutique brews like James Squire Malt Shovel brands. It also exports beers into the Pacific and brews beer in China. An overview of the Australian market presented by Lion Nathan Australia to a consumer products and retail conference late last June revealed that in the decade up until 2002 consumption per capita fell from about 103 litres a year to about 88 litres a year. Each year Lion Nathan spends about $45 million on buying malt for its Australian interests and Mr Lewis said the potential for barley growers was also increasing. "Australia is the world's leading exporter of barley, followed by Canada," he said. "There are only 50 or so countries that produce barley [for malting] in the world. "There are 140 to 150 that brew beer, so the market for barley is growing." Mr Lewis said countries in Asia were increasing their consumption of the amber drop while Russia was considered a growth area for brewers. Mr Lewis was in Tamworth on September 24 as part of a tour organised by Joe White Maltings. The barley examined by the tour is yet to be named, although plant breeder from the Victorian Department of Primary Industries David Moody says its research name is VB9926 (the VB stands for Victorian barley – not the popular green labelled bitter beer). Mr Moody said the trial variety had the potential to boost yields by 10 % on the variety grimmett (named after the popular Australian test cricket spin bowler), which was one of the favoured strains grown in northern NSW. VB9926 was bred for southern grain areas but could kick-start barley growing in the north of this State and in southern Queensland due to its high levels of disease resistance.

The Canadian Wheat Board (CWB) today released its monthly Pool Return Outlook (PRO) for the 2003-04 crop year. Feed barley values are unchanged while malting barley values are $1 per tonne lower. According to the outlook, global feed barley prices have stabilized in recent weeks. Uncertainty over a possible EU export tax continues to affect exports out of this region. The potential for a near record barley crop in Australia is expected to weigh on the market. New crop malting barley values remain under pressure as overall import demand continues to be weak while Australian crop estimates continue to expand. However, relatively strong global feed barley values will put a floor on malting barley values, CWB said. The strengthening Euro has also been supportive of EU export values.


5. Theoretical malt prices.
EURO = USD 1.1498 September 26, 2003
Crop year
2003
Parity
FOB Antwerp
Position
Oct 2003-Sept 2004
Conditioning
Bulk
In bags
Bulk containers
In bags in containers
Malting barley variety
EURO
USD
EURO
USD
EURO
USD
EURO
USD
2RS
Scarlett
275.50
317.00
291.00
334.50
287.50
330.50
297.00
341.50
2RS
Prestige/Cellar
274.50
315.50
289.50
333.00
286.00
329.00
295.50
340.00
2RS
Aspen
273.50
314.00
288.50
331.50
285.00
327.50
294.50
338.50
2RS
Optic
273.50
314.00
288.50
331.50
285.00
327.50
294.50
338.50
2RS
Astoria
269.50
310.00
284.50
327.50
281.00
323.50
290.50
334.00
2RS
Cork
269.50
310.00
284.50
327.50
281.00
323.50
290.50
334.00
2RS
Average price
273.50
314.00
288.50
331.50
285.00
327.50
294.50
338.50
2RS
FAQ
268.50
308.50
283.50
326.00
280.00
322.00
289.50
332.50
6RW
Esterel
267.00
307.00
282.50
324.50
278.50
320.50
288.50
331.50
*
Asia Malt 70/30
271.50
312.00
286.50
329.50
283.00
325.50
292.50
336.50
**
Asia Malt 50/50
270.50
310.50
285.50
328.00
281.50
324.00
291.50
335.00

* - 70/30 = 70% Two Rows Spring and 30% Six Rows Winter
** - 50/50 = 50% Two Rows Spring and 50% Six Rows Winter


6. Malting barley prices. French barley prices. Nominal prices.
EURO = USD 1.1498 September 26, 2003
Crop year
2003
Parity
FOB Creil
Position
July 2003
Type
Variety
EURO
USD
2RS
Scarlett
131.00
151.00
2RS
Prestige/Cellar
130.00
149.50
2RS
Aspen
129.00
148.50
2RS
Optic
129.00
148.50
2RS
Astoria
126.00
145.00
2RS
Cork
126.00
145.00
6RW
Esterel
124.00
142.50
Feed
Barley (FOB Creil)
115.00
132.50
Feed
Barley (FOB Rouen)
125.00
144.00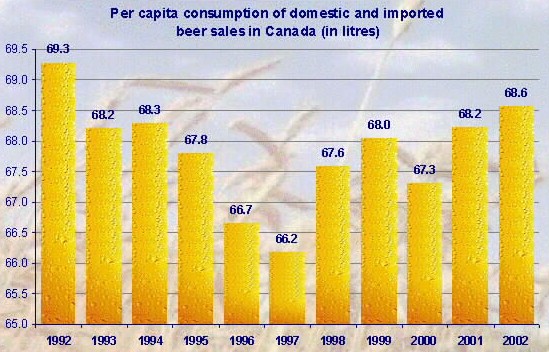 Source: Brewers Association of Canada

8. Do you know e-malt.com?


Dear E-malt Reader!

You can get access not only to the present newsletter but to all the newsletters E-malt.com ever sent to … In order to look through those newsletters you have to visit e-malt.com site. Please, visit the first page of the Industry News part. For that purpose you should click INDUSTRY NEWS link on the left menu of the e-malt web page. When accessing the Industry News page, click View Our Weekly Newsletters link on the top of the page, right below the searching forms. That's all! You may visit our newsletters and search through them now…
Thank You!
---
E-MALT.COM Summary!
[Industry news] [Market prices] [EU Regulations] [Specifications] [Special malts] [Professional Help] [Trading online] [Costing online] [Statistics] [Agenda] [Accounts] [Log In] [Contact us]
---
If you have any comments, questions, suggestions or remarks, you can send a mail to
info@e-malt.com
---
If you have received this newsletter by a colleague, you can obtain your own
free subscription here

To submit your own news to our editorial team, email: info@e-malt.com

You may recommend our site to your friend by clicking here

If you do not wish to receive our newsletter, please unsubscribe your e-mail address (@EMAILADDRESS@) from our mailing list using unsubscribe form from our site!
Copyright © E-Malt s.a. 2003