E-Malt.com newsletter
October 30 - November 02, 2003

Go to our news database with 1634 articles
Currency rate
for 31-Oct-2003 / EUR
1 EUR = 1.1638 USD
1 EUR = 0.6863 GBP
1 EUR = 1.5313 CAD
1 EUR = 1.6534 AUD
1 EUR = 126.58 JPY
1 EUR = 3.3157 BRL
1 EUR = 34.9024 RUB

Currency rate
for 31-Oct-2003 / USD
1 USD = 0.8596 EUR
1 USD = 0.5897 GBP
1 USD = 1.3158 CAD
1 USD = 1.4207 AUD
1 USD = 108.76 JPY
1 USD = 2.849 BRL
1 USD = 29.99 RUB

1. Trading offer & request

At this moment there is one OFFER for 3000 tons of malt on the trading portal www.e-malt.com
Offer for 1-3000 mtons of malt, 2RS Scarlet, crop 2003, bulk, delivery 1/2/2004 - 31/7/2004, at EUR 266.60/mton, FOB Antwerp. (to see and make a bid to the malt offer, please click here to view code MF0111P1256)



E-malt.com
is your first choice for brewing and malting industries

Launched in March 2001, e-malt.com has become the world's largest international reference tailored for professionals in the brewing and malting industries.

Around the clock hundreds of users are online at e-malt.com to stay in touch with our live trading on-line and the latest brewing and malting related news, trends and analyses.

Twice a week more than 9000 readers from over 140 countries receive our free newsletter with the latest industry news from around the world. Through our newsletter you will also be informed about malt and barley trading on- line and market prices movements. Moreover, every week our newsletters contain a weekly graph showing the latest statistics from the brewing, malting and malting barley industries.

E-Malt.com is your information Partner


Top Industry News
---
---
More news is available on site www.e-malt.com






















2. Brewery News

The US brewing force, The Boston Beer Company, Inc. announced on October 28 third quarter 2003 volume, revenue and earnings compared to the third quarter 2002. The company posted third quarter net revenue of US$55.5m, a 1.8% decrease from the 3rd quarter in 2002. The company said a 0.8% decline in shipment volume coupled with a 1% decline in net revenue per barrel, caused the fall. The company said the decrease in shipment volume was primarily related to a reduction in shipments in Sam Adams Light which were higher during the third quarter 2002, as a result of the pipeline fill associated with the completion of the Sam Adams Light product launch. The 1% decline in net revenue per barrel was due to a shift in the package mix towards kegs from bottles as the selling price per equivalent barrel is higher for bottles than for kegs. This shift is primarily due to the higher shipment volume of Sam Adams Light bottles during the third quarter 2002 product launch. The company said it earned US$4.0m in net income for the quarter versus net income of US$362,000 for the same period last year as advertising, selling and promotion expenses decreased by US$7.1m or 24.3% compared to the prior year quarter, due to the high level of support for the launch of Sam Adams Light last year...more info

According to local brewers, Czechs, who are already the No. 1 beer drinkers on Earth, have very little capacity to drink more then they already do, The Prague Post revealed on October 30. Statistics indicate that on average Czechs drink 159 liters (42 gallons) of beer per person annually. This amount represents nearly a half-liter daily for each of the more than 10 million men, women and children in this country. The No. 2 beer consumer, Germany, is significantly behind at 125 liters per head. The most optimistic prognoses are for an increase in national consumption of only 1 % annually. Additionally, Czech beer drinkers are reluctant to pay more for their favorite beverage, which is on average cheaper than soft drinks. In Prague, for example, a customer can purchase a half-liter of draft beer for 20 Kc (74 cents), a lower price than 3 deciliters (10.5 ounces) of soda or mineral water. As a result, in 2003 this country's beer exports will hit record figures, said Jan Vesely, chairman of the Czech Association of Breweries and Malt Houses. Exports are predicted to break the 2 million hectoliter (52.8 million gallon) mark. "Export is an extremely important area for beer producers, considering the limit of domestic consumption," said Vesely. "This stands at 18 million hectoliters, while the industry has the capacity to produce up to 22.5 million hectoliters of beer." In 2002, overall beer output was 18.18 million hectoliters, from which around 1.98 million hectoliters were exported...more info

The fierce competition between Namibia Breweries and SABMiller made the two breweries repackage and launch new brands, Business Report posted on October 31. "The premium beer category in South Africa had become the object of intense competitor activity since the group gained the distribution rights to the Heineken brand," Lionel Matthews, the financial director of Namibia Breweries, said on October 30 Namibia Breweries, which also exports much smaller volumes to the UK, southern Africa and Europe, struck a partnership with Heineken in May to distribute in South Africa, the report said. The move has led to SABMiller, the previous distributor of Heineken Lager, introducing new brands such as Miller to compete with Heineken and Windhoek Lager. In response, Namibia Breweries has invested heavily in the new packaging of Tafel and Windhoek, its premier brands. Although Matthews would not say how much had been invested in this process, he said the investment associated with the new packaging had not been fully recovered in the single price increase. "The price increase of the Windhoek range to reflect its prime positioning impacted upon initial volume growth, but value growth was within expectations," he said. However, the fight with SABMiller is not a big factor in the group's less-than-impressive interim results, the press released. High import levies imposed by the Angolan government hit beer volumes and almost halved attributable profit to R8.3 million for the six months to July. This translated into a 53 % drop in earnings a share to 4.06c...more info

Mexico's brewing giant, Grupo Modelo, the maker of the famous beer brand Corona, expects to register sales of around US$3.5 billion this year, says Jorge Siegrist Prado, a vice-president of the company, according to South American Business Information. Modelo is also considering opening new plants in Colima, Coahuila and Guanajuato; these in addition to the seven that are currently in operation. Prado notes that local governments and communities tend to welcome Modelo plants, as the company creates employment, respects the environment and helps in education. The company also plans to continue the rhythm of its export activities, especially with its Corona beer to the US. Corona is the third most exported beer in the world.

3. Malt News

Japanese brewing force, Asahi Breweries Ltd, has devised a new malt-producing method, Japanese press has posted recently. The new technique will help beer to keep its flavour longer. The new process uses a lower temperature in the early stages of drying the malt, with a higher temperature used at the later stages. The result of this is to help reduce oxidation by 70%, thereby slowing the speed at which beer goes stale. Asahi aims to begin using malt produced this way in the next year, and has applied for a patent on the technique.

4. Barley News

Canada: The manager of barley procurement for Westcan Malting Ltd., Ian John, was seeing signs of high protein in a lot of the crop, which suggested malt barley supplies might again be tight this year, The Western Producer reported on October 30. His fears began to subside as the harvest moved westward into Alberta. Although barley yields and quality were variable for protein and plumpness, he managed to find enough malting barley in Alberta and western Saskatchewan to meet Westcan's needs. "As the harvest went on, there were a lot of those small pockets that had showers at the right time," said John, who is based at the Westcan plant in Alix, Alta. "As the barley buyer here, I'm pretty satisfied with the way things turned out for us." A hot, dry summer pushed up protein levels in many Saskatchewan and Alberta barley crops while pushing down kernel plumpness. Despite those quality issues, the overall barley crop was an improvement over the previous two years, when severe drought hampered crops over large parts of the western Prairies. Joan Anderson, the Canadian Wheat Board's marketing manager for barley, agreed there was a lot of variability this year in prairie malting barley quality. However, she said the supply of malting barley from this year's crop is far greater than last year, when approximately 900,000 tonnes of malting barley were selected in Western Canada, largely because of drought in important growing regions. As of last week, 1.98 million tonnes had been selected, Anderson said, with a target of 2.1 million tonnes...more info

Russia exported 1.3 million tonnes of grain in September, a 3% growth on August and a 20% decline from September 2002, Vladimir Petrichenko, an analyst with the UniDell group of companies, has told Interfax citing the State Customs Committee as his source. Large shipments of barley to Saudi Arabia account for a large part of this amount, he said. Barley accounted for 558,000 tonnes, or 41.9%, of Russia's grain export in September, Petrichenko said. Russia has exported over 3 million tonnes of grain since the start of the agricultural year on July 1, 2003, he said.


5. Theoretical malt prices.
EURO = USD 1.1638 October 31, 2003
Crop year
2003
Parity
FOB Antwerp
Position
Nov 2003-Sept 2004
Conditioning
Bulk
In bags
Bulk containers
In bags in containers
Malting barley variety
EURO
USD
EURO
USD
EURO
USD
EURO
USD
2RS
Scarlett
270.50
315.00
286.00
332.50
282.50
328.50
292.00
339.50
2RS
Prestige/Cellar
269.50
313.50
284.50
331.50
281.00
327.00
290.50
338.00
2RS
Aspen
268.50
312.00
283.50
330.00
280.00
325.50
289.50
336.50
2RS
Optic
268.50
312.00
283.50
330.00
280.00
325.50
289.50
336.50
2RS
Astoria
264.50
308.00
279.50
325.50
276.00
321.50
285.50
332.50
2RS
Cork
264.50
308.00
279.50
325.50
276.00
321.50
285.50
332.50
2RS
Average price
268.50
312.00
283.50
330.00
280.00
325.50
289.50
336.50
2RS
FAQ
263.50
306.50
278.50
324.00
275.00
320.00
284.50
331.00
6RW
Esterel
263.50
306.50
278.50
324.00
275.00
320.00
284.50
331.00
*
Asia Malt 70/30
267.00
310.50
282.00
328.00
278.50
324.00
288.00
335.00
**
Asia Malt 50/50
266.00
309.50
281.00
327.00
277.50
322.50
287.00
334.00

* - 70/30 = 70% Average two Rows Spring and 30% Six Rows Winter
** - 50/50 = 50% Average two Rows Spring and 50% Six Rows Winter


6. Malting barley prices. French barley prices. Nominal prices.
EURO = USD 1.1638 October 31, 2003
Crop year
2003
Parity
FOB Creil
Position
July 2003
Type
Variety
EURO
USD
2RS
Scarlett
131.00
152.50
2RS
Prestige/Cellar
130.00
151.50
2RS
Aspen
129.00
150.50
2RS
Optic
129.00
150.50
2RS
Astoria
126.00
147.00
2RS
Cork
126.00
147.00
6RW
Esterel
125.00
145.50
Feed
Barley (FOB Rouen)
129.00
150.50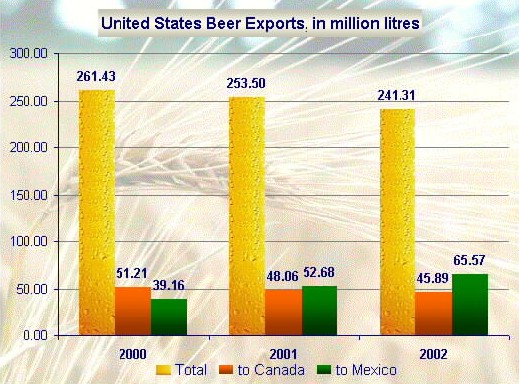 8. Do you know e-malt.com?
Dear E-malt Reader!

E-malt.com has Trading Online system. The system is to be used for malt/barley trading. One can register a malt/barley offer or a malt/barley request. The registering person could be as a seller/buyer or as an agent for seller/buyer. The User can see information about all active malt/barley offers & requests. If needed the system allows user to buy/sell malt/barley due to reasonable offers/requests. The way to do this is to confirm reasonable transaction. Trading Online rules are available through the Internet in the Trading Online as well as Tutorial (useful for persons who starts the system usage). To visit the E-malt Trading Online first go to the E-malt.com site, then click Trading Online link in the left menu of the e-malt.com home page. For more details please contact info@e-malt.com

Thank You!
---
E-MALT.COM Summary!
[Industry news] [Market prices] [EU Regulations] [Specifications] [Special malts] [Professional Help] [Trading online] [Costing online] [Statistics] [Agenda] [Accounts] [Log In] [Contact us]
---
If you have any comments, questions, suggestions or remarks, you can send a mail to
info@e-malt.com
---
If you have received this newsletter by a colleague, you can obtain your own
free subscription here

To submit your own news to our editorial team, email: info@e-malt.com

You may recommend our site to your friend by clicking here

If you do not wish to receive our newsletter, please unsubscribe your e-mail address (@EMAILADDRESS@) from our mailing list using unsubscribe form from our site!
Copyright © E-Malt s.a. 2003