Belgium: InBev, the world's largest brewer by volume, announced on March 22 the global launch of Brazilian beer brand, Brahma®, the beer with the true spirit of Brazil — 'Ginga'. The launch spans more than 15 countries
in markets all around the world. Not only is a global launch of this scale unique in the consumer goods industry, but the brand and its approach is very different than any other beverage. The brand will be packaged in an iconic, contoured bottle with an original, visible curve or sway. Brahma® captures the authenticity of Brazil and aspires to bring the Brazilian attitude and lifestyle to consumers worldwide. Brahma will break existing beer paradigms, and is a strong visible sign of the power of the combination of Interbrew and AmBev as InBev. When InBev announced the combination between Interbrew and AmBev on March 3rd, 2004, the company also announced that there would be important synergies as a result of bringing the two companies together: a pre-tax total of 140 million euro of annual commercial synergies by 2007. The selling of Brahma® outside of its home market is expected to contribute 30 million euro by the end of 2007. John Brock, InBev CEO, said: "Only seven months after the two companies combined we experience today a very strong visible and tangible sign of the collective strength of this new exciting company. This global launch leverages our strengths and global breadth as the biggest brewer in the world to deliver a proposition that lives up to being the best in the world." InBev's Chief Commercial Officer, Brent Willis said, "At the heart of everything we do as a company is the consumer, and this launch epitomizes that approach. Consumers around the world may not be waiting for another beer, but we know that they all need a bit of Ginga!" Brahma® (4.8% ABV) will be available in outlets as early as April, and will be rolling-out to markets around the world throughout 2005. The brand will be marketed with a range of communication materials including music CDs, television advertising in multiple languages and styles, expansive display and point-of-connection materials, print, outdoor, Internet, and other relevant consumer-connection mediums. "Rather than just a new brand, Brahma® brings an entirely new experience and an exciting new attitude to the category. Its taste is light and refreshing, and has a clean and crisp finish with a papaya after-note. The curved bottle with embossed Brahma® lettering gently and ergonomically fits into consumers' hands. The design exudes modernity, sophistication, and creativity and the "Rio-Flash" color of the Brahma® brand block exudes all the passion and excitement wrapped up in Brazil, while respecting Brahma®'s roots which trace back to 1888."...
more info
Thailand: About 5,000 people, including 500 Buddhist monks in saffron robes, gathered in front of Thailand's stock exchange on Wednesday, March 23 to celebrate their success in blocking the listing of the beer company, Thai Beverages
, Associated Press communicated. Thai Beverages is owned by Charoen Sirivadhanbhakdi who was named by 'Forbes' magazine as this year's richest man in Thailand. The Stock Exchange of Thailand announced on Monday that it postponed indefinitely a decision on whether to allow the listing of Thai Beverage PCL, the country's largest beer and liquor maker. The action came after strong opposition to the listing from various social groups on the ground that promoting alcohol consumption is against Buddhist, Islamic and Thai beliefs. "We will not make a decision under the pressures of any parties," Kittiratt Na-Ranong, president of the Stock Exchange of Thailand, told reporters. The bourse had been expected to make a decision on the matter on Wednesday. Last Friday, March 18, about 2,000 monks from the Thai Buddhist Monks National Coordination Center gathered outside the exchange to protest the proposed listing of the company, which brews top-selling Beer Chang, or "Elephant Beer." In a statement, they denounced the listing as "a grave threat to the health and culture" of the predominantly Thai Buddhist society, "which could be harmed by the proliferation of the liquor business." "It is one of the duties of a Buddhist monk to promote good morality to the world. We have poured away liquor and burned cigarettes in our protests before," monk Phra Kittyano Bhikku told reporters at the protest. Organizers of the anti-listing campaign, who claimed the backing of 128 anti-alcohol groups from all over the country, said they gathered Wednesday "to express gratitude to the board of the Thai Stock Exchange." Cheap and potent, Beer Chang is especially popular with rural drinkers. The beer company, owned by liquor tycoon Charoen Sirivadhanabhakdi, hoped to raise up to 40 billion baht (US$1.04 billion; €790 million) through its initial public offering, which would have been the biggest in the Thai market's history. Charoen, a strong political and financial supporter of Prime Minister Thaksin Shinawatra, intends to sell one-third of Thai Beverages' shares to the public, raising up to one billion U.S. dollars in what could be the biggest listing in the history of the Thai stock exchange. Beer Chang, Thai Beverages' flagship, was launched in cooperation with Carlsberg Breweries of Denmark in 1996 and was awarded a gold medal at the Australian International Beer Awards in 1998. It now controls about 80 percent of Thailand's 2.1 billion U.S. dollar domestic beer market, edging out Singha Beer that used to be the country's top selling brand....
more info
Brewing giant, SABMiller Plc
, announced on March 23 it has recorded organic lager volume growth of over 4% for the 11 months to February 2005. The maker of Miller Lite, Castle and Peroni had said its global volumes rose 5 %...
more info
Denmark
: Danish beer giant, Carlsberg A/S, expects a significant improvement in the Swedish market this year and plans acquisitions of small breweries in Asia and Eastern Europe...
more info
Kazakhstan
: On March 19 "Private brewery TINKOFF" announced it launched in Alma-Ata its first brewery-restaurant outside Russia...
more info
USA: Anheuser-Busch Cos. Inc. spent more than US$293 million on sports advertising, ranking it first among the top 100 sports advertisers in 2004
, St. Louis Business Journal posted on March 21. The Sports Business Journal, reported that the St. Louis-based brewer spent 83% of its US$352.2 million total ad spending last year on sports, up 34.5 % from its 2003 sports ad spending. The report attributed the increase to Olympics-related advertising. The company ranked No. 1 in 2003, as well. Rival Miller Brewing Co. of Milwaukee spent US$131.8 million on sports advertising, or nearly 69 % of its US$191.2 million ad total, ranking it No. 7 in 2004, down from No. 4 in 2003. Golden, Colo.-based Coors Brewing Co. spend US$82.25 million, or 26 % of its US$106.8 million total spending, ranking it No. 15, down from No. 6 in 2003. Ranking No. 2 in 2004 was General Motors Corp.'s Chevrolet division, which spent $220 million of its $370.2 million ad budget on sports advertising. Cingular Wireless had the largest increase in its sports ad spending in 2004, spending $164.5 million, up 243.6 percent from 2003. SBC Communications, Gillette USA, Allstate Insurance Co. and Coca-Cola USA also stepped up their sports ad spending by more than 100 percent. Companies with the most ad spending devoted to sports were the NCAA (100 percent), Acushnet Co. (100 percent), Southwest Airlines (98.6 percent), NASCAR (98.5 percent), and PGA Tour Inc., (96.5 percent). McDonald's Corp. spent nearly 95 percent of its ad spending on sports, or $101 million. The Sports Business Journal used data from Nielsen Monitor-Plus.
Malt News
Australia: ABB Grain Ltd. announced on March 23 that its subsidiary Joe White Maltings Pty Ltd and leading Australian brewer Lion Nathan Australia have renewed their long-term supply relationship signing a new malt supply contract...more info
Barley News
China: In February 2005 China imported 224,000 tonnes of barley...more info

World barley market remained stable last week. The European Commission once again rejected all proposals for export barley subsidies, but traders needs grow every week. The minimum rate on which market operators figured last week was EUR 17.79/MT (EUR 1 more than before). The vagueness over subsidies leads to slackness on the European market. At the same time, the Russian market revived last week, UkrAgroConsult commented. So, according to IKAR, about 123KMT of barley was exported on 3-9 March, i.e. twice as much as a week before. The vivid export leads to further price growth in port regions and stable prices in other ones.

Theoretical malt prices.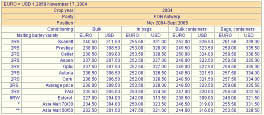 * - 70/30 = 70% Average Two Row Spring and 30% Six Row Winter
** - 50/50 = 50% Average Two Row Spring and 50% Six Row Winter
Theoretical malt prices for crop 2005 are available on site
www.e-malt.com/MarketPrices
Malting barley prices. French barley prices.
Nominal prices.

Malting Barley Price Evolution
Table of the week
Baltic Beer Market in 2004
Baltic Beer Market Size, in million litres

2003
2004
Market growth, %
Latvia
147
135
- 8.2 %
Estonia
97
110
+ 13.4 %
Lithuania
261
277
+ 6.1 %
Total Baltic States
505
521
+ 3.2 %
Latvia Beer Market
Estonia Beer Market
Lithuania Beer Market

2003

2004
2003
2004
2003
2004
BBH: Aldaris
43 %
39 %
BBH: Saku
43 %
42%
BBH: Svyturys-Utenos Alus
45 %
44 %
Cesu Alus
11 %
15 %
A Le Coq (Tartu)
36 %
35%
Kalnapilis+Tauras
21 %
22 %
Lacplesis
11 %
7 %
Viru
10 %
16%
Gubernija
10 %
9 %
Livu Alus
10 %
13 %
Imports
8 %
5 %
Ragutis
9 %
9 %
Kimmel
4 %
Other
5 %
2 %
Imports
4 %
4 %
Other
20 %
25 %
Other
11 %
12 %
Imports
1 %
1 %
Graph of the week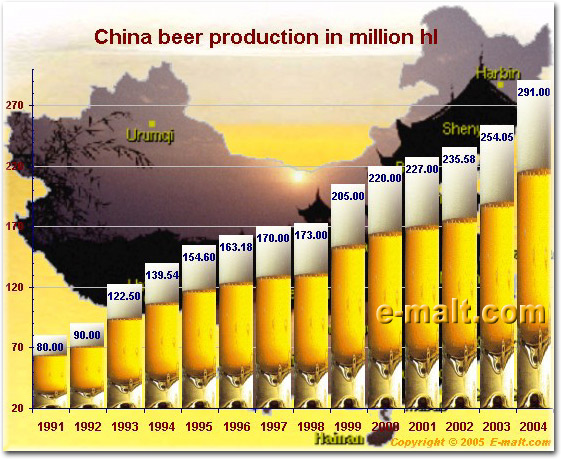 Agenda

March 2005:
Night of Great thirst, Belgium;
Zythos Beer Festival, Belgium;
Institute and Guild of Brewing Africa Section 10th Convention, South Africa;
China Drinktec China International Exhibition on Beverage, Brewery and Wine Technology;
FOODEX JAPAN 2005 / INTERNATIONAL FOOD & BEVERAGE EXH;
International Food and Drink (IFE), UK;
BLACK SEA GRAIN: A NEW ENVIRONMENT IN UKRAINE AND REGIONAL PROSPECTS FOR GROWTH;
Deltabierfestival, The Netherlands;
UzFood. International Exhibition for Food, Drink Packaging Technology. Uzbekistan.;
Spring Beer Festival "Hops on Equinox", Seattle;
Brew and Beverage Industry - Beer Auction International Trade Fair, Russia;
Siebel Institute Brewing Profitability Workshop;

April 2005:
Helsinki Beer Festival;
Tour de Geuze 2005. Payottenland, Belgium;
FAB 2005 - BC Food & Beverage Conference. Vancouver, BC;
Grains Week 2005. Queensland, Australia;
Concise Course in Brewing Technology;
World Barley, Malt & Beer Conference 2005;
JOINT LEGISLATIVE CONFERENCE. Washington, D.C., USA;
BEER. Exhibition Pavilion Minsk.;
Craft Brewers Conference & BrewExpo America;
Classic City Brewfest, Athens, GA;
SOUTH-UKRAINIAN DAYS OF FOOD AND DRINKS;
SIBFOODEXPO, Siberian Beer. Novosibirsk;
SAMARA DRINKS. SAMARA, RUSSIA;
WINES, BEERS AND DRINKS Exhibition for the Beverage Industry. Krasnoyarsk, Russia;
Malting Course BRi Nutfield United Kingdom;
INTERPAK 2005 Duessledorf, Germany;
Excursion to West-Flanders;

May 2005:
HOFEX 2005. 11th Asian International Exhibition of Food & Drink. Hong Kong;
30th Congress of the European Brewery Convention;
Pivo-2005. Beer International Brewing Technology Exhibition. Sochi, Russia.;
Export Credit Guarantee Programs Seminar. USDA;
California Festival of Beers;

More events are available on site e-malt.com