China & Singapore
: Leading Asian beer producer, Asia Pacific Breweries Ltd. (APB) announced on April 18 that Chief Executive Officer, APB and Chairman, Heineken-APB inked on April 18 the joint venture agreement in Shanghai ...
more info
---
Russia
: SUN Interbrew announced on April 18 it is to start production in Russia of the original Belgian white beer, Hoegaarden®. Russia will become the first country to implement the licensed production of the brand...
more info
---
Japan
: Asahi Breweries Ltd. announced on April 19 that it will launch "Shin-Nama", a so-called "third category" beer on March 20 to challenge its three major rivals...
more info
---
USA: New Belgium Brewery in Fort Collins, Colorado registered an increase by 16% of its sales in 2004 as more consumers caught on to its signature Fat Tire Amber Ale
, Rocky Mountain News posted. Production at Denver-based Breckenridge Brewery - maker of Avalanche Ale - rose 3 percent last year, even with the seasonlong hockey lockout. Nationally, sales of craft beer rose 7 percent in 2004, after several years of slower growth, according to the Boulder-based Brewers Association.
"There are a few factors that have converged on this," the main reason being an increase in quality of craft beers, said association director Paul Gatza. The taste of craft beer was more hit-or-miss through the mid- 1990s, Gatza said Friday during a conference call from the association's annual Craft Brewer's Conference and BrewExpo America in Philadelphia.
A lack of consistent quality made consumers wary, he said. "Now, we've seen several regionals that have set a quality standard," he said. "Consumers now, when they see a craft beer, they know the experiences they've had have been positive, and it will probably be a good experience trying a new brand."
Larger brewers Anheuser Busch, SAB Miller and Molson Coors still control more than 80 percent of the overall beer market, followed by imports and craft brews.
But last year, craft beer saw the biggest increase in sales among all alcoholic beverage categories, including wine and spirits, according to association statistics. Mass market domestic beer sales, meanwhile, rose a scant 0.5 percent. ...
more info
---
Canada: The merger of American and Canadian beer companies Coors and Molson bolstered Canadian investment in foreign securities to the highest monthly level since November 2002
, Statistics Canada said on April 18. Canadian shareholders swapped their shares for the newly formed beer firm, Molson Coors Brewing Co., based in the United States, causing the bulk of the $5.27 billion in net purchases of foreign securities by Canadians, according to Toronto Star Newspapers.
It was the highest level since November 2002. In January, Canadians had sold a net $2.41 billion in foreign securities, all of it stocks. Foreigners slowed their pace of investing in Canadian securities in February to $1.80 billion from $2.41 billion in January and $3.74 billion in December, but Statistics Canada noted steady purchases of stocks.
Foreign investors, mainly Americans, bought $2.2 billion in Canadian stocks. "Non-resident investors have acquired Canadian equities every month since July 2004, with purchases totalling $15.3 billion over the eight-month period," the agency Canada said. Transactions in Canadian bonds were relatively flat in February. Foreign investors sold $89 million worth of bonds after buying $600 million the month before.
---
Poland: Dutch beer-maker Heineken, owner of Zywiec Group, is creating a new management structure that will significantly change the way Poland's biggest brewer is run
, Warsaw Business Journal communicated on April 18.
Last week, Heineken announced that it would be changing its operating structures after its chief executive retires later this year. Replacing the existing system of several integrated or single markets, the company will split its operations into five regions - Western Europe, Central and Eastern Europe, the Americas, Africa and the Middle East, and Asia-Pacific - each to be managed by regional presidents.
As a result of the re-shuffle, Grupa Zywiec, which claims 36.6 percent of the Polish market, will lose Nico Nusmeier, its president for the past four years. Nuismeier is leaving to become the president for the Central and Eastern Europe region.
"Zywiec Group is a strong organization that will certainly play a major role in the newly created region that I am going to look after. I also know that the group's potential will develop in the right direction," said Nuismeier in a statement sent to the WBJ.
The company plans to announce Nuismeier's successor within the next few weeks.
Heineken's CEO Thony Ruys will retire in September and will be replaced by board member Jean-Fran~ois van Boxmeer. Last year, Grupa Zywiec posted a 34 percent rise in profits to zl.277 million on a net turnover of zl.3.63 billion, while Heineken's profits dropped one-third to zl.2.13 billion.
Malt News
Malting market analyses
: Malting barley needs in 2005/06 will increase with the new capacities in the EU...
more info
Barley News
China
: 2005 malting barley imports of China, the world's biggest beer producer, are likely to recover to at least 2 million tonnes, up from 1.71 million tonnes last year and 1.36 million in 2003...
more info
---
USDA April estimation
of World Barley Supply and Demand: World barley production is projected to increase 7.0% to 152.4 MMT (million metric tonnes)...
more info
Theoretical malt prices.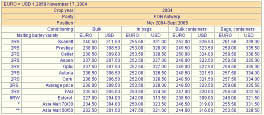 * - 70/30 = 70% Average Two Row Spring and 30% Six Row Winter
** - 50/50 = 50% Average Two Row Spring and 50% Six Row Winter
Theoretical malt prices for crop 2005 are available on site
www.e-malt.com/MarketPrices
Malt Price Evolution
Malt Market Price Evolution, Crop 2005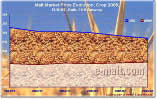 Source: E-malt.com

Malting barley prices. French barley prices.


Nominal prices.


Table of the week
Graph of the week

Agenda


April 2005:
Helsinki Beer Festival;
Tour de Geuze 2005. Payottenland, Belgium;
FAB 2005 - BC Food & Beverage Conference. Vancouver, BC;
Grains Week 2005. Queensland, Australia;
Concise Course in Brewing Technology;
World Barley, Malt & Beer Conference 2005;
JOINT LEGISLATIVE CONFERENCE. Washington, D.C., USA;
BEER. Exhibition Pavilion Minsk.;
Craft Brewers Conference & BrewExpo America;
Classic City Brewfest, Athens, GA;
SOUTH-UKRAINIAN DAYS OF FOOD AND DRINKS;
SIBFOODEXPO, Siberian Beer. Novosibirsk;
SAMARA DRINKS. SAMARA, RUSSIA;
WINES, BEERS AND DRINKS Exhibition for the Beverage Industry. Krasnoyarsk, Russia;
Malting Course BRi Nutfield United Kingdom;
INTERPAK 2005 Duessledorf, Germany;
Excursion to West-Flanders;

May 2005:
2nd KBC festival of Dutch special beers;
TwinTrack Brewing Microbiology Program. The Siebel Institute;
HOFEX 2005. 11th Asian International Exhibition of Food & Drink. Hong Kong;
30th Congress of the European Brewery Convention;
Pivo-2005. Beer International Brewing Technology Exhibition. Sochi, Russia.;
Export Credit Guarantee Programs Seminar. USDA;
California Festival of Beers;

June 2005:
World Barley, Malt & Beer Conference 2005, Germany;
ASBC Annual Convention. American Society of Brewing Chemists Meeting.;
IGC GRAINS CONFERENCE 2005;
BRASIL BRAU International Fair of Beverage Technology;
FOOD TAIPEI 2005. The largest food and beverage show in Taiwan;
BevTek / BrewTek International Exhibition of Beverage and Brewery Processing and Packaging Technology. Bangkok, Thailand ;

More events are available on site e-malt.com