USA, Denver: Adolph Coors and Molson put their plan to create a US$6 billion brewer on firmer ground after boosting last week a special dividend for Molson shareholders
. The move to raise the cash portion of the offer by 67%, raising its total value 6% to US$3.8 billion, came amid mounting opposition to the mostly stock deal ó and a nibble of interest in Molson from brewing giant SABMiller, The Associated Press mentioned on January 16. Molson stock rose 3.5% on Friday to close at a 52-week high of US$30.73 on the Toronto Stock Exchange. Coors closed down US$2.14, or 2.8%, at US$74.02. The decision seemed to have started turning the tide, as one shareholder who had opposed the deal and a second with major holdings said they would favor it. "Overall, I think this will be enough to get it done," said analyst Michael Van Aelst, who tracks Molson for CIBC World Markets. It was the latest twist in the family-run brewers' six-month campaign for approval of a union to create the world's No. 5 beermaker. For months, Molson shareholders have argued the proposal didn't offer enough value for their stock. Former deputy chairman Ian Molson of the founding family has argued that the plan is bad for Molson shareholders. He said Montreal-based Molson, which has a larger market capitalization, higher profitability and stronger domestic base, would shift to a U.S. headquarters with Coors executives in charge. Adding pressure was an announcement Wednesday from London-based SABMiller that it might make a bid for Molson if the deal failed. Late Thursday, the companies said they would increase the special dividend they had planned to offer Molson shareholders by US$532 million. With the added cash, the proposal values Molson shares at US$31.27, a 16% premium over the US$26.99 share price before the deal was announced July 22. The companies also pushed back shareholder votes on the deal to Jan. 28 from Jan. 19 for Molson and Feb. 1 for Coors. It was enough of a change to persuade AIM Trimark Investments, one of Molson's largest investors with about 14% of class A shares, to support the deal. Portfolio manager Ian Hardacre said the firm's concern was always about fair value. "It was more an issue of price for us ... what we thought the business was worth," he said. "Without question, the new company is a far better option than Molson on a stand-alone basis." Burgundy Assets Management also came out in favor of the deal after opposing it earlier. A spokesman did not return a call for comment.
United Kingdom: Brewer Coors, which makes best-seller Carling as well as Grolsch, Worthington and Caffreys, is to raise prices by 2.5% from February 6
. The increase on all brands, well above current inflation of 1.5%, will see 5 pence added to the average £2.20 for a pint of Carling. It comes despite "superb" sales over Christmas. Sales director Kevin Brownsey said the rise was because of significant increases in raw materials, energy, distribution and packaging costs. Mr Brownsey said: "The increase will cover some of that, but is not intended to boost the value of the company - it's about protecting margins." Coors, which sold five million barrels of beer in the UK last year, expects supermarkets to pass on the increase to customers. Last November, rival beer giant Interbrew hinted the price Stella Artois lager would rise by above the level of inflation early this year. Scottish Courage refused to comment, but said "pricing levels are under constant review".
China
: Global brewing giant SABMiller Plc announced it will launch its first international beer brand in China this year, expected to be Miller Genuine Draft (MGD), as it tries to boost profits in the world's biggest beer market...
more info
Japan: The largest Japanese beer-maker, Asahi Breweries Ltd, which controls 41.7% of the market, has recently announced its beer and happoshu sales for December and full year January-December 2004
. Beer sales in 2004 increased 0.3% up to 19.07 million hl or 150,593,000 cases, versus 19.01 million hl in 2003. Happoshu (low- malt beer) sales decreased 0.4% in January-December 2004 down to 6.88 million hl against 6.90 million hl in 2003. The best-sold beer brand was Super Dry with 14.75 million cases during January-December 2004, 0.6% increase year-on-year. The second one in Honnama with 2.98 million cases in 2004, 20.7% decrease year-on-year. In December 2004 Asahi Breweries beer sales increased 8.1% up to 2.35 million hl compared to 2.17 million hl in December 2003. The brewery sold 0.63 million hl of happoshu during December 2004, down 4.3% versus December 2003, when it sold 0.66 million hl.
Argentina
: Quilmes Industrial (Quinsa) S.A. announced on January 14 the volumes for the fourth quarter and full year 2004. Quinsa said its total beer volume for 2004 rose 7.8% to 15.8 million hectoliters...
more info
Bulgaria
: Zagorka Brewery escapes poor competition fines. A fifth-member panel of the Supreme Administration Court has recalled the ruling of the lower three-membered one concerning the decision of the state competition watchdog to fine Zagorka brewery for unfair advertising game, Sofia News Agency revealed on January 18...
more info
Malt News
Denmark: From January 18, 2005 onwards export of Danish malt and barley to Russia was brought to a halt, due to an overall ban posed by Russian Federation authorities on Danish agricultural production of plant origin...more info
Barley News
Ukraine and Russia winter crop area: According to data from the State Statistical Committee of Ukraine, sown winter barley area for 2005/2006 went down to 0.48 million hectares, compared to 0.56 million hectares in 2004/2005...more info

USDA barley trade forecast and estimation: Russia barley imports forecast for 2004/2005 is up 100,000 tonnes to 400,000 tonnes due to an expanding malting industry, USDA published on January 13. Australia barley exports estimate for 2003/2004 made by USDA is up 105,000 tonnes to 6.1 million tonnes based on final trade data.

Theoretical malt prices.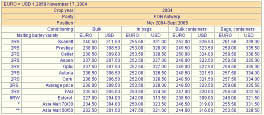 * - 70/30 = 70% Average two Rows Spring and 30% Six Rows Winter
** - 50/50 = 50% Average two Rows Spring and 50% Six Rows Winter
Theoretical malt prices for crop 2005 are available on site
www.e-malt.com/MarketPrices
Malting barley prices. French barley prices.
Nominal prices.

French Malting Barley Price Evolution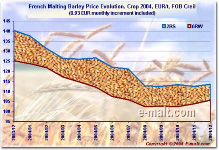 Table of the week
Australia/Oceania Beer Production in thousand hl
| | | | | |
| --- | --- | --- | --- | --- |
| Country | 2000 | 2001 | 2002 | 2003 |
| Australia | 17,150 | 17,400 | 17,480 | 17,260 |
| New Zealand | 2,980 | 3,069 | 3,093 | 3,127 |
| Papua-New Guinea | 350 | 350 | 400 | 400 |
| Tahiti | 180 | 173 | 180 | 180 |
| Fiji Islands | 170 | 173 | 181 | 160 |
| New Caledonia | 125 | 125 | 130 | 130 |
| Samoa | 60 | 68 | 65 | 80 |
| Solomon Islands | 30 | 22 | 20 | 27 |
| Tonga | 8 | 8 | 8 | 8 |
| Vanuatu | 7 | 4 | 7 | 7 |
| Total | 21,060 | 21,392 | 21,564 | 21,379 |
Graph of the week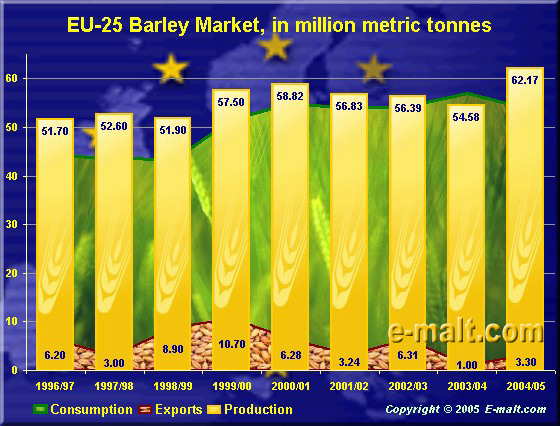 Agenda

January 2005:
AGRIFLANDERS Flemish Agriculture Exhibition;
Big Beers, Belgians & Barleywines Festival. Vail CO;
35th Barley Improvement Conference. The American Malting Barley Association;
VIETFOOD (HANOI) 2005;
Great Alaskan Beer and Barley Wine Festival;
Technologisches Seminar 2005. Organiser: TUM, Lehrstuhl fŁr Technologie der Brauerei I;
Getršnke-Kongress. Organiser: Die Akademie Fresenius, Dortmund;
Boston Winter Jubilee;
Extreme Beer Fest;
Atlanta Cask Ale Tasting;
Spirit of Belgium;
National Winter Ales Festival (CAMRA);

February 2005:
Pianeta Birra - Beverage & Co. International Show of Beers, Beverages etc., Italy;
Liqma International Beverage Industry Exhibition, Spain;
Canadian Food and Beverage Show;

March 2005:
Night of Great thirst, Belgium;
Zythos Beer Festival, Belgium;
Institute and Guild of Brewing Africa Section 10th Convention, South Africa;
International Food and Drink (IFE), UK;
Deltabierfestival, The Netherlands;
Spring Beer Festival "Hops on Equinox", Seattle;
Brew and Beverage Industry - Beer Auction International Trade Fair, Russia;
FOODEX JAPAN 2005 / INTERNATIONAL FOOD & BEVERAGE EXH;
China Drinktec China International Exhibition on Beverage, Brewery and Wine Technology;

More events are available on site e-malt.com