Brazil: InBev, the world's largest brewer by volume, is planning to turn Brahma, a popular Brazilian beer, into a truly global brand
. Brent Willis, InBev's chief commercial officer, said in an interview that the global rollout of Brahma, which now is mostly confined to the Brazilian market, is expected around mid-year. While global beer sales have been flat in recent years, and particularly sluggish in many developed markets, InBev, formed in the merger this year of Interbrew of Belgium and AmBev of Brazil, sees a marketing opportunity in the fragmentation of the beer industry, at International Herald Tribune Eric Pfanner commented on December 28, 2004. Despite a recent consolidation among brewers, local brands still control 80 % of beer sales, Willis noted, in contrast to the soft-drink industry, where global brands dominate. Willis, a former Coca-Cola executive, hopes to apply some of the marketing know-how from the soft-drink world to the selling of beer. "The world's not waiting for another beer," Willis said. "But there are some unmet consumer needs out there. If you look at it that way, you have a significant brand." He added: "We used to be in the beer business. Now we're in the consumer relationship business." InBev, the world's largest brewer, has about 250 brands, ranging from big names like Stella and Beck's to regional brands like Staropramen in the Czech Republic and Leffe in Belgium, to lesser-known local beers like Klinskoye in Russia. But it has a relatively weak position in the United States, which is dominated by Anheuser-Busch and SABMiller. Analysts say the company will probably try to position Brahma against Corona, the top import in the United States, which is brewed by Grupo Modelo, a Mexican company in which Anheuser-Busch has a 50 % stake. Willis said promising markets like Russia and China will also get big marketing pushes. Willis provided few hints of InBev's marketing approach, though he said the company would avoid one oft-trodden route in the beer industry: the "brand provenance" approach, which plays on hackneyed clichés about a country or a culture. "This is not going to be Brazil in a bottle," he said. "There won't be any of that superficial stuff, dental floss on the beach, that kind of thing." While Brahma will have a global brand image, the actual product, what Willis referred to as "the liquid," will be adapted according to regional tastes. Americans, for instance, tend to prefer weaker, thinner brews than Northern Europeans. Willis declined to disclose a budget for the Brahma introduction, but overall, InBev spends nearly €2 billion, or $2.7 billion, annually on marketing. In the case of Stella Artois, that seems to have been money well spent. Though Britain has plenty of its own beer brands, the imported Stella, backed by an iconic advertising campaign that positions the brand as "reassuringly expensive," has grown into the top-selling premium lager and the third-best-selling beer over all.
South Korea, Seoul
: South Korea's largest brewery, Hite Brewery Co., announced on Wednesday, December 29, 2004, it will down its wholesale beer prices by 1 % after the government decided to lower taxes on alcohol. From January 1, 2005, the government will lower tax rates on beer from 100 % of its wholesale price to 90 %. ...
more info
China, Beijing: Harbin Brewery Group, in which Anheuser-Busch Inc holds a 99.4 % stake, is protesting an exclusive sales agreement signed between China Resources Breweries Ltd's wholesalers in Shenyang and their 1,800 retailers
, China Business News reported on December 27, citing an official with Harbin Brewery Group. "This is contrary to rules of normal market competition and we will seek ways to address it," the official said. Hou Xiaohai, an official at China Resources Breweries Ltd, said the exclusive sales agreement which refers to Snow brand beer was an independent matter between retailers and wholesalers, and denied any company involvement, the newspaper said. China Resources Breweries Ltd enjoys a 32 pct market share in northeastern China while Harbin Brewery has a 30 pct share, the newspaper added. China, one of the world's fastest growing beer markets, is seeing intensifying competition from foreign brewers driven by stagnant growth in their home countries. Annual per capita beer consumption in China currently stands at only 19 liters, compared with 75 liters in Europe and 84 in the US. At the same time, income levels here are rising rapidly and consumers are acquiring a growing taste for beer, according to AFX. So far, global beermaker Interbrew has spent more than US$ 600 million in acquiring local beer makers in the country, and other big-name foreign brands such as Anheuser-Busch, SABMiller Plc, Carlsberg International AS and Scottish & Newcastle Plc, are also boosting their presence.
Norway
: Each Norwegian drank on average almost 52 litres of beer during the first nine months of 2004, Statistics Norway posted on December 13, 2004. This is 5 litres more than during the same period last year...
more info
India, New Delhi
: India brewer leader United Breweries is learnt to have received $300 million more in bank commitment from ICICI Bank. UB will have a war-chest comprising of the credit line and the Rs 217 crore from the sale of 17.5 percent stake to Scottish & Newcastle (S&N)...
more info
Russia
: Each Russian drinks on average 55 litres of beer per year. The target is to reach a per capita beer consumption of 70 litres per year by 2010. To this purpose Russian beer industry has to grow by about 4% per year...
more info
Malt News
Brazil: Agromalte, Brazil's biggest malt producer, based in the southern state of Parana, is expected to invest 60 million Brazilian reais (US$22.31 mln/16.47 mln euro) in the next few years to expand its production capacity, Latin America News Digest commented on December 27, 2004. Agromalte, which is the largest of the 10 companies controlled by Parana-based co-operative Cooperativa Agraria Mista Entre Rios, is expected to produce 135,000 tonnes of malt in 2005, an increase by 8 % year-on-year. Agromalte also plans to increase its malt imports to 50,000 tonnes in 2005, up by 25 % year-on-year, according to the co-operative's vice president Paul Illich. Cooperativa Agraria Mista Entre Rios traditionally sells its malt output to Brazil's main beer producing companies. Agromalte's sales, in turn, are expected to total some 140 million reais ($52.05 mln/38.42 mln euro) in 2005, up from 120 mln reais ($44.61 mln/32.93 mln euro) estimated for 2004, according to Illich. The company's investments in production capacity expansion are due to an increasing demand of the local beer producing sector. Brazil's brewers are expected to close 2004 with sales increase of between 3.0 pct and 3.5 pct year-on-year, versus a 2.5 pct sales reduction registered for 2003, according to estimates of Brazil's brewers union Sindicerv.
Barley News
Australia: While the grain harvest in many states is winding down, Tasmania's headers are just starting to fire up, the ABC National Rural News commented on December 29, 2004. Barley is one of the first crops to come off, and this year, northern grain growers have pipped the southerners at the post, delivering the first malting barley to Hobart brewer, Cascade. Cascade's Maltings Manager, Roger Ibbott, is looking for 8,000 tonnes of malting barley this year to cater for growing demand. "We got our first deliveries on Christmas Eve," he said, "then it gradually builds up. But the grain quality, as I had suspected, the grain quality is turning out to be pretty good, although some of the yields are not as the growers would have hoped."

Scandinavian Malting Barley Market: No voluminous turnover to report during November-December 2004, market analysts at H. Abildstrøm & Co ApS revealed in a statement on December 29. They said trading houses covering from hand to mouth domestic contracts in Denmark and Sweden ...more info

United Kingdom, Scotland: Arable farmers have again warned that, unless prices improve, they will stop growing barley for malting, leaving beer and whisky makers with a supply problem. It has become almost a "boy cries wolf" warning over the past few years, but John Kinnaird, NFU Scotland president, believes that this time growers mean it, Scotsman Business revealed on December 29, 2004. The deciding factor, after another year of low prices and mediocre premiums for malting above a feed barley price in the low £60s, could be changes to Europe's common agricultural policy. From January 2005, farmers will get a single annual support payment instead of a range of crop and livestock production subsidies and Kinnaird believes that if a specialist crop, such as malting barley, does not earn a decent premium, growers will drop it. He told journalists last week: "At this stage I'm unlikely to sow malting barley next spring and that will be a first - our family has been in the farm a long time and I can never remember when we haven't grown it. "It's not that farmers don't want to grow malting barley, but the trade can't come up with a price and say that's what you will get." However, he refused to be drawn on what that price might be, although the average cost of production has been estimated at £75 per tonne. A few years ago the NFU set a "£90 a tonne or bust" target, pointing out that such a price level only contributed a few pence to the cost of a bottle of whisky. But an average price anywhere near that has only been achieved once since the mid-1990s. The weakness in the NFU argument is that in spite of that, about 1.4 million tonnes of potential malting barley has still been grown each year for maltsters who only want 600,000 to 800,000 tonnes and while there is world over-supply. But this time Kinnaird insists that they mean it and maltsters and grain merchants only have a month to come up with the offer of a decent price: "We have to know by then because spring barley seed could be in short supply for us. "It's time the malting trade woke up to the threat of short supply for them." He added: "Farmers can't use the single farm payment to subsidise loss-making parts of the business. That approach has no long-term future."

Theoretical malt prices.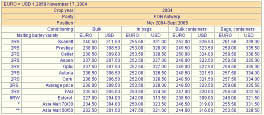 * - 70/30 = 70% Average two Rows Spring and 30% Six Rows Winter
** - 50/50 = 50% Average two Rows Spring and 50% Six Rows Winter
Theoretical malt prices for crop 2005 are available on site
www.e-malt.com/MarketPrices
Malting barley prices. French barley prices.
Nominal prices.

Table of the week
Barley in France
| | | | | | | |
| --- | --- | --- | --- | --- | --- | --- |
| | 1998-99 | 1999-00 | 2000-01 | 2001-02 | 2002-03 | 2003-04 |
| Acreage, thousand ha | 1,690 | 1,534 | 1,535 | 1,705 | 1,640 | 1,740 |
| Yield (t/ha) | 59.9 | 62.2 | 63.3 | 57.5 | 67 | 56.9 |
| Barley production, million t | 10.1 | 9.5 | 9.7 | 9.8 | 11 | 9.9 |
| Autoconsumption, million t | 1.9 | 2.3 | 2.1 | 2 | 2.2 | 2.1 |
| Imports, million t | 0 | 0 | 0 | 0 | 0 | 0 |
| Resources/use, million t | 11 | 9.2 | 8.5 | 9.4 | 10.4 | 9.8 |
| Malting, million t | 0.1 | 0.1 | 0.1 | 0.1 | 0.2 | 0.2 |
| Feed, million t | 0.9 | 0.8 | 0.8 | 1.4 | 1.2 | 1.9 |
| Exports of barley to EU, million t | 2.7 | 2.6 | 2.6 | 3.1 | 3 | 3.2 |
| Exports of barley outside EU, million t | 3.7 | 2.8 | 1.3 | 1.1 | 2 | 0.8 |
| Exports of malt, million t | 1.2 | 1.3 | 1.4 | 1.4 | 1.3 | 1.3 |
| Total exports, million t | 7.7 | 7 | 5.4 | 5.7 | 6.4 | 5.5 |
Source: ONIC
Graph of the week
Italy Beer Market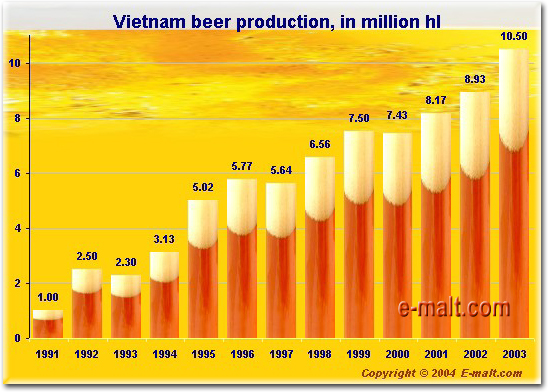 Agenda
November 2004:
World Brewing Academy Applied Brewing Techniques. Munich, Germany;
World Brewing Academy Concise Course in Brewing Technology. Chicago, Illinois, United States;
INTERNATIONAL EXH FOR FOOD & DRINK INDUSTRY / WORLD FOOD UKRAINE 2004;
INT'L EXH OF WINES, ALCOHOLIC & NON ALCOHOLIC DRINKS & PROTECTION EQUIPMENT / EXPO DRINK 2004. Romania;
TALLINN FOODFEST 2004;
Belgian Beer Fest, Boston MA;
Teach a Friend to Brew Day;
FOOD PROCESSING MACHINERY EXPO 2004;
FISPAL RECIFE 2004 / INTERNATIONAL FOOD FAIR. Brazil.;
BRAU Beviale 2004. Nürnberg, Germany.;
Brewers' Association of America Conference;
Fall Fest-Of-Ale. Janesville, Wisconsin, United States;
Accrington Beer Festival. UK;
FOODAPEST 2004. 7th International Food, Drink and Food Processing Trade Fair;
INTERNATIONAL EXH FOR FOOD INGREDIENTS, ADDITIVES & FLAVOURINGS / INGREDIENTS RUSSIA 2004;
BELPRODUKT International Exhibition for Food and Beverages. Minsk, Belarus ;

December 2004:
FOODEX Food, Beverages and Food Technologies Fair. Ankara, Turkey;
Eten & Genieten Food, Beverages and Kitchen Supplies Exhibition. Amsterdam, Netherlands;
Americas Food & beverage Show and Conference;
Holiday Ale Festival;
Sint Niklaas Visits Brewery Ommegang;
IWEX 2004;
WORLD OF FOOD INDIA 2004;
KerstBierFestival 10th edition! Belgium;
VIETFOOD & DRINK 2004 / 3RD INTERNATIONAL EXH ON FOOD AND DRINK;

January 2005:
Big Beers, Belgians & Barleywines Festival. Vail CO;
35th Barley Improvement Conference. The American Malting Barley Association;
VIETFOOD (HANOI) 2005;
Atlanta Cask Ale Tasting;

More events are available on site e-malt.com