---
Newsletter Summary

---
Currency rates
Brewery news
Malt news
Barley news
More news
Theoretical malt prices
Malting barley prices
Malting barley price evolution
Table of the week
Graph of the week
Agenda
Do you know e-malt.com?
---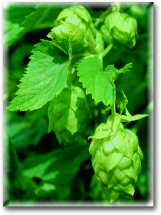 ---
Average market prices Change trend
---

Note: Just click on the price link and you will be led to our Market Price History.
Average barley market prices are French and are estimated on FOB Creil basis.
Average malt market prices are estimated on FOB Antwerp basis.
The changes are compared to last Newsletter's prices.
Arrows indicate the direction of the change.


---
Easy E-malt.com
---
---
E-malt.com access
---
Use the above form to have a full immediate access to E-malt.com site!

Through the drop-down menu you can easily remind your username and password; change your username and password or even edit your account!
---
Do you know
E-malt.com ?
---
Dear E-malt Reader!

E-malt.com Newsletters Archive could be found directly on e-malt.com site. Browsing through our Newsletters' Archive you may see all the issues you have missed. To this purpose you just have to login e-malt.com and click on Newsletters link in the menu. Reading our Newsletters you will be kept informed with the latest news and events regarding malting and beer world. You may also submit your own news, events or other information to the address info@e-malt.com!

Updated figures related to USA barley and malt trade with Mexico and Canada could be seen in NAFTA section of e-malt.com menu. To this purpose please enter e-malt.com!

You may find updated malt, barley and beer statistics on e-malt.com Statistics section. Just enter e-malt.com! Here you will find all tables issued with e-malt.com newsletters.

E-malt.com Agenda gives the possibility to keep you informed about the Events planned to be held in the whole world related to the brewing and malting industries. To this purpose you just have to login e-malt.com and click on Agenda link in the menu. Reading our Event Agenda you will find out about the future symposia, conferences and festivals related to malting and beer world. You may also submit your own events to the address info@e-malt.com

E-malt.com has Trading Online system. The system is to be used for malt/barley trading. One can register a malt/barley offer or a malt/barley request. The registering person could be as a seller/buyer or as an agent for seller/buyer. The User can see information about all active malt/barley offers & requests. If needed the system allows user to buy/sell malt/barley due to reasonable offers/requests. The way to do this is to confirm reasonable transaction. Trading Online rules are available through the Internet in the Trading Online as well as Tutorial (useful for persons who starts the system usage). To visit the E-malt Trading Online first go to the E-malt.com site, then click Trading Online link in the left menu of the e-malt.com home page. For more details please contact info@e-malt.com

Thank You!

---
E-malt.com Links!
---
Industry news
Market prices
EU Regulations
NAFTA
Specifications
Special malts
Professional Help
Trading online
Costing online
Statistics
Graphs
NewsLetters
Agenda
Accounts
Log In
Contact us
---
Other e-malt.com newsletters
---
Last five E-malt Flashes
---


Flash 06a, 2005


Flash 05b, 2005


Flash 05a, 2005


Flash 04b, 2005


Flash 04a, 2005
---
Market price evolutions
---
The evolution of market prices for barley and malt, which are periodicaly issued with e-malt.com newsletters are published on e-malt.com site in Market Prices section. Just click here!
---
Available market price evolutions
---


Malt Market Price Evolution. Crop 2004


French Malting Barley Price Evolution. Crop 2004


Malt Market Price Evolution. Crop 2003


French Malting Barley Price Evolution. Crop 2003
---
E-malt.com graphs
---
All graphs issued with e-malt.com newsletters are published in "Graph" section of e-malt.com site.
---
Last five graphs
---


USA Malt Exports


Globally Beer Leading Companies by Sales Volumes in 2003


EU-25 Barley Market


Spanish Beer Market


The world's seven largest malting companies
---
The graphs are updated from time to time. Just see the updates online on e-malt.com site!
---
Last updated graphs
---


EU malt production capacity


U.S.A. Barley Production


United States Beer Exports


Canada Domestic and Imported Beer Sales


Canada's per capita consumption of beer
---
E-malt.com Tables
---
We have the pleasure to let you know that all e-malt.com tables are published in e-malt.com Statistics section. The Statistics section includes Barley statistics, Malt statistics and Beer statistics. The tables related to barley are published in Barley Statistics section, the tables related to malt in Malt Statistics section and the tables related to beer in Beer Statisctis section.
---
Last five tables
search in statistics
---


European barley crop estimate


Ukraine Barley Supply & Demand 1998 - 2004


Australia/Oceania Beer Production 2000-2003


Excise Duties in European Countries 2004


United States Beer Market in 2003
---
Note
---
If you have any comments, questions, suggestions or remarks, you can send a mail to: info@e-malt.com. To submit your own news to our editorial team, email to: info@e-malt.com
---
If you have received this newsletter from a colleague, you can obtain your own subscription here! You are not registered yet? You may register here.
---
You may recommend our site to your friend by clicking here
---
If you do not wish to receive our newsletter, please unsubscribe your e-mail address () from our mailing list using unsubscribe form from our site!
E-malt.com Flash 06b
February 10 - February 13, 2005

You are part of the 19.000 professional readers from 162 countries who receives our free bi-weekly E-malt Newsletters published since 3 years. You looked pleased in getting them as we have registered something like 1.000.000 readings.
To keep this high level of informative reservoir in both brewing and malting industries and in order to continue to improve it we have to request for a small contribution to get a Full Bi-weekly Newsletter.
Many of other readers have responded positively and doing so giving us the possibility to keep developing this world informative reference.
A one-year access costs only 149,- Euros and you will receive full membership to both our Full Bi-weekly Newsletter and website username protected access to all e-malt.com pages and client services.
You can pay by credit card, cheque or bank transfer (against invoice). Ordering is simple, use our online secure ordering system: click hereunder to begin - you could have access in just 5 minutes!

CLICK HEREUNDER TO SUBSCRIBE
One-year individual subscription: 149, - Euros
Two-year individual subscription: 259, - Euros

Save money when your colleagues join:
One-year group subscription for 2-5 members: 299, - Euros
One-year group subscription for 6-10 members: 449, - Euros
One-year group subscription for 11-20 members: 599, - Euros
One-year group subscription for 21-50 members: 799, - Euros
One-year group subscription for 51-100 members: 999, - Euros
One-year group subscription for 101 or more members: 1200, - Euros

For a personal service contact our Membership staff :
Email : info@e-malt.com
Direct line : +32 (0)87 681381; Fax : +32 (0)87 352234
If calling, please note our office hours are 9am - 5pm (Belgium time)


Currency Rates

Base Currency: Euro, EUR
on 11-February-2005

1 EUR = 1.2873 USD
1 EUR = 0.6889 GBP
1 EUR = 1.5995 CAD
1 EUR = 1.6445 AUD
1 EUR = 136.25 JPY
1 EUR = 3.3727 BRL
1 EUR = 36.1847 RUB
1 EUR = 10.6672 CNY

Base Currency: US Dollar
on 11-February-2005

1 USD = 0.7771 EUR
1 USD = 0.5351 GBP
1 USD = 1.2425 CAD
1 USD = 1.2775 AUD
1 USD = 105.85 JPY
1 USD = 2.6200 BRL
1 USD = 28.109 RUB
1 USD = 8.2865 CNY


EUR/USD Chart
Top Industry News

More News

Brewery News


Canada and USA: Molson Inc. and Adolph Coors Company announced on February 9 that they have completed the transaction announced on July 22, 2004 to combine Molson and Coors in a merger of equals

. Molson Coors Brewing Company is a new global brewing company with the operating scale and balance sheet strength to be a major player in the continuing consolidation of the brewing industry. Molson and Coors shareholders approved the combination at their special shareholder meetings held on January 28 and February 1, 2005, respectively, and the Quebec Superior Court approved the transaction as required by Canadian law on February 2, 2005. W. Leo Kiely III, chief executive officer of Molson Coors Brewing Company said, "By combining Molson and Coors, we have created a company with the market and financial strength necessary to drive organic growth and compete more effectively in today's increasingly challenging global market, while preserving the rich heritages of two of the world's most prominent brewing companies. We look forward to drawing on this brewing heritage and the combined strengths of a world-class management team to deliver greater value to our customers, partners, employees and shareholders." "This transaction marks a new and important chapter in the history of both companies," said Eric H. Molson, chairman of Molson Coors Brewing Company. "It leverages successful business relationships and builds on the strategic and cultural fit between our two companies. With an impressive track record in brewing excellence, the new Molson Coors Brewing Company will be a dynamic and competitive organization that will create long-term value for our shareholders and the communities in which we operate." The transaction was structured as a Plan of Arrangement under which each share of Molson held by a Canadian resident was exchanged, at the election of the holder, for exchangeable shares in a Canadian subsidiary of Molson Coors and/or Molson Coors stock. Molson shares held by nonresidents of Canada have been exchanged for Molson Coors stock. The transaction was structured to be tax deferred to Canadian resident Molson shareholders who have properly elected to receive exchangeable shares, and taxable to U.S. holders of Molson shares and those Canadian resident Molson shareholders who choose to convert to Molson Coors stock. Under the Plan of Arrangement, each Molson Class B common share has been converted into shares which were exchanged for 0.126 voting share and 0.234 non-voting share of Molson Coors (or exchangeable shares, as applicable) and each Molson Class A non-voting share has been converted into shares which were exchanged for 0.360 non-voting share of Molson Coors (or exchangeable shares, as applicable). A total of 2,437,513 Class A exchangeable shares and 32,161,792 Class B exchangeable shares of Molson Coors Canada and 64,275 shares of Class A common stock and 12,084,689 shares of Class B common stock of Molson Coors Brewing Company have been issued as part of the merger transaction to former Molson shareholders. In addition, Molson shareholders of record at close of business on February 8, 2005, were eligible to receive a CDN $5.44 special dividend as part of the transaction...

more info Japan: Combined domestic shipments of beer and similar products by Japan's five major brewers fell 12.9 % in January this year, compared to January 2005, the first fall in two months

, according to industry data released by Kyodo News on February 10. Japan's five major brewers are Kirin Brewery Co., Asahi Breweries Ltd., Sapporo Breweries Ltd., Suntory Ltd. and Orion Breweries Ltd. The sales of beer, "happoshu" low-malt beer and a beer-like sparkling alcoholic beverage, widely dubbed "third-category" beer, totalled 21.53 million cases. One case holds 12.66 liters, or the equivalent of 20 633-milliliter bottles. Industry officials attributed the January data to a reaction to moves in December among many wholesalers to bolster the stock of alcoholic drinks prior to January's planned abolition of the rebates brewers pay in proportion to sales. Although Japan's beer brewers had long paid such rebates to wholesalers, they stopped the incentive in January. The shipments of the third-category beer alone shot up to 1.89 million cases in the month, clinching a record 8.8 percent share of the domestic market for beer and the like.Third-category drinks are becoming increasingly popular due to cheaper prices as they are subject to lower liquor taxes due to the absence of malt and wheat in its ingredients. The government levies a 24.20 yen tax for every 350 ml of third-category drink, compared with 77.70 yen for beer and 46.99 yen for happoshu of the same volume. Meanwhile, beer shipments plunged 17.3 percent to 12.63 million cases in January, the first double-digit percentage fall in eight months since May 2004. Happoshu shipments dropped 21.5 percent to 7.01 million cases, the sixth consecutive month of a year-on-year fall.

Singapore

: Asia Pacific Breweries' (APB) announced on February 11 strong growth in attributable profit during the first quarter of 2004/05, which ended on 31 December 2004. Attributable profit (before exceptional items) increased 19%....

more info Philippines: Southeast Asia's largest food and beverage conglomerate San Miguel Corp. announced on February 10 it registered a record net profit of PHP8.08 billion ($147.4 million) in 2004, up 9.6% from PHP7.37 billion in 2003

, mainly on strong beer sales. However the results still fell short of analysts' forecasts. "Philippine beer business posted record results for the third straight year, driving 2004 revenues to P36.9 billion, 21% higher than 2003 as it capitalized on an expanded beer drinker base and a more far-reaching distribution system," San Miguel said. Analysts expect 2005 to be a tougher year for the Philippine firm as it faces higher local taxes on alcohol products and huge financing costs for a regional expansion that includes a $1.4 billion bid for Australia's National Foods Ltd. Thomson One Analytics projected San Miguel's net profit in 2005 at an average PHP9.18 billion. Reuters Estimates had a consensus profit forecast for 2005 of 9.3 billion pesos. The company's consolidated sales in 2004 rose 18% on year to PHP174.7 billion as local beer volume rose to a record 174 million cases, while international beer operations rebounded last year from the effects in 2003 of SARS on tourism and consumer spending in Asia. San Miguel's domestic beer sales climbed 21% on year to PHP36.9 billion. Sales of beer in its overseas markets, which include China, Australia, Indonesia and Vietnam, rose 12% on year to $263 million. Astro del Castillo, managing director at First Grade Holdings, said although San Miguel barely met the lower end of market expectations for net profit last year, investors will likely focus on its plan to offer shares at a discount for a week starting March 10. San Miguel will give shareholders on record as of Feb. 28 the right to buy one new share for every 10 shares they hold at a discount of 5% to the stock's average trading price between Jan. 31 to Feb. 25. Proceeds from the sale of 284.6 million shares will be used by the company to finance acquisitions and expansion projects, both in the Philippines and abroad. BDO Capital & Investment Corp. is the offer's financial adviser. "The stock rights offer will likely be the main focus of trading activity on San Miguel," del Castillo said. "San Miguel remains fundamentally sound." Chelsea Dipasupil, research head at RCBC Securities, said that San Miguel's earnings may get a boost this year from its past acquisitions, particularly from abroad. "They might start reaping this year the benefits from their acquisitions in the past two or three years," she said ...

more info Ukraine and Russia

: SUN Interbrew Ltd, a leading brewer in Russia and Ukraine, announced recently its plan to invest EUR 190 million in 2005 to expand production capacity and start new commercial projects....

more info Uzbekistan

: The European Bank for Reconstruction and Development (EBRD) lent 2.8 million to privately owned brewer Mekhnat Pivo to help it improve quality and double its beer production capacity, the bank said on 11 February....

more info

Malt News

Brazil, the world's largest malt importer, is forecast by International Grains Council (IGC) to register 850 thousand tonnes of malt (grain equivalent) import during 2004-2005....more info

Russia: Russian beer industry requires about 1.2 million tonnes of malt per year, according to the estimations of Russian malting plant, "Russky Solod", a subsidiary of Avangard Bank. So far 60% of the needs were covered by imported malt. However in 2004 the share of imported malt decreased to 25%. Kiril Minovalov, the president of Avangard Bank, said on February 2, that malt import is to drop to zero by 2005-2006. Russky Solod is to control 25% of the Russian malt market. In April this year Russky Solod is launching its third malting plant. In about a year the company is to launch its fourth malting plant, after which it will control about 50% of Russian malt market. According to analysts, in 2005 Ochakovo and Cargill are to launch their malting plants in Russia as well, with a production capacity of about 100 tonnes each. Nevsky Bereg is also constructing its malting plant with a production capacity of 100 tonnes per year in St. Petersburg.

Barley News

China: China imported 1.7 million tonnes of malting barley in 2004, compared to 1.4 million tonnes in 2003, 1.9 million tonnes in 2002 and 2.4 in 2001....more info

Uruguay: The Brazilian brewer Ambev inaugurates on March 2 in the presence of Brazilian president Luis Inacio Lula da Silva a factory renovated to process the barley of Paysandu (North-Western region of Uruguay) ...more info

Canada: For 2004-2005, Canada's barley exports are forecast by Agriculture and Agri-Food Canada (AAFC) to decrease by 24% from 2003-2004 to 1.85 million tonnes due mainly to lower selection rates for malting barley, AAFC published on February 7. Carry-out stocks are forecast to rise to the burdensome level of 3.7 million tonnes. In 2003-2004 Canada exported 2.45 million tonnes of barley. Carry-out stocks of barley were 2.11 million tonnes in 2003-2004

Theoretical malt prices.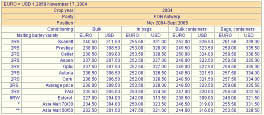 * - 70/30 = 70% Average two Rows Spring and 30% Six Rows Winter
** - 50/50 = 50% Average two Rows Spring and 50% Six Rows Winter
Theoretical malt prices for crop 2005 are available on site
www.e-malt.com/MarketPrices
Malting barley prices. French barley prices.
Nominal prices.

French Malting Barley Price Evolution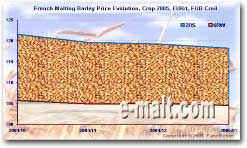 Table of the week
EU malt export licence fixations:
(in tonnes) 
2000-2001
2001-2002 
2002-2003 
2003-2004
July 01, 2004 - January 25, 2005
 France 
523,190
701,134
661,772
774,761
434,800
 Germany 
305,980
468,314
408,063
422,047
170,922
 Belgium 
277,584
296,368
287,850
317,292
225,068
 U.K.  
254,793
350,621
294,995
443,501
156,458
 Finland 
65,550
91,890
100,758
114,165
27,166
 Denmark  
52,326
96,812
94,791
90,452
36,243
 Sweden 
50,847
101,000
76,916
78,369
56,190
 Netherlands 
54,835
51,310
66,219
80,703
22,620
 Ireland 
26,003
35,145
31,140
38,900
42,924
 Austria 
4,850
8,840
8,620
60,211
4,234
 Spain 
3,000
2,400
5,640
10,000
-
 Greece 
1,800
1,744
1,306
979
130
 Portugal 
340
221
85
695
510
 Italy 
-
-
2
-
-
 Total EU 15
1,621,098
2,205,799
2,038,157
2,432,075
1,177,265
 New EU members
May-June, 04
 Czech Republic 
34,340
48,134
 Poland 
7,604
22,965
 Hungary 
2,830
37,457
 Slovakia 
1,000
38,220
 Total EU 25 
1,621,098
2,205,799
2,038,157
2,477,849
1,324,041
| | |
| --- | --- |
| | Total Wheat malt, tonnes  |
| Total 2000-2001   | 4,686 |
| Total 2001-2002   | 12,805 |
| Total 2002-2003   | 30,908 |
| Total 2003-2004   | 15,768 |
| July 01/2004 – January 25/2005   | 4,001 |
| | |
| | Total Roasted malt, tonnes  |
| Total 2000-2001   | 23,967 |
| Total 2001-2002   | 23,480 |
| Total 2002-2003   | 23,603 |
| Total 2003-2004   | 24,438 |
| July 01/2004 – January 25/2005   | 17,931 |
Graph of the week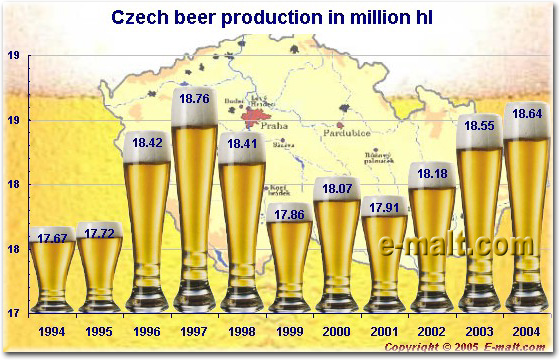 Agenda

February 2005:
Pianeta Birra - Beverage & Co. International Show of Beers, Beverages etc., Italy;
Seminaire Orges brassicoles 2005 à Paris-Bagnolet;
Liqma International Beverage Industry Exhibition, Spain;
Canadian Food and Beverage Show;
GrainWorld 2005. Canada. CWB.;
Beer Business Daily's Second Annual Beer Industry Summit.;

March 2005:
Night of Great thirst, Belgium;
Zythos Beer Festival, Belgium;
Institute and Guild of Brewing Africa Section 10th Convention, South Africa;
China Drinktec China International Exhibition on Beverage, Brewery and Wine Technology;
FOODEX JAPAN 2005 / INTERNATIONAL FOOD & BEVERAGE EXH;
International Food and Drink (IFE), UK;
Deltabierfestival, The Netherlands;
Spring Beer Festival "Hops on Equinox", Seattle;
Brew and Beverage Industry - Beer Auction International Trade Fair, Russia;
Siebel Institute Brewing Profitability Workshop;

April 2005:
Helsinki Beer Festival;
Concise Course in Brewing Technology;
World Barley, Malt & Beer Conference 2005;
JOINT LEGISLATIVE CONFERENCE. Washington, D.C., USA;
BEER. Exhibition Pavilion Minsk.;
Craft Brewers Conference & BrewExpo America;
Classic City Brewfest, Athens, GA;
WINES, BEERS AND DRINKS Exhibition for the Beverage Industry. Krasnoyarsk, Russia;
Excursion to West-Flanders;

More events are available on site e-malt.com