Russia
: Heineken is planning to invest about EUR 60 million in the modernisation of OAO Volga Brewing Company, the largest beer-maker of Nizhny Novgorod Region...
more info
Belgium: In connection with its ongoing mandatory tender offer for AmBev common shares ("MTO"), InBev SA/NV ("InBev") informed the market on March 24 that the settlement date of the stock-for-stock option of the MTO will be accelerated
due to, among other developments, recent changes in applicable Brazilian foreign exchange regulations. The terms in capital letters used in this press release and not defined herein have the meaning ascribed to them in the MTO edital published on February 14, 2005 ("Edital"). Due to, among other developments, the issuance of Resolution n° 3265 by the Brazilian Monetary Council ("CMN") and of Circular n° 3280 by the Brazilian Central Bank ("BACEN"), on 4 and 9 March 2005 respectively, holders of AmBev common shares deciding to tender their shares in the stock-for-stock option of the MTO and that qualify as Non-Exempted (Brazilian or Foreign) Investors, are no longer required to obtain a prior authorisation from BACEN in order to execute their Non-Cash Foreign Exchange Transactions. Therefore, InBev will be able to accelerate the settlement date of the stock-for-stock option of the MTO, thereby reducing the 60-90 days period currently provided for in the Edital. In the two days immediately following the Auction and according to the decision of its board to select to deliver either newly issued ordinary shares or already outstanding ordinary shares for payment, InBev will inform the market, through another press release, of the definitive deadlines for the delivery of the required qualification documents and the new settlement date of the stock-for-stock option. All other requirements applicable, pursuant to the Edital, to such holders and other holders of AmBev common shares tendering their shares in the stock-for-stock option of the MTO, including, without limitation, the remittance of all required documentation to the Intermediary Institution, as well as the remittance to the commercial banks chosen for the execution of the respective Non-Cash Foreign Exchange Transactions of any documents they may request, remain unchanged. As provided in the Edital, the Auction of the MTO will still take place on 29 March 2005 and the settlement date of the cash option of the MTO remains scheduled for 5 April, 2005. AmBev's common shareholders that decide to participate in the stock-for-stock option of the MTO are once more reminded that, pursuant to the Edital, they will not be entitled to the proposed 2004 dividend (€0.39 for each InBev share) that InBev would declare and pay on 27 April 2005. InBev is a publicly traded company (Euronext: INB) based in Leuven, Belgium. The company's origins date back to 1366, and today it is the leading global brewer by volume. InBev's strategy is to strengthen its local platforms by building significant positions in the world's major beer markets through organic growth, world-class efficiency, targeted acquisitions, and by putting consumers first. InBev has a portfolio of more than 200 brands, including Stella Artois®, BRAHMA®, Beck's®, Skol®-the third-largest selling beer brand in the world-Leffe®, Hoegaarden®, Staropramen® and Bass®. InBev employs some 77,000 people, running operations in over 30 countries across the Americas, Europe and Asia Pacific. In 2004, InBev realized a net turnover of 8.57 billion euro (including four months of AmBev).
Germany
: Haus Cramer Gruppe, the group of companies to which belongs the famous beer brand Warsteiner as well as Isenbeck and Paderborner, has registered a 6.6% decrease in its overall beer sales in 2004 down to 5.6 million hl...
more info
Japan: Asahi Breweries Ltd. announced on March 24 it has increased 60% its projected output of a new "happoshu" low-malt beer product, named Honnama Gold, to 8 million cases from the initially planned 5 million cases
for the period to December 31, 2005, according to Kyodo News. One case holds 12.66 liters, or the equivalent of 20 633-milliliter bottles. Asahi introduced the low-malt beer, Honnama Gold, in late February 2005. Sales of the product in the first month after its debut eclipsed the equivalent of 2.5 million cases. Asahi said, it has started production of the low-malt beer at two additional factories, on top of the initial two plants tasked with producing it. The product got off to a good start in the happoshu market where various brewers' happoshu brands took blows from buoyant sales of a range of a beer-like sparkling alcoholic beverage, dubbed "third-category" beer. In the happoshu market, Asahi rival Kirin Brewery Co. renovated the existing Tanrei brand series from the start of 2005 by increasing the quantity of wheat, a key ingredient. Another rival, Sapporo Breweries Ltd., has been seeking to fuel sales of its Hokkaido Namashibori happoshu brand by waging a campaign touting its "safety features."
USA: A Morgan Stanley report based on a survey of 1,400 alcoholic beverage drinkers concludes that while beer remains the most popular alcoholic beverage, brewers' market share fell from 59.5 % in its peak year of 1995 to 56.7 % in 2003
. Analysts expect beer consumption to grow just 0.5 % over the next five years, while wine consumption is projected to grow 3.5 % annually and liquor consumption is expected to increase 2 % annually. "Beer (is) likely to continue to lose share to wine and spirits due to health and demographic trends," Morgan Stanley analyst William Pecoriello said in discussing the report, which was published on March 23. Pecoriello also concluded that "slower beer industry growth will likely keep the cost of doing business high." "Spirits have built strong image and share among 21- to 27-year-olds, which bodes well for future growth," he said. And, "wine is the main beneficiary of health and aging trends. The proprietary survey was conducted in November, Morgan Stanley said, and included only US adults ages 21 to 65 who had consumed alcohol in the past seven days. In addition to the health and demographic trends, "women are increasingly likely" to drink wines and spirits and have "more-negative views on beer," according to the report. To combat the gains of wines and spirits, the beer industry has been spending more money on marketing and promotions, including what they call on-premise spending. The survey leads Morgan Stanley to believe that promotional spending won't be enough. Brewers need to "innovate to reach women and older consumers," the report said, and noted, "this has been difficult in the past."
Thailand
: Thai Beverages Plc, the producer of Chang beer, says it stands to lose overseas competitiveness and would have to completely revise its investment plans if it is unable to list on the Stock Exchange of Thailand...
more info
Barley News
Canada, Winnipeg: The CWB released on March 24 its bi-monthly Pool Return Outlook (PRO) for the 2004-05 crop year. For feed barley, Pool A is unchanged this month and Pool B is up C$1 per tonne, while malting barley PROs are up C$2 per tonne...more info

USA: USDA plant breeders have developed a variety of barley, which can resist attacks from both types of Russian wheat aphids found in the United States. The new feed barley, Burton, was developed by Agricultural Research Service scientists and their university colleagues, AgReport posted on March 24. Leaves on Burton plants don't become streaked or curled when the green, one-sixteenth-inch-long aphids puncture them to feed on the plants' sap. Without the snug, rolled-leaf shelters, aphids become more vulnerable to their natural enemies, and more easily knocked off the plant by wind or rain, according to ARS plant geneticist P. Phillip Bregitzer. He works at the agency's Small Grains and Potato Germplasm Research Unit at Aberdeen, Idaho. Bregitzer and plant geneticist Dolores W. Mornhinweg at the ARS Wheat, Peanut and Other Field Crops Research Unit, Stillwater, Okla., chose the sequence of parent plants for Burton barley. Those plants included two well-known, ARS-developed malting barleys, Crystal and Klages; a popular animal-feed barley known as Baroness, and a parent that Mornhinweg developed from a wild, Russian wheat aphid-resistant barley from Afghanistan. Burton is named for former ARS entomologist Robert L. Burton, now deceased, who spearheaded much of the ARS Russian wheat aphid research from his Stillwater laboratory. Researchers at the Colorado, Idaho, Nebraska and New Mexico Agricultural Experiment Stations collaborated to make Burton available to growers in 2004.

Theoretical malt prices.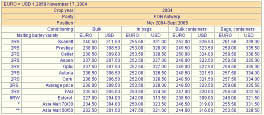 * - 70/30 = 70% Average Two Row Spring and 30% Six Row Winter
** - 50/50 = 50% Average Two Row Spring and 50% Six Row Winter
Theoretical malt prices for crop 2005 are available on site
www.e-malt.com/MarketPrices
Malting barley prices. French barley prices.
Nominal prices.

Malting Barley Price Evolution
Table of the week
Baltic Beer Market in 2004
Baltic Beer Market Size, in million litres

2003
2004
Market growth, %
Latvia
147
135
- 8.2 %
Estonia
97
110
+ 13.4 %
Lithuania
261
277
+ 6.1 %
Total Baltic States
505
521
+ 3.2 %
Latvia Beer Market
Estonia Beer Market
Lithuania Beer Market

2003

2004
2003
2004
2003
2004
BBH: Aldaris
43 %
39 %
BBH: Saku
43 %
42%
BBH: Svyturys-Utenos Alus
45 %
44 %
Cesu Alus
11 %
15 %
A Le Coq (Tartu)
36 %
35%
Kalnapilis+Tauras
21 %
22 %
Lacplesis
11 %
7 %
Viru
10 %
16%
Gubernija
10 %
9 %
Livu Alus
10 %
13 %
Imports
8 %
5 %
Ragutis
9 %
9 %
Kimmel
4 %
Other
5 %
2 %
Imports
4 %
4 %
Other
20 %
25 %
Other
11 %
12 %
Imports
1 %
1 %
Graph of the week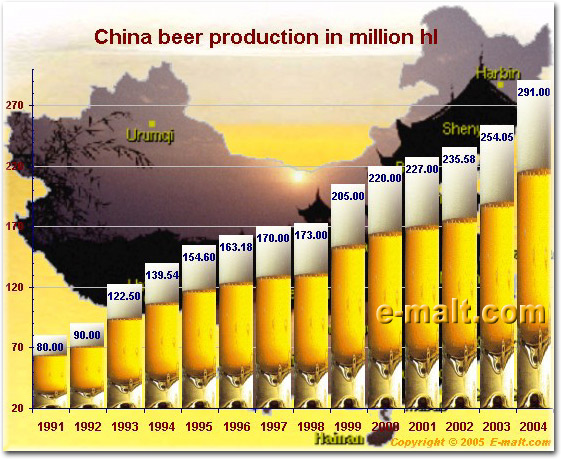 Agenda

March 2005:
Night of Great thirst, Belgium;
Zythos Beer Festival, Belgium;
Institute and Guild of Brewing Africa Section 10th Convention, South Africa;
China Drinktec China International Exhibition on Beverage, Brewery and Wine Technology;
FOODEX JAPAN 2005 / INTERNATIONAL FOOD & BEVERAGE EXH;
International Food and Drink (IFE), UK;
BLACK SEA GRAIN: A NEW ENVIRONMENT IN UKRAINE AND REGIONAL PROSPECTS FOR GROWTH;
Deltabierfestival, The Netherlands;
UzFood. International Exhibition for Food, Drink Packaging Technology. Uzbekistan.;
Spring Beer Festival "Hops on Equinox", Seattle;
Brew and Beverage Industry - Beer Auction International Trade Fair, Russia;
Siebel Institute Brewing Profitability Workshop;

April 2005:
Helsinki Beer Festival;
Tour de Geuze 2005. Payottenland, Belgium;
FAB 2005 - BC Food & Beverage Conference. Vancouver, BC;
Grains Week 2005. Queensland, Australia;
Concise Course in Brewing Technology;
World Barley, Malt & Beer Conference 2005;
JOINT LEGISLATIVE CONFERENCE. Washington, D.C., USA;
BEER. Exhibition Pavilion Minsk.;
Craft Brewers Conference & BrewExpo America;
Classic City Brewfest, Athens, GA;
SOUTH-UKRAINIAN DAYS OF FOOD AND DRINKS;
SIBFOODEXPO, Siberian Beer. Novosibirsk;
SAMARA DRINKS. SAMARA, RUSSIA;
WINES, BEERS AND DRINKS Exhibition for the Beverage Industry. Krasnoyarsk, Russia;
Malting Course BRi Nutfield United Kingdom;
INTERPAK 2005 Duessledorf, Germany;
Excursion to West-Flanders;

May 2005:
HOFEX 2005. 11th Asian International Exhibition of Food & Drink. Hong Kong;
30th Congress of the European Brewery Convention;
Pivo-2005. Beer International Brewing Technology Exhibition. Sochi, Russia.;
Export Credit Guarantee Programs Seminar. USDA;
California Festival of Beers;

More events are available on site e-malt.com