Brewing giant SABMiller PLC mentioned on Wednesday, January 12, it is interested in making a bid for Molson Inc. should the Canadian brewer's pending US$ 8 million merger with Adolph Coors Co. fall apart
. "A Molson transaction would both have strategic merit and could be value enhancing to SABMiller," the London-based brewer said in a statement. "If the Coors deal is voted down by Molson shareholders, we would welcome the opportunity to discuss a potential transaction that may be attractive to both Molson shareholders and ours," the company added. Molson rebuffed SABMiller's words saying it does not have an offer from the brewer, according to Reuters. "Molson shareholders do have a firm, tangible, quantifiable offer in front of them that has significant strategic and financial merits," said spokeswoman Sylvia Morin. Montreal-based Molson announced its all-share merger deal with the Golden, Colorado-based Coors in July to create the world's fifth largest brewer by volume, just behind Dutch Heineken. The combined company's brands would include Coors Light and Molson Canadian. Molson and Coors shareholders are scheduled to vote in a week on the planned combination of Canada's biggest brewer and the third biggest U.S. beer company. Opponents of the deal - including Ian Molson, who broke ranks with his family and left Molson Inc. last year - have grown more vocal as the scheduled vote has approached, and the report of London-based SABMiller's interest could add to the pressure on the supporters of the deal. According to Reuters, Bill Chisholm, an analyst at Dundee Securities Corp. in Toronto, said the latest news from SABMiller is likely designed to discourage people from approving the Coors deal. "Knowing that they would be there to be a potential buyer would limit the downside on Molson's shares if the deal does not go through," he said, noting that it is too close to tell whether the proposed plan has enough support to succeed. SABMiller, which was founded in South Africa more than 100 years ago, brews Miller, Carling Black Label and Nastro Azzurro among other brands around the world. Its shares were down 0.3% to 837 pence (US$15.83, euro12.04) in afternoon trading on the London Stock Exchange. SABMiller, well known for its Miller, Castle and Pilsner Urquell beers, has been on the acquisition trail since moving to London in 1999, buying up U.S.-based Miller in 2002 and Italy's Peroni in 2003 and also expanding in Eastern Europe and China, Reuters said. SABMiller would be a clear favorite to acquire Molson. InBev would be ruled out by its ownership of Labatt in Canada, while Heineken may struggle to raise the cash due to its controlling family share structure. However, Michael Palmer, president of Veritas Investment Research in Toronto, said he doesn't "know how SABMiller can buy Molson when Molson's second-largest brand is Coors Light and Coors has said it would pull it if Miller buys it."...
more info
Japan, Tokyo: Kirin Brewery Co announced on January 13 it will join three other major Japanese breweries (Suntory, Sapporo and Asahi) this spring in offering a product known as "the third-category beer,"
a beer-tasting alcoholic beverage that is in a lower tax bracket because of its ingredients. "The last of the nation's four major brewers to enter the market, Kirin will release its third beer by spring," President Koichiro Aramaki told a news conference on January 13. Kirin said it predicts a 9% fall in sales volumes of regular beer and happoshu to 162m cases this year. Including the new product, however, Kirin said it expects a 2.1% rise in total beer sales to 181.7m cases. The brewer said it sold 178m cases of beer and happoshu in 2004, down 2.8% from a year earlier. Only last week, industry leader Asahi Breweries Ltd. announced plans to roll out its own version by summer. Sapporo Breweries Ltd.'s pea-based Draft One, which made its nationwide debut in February, has been a smash hit. In 2004, the brewer sold 18 million cases, each containing 20 633-milliliter bottles, nearly doubling its initial target. By December, sales of Suntory Ltd.'s Super Blue-happoshu mixed with barley-based shochu spirits-had reached 5.8 million cases since its introduction in June. The new products from Kirin and Asahi will likely be classified as "miscellaneous alcoholic drinks," meaning they contain no malt. The beverages are expected to retail for between 110 yen and 120 yen per 350-ml can at supermarkets and other large stores. Suntory and Sapporo are not taking the challenge lying down, Asahi News commented. Sapporo announced Tuesday it has set a sales target of 22 million cases for Draft One in 2005, an increase of about 21 percent from the previous year. The brewer plans a sales campaign next month that will target women and young people who have never tried Draft One. The company will offer 100,000 consumers the chance to try the drink free of charge. Also on Tuesday, Suntory announced plans to shift 10 million cases of Super Blue this year, up about 72 percent from 2004. The company said it will tweak the Super Blue formula by doubling the amount of malt and substituting wheat spirits for barley-based shochu. The beer-like beverage accounted for about 5% of sales of beer and the like in 2004, underlying a growing demand for the new beverage, said Kirin President Koichiro Aramaki. Similar in taste to beer, third beer, some of which is made from legumes such as peas, is cheaper than beer because it sidesteps taxes levied on beverages that contain more malt. The liquor tax on a 350-milliliter can of third beer is about 53 yen less than regular beer and about 22 yen less than happoshu low-malt beverages. Industry officials say happoshu will end up the big loser from the rush of lower-priced rivals.
Russia
: Russian beer market is to increase by 5-7% in 2005 compared to 2004, the head of Russian Brewers Association, Vyacheslav Mamontov, announced on January 13 at a press conference......
more info
The Philippines, Manila
: The government plans to increase its stake in San Miguel Corp to avoid ownership dilution following Kirin Brewery Ltd's purchase of an additional 4.12% stake in the food and beverage firm......
more info
South Korea, Seoul
: Beer sales in South Korea grew about 2% in 2004 in the wake of a prolonged economic slump, industry sources said on January 14. A total of 219 million boxes of beer were sold last year......
more info
Belgium: InBev announced on January 14 it realized a total volume of 156.8 million hectoliters in 2004, 60% higher than the volume of 97.9 million hectoliters in 2003
. Organic volume growth amounted to 3.2 million hectoliters, or +3.3%, which was approximately double the global industry growth rate. AmBev's organic volume growth since the combination with Interbrew was +14.6% versus 2003, and the total InBev organic volume growth for 2004, including AmBev volume since the combination, was +6.4%. The two global premium brands, Beck's® and Stella Artois®, grew +5%, enhancing our profitability mix and leading our brand growth in markets around the world. Organic volume growth in North America was +3.0%, led by stronger Beck's®, Bass®, and Stella Artois® performances in the U.S. import segment. Overall, our operations in Canada realized a stable volume performance. In Western Europe, our share increased in most markets, but volume declined organically by -2.3%. In the United Kingdom, due to our strategy that focused on value rather than volume, Stella Artois® increased its value share, but lost some of its volume momentum. In Germany, the strong performance of the Beck's® family of brands was not sufficient to offset the volume decline of the other major brands in the portfolio. Central and Eastern Europe continued to be a strong growth driver for the group, with organic volume growth of +12.1%, driven by growth coming from innovation and core brands. In Central Europe, InBev outperformed the market, with excellent performances in Bulgaria and Romania. Both Russia and Ukraine delivered outstanding volume and market-share growth in Eastern Europe. Organic volume in the Asia-Pacific Zone rose +1.1%, mainly due to the excellent organic volume growth in China, which more than compensated for South Korea's volume softness. In China, the growth of the beer businesses acquired from Lion group was well ahead of expectations. In South Korea, volumes were slightly down. However, following the successful launch of PET, InBev reached a share of over 50% in this more profitable segment. Fourth-quarter organic volume development was flat, globally, based on the less favorable economic and industry environment in most markets where we operate. InBev expects organic financial performance for 2004 to be broadly in line with what was achieved for the first nine months of the year. InBev is a publicly traded company based in Leuven, Belgium. The company's origins date back to 1366, and today it is the leading global brewer by volume. InBev's strategy is to strengthen its local platforms by building significant positions in the world's major beer markets through organic growth, world-class efficiency, targeted acquisitions, and by putting consumers first. InBev has a portfolio of more than 200 brands, including Stella Artois®, Brahma®, Beck's®, Leffe®, Hoegaarden®, Staropramen® and Bass®. InBev employs some 77,000 people, running operations in over 30 countries across the Americas, Europe and Asia Pacific. In 2003, InBev realized a net turnover of approximately 9.3 billion euro (2003 pro forma).
Malt News
Australia: Over the outlook period to 2008-09, there will be a small decline in annual domestic beer sale volumes per capita (following a significant decline in the previous ten years), according to IBISWorld forecast. However, price increases and a rising market share from premium beer will enable revenue to increase, albeit modestly. Beer producers will continue to face competition for sales from wine and other alcoholic drink producers over the next five years. IBISWorld expects slow growth in domestic demand for malt while export prospects are moderately favourable. Some weakness in Asian demand (especially Japan) is expected to be relegated to the past during late 2004-05 and beyond, but a continued appreciation of the Australian dollar over much of the outlook period will have an offsetting adverse effect on export growth, mostly to the US, and to a lesser extent, Japan. Some improvements in efficiency and in product quality will facilitate a small growth rate in value added over the next five years, at an annual average increase of 0.9% to A$1.24 billion. Due to slow growth in global demand for malt, IBISWorld expects some softening in global malt prices over the outlook period. ABARE forecasts that over much of this five-year period, there will be a real decline in prices received by Australian farmers for malting barley. However, improvements in the quality of Australian malt will most likely provide some price premiums. Due to fairly unfavourable demand conditions, beer prices are forecast to either stabilise or fall during the outlook period. Employment levels are anticipated to remain quite steady over the forecast period as revenue is expected to do the same. Minor reductions in staff numbers are likely to follow any falls in sales and will be required as mechanised production replaces some employees. By 2008-09, approximately 2,658 people are expected to be employed by this industry, down slightly from 2,730 in fiscal 2004. Wage and salary decline is expected to be negligible, and so the wages/salaries' share of industry revenue is forecast to slowly fall from 6.5% in the two years to June 2006 to 6.3% by 2008-09 as processes become a little more capital intensive...more info
Barley News
USA, Devils Lake, N.D.: After a sharp decline in 2004, North Dakota barley acreage likely will hold its own this year, says Steve Edwardson, a North Dakota Barley Council spokesman......more info

Ukraine: Since the beginning of 2004/05-market year (July 2004) until January 12, Ukraine exported 3.05 million tonnes of the 2004 crop barley, according to operative data from State Customs Service. According to forecasts of APK-Inform analysts, over the whole 2004/05 MY Ukraine will export 4 million tonnes of barley. In the 2003/04 season Ukraine exported only 1.52 million tonnes of barley.

Theoretical malt prices.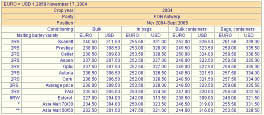 * - 70/30 = 70% Average two Rows Spring and 30% Six Rows Winter
** - 50/50 = 50% Average two Rows Spring and 50% Six Rows Winter
Theoretical malt prices for crop 2005 are available on site
www.e-malt.com/MarketPrices
Malting barley prices. French barley prices.
Nominal prices.

Table of the week
Excise Duties in European Countries 2004
Euros / 100 liters on 5% alc. content basis


| | |
| --- | --- |
| COUNTRY | EXCISE DUTY, EUR / HL |
| | |
| Norway | 218.60 |
| Ireland | 99.36 |
| Finland | 97.25 |
| United kingdom | 86.38 |
| Sweden | 81.22 |
| Turkey | 42.18 |
| Denmark | 39.30 |
| Slovenia | 34.25 |
| Netherlands | 25.11 |
| Austria | 24.96 |
| Cyprus | 22.19 |
| Belgium | 20.53 |
| Hungary | 20.49 |
| Poland | 19.10 |
| Italy | 19.08 |
| Estonia | 17.58 |
| Switzerland | 16.18 |
| Slovakia | 15.03 |
| Portugal | 14.45 |
| Greece | 14.24 |
| France | 13.00 |
| Lithuania | 10.14 |
| Luxembourg | 9.52 |
| Germany | 9.45 |
| Czech Republic | 9.15 |
| Latvia | 9.10 |
| Malta | 8.93 |
| Spain | 8.87 |
| Romania | 7.20 |
| Bulgaria | 6.46 |
Source: The Brewers of Europe
Graph of the week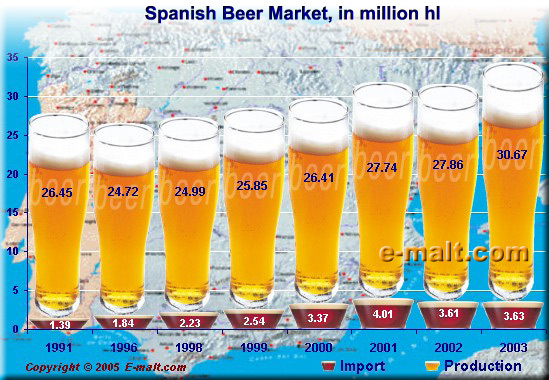 Agenda

January 2005:
Big Beers, Belgians & Barleywines Festival. Vail CO;
35th Barley Improvement Conference. The American Malting Barley Association;
VIETFOOD (HANOI) 2005;
Atlanta Cask Ale Tasting;
Great Alaskan Beer and Barley Wine Festival;
Spirit of Belgium;
National Winter Ales Festival (CAMRA);
Extreme Beer Fest, Boston;

February 2005:
Pianeta Birra - Beverage & Co. International Show of Beers, Beverages etc., Italy;
Liqma International Beverage Industry Exhibition, Spain;
Canadian Food and Beverage Show;

March 2005:
China Drinktec China International Exhibition on Beverage, Brewery and Wine Technology;
Zythos Beer Festival, Belgium;
Brew and Beverage Industry - Beer Auction International Trade Fair, Russia;
International Food and Drink (IFE), UK;
Spring Beer Festival "Hops on Equinox", Seattle;
Institute and Guild of Brewing Africa Section 10th Convention, South Africa;
FOODEX JAPAN 2005 / INTERNATIONAL FOOD & BEVERAGE EXH;

More events are available on site e-malt.com