---
Newsletter Summary

---
Currency rates
Brewery news
Malt news
Barley news
More news
Theoretical malt prices
Malting barley prices
Table of the week
Graph of the week
Agenda
Do you know e-malt.com?
---
Average market prices Change trend
---

Note: Just click on the price link and you will be led to our Market Price History.
Average barley market prices are French and are estimated on FOB Creil basis.
Average malt market prices are estimated on FOB Antwerp basis.
The changes are compared to last Newsletter's prices.
Arrows indicate the direction of the change.


---
Easy E-malt.com
---
---
E-malt.com access
---
---
Do you know
E-malt.com ?
---
Dear E-malt Reader!

E-malt.com Newsletters Archive could be found directly on e-malt.com site. Browsing through our Newsletters' Archive you may see all the issues you have missed. To this purpose you just have to login e-malt.com and click on Newsletters link in the menu. Reading our Newsletters you will be kept informed with the latest news and events regarding malting and beer world. You may also submit your own news, events or other information to the address info@e-malt.com!

Updated figures related to USA barley and malt trade with Mexico and Canada could be seen in NAFTA section of e-malt.com menu. To this purpose please enter e-malt.com!

You may find updated malt, barley and beer statistics on e-malt.com Statistics section. Just enter e-malt.com! Here you will find all tables issued with e-malt.com newsletters.

E-malt.com Agenda gives the possibility to keep you informed about the Events planned to be held in the whole world related to the brewing and malting industries. To this purpose you just have to login e-malt.com and click on Agenda link in the menu. Reading our Event Agenda you will find out about the future symposia, conferences and festivals related to malting and beer world. You may also submit your own events to the address info@e-malt.com

E-malt.com has Trading Online system. The system is to be used for malt/barley trading. One can register a malt/barley offer or a malt/barley request. The registering person could be as a seller/buyer or as an agent for seller/buyer. The User can see information about all active malt/barley offers & requests. If needed the system allows user to buy/sell malt/barley due to reasonable offers/requests. The way to do this is to confirm reasonable transaction. Trading Online rules are available through the Internet in the Trading Online as well as Tutorial (useful for persons who starts the system usage). To visit the E-malt Trading Online first go to the E-malt.com site, then click Trading Online link in the left menu of the e-malt.com home page. For more details please contact info@e-malt.com

Thank You!

---
E-malt.com Links!
---
Industry news
Market prices
EU Regulations
NAFTA
Specifications
Special malts
Professional Help
Trading online
Costing online
Statistics
Graphs
NewsLetters
Agenda
Accounts
Log In
Contact us
---
Other e-malt.com newsletters
---
Last five E-malt Flashes
---


Flash 51b, 2004


Flash 51a, 2004


Flash 50b, 2004


Flash 50a, 2004
---
Market price evolutions
---
The evolution of market prices for barley and malt, which are periodicaly issued with e-malt.com newsletters are published on e-malt.com site in Market Prices section. Just click here!
---
Available market price evolutions
---


Malt Market Price Evolution. Crop 2004


French Malting Barley Price Evolution. Crop 2004


Malt Market Price Evolution. Crop 2003


French Malting Barley Price Evolution. Crop 2003
---
E-malt.com graphs
---
All graphs issued with e-malt.com newsletters are published in "Graph" section of e-malt.com site.
---
Last five graphs
---


Italy Beer Market


Canada Malt Exports in 2003


Latin America beer production


World Barley Exports in 2003/2004


South Korea beer production
---
The graphs are updated from time to time. Just see the updates online on e-malt.com site!
---
Last updated graphs
---


EU malt production capacity


U.S.A. Barley Production


United States Beer Exports


Canada Domestic and Imported Beer Sales


Canada's per capita consumption of beer
---
E-malt.com Tables
---
We have the pleasure to let you know that all e-malt.com tables are published in e-malt.com Statistics section. The Statistics section includes Barley statistics, Malt statistics and Beer statistics. The tables related to barley are published in Barley Statistics section, the tables related to malt in Malt Statistics section and the tables related to beer in Beer Statisctis section.
---
Last five tables
search in statistics
---


EU Malting Barley Supply and Demand Estimate 2004/2005


EU malt export licence fixations


Australian barley prices 2003-2004


Malt production 2003/2004 in major EU countries


World Barley Malt Trade
---
Note
---
If you have any comments, questions, suggestions or remarks, you can send a mail to: info@e-malt.com. To submit your own news to our editorial team, email to: info@e-malt.com
---
If you have received this newsletter from a colleague, you can obtain your own free subscription here, or a full FREE registration here.
---
You may recommend our site to your friend by clicking here
---
If you do not wish to receive our newsletter, please unsubscribe your e-mail address (@EMAILADDRESS@) from our mailing list using unsubscribe form from our site!
E-malt.com Flash 52a
December 20 - December 22, 2004

You are part of the 19.000 professional readers from 162 countries who receives our free bi-weekly E-malt Newsletters published since 3 years. You looked pleased in getting them as we have registered something like 1.000.000 readings.
To keep this high level of informative reservoir in both brewing and malting industries and in order to continue to improve it we have to request for a small contribution to get a Full Bi-weekly Newsletter.
Many of other readers have responded positively and doing so giving us the possibility to keep developing this world informative reference.
A one-year access costs only 149,- Euros and you will receive full membership to both our Full Bi-weekly Newsletter and website username protected access to all e-malt.com pages and client services.
You can pay by credit card, cheque or bank transfer (against invoice). Ordering is simple, use our online secure ordering system: click hereunder to begin - you could have access in just 5 minutes!

CLICK HEREUNDER TO SUBSCRIBE
One-year individual subscription: 149, - Euros
Two-years individual subscription: 259, - Euros

Save money when your colleagues join:
One-year group subscription for 2-5 members: 299, - Euros
One-year group subscription for 6-10 members: 449, - Euros
One-year group subscription for 11-20 members: 599, - Euros
One-year group subscription for 21-50 members: 799, - Euros
One-year group subscription for 51-100 members: 999, - Euros
One-year group subscription for 101 or more members: 1200, - Euros

For a personal service contact our Membership staff :
Email : info@e-malt.com
Direct line : +32 (0)87 681381; Fax : +32 (0)87 352234
If calling, please note our office hours are 9am - 5pm (Belgium time)


Currency Rates

Base Currency: Euro, EUR
on 22-December-2004

1 EUR = 1.3375 USD
1 EUR = 0.6938 GBP
1 EUR = 1.6467 CAD
1 EUR = 1.7495 AUD
1 EUR = 139.54 JPY
1 EUR = 3.6126 BRL
1 EUR = 37.2628 RUB
1 EUR = 11.0832 CNY

Base Currency: US Dollar
on 22-December-2004

1 USD = 0.7479 EUR
1 USD = 0.5187 GBP
1 USD = 1.2312 CAD
1 USD = 1.3080 AUD
1 USD = 104.36 JPY
1 USD = 2.7010 BRL
1 USD = 27.86 RUB
1 USD = 8.2865 CNY


EUR/USD Chart
Top Industry News
More News
Brewery News


India

: Scottish & Newcastle combines its Indian beer operations with United Breweries to create the leading Indian brewer. Scottish & Newcastle ("S&N") announced on December 19 that it has reached an agreement to invest...

more info Germany: German soccer fans will be able to drink their home brew at the 2006 World Cup. Fears that German beer would be banned at the 2006 World Cup finals disappeared on Tuesday, December 21

, when the American company holding stadium beverage rights agreed that German beer could be sold to fans. According to Reuters, a spokesman for the 2006 World Cup organising committee said Anheuser-Busch, which paid $40 million as one of the tournament's 15 sponsors, reached a deal with Bitburger allowing the German brewer to sell its beer in the 12 World Cup venues. In return, Bitburger will drop its long legal battle against Anheuser-Busch advertising its top "Bud" brand across Germany on grounds consumers might confuse it with its own "Bit" brand. "It's good news for German beer fans," Jens Grittner, a spokesman for the 2006 organising committee, told Reuters. "They can all calm down now. There will be German beer in the stadiums after all." Germans, among the world's leading consumers of beer, are abundantly proud of their strong brews. Exported to countries worldwide, German beer may be better-known and certainly better-loved than its team, which won the World Cup three times. "Beer is an extraordinarily sensitive topic in Germany," said Grittner, referring to the protests that erupted over reports German beer would be banned from the World Cup venues because Anheuser-Busch holds the rights. Grittner said that under the agreement Bitburger will be allowed to sell its beer in the stadiums but it won't be allowed to put up advertising. He said Anheuser-Busch was primarily interested in its advertising at the World Cup stadiums. "There are other more pressing issues facing the organising committee but for the public in Germany beer was a very touchy issue," Grittner said. "We're glad it's resolved now." Even though beer is one of the leading beverages in Germany, where a Beer Purity Law of 1516 is still in place, there are no large breweries with the means to bid for the World Cup rights. Business is divided up by among more than 1,200 breweries. Germans are the world's third largest per-capita consumers of beer, drinking 117.5 litres last year, behind only the Czech Republic and Ireland. "We never gave up hope that there would be a happy ending to the German beer question," said Grittner.

USA

: The U.S. government and the Anheuser-Busch Co. claimed victory on Tuesday, December 21 in a World Trade Organization battle to protect the Budweiser brand name against use ...

more info Hungary:

Brau Union Hungaria, one of Hungary's three leading breweries, is to shed 17% of its workforce early next year in a bid to reduce costs and remain competitive in ...

more info World's major brewers: The creation of InBev in August 2004 has resulted in a new leader at the top of the global beer industry rankings

- at least by volume. Historically amalgamated sales of 143.6 million hectolitres for 2003 push InBev ahead of SABMiller and Anheuser-Busch. However, both of these brewers rank above the new volume leader in terms of value sales. As Scottish & Newcastle and Carlsberg further their partnership through an on-trade technical service J-V and Heineken takes over the distribution of FEMSA brands in the US, further industry alliances and consolidation seem likely. However, opportunity to create more "mega" brewers is limited, Canadean revealed in a report on December 16. M&A activity is most likely to continue occurring at a local level. Brewers are already targeting the emerging markets of Russia and China and, despite its mature nature, Germany. In China, producers are stamping out their own territory, whilst in Russia they face the altogether different task of gaining ground on BBH. The major brewers continue to attach considerable importance to Germany. In 2004 Carlsberg has purchased Holsten; Heineken has progressed in the southern regions through an indirect share acquisition, whilst InBev, now owner of Spaten, is investing 200-300 million in a new brewery. Yet generating adequate returns could prove challenging: Germany's beer market is mature and characterised by a high degree of loyalty to local brands.

Japan:

Sapporo Breweries Ltd. beer-like drink Draft One is a big hit with consumers. In legal terms, the drink is neither a beer nor the low-malt drink known as happoshu...

more info

Malt News

Italy: In 2003 Italy produced 56,547 tonnes of malt a 4.3% increase versus 2002 when Italy's malt production totalled 54,221 tonnes, Italy Brewers Association, Assobirra, published in December 2004. Meanwhile malt production in 2003 decreased 7.9% versus 2001 production (61,407 tonnes). In 2003 Italy imported 422.24 tonnes of roasted malt (the biggest quantities are: 208.04 tonnes from Germany and 131.45 from Austria) and 111,191 tonnes of unroasted malt (the biggest quantities are: 75,892.36 tonnes from France, 28,895.86 tonnes from Germany, 3,972 from Austria and 2,310.5 tonnes from UK). Four malthouses are activating in Italy: Saplo Spa, Pomezia (Roma), Agro Alimentare Sud Spa and Melfi (Potenza).

Barley News

World barley trade 2003/2004: United States Department of Agriculture (USDA) published on December 13 its latest estimation of world trade changes of barley in 2003/2004. According to USDA, 2003/2004 Australia ...more info

Ukraine: Last week Ukrainian barley prices started rising, due to Tunis as well as Middle East countries' having recently made big barley purchases and domestic market's barley stocks getting depleted, Agro Perspectiva revealed on December 20. Last tenders indicate Ukrainian barley's export prices within US$132-137/t (FOB Black Sea ports) until Dec this year; that's why, growing tendency's continuation is to be expected on this market. Within examined week, feed barley export prices were US$118-123/t (CPT port), with average price equaling to ˜ US$119/t. UAH prices have established within UAH680-710/t (CPT Black Sea ports). Maximal sale prices (offered, as usual, in Big Odessa's ports: Odessa, Yuzhniy, Ilyichivsk) were ˜ US$700-720/t. In Azov Sea ports (Mariupol, Berdiansk) feed barley prices remain low, due to traders' slack activity. Feed barley is bought UAH590-610/t (CPT), feed wheat - UAH570-590/t (CPT).

Theoretical malt prices.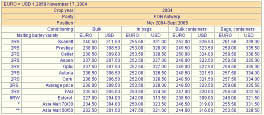 * - 70/30 = 70% Average two Rows Spring and 30% Six Rows Winter
** - 50/50 = 50% Average two Rows Spring and 50% Six Rows Winter
Theoretical malt prices for crop 2005 are available on site
www.e-malt.com/MarketPrices
Malting barley prices. French barley prices.
Nominal prices.

Table of the week
USA Barley Supply and Distribution
| | | | | | | |
| --- | --- | --- | --- | --- | --- | --- |
| MY June/May, TY Oct/Sept | 1999/00 | 2000/01 | 2001/02 | 2002/03 | 2003/04 | 2004/05 |
| Area harvested, thousand ha | 1,851 | 2,104 | 1,729 | 1,669 | 1,913 | 1,627 |
| Yield, t/ha | 3.2 | 3.3 | 3.1 | 3.0 | 3.2 | 3.7 |
| Production, thousand metric t | 5,922 | 6,919 | 5,407 | 4,940 | 6,059 | 6,080 |
| Imports / Mkt Year, thousand metric t | 602 | 636 | 521 | 402 | 450 | 435 |
| Imports / Trade Year, thousand metric t | 644 | 663 | 538 | 282 | 498 | 450 |
| Exports / Mkt Year, thousand metric t | 613 | 1,258 | 575 | 659 | 409 | 327 |
| Exports / Trade Year, thousand metric t | 853 | 1,068 | 517 | 552 | 357 | 450 |
| Feed Cons., thousand metric t | 2,827 | 2,663 | 1,915 | 1,413 | 1,245 | 2,395 |
| Total Cons., thousand metric t | 6,571 | 6,407 | 5,661 | 5,179 | 4,991 | 6,139 |
| Ending Stocks, thousand metric t | 2,424 | 2,314 | 2,006 | 1,510 | 2,619 | 2,668 |
Source: USDA, December 2004
Graph of the week
Italy Beer Market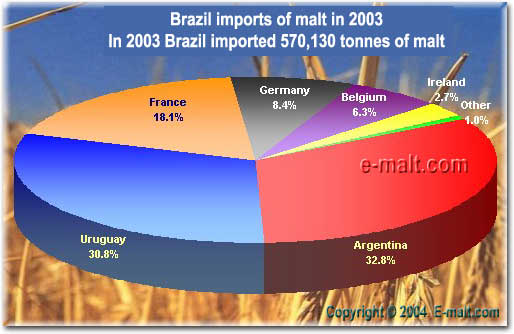 Agenda
November 2004:
World Brewing Academy Applied Brewing Techniques. Munich, Germany;
World Brewing Academy Concise Course in Brewing Technology. Chicago, Illinois, United States;
INTERNATIONAL EXH FOR FOOD & DRINK INDUSTRY / WORLD FOOD UKRAINE 2004;
INT'L EXH OF WINES, ALCOHOLIC & NON ALCOHOLIC DRINKS & PROTECTION EQUIPMENT / EXPO DRINK 2004. Romania;
TALLINN FOODFEST 2004;
Belgian Beer Fest, Boston MA;
Teach a Friend to Brew Day;
FOOD PROCESSING MACHINERY EXPO 2004;
FISPAL RECIFE 2004 / INTERNATIONAL FOOD FAIR. Brazil.;
BRAU Beviale 2004. Nürnberg, Germany.;
Brewers' Association of America Conference;
Fall Fest-Of-Ale. Janesville, Wisconsin, United States;
Accrington Beer Festival. UK;
FOODAPEST 2004. 7th International Food, Drink and Food Processing Trade Fair;
INTERNATIONAL EXH FOR FOOD INGREDIENTS, ADDITIVES & FLAVOURINGS / INGREDIENTS RUSSIA 2004;
BELPRODUKT International Exhibition for Food and Beverages. Minsk, Belarus ;

December 2004:
FOODEX Food, Beverages and Food Technologies Fair. Ankara, Turkey;
Eten & Genieten Food, Beverages and Kitchen Supplies Exhibition. Amsterdam, Netherlands;
Americas Food & beverage Show and Conference;
Holiday Ale Festival;
Sint Niklaas Visits Brewery Ommegang;
IWEX 2004;
WORLD OF FOOD INDIA 2004;
KerstBierFestival 10th edition! Belgium;
VIETFOOD & DRINK 2004 / 3RD INTERNATIONAL EXH ON FOOD AND DRINK;

January 2005:
Big Beers, Belgians & Barleywines Festival. Vail CO;
35th Barley Improvement Conference. The American Malting Barley Association;
VIETFOOD (HANOI) 2005;
Atlanta Cask Ale Tasting;

More events are available on site e-malt.com