Russia: InBev announced on January 3, 2005, that it reached an agreement with Alfa-Eco on Friday, 31 December 2004, whereby InBev will acquire all of Alfa-Eco's holding of voting and non-voting shares in SUN Interbrew Ltd
(Luxembourg: SUNAG) ("SUN Interbrew"). InBev is acquiring 6,065,930 voting and 1,654,269 non-voting shares in SUN Interbrew from Alfa-Eco and its affiliates for a cash consideration of EUR 204.7 million. This equates to a price of EUR 26.51 for each SUN Interbrew voting and non-voting share. In addition, Alfa-Eco and its affiliates will receive up to EUR 55 million in recognition of certain commitments being given to InBev by Alfa-Eco. Alfa-Eco will receive a total consideration of up to EUR 259.7 million. On completion of this and the previously announced transaction with SUN Trade (International) Ltd, and taking into consideration market purchases, InBev will own 97.3% of the voting shares and 98.8% of the non-voting shares in SUN Interbrew, which in total will give it a 98.5% economic interest in SUN Interbrew. Based upon InBev's share price of EUR 28.75 as of the close of market on 30 December 2004, the aggregate cost of InBev's total economic interest in SUN Interbrew, since its initial investment in SUN Interbrew in April 1999, will amount to approximately EUR 1.2 billion. After adjusting for net debt and minority interests, this implies a multiple of 14.2x 2003 EBITDA or 10.5x EBITDA for the twelve months until 30 September 2004. InBev expects that up to EUR 100m of the consideration of up to EUR 259.7 million will be recorded as a one-off charge in 2004. It is estimated that the earnings impact in 2005 of the combination of the Alfa-Eco and SUN Trade (International) Ltd transactions will remain mildly dilutive. It is anticipated that this transaction and the acquisition of the SUN Trade (International) Ltd shares in SUN Interbrew announced by InBev, on 12 August 2004, will close at the same point during the first quarter of 2005. Completion of these transactions is subject, inter alia, to the customary conditions and approvals. InBev is a publicly traded company (Euronext: INB) based in Leuven, Belgium. The company's origins date back to 1366, and today it is the leading global brewer by volume. InBev's strategy is to strengthen its local platforms by building significant positions in the world's major beer markets through organic growth, world-class efficiency, targeted acquisitions, and by putting consumers first. InBev has a portfolio of more than 200 brands, including Stella Artois®, Brahma®, Beck's®, Leffe®, Hoegaarden®, Staropramen® and Bass®. InBev employs some 77,000 people, running operations in over 30 countries across the Americas, Europe and Asia Pacific. In 2003, InBev realized a net turnover of approximately 9.3 billion euro (2003 pro forma).
Canada, Montreal: Molson Inc. confirmed on January 4 that Fairvest, Canada's leading independent proxy advisory firm has recommended that Molson shareholders vote in favor of the Company's proposed merger with the Adolph Coors Company.
In issuing its positive recommendation, Fairvest said that it had weighed the economic parameters and strategic rationale of the deal with corporate governance issues. Taking into account the likely range of values of a potential take-over price for the company and the industry conditions, it felt the strategic rationale was strong and the potential benefits significant and therefore supports the merger of Molson and Adolph Coors Company. In light of this recommendation, Daniel J. O'Neill, President and CEO of Molson Inc. said: "We are very pleased that, after completing an independent and comprehensive review, Fairvest has confirmed the strategic and economic benefits that the combination with Coors creates for Molson shareholders and has recognized that the implied merger valuation is well above most comparable transactions." Through the proposed merger, the Molson family will be diluting its voting interest from 51% to 33% and the Coors family will be reducing its voting interest from 100% to 33%. This reduction of voting interests is the first step toward achieving the families' shared vision of creating a leading global brewer. "The Molson family is prepared to further reduce its voting interest in order to continue to participate in the global brewing industry consolidation through additional acquisitions," added Eric H. Molson, Chairman of Molson Inc. Molson encourages shareholders to vote FOR the Molson-Coors merger proposal. Shareholders can vote by phone, by Internet or by mail. Easy instructions are on the proxy form. Molson Inc. (TSX: MOL.A) is one of the world's largest brewers of quality beer with operations in Canada, Brazil and the United States. A global brewer with $3.5 billion in gross annual sales, Molson traces its roots back to 1786 making it North America's oldest beer brand. Committed to brewing excellence, Molson combines the finest natural ingredients with the highest standards of quality to produce an award-winning portfolio of beers including Molson Canadian, Molson Export, Molson Dry, Rickard's, Marca Bavaria, Kaiser and Bavaria.
Israel
: The Dutch brewing giant, Heineken N.V., and Israel's largest brewer, Tempo Beer Industries, announced on December 31, 2004 the establishment of a new company in Israel, which will control half of Israel's beer market...
more info
Czech Republic, Prague: Czech breweries forecast record beer exports for 2004 up to 2.4 million hl, an increase by 12 % from 2003, Jan Vesely, the chairman of the Czech Association of Breweries and Malt Houses announced
at the end on December 2004. The total beer output in the Czech Republic should increase by some 0.5 % compared with last year's 18.55 million hl, Vesely said. Exports to Germany, Slovakia, Great Britain and the USA, the main buyer countries, rose by between 5 and 20 % year- on-year. The breweries are preparing a campaign to promote their beer abroad and planning to ask the EU to grant Czech beer the geographical indication of origin "Ceske pivo" (Czech beer), said Vesely. The beer will have to meet certain criteria as regards ingredients, the brewing process, the location of a brewery and the end product's qualities to be awarded the tag, said Vesely, adding that Czech Agriculture and Food Inspection Authority would oversee that the criteria are adhered to.
Japan
: Domestic sales of the main long-standing beer brands of Japan's four major brewers in 2004 topped year-before levels on a volume basis, officials at the four said Tuesday, January 4, according to Kyodo News...
more info
Sri Lanka
: Sri Lanka's largest beer maker, Lion Brewery, based in Colombo, which normally produces 160,000 bottles of beer a day, has turned its technical might to producing a very different beverage: potable water for the survivors of the Asian tsunami disaster...
more info
Barley News
USA: The American Malting Barley Association, Inc. (AMBA) announced on January 3, 2005 its recommended malting barley varieties for planting in 2005. These varieties, when delivered in pure carlots of sound, bright, plump, low moisture barley in an acceptable protein range may command premium prices over feed barley. Growers, elevators, and other grain handlers are strongly encouraged to maintain variety integrity and not mix varieties. Each barley variety malts differently and mixtures will not malt properly. Changes from 2004: Garnet has been dropped from all states as a recommended variety. For Minnesota, North Dakota and South Dakota AMBA recommends the following malting barley varieties for planting in 2005: Conlon, Drummond, Excel, Foster, Lacey, Legacy, Morex, Robust and Tradition. Lacey, a six-row developed at the University of Minnesota, was rated satisfactory in plant scale evaluation by Miller Brewing Co., which was the basis of its addition to the recommended list in 2002. Anheuser-Busch, Inc. completed its plant scale brewing evaluations of Lacey and has determined that Lacey does not meet all of their brewing requirements at this time. For Idaho, Oregon and Washington AMBA recommends the following malting barley varieties for planting in 2005: B1202, Excel, Foster, Harrington, Legacy, Merit, Morex, Robust, Stander and Tradition. For Colorado and Wyoming AMBA recommends the following malting barley varieties for planting in 2005: B1202, Foster, Harrington, Legacy, Merit, Morex, Stander and Tradition. For Montana AMBA recommends the following malting barley varieties for planting in 2005: B1202, Conlon, Excel, Foster, Harrington, Legacy, Merit, Morex, Robust, Stander and Tradition. For California AMBA recommends the following malting barley varieties for planting in 2005: B1202, Foster, Harrington, Merit, Morex and Tradition.

Australia: ABB Grain Ltd announced on December 31, 2004 it has lifted its Victorian and South Australian gross malting barley pool indicators by A$10 a tonne taking estimates to A$200-210/t for Grade 1 malting barley delivered to the No. 1 pool...more info

Theoretical malt prices.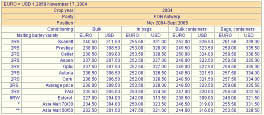 * - 70/30 = 70% Average two Rows Spring and 30% Six Rows Winter
** - 50/50 = 50% Average two Rows Spring and 50% Six Rows Winter
Theoretical malt prices for crop 2005 are available on site
www.e-malt.com/MarketPrices
Malting barley prices. French barley prices.
Nominal prices.

Table of the week
Barley in France
| | | | | | | |
| --- | --- | --- | --- | --- | --- | --- |
| | 1998-99 | 1999-00 | 2000-01 | 2001-02 | 2002-03 | 2003-04 |
| Acreage, thousand ha | 1,690 | 1,534 | 1,535 | 1,705 | 1,640 | 1,740 |
| Yield (t/ha) | 59.9 | 62.2 | 63.3 | 57.5 | 67 | 56.9 |
| Barley production, million t | 10.1 | 9.5 | 9.7 | 9.8 | 11 | 9.9 |
| Autoconsumption, million t | 1.9 | 2.3 | 2.1 | 2 | 2.2 | 2.1 |
| Imports, million t | 0 | 0 | 0 | 0 | 0 | 0 |
| Resources/use, million t | 11 | 9.2 | 8.5 | 9.4 | 10.4 | 9.8 |
| Malting, million t | 0.1 | 0.1 | 0.1 | 0.1 | 0.2 | 0.2 |
| Feed, million t | 0.9 | 0.8 | 0.8 | 1.4 | 1.2 | 1.9 |
| Exports of barley to EU, million t | 2.7 | 2.6 | 2.6 | 3.1 | 3 | 3.2 |
| Exports of barley outside EU, million t | 3.7 | 2.8 | 1.3 | 1.1 | 2 | 0.8 |
| Exports of malt, million t | 1.2 | 1.3 | 1.4 | 1.4 | 1.3 | 1.3 |
| Total exports, million t | 7.7 | 7 | 5.4 | 5.7 | 6.4 | 5.5 |
Source: ONIC
Graph of the week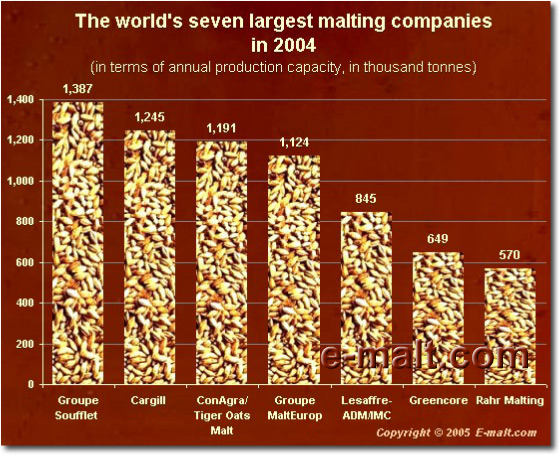 Agenda

December 2004:
FOODEX Food, Beverages and Food Technologies Fair. Ankara, Turkey;
Eten & Genieten Food, Beverages and Kitchen Supplies Exhibition. Amsterdam, Netherlands;
Americas Food & beverage Show and Conference;
Holiday Ale Festival;
Sint Niklaas Visits Brewery Ommegang;
IWEX 2004;
WORLD OF FOOD INDIA 2004;
KerstBierFestival 10th edition! Belgium;
VIETFOOD & DRINK 2004 / 3RD INTERNATIONAL EXH ON FOOD AND DRINK;

January 2005:
Big Beers, Belgians & Barleywines Festival. Vail CO;
35th Barley Improvement Conference. The American Malting Barley Association;
VIETFOOD (HANOI) 2005;
Atlanta Cask Ale Tasting;

More events are available on site e-malt.com