Japan, Tokyo
: Kirin Brewery Company, Limited (Kirin) announced on January 11, 2005 that it had acquired 117.27 million class B shares of Philippines San Miguel Corporation (SMC), representing 4.12% of the outstanding shares of SMC...
more info
Russia: Russian president Vladimir Putin turned down the federal law banning the drinking of beer in public, demanding amendments
. The act was approved by the two houses of the Russian parliament, the State Duma, and the Federation Council, at the end of 2004, Moscow News commented on January 11. President Putin wants the legislation to make clear where beer-drinking will be banned, and to allow non-alcoholic or low-alcohol types to be drunk outside. The head of the Duma's economic politics, business and tourism committee, Valery Draganov, was quoted by Interfax news agency as saying Putin sent a letter to the Duma saying the law's regulations on territorial restrictions of beer retail and on its sale to minors needed to be specified. Putin also wrote that the law's norms regarding the ban on beer drinking in public places needs to be specified. The bodies of local self-government must receive powers to set aside places where it will be allowed to sell beer and other beer-based beverages, the agency cited the president's letter. The bill is expected to be revised and submitted to the State Duma again in the near future, Lyubov Sliska, the deputy speaker of Russia's State Duma, the lower house of parliament, told reporters on January 11. Late 2004, the bill was approved by both houses of Russian parliament, the State Duma and the Federation Council. The bill prohibits drinking beer and beer-based beverages on streets, in stadiums, on public transportation, in parks, and in other places where there are no cafes or restaurants. The sale of beer and beer-based beverages would be banned near schools and universities and to people under the age of 18. Originally, the law was set to come into force on April 1, 2005. The move was welcomed by the brewing industry, one of the country's fastest growing markets. Beer consumption in Russia has doubled in the past five years, and is blamed in part for high rates of alcoholism. The surge in beer sales follows a ban on drinking vodka and other strong liquor in public, as Moscow tackles Russia's hard-drinking culture. Around 30% of the beer bought in Russia is consumed immediately, as many people find it too expensive to buy alcohol in restaurants and bars.
USA, St. Louis
: Anheuser-Busch, Inc., the U.S. beer subsidiary of Anheuser-Busch Cos., Inc., increased U.S. beer shipments to wholesalers to 103 million barrels in 2004, up 400,000 barrels or 0.4 % over 2003...
more info
China
: A battle is brewing between China's two largest beer-makers Tsingtao and Yanjing. Tsingtao has announced that it is going to start marketing its low-end beer in Beijing, the home of Yanjing...
more info
Germany: Beer consumption in Germany, which had a declining tendency since many years, remained constant in 2004, according to Beer Federation secretary Peter Hahn
. Figures would be released by the end of January 2005, and are expected to be close to the 117,7 litres, the level of 2003, he said. The German mineral water federation VDM said per-capita consumption last year was 123 litres, well ahead of the 117 litres of beer consumed per person. For decades, beer ruled, with bottled carbonated water viewed as a minority drink. In 2004, water consumption did recede by five litres per capita, but the lead over beer remained. The most popular drink of all in Germany is coffee, usually drunk by the mugful. The coffee industry says that has been the case for 25 years and calculated per capita consumption in 2003 at 153,3 litres, based on coffee bean sales and the standard dilution.
Chile, Santiago: Compañía Cervecerías Unidas S.A. (CCU) reported on January 7, 2005 preliminary fourth quarter 2004 consolidated volumes
. According to the preliminary data, CCU sold about 3,807,485 hl of beer in Chile during 2004 up 2.4% versus 2003 and 2,101,188 hl of beer in Argentina, 10.4% increase versus 2003. In the fourth quarter year 2004 CCU registered 1,266,798 hl of beer sales in Chile, up 4.2% against 2003. In Argentina CCU sold 694,971 hl of beer in Q4, 5.7% up. CCU plans to release its consolidated fourth quarter results by the first week of February. CCU is a diversified beverage company operating principally in Chile and Argentina. CCU is the largest Chilean brewer, the second-largest Argentine brewer, the third-largest Chilean soft drink producer, the second-largest Chilean wine producer, the largest Chilean mineral water producer, the third player in the pisco business and also participates in the confectionery industry in Chile. The Company has licensing and/or joint venture arrangements with Heineken Brouwerijen B.V., Anheuser-Busch Companies Inc., PepsiCo Inc., Paulaner Brauerei AG, Schweppes Holdings Limited and Watt's Alimentos S.A.
Barley News
Ukraine: In 2004 Ukraine harvested 11.07 million tonnes of barley (both winter and spring barley) in final weight. This is the preliminary data of State Statistics Committee of Ukraine. Barley crop 2004 is 62 % up from that of 2003 (6.83 million tonnes). Harvest area of barley slightly decreased from the previous year from 4.6 to 4.51 million hectares. But the yield in contrast increased from 1.49 to 2.45 tonnes per hectare, AgriMarket posted on January 11. According to State Statistic Committee, 2004 grains and pulses crop in Ukraine totalled 41.7 million tonnes in final weight.

Australia: The last harvest of malt barley in Victoria continues to go well - malt percentages are 80 to 90 % at some sites, Country News revealed on January 10. "This has alleviated a lot of the upwards pressure on prices which we saw earlier" ...more info

Theoretical malt prices.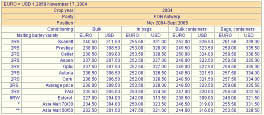 * - 70/30 = 70% Average two Rows Spring and 30% Six Rows Winter
** - 50/50 = 50% Average two Rows Spring and 50% Six Rows Winter
Theoretical malt prices for crop 2005 are available on site
www.e-malt.com/MarketPrices
Malting barley prices. French barley prices.
Nominal prices.

Table of the week
Excise Duties in European Countries 2004
Euros / 100 liters on 5% alc. content basis


| | |
| --- | --- |
| COUNTRY | EXCISE DUTY, EUR / HL |
| | |
| Norway | 218.60 |
| Ireland | 99.36 |
| Finland | 97.25 |
| United kingdom | 86.38 |
| Sweden | 81.22 |
| Turkey | 42.18 |
| Denmark | 39.30 |
| Slovenia | 34.25 |
| Netherlands | 25.11 |
| Austria | 24.96 |
| Cyprus | 22.19 |
| Belgium | 20.53 |
| Hungary | 20.49 |
| Poland | 19.10 |
| Italy | 19.08 |
| Estonia | 17.58 |
| Switzerland | 16.18 |
| Slovakia | 15.03 |
| Portugal | 14.45 |
| Greece | 14.24 |
| France | 13.00 |
| Lithuania | 10.14 |
| Luxembourg | 9.52 |
| Germany | 9.45 |
| Czech Republic | 9.15 |
| Latvia | 9.10 |
| Malta | 8.93 |
| Spain | 8.87 |
| Romania | 7.20 |
| Bulgaria | 6.46 |
Source: The Brewers of Europe
Graph of the week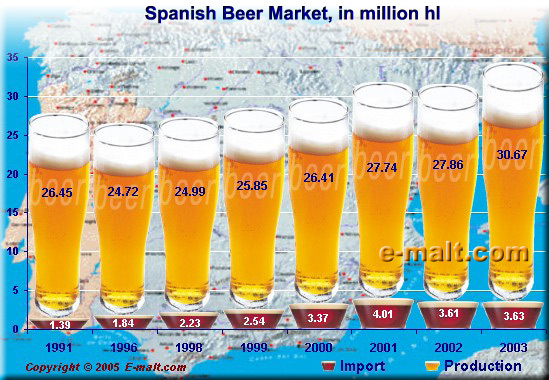 Agenda

December 2004:
FOODEX Food, Beverages and Food Technologies Fair. Ankara, Turkey;
Eten & Genieten Food, Beverages and Kitchen Supplies Exhibition. Amsterdam, Netherlands;
Americas Food & beverage Show and Conference;
Holiday Ale Festival;
Sint Niklaas Visits Brewery Ommegang;
IWEX 2004;
WORLD OF FOOD INDIA 2004;
KerstBierFestival 10th edition! Belgium;
VIETFOOD & DRINK 2004 / 3RD INTERNATIONAL EXH ON FOOD AND DRINK;

January 2005:
Big Beers, Belgians & Barleywines Festival. Vail CO;
35th Barley Improvement Conference. The American Malting Barley Association;
VIETFOOD (HANOI) 2005;
Atlanta Cask Ale Tasting;

More events are available on site e-malt.com